A string of bombshells surrounding the Michael Flynn investigation and prosecution have hit the news this week and last as exculpatory evidence continues to be released. The latest batch shows that former FBI agent Peter Strzok halted an order to end "Crossfire Razor," the code name the FBI gave to Flynn and his investigation. This came 20 minutes after a formal order to shut the investigation down.
JUST IN: New FLYNN documents show the FBI had drafted a document to formally close the case against him on 1/4.

But 20 minutes after it circulated, STRZOK and other agents put the brakes on it. pic.twitter.com/sLhMBTzGEr

— Kyle Cheney (@kyledcheney) April 30, 2020
All of this went down 20 days before the soon-to-be National Security Advisor was interviewed by the FBI. They had information from their Russian election interference investigation that Flynn had contact with Russians, but they were unable to find "derogatory info" that linked him to the Russians' efforts. On January 4, 2017, the case was officially closed through a memo that went out to all DoJ personnel involved. 20 minutes after the memo was sent, Strzok texted one or more persons whose identities have been redacted to reverse the decision to close the investigation. He shared news of the investigation's continuation with his lover, Lisa Page.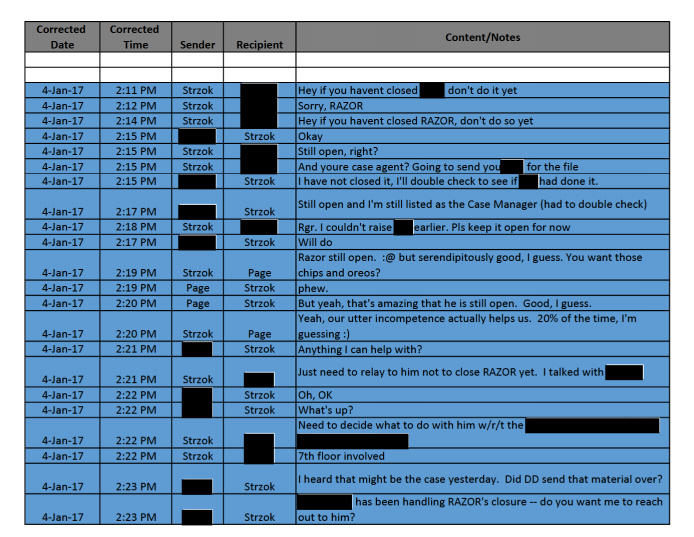 "The goal of the investigation was to determine whether [Flynn], associated with the Trump campaign, was directed and controlled by and/or coordinated activities with the Russian Federation in a manner which is a threat to the national security and/or possibly a violation of the Foreign Agents Registration Act," the FBI memo stated. "Following the initiation of captioned case, the [Crossfire Hurricane] team conducted a check of logical databases for any derogatory information on [Flynn]."
This is further proof that the FBI knew Flynn had done nothing wrong, but pushed forward with their attempts to entrap him. It was revealed yesterday that Flynn's interview was intended to catch him in a lie so they could pressure him to either flip on President Trump or be charged with lying. He chose the latter.
Latest bombshell means Michael Flynn will be exonerated and FBI conspirators should be charged
As CBS News Senior Investigative Correspondent Catherine Herridge reported today, the released FBI memo indicates multiple attempts to find conspiracy or unwitting cooperation with Russian sources. They investigated Flynn from multiple directions and were able to find contacts, but nothing from those contacts indicated he participated with their election interference campaign. This is important because the fact that he had contact with Russians was used to entrap him during his FBI interview three weeks later.
#FLYNN More records unsealed including draft 1/04/2017 FBI "EC" or electronic communication – like memo for record. FBI code name Flynn "Crossfire Razor" Recommedation to close, citing lack "derogatory info" TIMING: 20 days before Flynn interview over comms Russian AMB @CBSNews pic.twitter.com/vJEkvbkD5v

— Catherine Herridge (@CBS_Herridge) April 30, 2020
The memo indicates the investigation was officially closed, but Strzok's intervention prevented it from being processed. This in and of itself may be enough evidence to throw out his FBI interview as it would mean the predicate for having the interview in the first place was bogus.
Human Events EIC Will Chamberlain broke down the timeline revealed in the memo and the released text messages to and from Strzok.
Massive Flynn bombshell in the latest docs

January 24: Strzok and another FBI agent interview Flynn

February 10: Strzok texts Page about a document that he was trying "to not completely re-write so as to save [XXX's] voice."

February 15th: Flynn 302 finalized pic.twitter.com/QSJMxgrBOB

— Will Chamberlain (@willchamberlain) April 30, 2020
The investigation of Michael Flynn was tainted from the start by politically motivated hacks. The FBI's own internal documents show the case was closed before they even interview Flynn, but Peter Strzok had a mission, facts be damned.
---
Check out the NEW NOQ Report Podcast.
---
Join fellow patriots as we form a grassroots movement to advance the cause of conservatism. The coronavirus crisis has prompted many, even some conservatives, to promote authoritarianism. It's understandable to some extent now, but it must not be allowed to embed itself in American life. We currently have 8000+ patriots with us in a very short time. If you are interested, please join us to receive updates.
---
---
---
---
---
Big Pharma's Five Major Minions that Everyone, Vaxxed or Unvaxxed, Must Oppose
This is not an "anti-vaxxer" article, per se. It's a call for everyone to wake up to the nefarious motives behind vaccine mandates, booster shots, and condemnation of freedom.
The worst kept secret in world history SHOULD be that the unquenchable push for universal vaccinations against Covid-19 has little if anything to do with healthcare and everything to do with Big Pharma's influence over the narrative. Unfortunately, that secret has stayed firmly hidden from the vast majority of people because of the five major minions working on behalf of Big Pharma.
What's even worse is the fact that Big Pharma's greed is merely a smokescreen to hide an even darker secret. We'll tackle that later. First, let's look at the public-facing ringleaders behind the vaccine push, namely Big Pharma. But before we get into their five major minions, it's important to understand one thing. This is NOT just an article that speaks to the unvaccinated. Even those who believe in the safety and effectiveness of the vaccines must be made aware of agenda that's at play.
Let's start with some facts. The unvaccinated do NOT spread Covid-19 more rampantly than the vaccinated. Even Anthony Fauci acknowledged the viral load present in vaccinated people is just as high as in the unvaccinated. This fact alone should demolish the vaccine mandates as it demonstrates they have absolutely no effect on the spread of the disease. But wait! There's definitely more.
This unhinged push to vaccinate everyone defies science. Those with natural immunity may actually have their stronger defenses against Covid-19 hampered by the introduction of the injections which fool the body into creating less-effective antibodies. Moreover, the push to vaccinate young people is completely bonkers. The recovery rate for those under the age of 20 is astronomical. Children neither contract, spread, nor succumb to Covid-19 in a statistically meaningful way. What they DO succumb to more often than Covid-19 are the adverse reactions to the vaccines, particularly boys.
All of this is known and accepted by the medical community, yet most Americans are still following the vaccinate-everybody script. It requires pure cognitive dissonance and an overabundant need for confirmation bias to make doctors and scientists willingly go along with the program. Yet, here we are and that should tell you something.
Before I get to the five major minions of of Big Pharma, I must make the plea for help. Between cancel culture, lockdowns, and diminishing ad revenue, we need financial assistance in order to continue to spread the truth. We ask all who have the means, please donate through our GivingFuel page or via PayPal. Your generosity is what keeps these sites running and allows us to expand our reach so the truth can get to the masses. We've had great success in growing but we know we can do more with your assistance.
Who does Big Pharma control? It starts with the obvious people, the ones who most Americans believe are actually behind this push. Our governments at all levels as well as governments around the world are not working with Big Pharma. They are working for Big Pharma. Some are proactive as direct recipients of cash. Others may oppose Big Pharma in spirit but would never speak out because they know anyone who does has no future in DC.
This may come as a shock to some, but it's Big Pharma that drives the narrative and sets the agenda for the "experts" at the CDC, FDA, WHO, NIH, NIAID, and even non-medical government organizations.
Most believe it's the other way around. They think that Big Pharma is beholden to the FDA for approval, but that's not exactly the case. They need approval for a majority of their projects, but when it comes to the important ones such as the Covid injections, Big Pharma is calling the shots. They have the right people in the right places to push their machinations forward.
That's not to say that everyone at the FDA is in on it. Big Pharma only needs a handful of friendlies planted in leadership in order to have their big wishes met. We have seen people quitting the FDA in recent weeks for this very reason. The same can be said about the other three- and five-letter agencies. Too many people in leadership have been bribed, bullied, or blackmailed into becoming occasional shills for the various Big Pharma corporations. Some have even been directly planted by Big Pharma. That's the politics of healthcare and science that drives such things as Covid-19 "vaccines."
Read the rest of this story, but please be sure to donate first if you can.
---
---
All ORIGINAL content on this site is © 2021 NOQ Report. All REPUBLISHED content has received direct or implied permission for reproduction.
With that said, our content may be reproduced and distributed as long as it has a link to the original source and the author is credited prominently. We don't mind you using our content as long as you help out by giving us credit with a prominent link. If you feel like giving us a tip for the content, we will not object!
JD Rucker – EIC
@jdrucker
---