The NASCAR world was taken by storm over the weekend when Bubba Wallace, a black driver, claimed that there was a noose in his garage. This comes during a time of heated racial tensions and NASCAR's ban of the Confederate Flag (that's not actually the Confederate Flag). But this did not stop Bubba Wallace from perpetuating racism by creating a hate crime hoax in which he was the victim.
After claiming there was a noose in his garage, Babba Wallace took to social media to fight the race war with his statement below.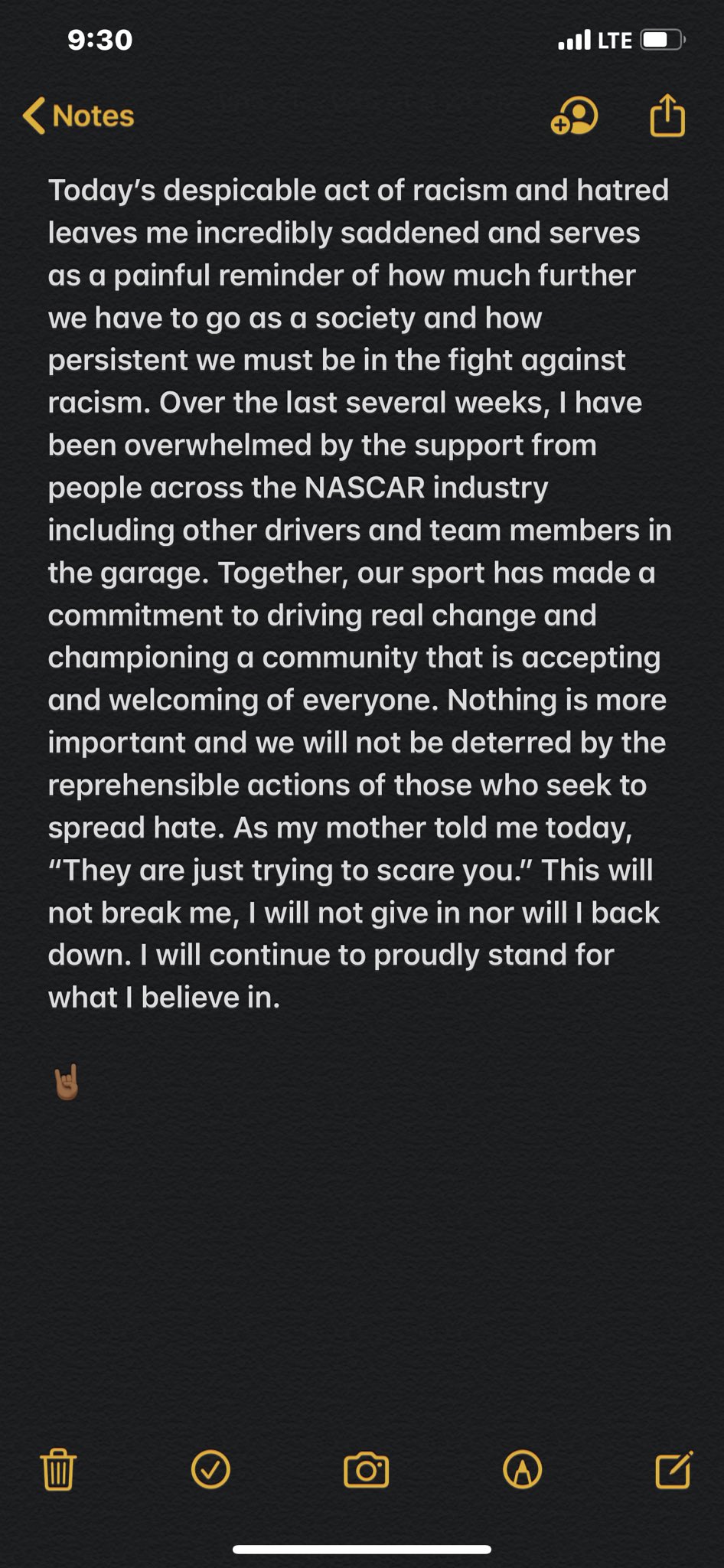 Unsurprisingly, the amount of virtue signalling that took place was enough to alienate many fans of the struggling sport. They created a social media divide between blue check marks and social justice warriors vs those who were skeptical the event even took place.
Back in 2019, Jussie Smollett claimed he was attacked by white people chanting "this is MAGA country" on his walk home from Subway. The event involved bleach and a noose. Similarly, there was no evidence this event happened. In Babba Wallace's case, no picture of a material object was ever presented.  In Jussie Smollett's case, he held onto his sandwich.
In both cases, taxpayer money was misspent to investigate the hoax. The Chicago Police Department executed search warrants on a crime that never happened and spent six figures. In this incident, the FBI investigated with fifteen special agents, despite no actual crime being committed, except maybe trespassing.
Several images surfaced on social media where there appears to be a noose in the garage functioning as a garage door pulley. On Tuesday afternoon, the FBI released a statement: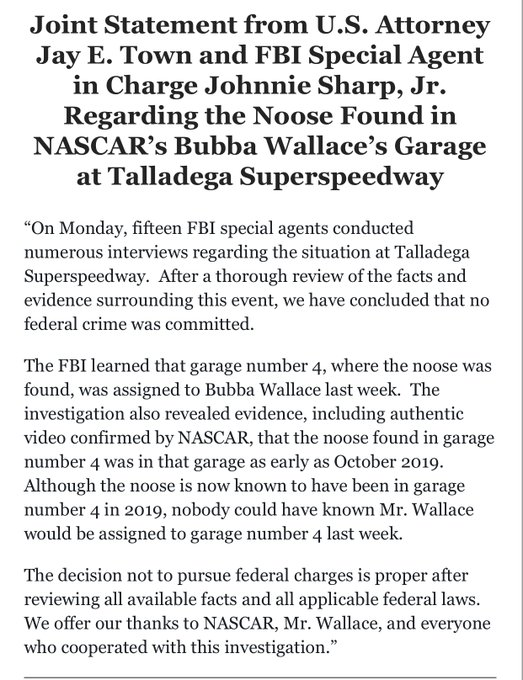 Though the FBI does not go so far as to say this was a perpetuated racist hoax by Bubba Wallace, they do emphasize that this was a misunderstanding. In other words, Bubba Wallace was "fake noose."
Opinion
Bubba Wallace likely knew exactly what was going on, just like Jussie Smollett. It's stunning how with all of the surveillance that NASCAR has on its properties he would have thought to perpetuate a hoax like this. Yet those who believe in Social Justice are uninterested in truth or justice. Just like Jussie Smollett, he insulted those who refused to accept his narrative at face value and was praised by the media for being brave.
There was never any reason to believe Bubba Wallace, because, other than being black, there was no credibility to his story. There was no photo or video made public. Shame on the FBI for wasting taxpayer money on this when there are rioters to investigate.
The Bible talks about how one man's story sounds true until you hear the other, but in this case the first story failed every test of believably. If you believed Bubba Wallace, then you need to rethink how susceptible you are to the rampant communist propaganda on social media.
---
Check out the NEW NOQ Report Podcast.
---
Join fellow patriots as we form a grassroots movement to advance the cause of conservatism. The coronavirus crisis has prompted many, even some conservatives, to promote authoritarianism. It's understandable to some extent now, but it must not be allowed to embed itself in American life. We currently have 8000+ patriots with us in a very short time. If you are interested, please join us to receive updates.
---
---
---
---
---
Gifts for Patriots: Forget All the Woke Corporate Retail Gifts This Year
Let me put the disclaimer up front. I'm a patriot. This site believes in promoting patriotic companies, supporting America-First ideas, and disseminating the truthful news that everyone in this nation needs to read or hear. To that end, it makes sense that the companies we allow to sponsor us are patriotic, America-First, and truth-embracing organizations.
Now for the other disclaimer. Buying from the three companies listed below using our promo codes helps us tremendously. The offers we give our readers access to are the best offers available; even using Mike Lindell's promo code gives the same discount as using promo code "NOQ."
We know there are many conservative sites who offer similar or even identical promos. We are not the biggest, not by a longshot, but we try very hard to provide excellent coverage of the most important topics to patriots. We do it unflinchingly and often at great sacrifice; there's a reason you won't find Google ads or Facebook buttons on our site. We cannot rail against Big Tech if we're taking money from them or promoting their products. I'm not going to throw stones at other conservative news outlets who are beholden to Google or Facebook. We have our own sins. Nevertheless, you know when you use our promo codes you're making an impact by supporting an honest style of delivering America-First news and commentary.
With that said, our sponsors have gifts available for all price ranges.
For the very special someone needing a very special gift, contact Our Gold Guy. Imagine their surprise when they see silver or gold coins in their stocking! Or, you can treat yourself to the ultimate hedge in the Biden economy. As the supply chain crumbles, inflation skyrockets, and the other investments lose momentum, precious metals make for the perfect protection. Be sure to tell them JD Rucker sent you!
At $499, the Freedom Phone will help you or someone you love break free from the Apple/Google duopoly in the smartphone world. With promo code "MAGA," you'll save $50. It's well worth the peace of mind of having a completely uncensored device with an app store that cannot be canceled.
Our good friends at MyPillow have gifts ranging from stocking stuffers to high end bedding. You can knock out a lot of Christmas shopping with one stop at their website, and you'll get maximum savings on each product you order by using promo code "NOQ."
Lastly, if you'd like to include us on your Christmas list, we'd LOVE if you sponsored us. Donations go directly towards helping us disseminate important articles and podcasts to the nation.
As patriots, we must stand up for what we believe in. That means we slow or completely eliminate our expenditures with companies who hate us for our ideology. Our sponsors are all proud to support the America-First agenda, which is why we allow them on our pages. Like I said, you won't find Google ads here.
---
All ORIGINAL content on this site is © 2021 NOQ Report. All REPUBLISHED content has received direct or implied permission for reproduction.
With that said, our content may be reproduced and distributed as long as it has a link to the original source and the author is credited prominently. We don't mind you using our content as long as you help out by giving us credit with a prominent link. If you feel like giving us a tip for the content, we will not object!
JD Rucker – EIC
@jdrucker
---