Socialism is often a hive mind, as we see every Leftist outlet have the same take on a story, same arguments for a position, and the overall same mission. Conformity is the end goal; to Leftist-Socialism we will conform, if they have their way. In conformity, deviant thinking is often punished, as we saw how Joe Biden was forced to flip-flop on the meaningless Hyde Amendment and multiple feminists have been cast out for not accepting transgenderism.
The Left will eat their own for stepping out of line. But even within the confines of the conformity, there are notable distinctions between Democrats who can think for themselves and Democrats who cannot. The Joe Biden example with the Hyde Amendment shows he doesn't have an original thought as it pertains to policy. Likewise Kamala Harris insisting on having that conversation indicates the same. Amy Klobuchar and Kirsten Gillibrand are the same exact person. So let's take inventory of the original thinkers.
Bernie Sanders
This is probably the most obvious among the field of 24. Bernie Sanders was a socialist before it was cool, like back when the Soviet Union was collapsing. This guy loves communism, breadlines, and living off the government. And it's doubtful anyone has pressured him into becoming more zealous, as opposed to the environment being safer to expose himself.
Elizabeth Warren
Elizabeth Warren is the brains of the socialist movement. She has come out with more policy proposals than any other Democrat candidate, it seems. When it comes to policy, she's a wonk, kept warm in her Massachusetts log cabin by the burning of the US Constitution, coming up with ideas on how to implement her vision. From the unconstitutional wealth tax to Medicare (Medicaid) for all, she's a thought leader.
Tulsi Gabbard
The only thing likable about Gabbard is her foreign policy stances, only to isolationist Libertarians. Otherwise she is a complete communist. Still, her differentiating on foreign policy is enough of a deviance from the hive mind to credit her on this list.
Marianne Williamson
She was the thought leader for the New Age cult back in the 1990's. Since then she has been an activist on multiple fronts. Oprah's spiritual advisor was a socialist before it was cool, dating back at least to her failed Congressional run in 2014.
Tim Ryan
Nothing demonstrates divergent behavior in the Democrat ranks quite like taking on Nancy Pelosi for Speaker of the House.
Andrew Yang
Andrew Yang does not fit in with the candidates at all. He has a grasp of economics and technology that far exceeds the field.
Democrat Presidential Primary Bracket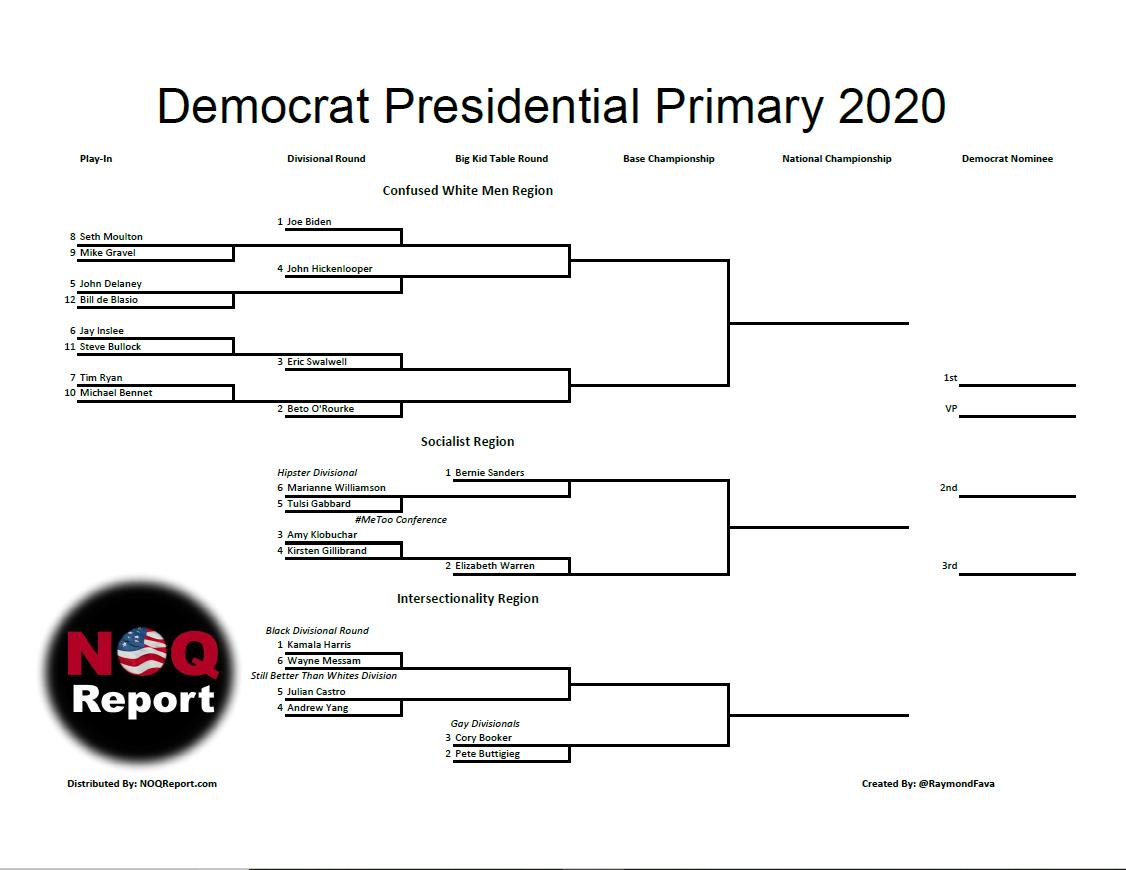 Are the candidates capable of thinking for themselves in a better position to win the nomination. Bernie Sanders and Elizabeth Warren are among the top contenders, but the field is vast and socialist are legion. Fill out your bracket here.
We are currently forming the American Conservative Movement. If you are interested in learning more, we will be sending out information in a few weeks.
[gravityform id="2″ title="true" description="false"]