Trump Administration scolds counter-terror offensive in Syria's Idlib province, ignores Afrin
The Syrian Civil War is all but over. President Assad, with the intense assistance of Russia and Iran, has relegated the jihadi opposition to Syria's northeast. The war between the Syrian government and the Islamic terrorists rebel groups has been at a simmer since they surrendered their besieged holdings near the country's capital back in April. The terrorist-rebels are consolidated to the Syria's northeast Idlib province, bordering territory held by Turkish backed terrorists in Afrin. Turkey seized land as part of its Euphrates Shield and Operation Olive Branch offensives.
President Bashar al-Assad of Syria must not recklessly attack Idlib Province. The Russians and Iranians would be making a grave humanitarian mistake to take part in this potential human tragedy. Hundreds of thousands of people could be killed. Don't let that happen!
On September 4th, Russia resumed airstrikes on Idlib prompting many to speculate an offensive is near. Secretary Pompeo had a phone call with President Ergodan both expressing that an offensive in Idlib would be unacceptable.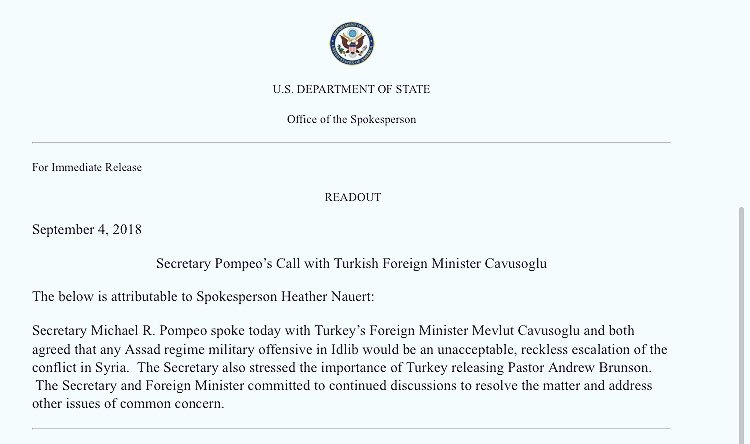 The looming offensive raises concerns about shifting conventions of warfare, specifically that involving the use of chemical weapons. Tom Rogan of Washington Examiner writes
U.S. intelligence sees evidence Bashar Assad will use chemical weapons in Idlib. Bolstering this suspicion is Vladimir Putin's strategic interests: He wants Assad to employ chemical weapons in order to degrade American credibility. Russia will try to present any chemical attack as the result of a western-supported conspiracy to blame Assad. While this deception is simplistic, it indicates that Russia both expects Assad to use chemical weapons and has given its tacit blessing for him to do so.
In Sun Tzu's Art of War, when the enemy is outnumbered 10 to 1, capture them. When an enemy is outnumbered 5 to 1 attack. HTS finds itself in closer to a 5 to 1 situation and are unwilling to preemptively surrender. A massive humanitarian crisis is inevitable, and conventions of war permissible by the United Nations have proven ineffective. No nation benefits from a prolonged war, something Sun Tzu also said. In contrast, the terrorist stronghold in Aleppo crumbled when Russia and Syria specifically targeted facilities functioning as hospitals. In April, rebels surrendered after being attacked with chemical weapons. The counterterrorism measure prompted a US military response. Syria and Russia know that these brutalities will be necessary to wipe away Islamic terrorists in their fortified stronghold of Idlib and will be.
Meanwhile the Trump administration's attention towards one humanitarian crisis sheds light on the one they've ignored. Turkey has been occupying Afrin with the assistance of jihadists they backed. The Kurdish YPG have been turned into freedom fighters as reports of ISIS like atrocities spring from the region.
The Region details the situation:
Occupying militias are known to have kidnapped and tortured over a thousand civilians, especially those with any relationship to the autonomous self-administration of Afrin Canton. Local collaborators have reportedly provided militias with lists of Afrin residents whose families would be able to afford large ransoms.
The videos are reminiscent of those produced by ISIS when the group first overran parts of Iraq and Syria. It has been alleged that Turkey used ex-ISIS members in Operation Olive Branch, and videos of Olive Branch forces singing ISIS nasheeds, interrogating civilians about Muslim religious practices to determine their faith, and threatening to behead "infidel Kurds" circulated widely during the invasion.
The Trump administration has made little mention of the Afrin region even as relations with Turkey plummet due to their capturing of an American citizen. The war in Syria now hang in the balance of negotiations between Syria, Iran, Russia, and Turkey. The established nations have not engaged each other and have set up numerous fortresses or observation points within the country. Turkish observation points reside in the Islamists' territories.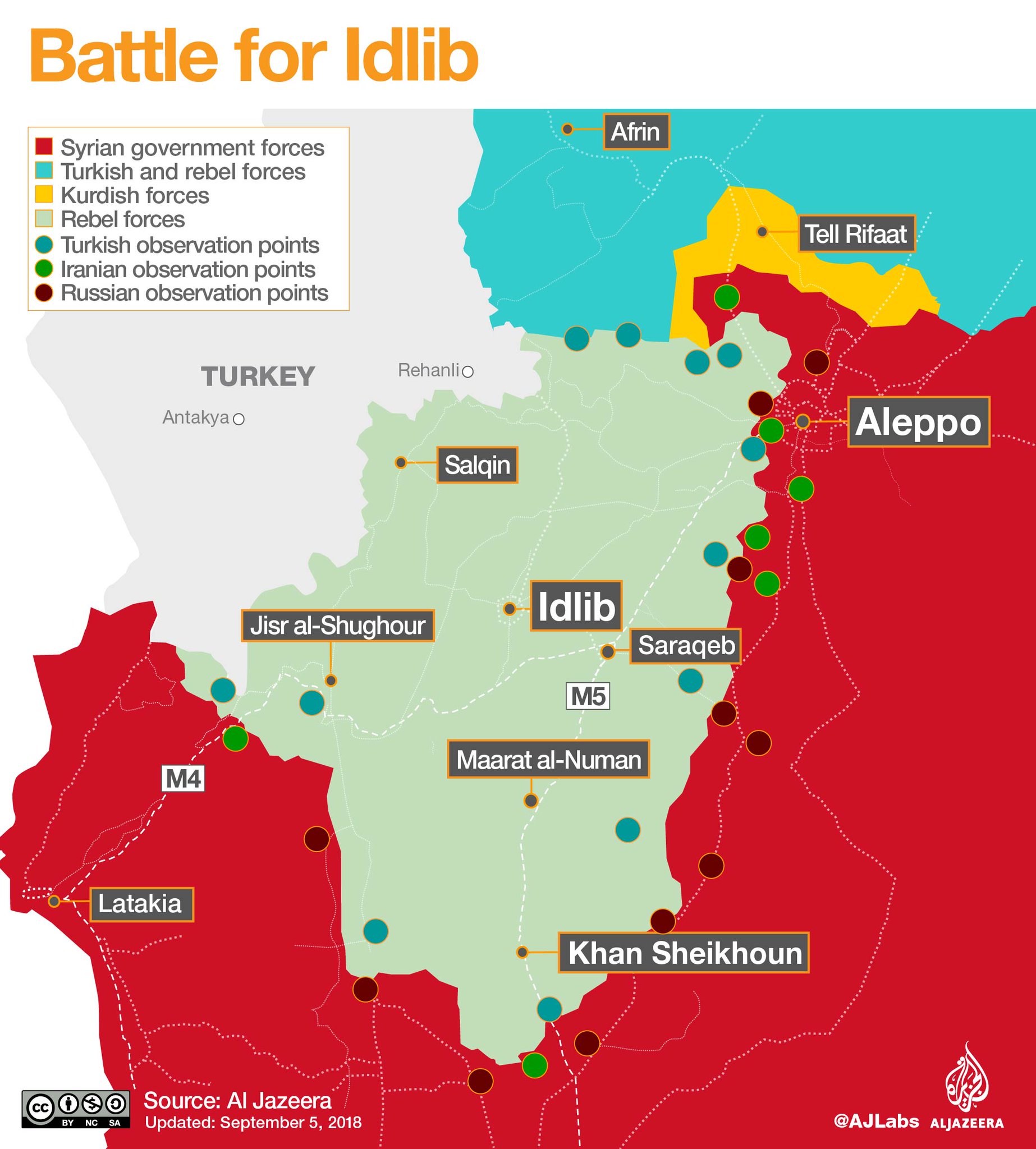 Concluding Thoughts
The terrorists hold too little ground to have any negotiating power. There refusal to surrender prevents a peaceful wrap up to the war. An offensive, therefore, is unavoidable. The Trump Administration appears to be more interested in keeping the status quo of the war which is opposed to the interest of the Syria and their people. Perhaps the offensive will be swift, but Sun Tzu also says to allow the enemy the ability to retreat. The Islamic terrorists are almost out of room to retreat, unless they want to work for Ergodan. The Trump administration is right to be concerned for Al-Qaeda's Last Stand in Syria being dangerous to civilians, but wrong in their indifference towards the Islamic terrorism in the region.
Venezuela is colluding with Russia while America is distracted by Trump not colluding with Russia
Two Russian jets carrying troops and equipment landed in Caracas, Venezuela, as part of a mission to "fullfil technical military contracts," according to Russian media. But it's almost certain this is part of Russia's play on Venezuela to prop up socialist dictator Nicolas Maduro just as they did with Syrian dictator Bashar al-Assad.
Meanwhile, most Americans who follow the news cycle were bombarded with perspectives on Attorney General William Barr's summary of the Robert Mueller investigation report. In it, President Trump and his 2016 campaign were found to not have colluded with the Russians in their election hacking endeavors.
More Russian soldiers unload in #Venezuela to help prop up Pres. #Maduro. The Ilyushin IL-62M is used to carry military personnel and frequently flies troops from #Russia to Syria — indeed it stopped in #Syria on its way from Russia to #Caracas. pic.twitter.com/YfU2SnZacJ

— Prof. Steve Hanke (@steve_hanke) March 24, 2019
My Take
While most were focused on fake Russian collusion, the real thing was happening in one of the world's hottest spots, Venezuela.
While Americans are distracted by the fake Russian collusion story, real collusion with Russia is happening as we speak by a different leader, Nicolas Maduro of Venezuela. https://t.co/mRcJHe32mq

— JD Rucker (@JDRucker) March 25, 2019
Russia's play here is simple: keep Maduro in power at all costs. They got the drop on any actions the United States may have been planning, though it's unlikely those plans included military intervention. Still, Russia isn't taking any chances. By getting troops and equipment on the ground, they'll be able help Maduro by offering cover from outside actions while bolstering his support internally.
Any defections or coup attempts will be much less likely with Russia directly involved.
The opposition leader who America and over 50 other nations consider to be the rightful interim president, Juan Guaido, has been trying to get international support while maintaining domestic support, but Maduro's move may have prevented that from happening.
In essence, the battle over Venezuela is now over. It's unfathomable to conceive of action by the United States or any other's who support Guaido other than diplomatic efforts that will accomplish nothing. Venezuela is doomed to retain their socialist dictator now.
Will you help revive the American Conservative Movement?
Israel suffers another rocket attack from Hamas
A confirmed rocket attack from the Gaza Strip on Israeli homes near the border in the Kfar Saba area outside Tel Aviv. Sirens were heard prior to the rocket explosion and posted by the IDF Twitter account.
WATCH: A rocket from Gaza hit this Israeli home at 5:20 this morning. pic.twitter.com/89agEirzP4

— Israel Defense Forces (@IDF) March 25, 2019
Six people were injured in the attack.
The J-80 rocket was fired either by Hamas or by Islamic Jihad from Southern Gaza and flew nearly 120 kilometers. It hit Moshav Mishmeret, which is just north of Kfar Saba. This heavy rocket was used deliberately to hit an Israeli civilian target. https://t.co/Fa0uz6xvEY

— Dr. Dore Gold (@DrDoreGold) March 25, 2019
My Take
The conflict between Hamas and Israel has been getting old for years, but now is not the time to blow off the news. Hamas is having internal strife as its citizens protest living and economic conditions in the Gaza Strip. To garner international support and save face for failing to help their own people, Hamas is trying to start another war.
Meanwhile, Prime Minister Benjamin Netanyahu is caught between a contentious election at home and the need to get his own international support, particularly from the United States. He's in Washington DC now to meet with President Trump, who has offered his support and endorsement for the long-time Prime Minister.
Hamas would love nothing more than for Netanyahu to be gone, replaced by a leftist who will wheel and deal for "peace" with the Palestinians regardless of the cost. If that happens, the toll will be great on Israel and the world.
Will you help revive the American Conservative Movement?
Here's hoping there's a plan we don't know about with North Korea
In a move that many, including supporters on the right, are calling a move of weakness, the President reversed the Treasury Department's additional sanctions on North Korea.
It was announced today by the U.S. Treasury that additional large scale Sanctions would be added to those already existing Sanctions on North Korea. I have today ordered the withdrawal of those additional Sanctions!

— Donald J. Trump (@realDonaldTrump) March 22, 2019
"Trump has done the opposite of what he rightly did at the two leaders recent summit in Vietnam. He has indirectly told Kim to keep playing hardball against the United States." via the @dcexaminer https://t.co/QDfeugmPMw

— Tom Rogan (@TomRtweets) March 22, 2019
My Take
I'm just not sure what to make of this. I understand many have been concerned about how nicely the President has treated Kim Jong un, but I've always felt there was some sort of plan happening behind the scenes that would justify it. Now, I'm not so sure.
This move emboldens Kim to continue avoiding any compromise on his nuclear weapons program. It tells him and the rest of the world President Trump isn't going to be playing hardball and intends to coax the North Korean dictator into signing some sort of agreement before the 2020 elections.
Dare I say, this seems very Obamaesque? Where's the hardball? Where's the threats against Rocketman? If there's some sort of 4D chess being played in the background, I seriously hope we see it in play soon. This is a strange move.
Will you help revive the American Conservative Movement?