Trump Administration scolds counter-terror offensive in Syria's Idlib province, ignores Afrin
The Syrian Civil War is all but over. President Assad, with the intense assistance of Russia and Iran, has relegated the jihadi opposition to Syria's northeast. The war between the Syrian government and the Islamic terrorists rebel groups has been at a simmer since they surrendered their besieged holdings near the country's capital back in April. The terrorist-rebels are consolidated to the Syria's northeast Idlib province, bordering territory held by Turkish backed terrorists in Afrin. Turkey seized land as part of its Euphrates Shield and Operation Olive Branch offensives.
President Bashar al-Assad of Syria must not recklessly attack Idlib Province. The Russians and Iranians would be making a grave humanitarian mistake to take part in this potential human tragedy. Hundreds of thousands of people could be killed. Don't let that happen!
On September 4th, Russia resumed airstrikes on Idlib prompting many to speculate an offensive is near. Secretary Pompeo had a phone call with President Ergodan both expressing that an offensive in Idlib would be unacceptable.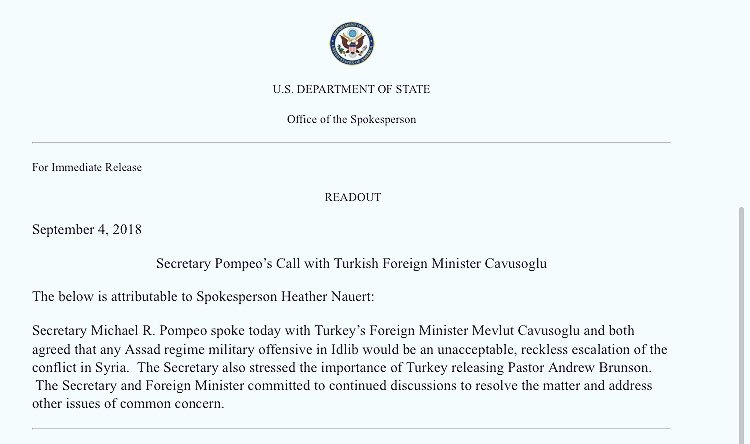 The looming offensive raises concerns about shifting conventions of warfare, specifically that involving the use of chemical weapons. Tom Rogan of Washington Examiner writes
U.S. intelligence sees evidence Bashar Assad will use chemical weapons in Idlib. Bolstering this suspicion is Vladimir Putin's strategic interests: He wants Assad to employ chemical weapons in order to degrade American credibility. Russia will try to present any chemical attack as the result of a western-supported conspiracy to blame Assad. While this deception is simplistic, it indicates that Russia both expects Assad to use chemical weapons and has given its tacit blessing for him to do so.
In Sun Tzu's Art of War, when the enemy is outnumbered 10 to 1, capture them. When an enemy is outnumbered 5 to 1 attack. HTS finds itself in closer to a 5 to 1 situation and are unwilling to preemptively surrender. A massive humanitarian crisis is inevitable, and conventions of war permissible by the United Nations have proven ineffective. No nation benefits from a prolonged war, something Sun Tzu also said. In contrast, the terrorist stronghold in Aleppo crumbled when Russia and Syria specifically targeted facilities functioning as hospitals. In April, rebels surrendered after being attacked with chemical weapons. The counterterrorism measure prompted a US military response. Syria and Russia know that these brutalities will be necessary to wipe away Islamic terrorists in their fortified stronghold of Idlib and will be.
Meanwhile the Trump administration's attention towards one humanitarian crisis sheds light on the one they've ignored. Turkey has been occupying Afrin with the assistance of jihadists they backed. The Kurdish YPG have been turned into freedom fighters as reports of ISIS like atrocities spring from the region.
The Region details the situation:
Occupying militias are known to have kidnapped and tortured over a thousand civilians, especially those with any relationship to the autonomous self-administration of Afrin Canton. Local collaborators have reportedly provided militias with lists of Afrin residents whose families would be able to afford large ransoms.
The videos are reminiscent of those produced by ISIS when the group first overran parts of Iraq and Syria. It has been alleged that Turkey used ex-ISIS members in Operation Olive Branch, and videos of Olive Branch forces singing ISIS nasheeds, interrogating civilians about Muslim religious practices to determine their faith, and threatening to behead "infidel Kurds" circulated widely during the invasion.
The Trump administration has made little mention of the Afrin region even as relations with Turkey plummet due to their capturing of an American citizen. The war in Syria now hang in the balance of negotiations between Syria, Iran, Russia, and Turkey. The established nations have not engaged each other and have set up numerous fortresses or observation points within the country. Turkish observation points reside in the Islamists' territories.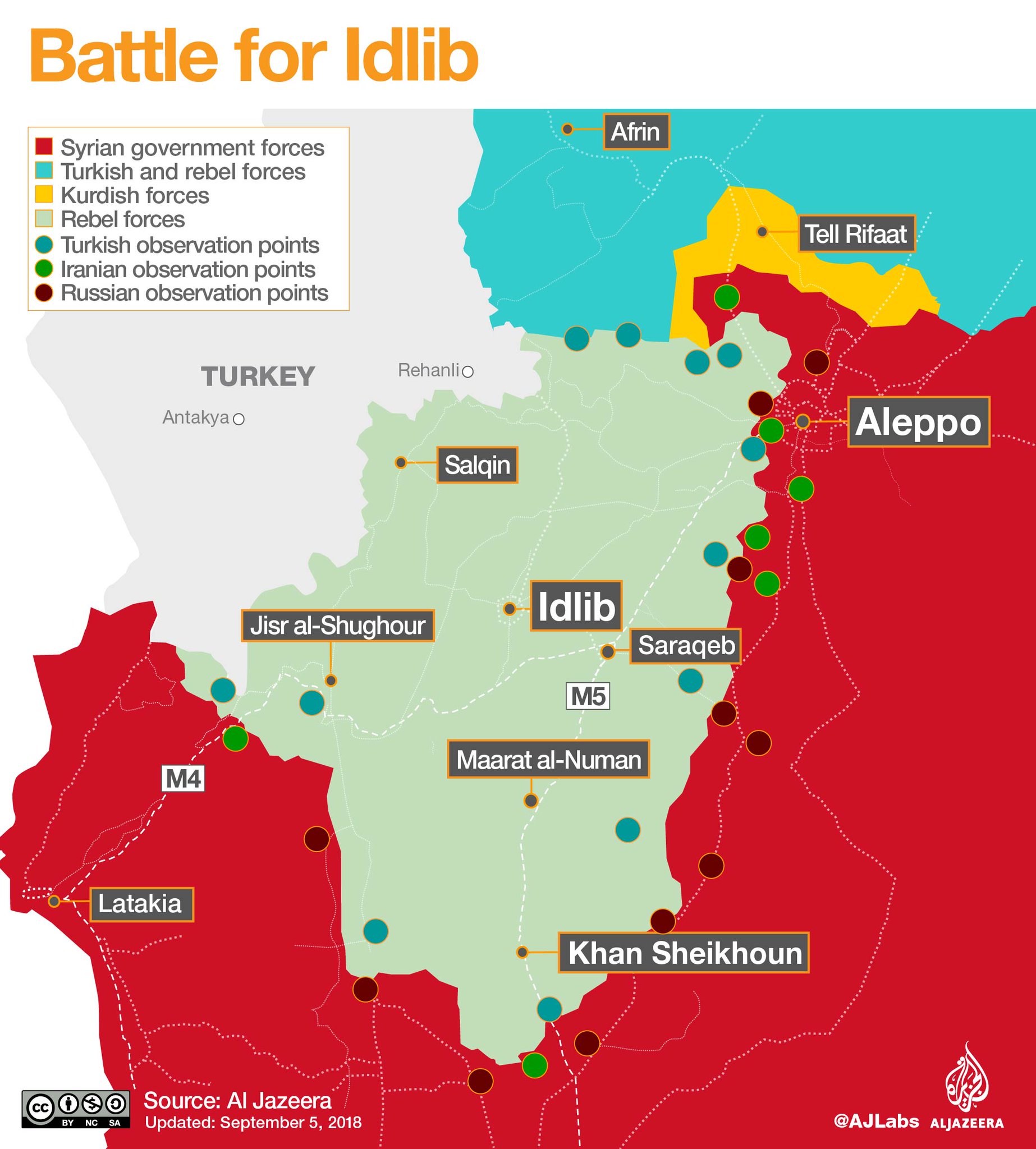 Concluding Thoughts
The terrorists hold too little ground to have any negotiating power. There refusal to surrender prevents a peaceful wrap up to the war. An offensive, therefore, is unavoidable. The Trump Administration appears to be more interested in keeping the status quo of the war which is opposed to the interest of the Syria and their people. Perhaps the offensive will be swift, but Sun Tzu also says to allow the enemy the ability to retreat. The Islamic terrorists are almost out of room to retreat, unless they want to work for Ergodan. The Trump administration is right to be concerned for Al-Qaeda's Last Stand in Syria being dangerous to civilians, but wrong in their indifference towards the Islamic terrorism in the region.
Saudi foreign minister does damage control on American press
The foreign relations mess stemming from Jamal Khashoggi's murder continues to grow more chaotic despite Saudi Arabia's attempt to cover it up with regularly changing stories. The latest attempt at damage control comes from Saudi Foreign Minister Adel al-Jubeir.
Fox News' Bret Baier him, pressing multiple times about Mohammad bin Salman's role in or knowledge of the operation that led to Khashoggi's murder. The blame is being placed on the individuals who carried out the operation; as much space is being created between the direct actors and Saudi leadership as possible.
One important note in the interview was when al-Jubier said they do not believe the entire 15-man "kill team" was at the consulate where when Khashoggi was killed there. He admitted he did not know whether Turkey really had a recording of what happened during the incident, nor whether the United States had intelligence that contradicted the Kingdom's story.
The responses from the foreign minister were in stark contrast to the indignation exuding from the Kingdom for two weeks following the initial report of Khashoggi's disappearance.
My Take
As I wrote last week, Saudi Arabia gravely underestimated the international response to this incident. They thought they could get rid of a dissident as they have done in the past and the response would be muted. They didn't take into account his American ties and the desire of the Turks to expose them at every turn.
How is this going to end? It won't, at least not for a while. Unlike other international news stories of similar magnitude, this one has multiple forces bent on keeping the story going until a satisfactory resolution is reached. It won't be reached. The White House and the Kingdom will do whatever they can to sweep this under the rug and make people forget.
This stinks, but here's the sad reality: "Justice" will not be delivered the way it should and the relationship between Saudi Arabia and the United States will return to the status quo in a few months.
Pulling out of the INF treaty isn't just about Russia
Russia has broken the treaty already, according to this administration as well as its predecessor. That's enough to prompt President Trump to put out of the Intermediate-Range Nuclear Forces (INF) treaty, famously signed by President Reagan and Soviet General Secretary Gorbachev in 1987.
The US will withdraw from a landmark nuclear weapons treaty with Russia, President Donald Trump has confirmed.
Speaking to reporters, Mr Trump said Russia had "violated" the 1987 Intermediate-Range Nuclear Forces (INF) treaty.
The deal banned ground-launched medium-range missiles, with a range of between 500 and 5,500km (310-3,400 miles).
My Take
This isn't about Russia. Their actions are the excuse for pulling out, but the reason for doing so is because China has no such restrictions. They're advancements in weaponry have prompted the United States and our allies to explore means of warfare that have been prohibited.
Until now.
This is a counter to China's continued aggressive actions. Russia will keep doing what Presidents Obama and Trump already acknowledged. No we can step up our missile program as well.
Russian meddling is about dividing us, not helping Trump
Russia is meddling with our elections. They're meddling with our entire political system. They're meddling in our culture, freedoms, and methods of communication. I once believed they were trying to help Donald Trump become President. Now I realize they are simply elements of chaos.
Today's report of charges filed against a Russian agent working against American interests is striking for two reasons. First, the details they've been able to uncover about "Project Lakhta" are astounding. Second, their strategic goal was NOT to get one person or one party into office but to sow division among the American people regardless of their political ideology.
"The strategic goal of this alleged conspiracy, which continues to this day, is to sow discord in the U.S. political system and to undermine faith in our democratic institutions," said G. Zachary Terwilliger, U.S. Attorney for the Eastern District of Virginia. "This case demonstrates that federal law enforcement authorities will work aggressively to investigate and prosecute the perpetrators of unlawful foreign influence activities whenever feasible, and that we will not stand by idly while foreign actors obstruct the lawful functions of our government. I want to thank the agents and prosecutors for their determined work on this case."
Russia didn't want Trump or Clinton to be President. They didn't really care who won. All they wanted and continue to want is that no matter who wins any given election, the opposition will be so hateful about the loss that they're willing to act out more aggressively than they otherwise would have normally.
It's finally becoming clear that Russia's plan is much more subverted and, frankly, ingenious than anything mainstream media or the Democrats could have ever fathomed.
They are taking advantage of our freedom of speech and the technology that allows that speech to reach the masses. They're theory is that if they can get people on both sides of the political spectrum to voice their opinions with hate rather than understanding, it will spread. Those who have practiced thoughtful debate are now becoming raving ranters. Those who once argued their points thoughtfully are now becoming trolls.
Russia is not the only negative actor in this and the trends were already pointing to this divisiveness taking hold and spreading like a virus well before Project Lakhta was conceived, but they have definitely added to the cacophony and harnessed our vilest emotional responses to be used against us.
Their goal is to push as many people towards the fringes as possible. They want the far-left and the far-right to grow. They want debates to turn into arguments, then arguments to turn into blind rage. From there, they speculated that we would be the initiators of our own destruction.
They may be right.
From the Brett Kavanaugh confirmation debacle to the illegal immigration debate to anything that has to do with gun rights, Americans on both sides of the aisle are becoming more passionate. That's leading many to become unhinged. When enough people are unhinged, any hopes of civil discourse can be forgotten. We are getting to the point where we no longer discuss our differences. We simply try to shout our perspectives louder than those opposed to us.
The left is the easier target. I'm not just saying that as a conservative. I say that because their position on issues make it easier for them to be emotional when news breaks about an event important to them. This is why those who blame racism for everything are not only seeing racism in every aspect of American life but are feeling justified in practicing their own versions of racism.
We now see that Russia's goal wasn't to get Trump elected. It was to make one side or the other absolutely hate the outcome regardless of who won. They aren't pushing a political agenda. They're pushing a cultural apocalypse.