Trump Administration scolds counter-terror offensive in Syria's Idlib province, ignores Afrin
The Syrian Civil War is all but over. President Assad, with the intense assistance of Russia and Iran, has relegated the jihadi opposition to Syria's northeast. The war between the Syrian government and the Islamic terrorists rebel groups has been at a simmer since they surrendered their besieged holdings near the country's capital back in April. The terrorist-rebels are consolidated to the Syria's northeast Idlib province, bordering territory held by Turkish backed terrorists in Afrin. Turkey seized land as part of its Euphrates Shield and Operation Olive Branch offensives.
President Bashar al-Assad of Syria must not recklessly attack Idlib Province. The Russians and Iranians would be making a grave humanitarian mistake to take part in this potential human tragedy. Hundreds of thousands of people could be killed. Don't let that happen!
On September 4th, Russia resumed airstrikes on Idlib prompting many to speculate an offensive is near. Secretary Pompeo had a phone call with President Ergodan both expressing that an offensive in Idlib would be unacceptable.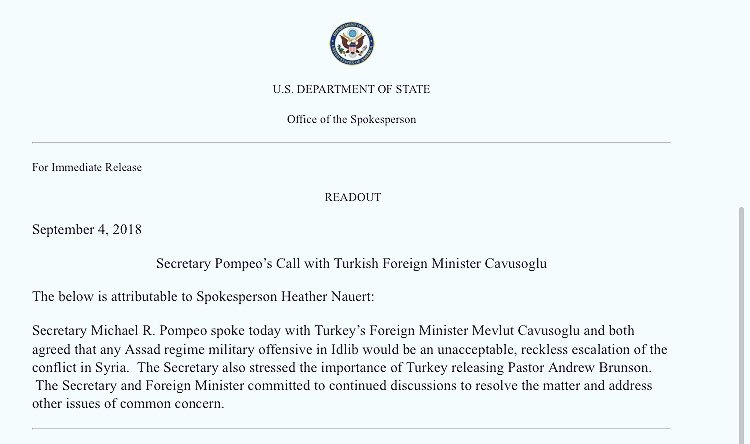 The looming offensive raises concerns about shifting conventions of warfare, specifically that involving the use of chemical weapons. Tom Rogan of Washington Examiner writes
U.S. intelligence sees evidence Bashar Assad will use chemical weapons in Idlib. Bolstering this suspicion is Vladimir Putin's strategic interests: He wants Assad to employ chemical weapons in order to degrade American credibility. Russia will try to present any chemical attack as the result of a western-supported conspiracy to blame Assad. While this deception is simplistic, it indicates that Russia both expects Assad to use chemical weapons and has given its tacit blessing for him to do so.
In Sun Tzu's Art of War, when the enemy is outnumbered 10 to 1, capture them. When an enemy is outnumbered 5 to 1 attack. HTS finds itself in closer to a 5 to 1 situation and are unwilling to preemptively surrender. A massive humanitarian crisis is inevitable, and conventions of war permissible by the United Nations have proven ineffective. No nation benefits from a prolonged war, something Sun Tzu also said. In contrast, the terrorist stronghold in Aleppo crumbled when Russia and Syria specifically targeted facilities functioning as hospitals. In April, rebels surrendered after being attacked with chemical weapons. The counterterrorism measure prompted a US military response. Syria and Russia know that these brutalities will be necessary to wipe away Islamic terrorists in their fortified stronghold of Idlib and will be.
Meanwhile the Trump administration's attention towards one humanitarian crisis sheds light on the one they've ignored. Turkey has been occupying Afrin with the assistance of jihadists they backed. The Kurdish YPG have been turned into freedom fighters as reports of ISIS like atrocities spring from the region.
The Region details the situation:
Occupying militias are known to have kidnapped and tortured over a thousand civilians, especially those with any relationship to the autonomous self-administration of Afrin Canton. Local collaborators have reportedly provided militias with lists of Afrin residents whose families would be able to afford large ransoms.
The videos are reminiscent of those produced by ISIS when the group first overran parts of Iraq and Syria. It has been alleged that Turkey used ex-ISIS members in Operation Olive Branch, and videos of Olive Branch forces singing ISIS nasheeds, interrogating civilians about Muslim religious practices to determine their faith, and threatening to behead "infidel Kurds" circulated widely during the invasion.
The Trump administration has made little mention of the Afrin region even as relations with Turkey plummet due to their capturing of an American citizen. The war in Syria now hang in the balance of negotiations between Syria, Iran, Russia, and Turkey. The established nations have not engaged each other and have set up numerous fortresses or observation points within the country. Turkish observation points reside in the Islamists' territories.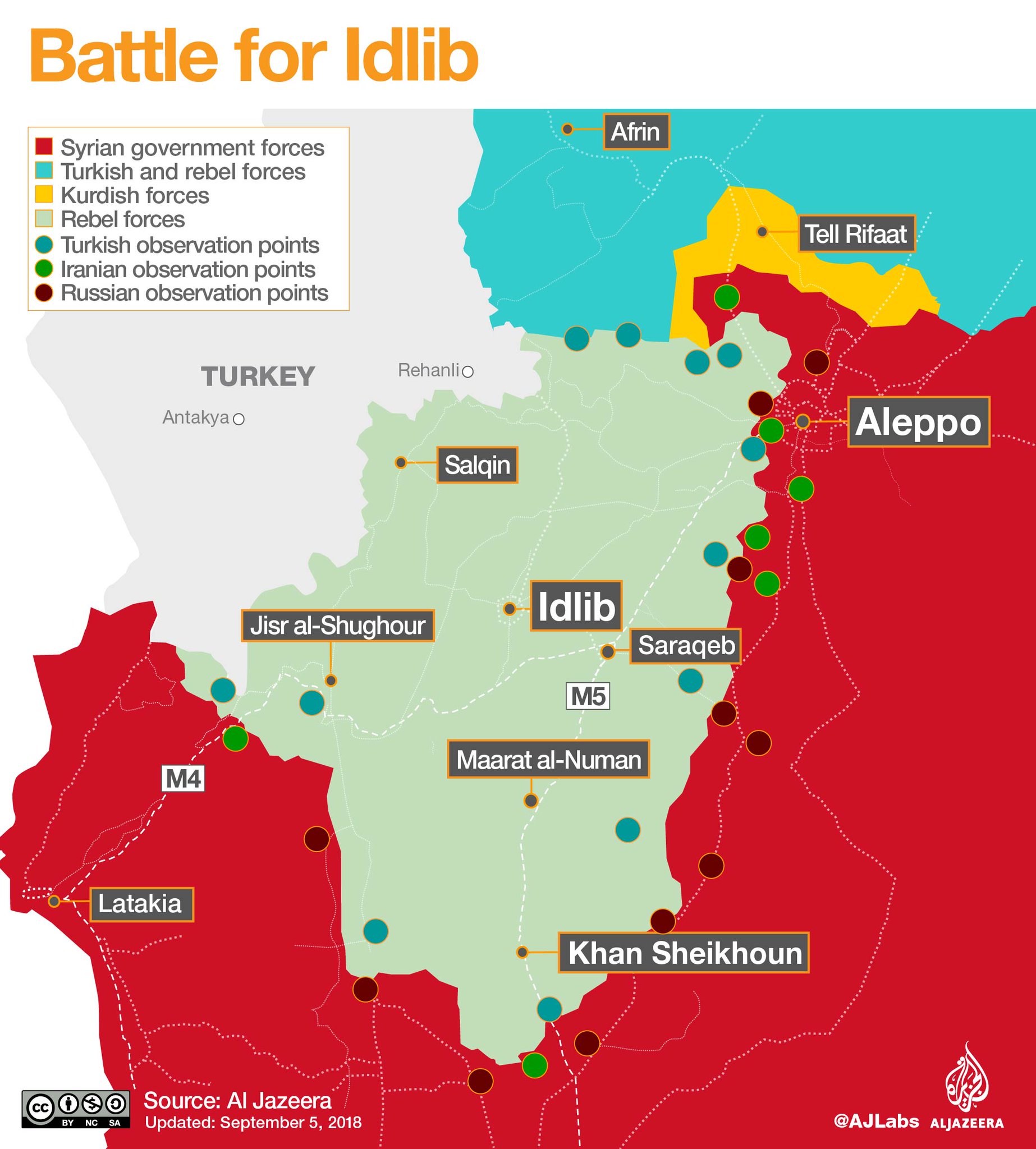 Concluding Thoughts
The terrorists hold too little ground to have any negotiating power. There refusal to surrender prevents a peaceful wrap up to the war. An offensive, therefore, is unavoidable. The Trump Administration appears to be more interested in keeping the status quo of the war which is opposed to the interest of the Syria and their people. Perhaps the offensive will be swift, but Sun Tzu also says to allow the enemy the ability to retreat. The Islamic terrorists are almost out of room to retreat, unless they want to work for Ergodan. The Trump administration is right to be concerned for Al-Qaeda's Last Stand in Syria being dangerous to civilians, but wrong in their indifference towards the Islamic terrorism in the region.
Thanks to Trump, Americans still have free speech
In spite of what mainstream media says, Trump's rejection of the "Christchurch Call" may spare Americans from the Orwellian censorship other Western countries have pledged their allegiance to
Using tragedies to push political agendas is nothing new.
While people are still reeling from some disaster, before they are thinking rationally again is the best time for the shrewd-minded to take advantage of the situation. These cunning individuals cite prevention of another catastrophe in order to pressure those soft hearts – yet to come down from the shock of recent horrific events – into taking rash, impulsive, immediate action.
This is exactly what happened on May 15, when several nations and big tech companies, such as Facebook, Google, Twitter, Amazon, and Microsoft, signed a pledge written up in response to the Christchurch mosque massacre which was live-streamed by the shooter on Facebook.
The "Christchurch Call To Action," which can be read in its entirety here, outlined efforts to be taken in order "to eliminate terrorist and violent extremist content online," including "strengthening the resilience and inclusiveness of our societies" and encouraging media to "apply ethical standards when depicting terrorist events online."
Among the countries who signed the call were Britain, New Zealand, Australia, Canada, Ireland, Italy, France, Germany, Spain, Norway, Sweden, the Netherlands, the European Commission, Japan, Senegal, Jordan, India, and Indonesia.
But not America.
President Trump saw through the guise of humanitarianism that the Christchurch Call hid behind and refused to get on board.
In a statement regarding the president's decision not to sign the Call, the White House claimed,
"We continue to be proactive in our efforts to counter terrorist content online while also continuing to respect freedom of expression and freedom of the press. Further, we maintain that the best tool to defeat terrorist speech is productive speech, and thus we emphasize the importance of promoting credible, alternative narratives as the primary means by which we can defeat terrorist messaging."
Unsurprisingly, Trump has received a lot of backlash from mainstream media accusing him of being a "white supremacist bigot" contributing to "hate" for not signing the Call, but in reality, Trump was wise to stand against the crowd on this one.
The Christchurch Call is framed as a means for combating terrorism, but the vague terms sprinkled throughout the reactionary document like "inclusiveness" and "ethical standards" leave too much open to interpretation. Such loosely defined words make plenty of room for government censorship of any dissenting opinions on the Internet.
Other western countries are already sliding down the slippery slope towards an Orwellian future.
Just after the Christchurch shooting, New Zealand criminalized the video of the assailant's livestream and his manifesto. Now, several citizens of New Zealand have been arrested and are facing up to 14 years of imprisonment just for sharing the video.
Some New Zealanders have also reported receiving visits from local police, who asked questions regarding their political views, such as if they liked Trump or not.
In Scotland, a man was fined £800 for making this video in the spirit of comedy:
Several U.K. citizens have been arrested, fined, or had the police visit them for criticizing Islam on social media.
While Americans like Alex Jones have questionably been banned from platforms like Facebook and Youtube, this is the worst it gets in the United States.
In America, government involvement in silencing online political dissidents through arrests and fines is unheard of. In declining to sign the Christchurch Call, Trump made a statement displaying his commitment to preserving his people's right to voice their opinions, no matter how controversial.
While the Trump administration still stands, America will remain the land of freedom of speech.
Sources
Trump hits Biden on China connections
One thing has been made clear by recent events as they pertain to China: They are dying for someone to beat President Trump next November. In many ways, they're banking on it.
This should make every American, including Democrats, concerned because even more than Russia, China has the capabilities to get in and change the hearts and minds of Americans, hack the 2020 election, and set in motion events that will benefit them. We're talking about a country with nearly unlimited resources when it comes to cyberwarfare and social engineering. If Russia was ever a real concern to Washington DC, China is the true 800-lb gorilla in the political influence room.
The President called out former Vice President Joe Biden for his and his family's involvement in China. Speaking to Steve Hilton on the Fox News show, The Next Revolution with Steve Hilton, the President pointed to alarming facts about the frontrunner for the Democratic nomination.
The threat from China is far greater than that from Russia, both economically as well as geopolitically. They have been a stirring giant for years. For the 2020 election, their stirring may turn into game-changing action if we're not watchful.
Economic portion of Middle East peace plan to be unveiled June 25 in Bahrain
The long-anticipated "deal of the century" finally has an official date for a partial release. The economic portion, which will detail how Palestinians will be supported as well as how they can eventually support themselves, will be unveiled June 25, 2019, at the "Peace to Prosperity" economic forum in the Manama, Bahrain.
The plan, which has been brewing for over two years, is expected to trade land and economic considerations for peace and unity between Israel and a newly formed "New Palestine." Earlier this month, an alleged leak of the highlights of the plan was leaked to Israeli press.
#BREAKING The economic part of the peace plan will be released during an international conference in Bahrain.https://t.co/YYrcF7GkLs

— The Jerusalem Post (@Jerusalem_Post) May 19, 2019
Opinion
We may be closer to actual peace in the Middle East than ever before. It may be a Pyrrhic victory for the administration and Israel if it's successful; a two-state solution could mark the beginning of the end for the Jewish state as its enemies gain a nearer foothold where attacks can happen.
While the plan details are unknown, it must be assumed Israel wouldn't risk it unless they were either coerced by the United States or if they were made to believe they could maintain security over the newly released lands on the West Bank.
But there's a different specter that looms large over both Israel and a new Palestinian state. Iran and its proxies are bent on disrupting any peace plan that includes the continued existence of Israel, the dominance of Saudi Arabia in the region, or the influence of United States over the Middle East. They will do everything in their power to disrupt and subvert the peace plan efforts.
Quote
"We look forward to engaging with business and thought leaders from throughout the region and the world to build consensus around the best steps the international community can take to develop the foundation for a prosperous future." – Jared Kushner
Final Thoughts
By releasing the economic portion first, the White House hopes to get support from the Arab world and Palestinians to pressure leadership into considering the plan. As of now, Palestinian leadership has preemptively rejected the plan.