The Syrian Civil War is all but over. President Assad, with the intense assistance of Russia and Iran, has relegated the jihadi opposition to Syria's northeast. The war between the Syrian government and the Islamic terrorists rebel groups has been at a simmer since they surrendered their besieged holdings near the country's capital back in April. The terrorist-rebels are consolidated to the Syria's northeast Idlib province, bordering territory held by Turkish backed terrorists in Afrin. Turkey seized land as part of its Euphrates Shield and Operation Olive Branch offensives.
President Bashar al-Assad of Syria must not recklessly attack Idlib Province. The Russians and Iranians would be making a grave humanitarian mistake to take part in this potential human tragedy. Hundreds of thousands of people could be killed. Don't let that happen!
Donald Trump
On September 4th, Russia resumed airstrikes on Idlib prompting many to speculate an offensive is near. Secretary Pompeo had a phone call with President Ergodan both expressing that an offensive in Idlib would be unacceptable.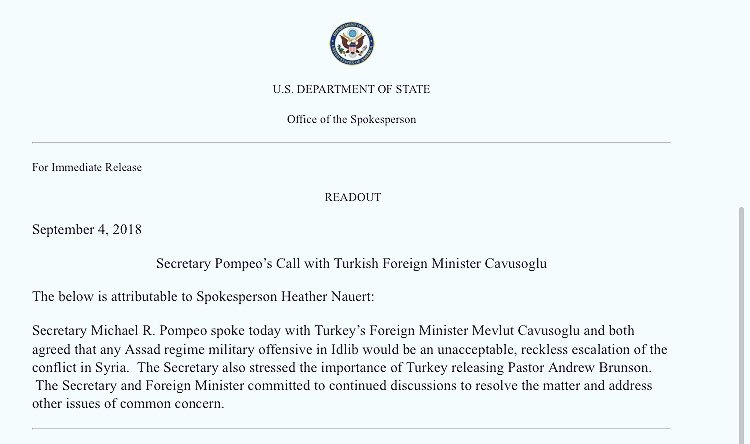 The looming offensive raises concerns about shifting conventions of warfare, specifically that involving the use of chemical weapons. Tom Rogan of Washington Examiner writes
U.S. intelligence sees evidence Bashar Assad will use chemical weapons in Idlib. Bolstering this suspicion is Vladimir Putin's strategic interests: He wants Assad to employ chemical weapons in order to degrade American credibility. Russia will try to present any chemical attack as the result of a western-supported conspiracy to blame Assad. While this deception is simplistic, it indicates that Russia both expects Assad to use chemical weapons and has given its tacit blessing for him to do so.
In Sun Tzu's Art of War, when the enemy is outnumbered 10 to 1, capture them. When an enemy is outnumbered 5 to 1 attack. HTS finds itself in closer to a 5 to 1 situation and are unwilling to preemptively surrender. A massive humanitarian crisis is inevitable, and conventions of war permissible by the United Nations have proven ineffective. No nation benefits from a prolonged war, something Sun Tzu also said. In contrast, the terrorist stronghold in Aleppo crumbled when Russia and Syria specifically targeted facilities functioning as hospitals. In April, rebels surrendered after being attacked with chemical weapons. The counterterrorism measure prompted a US military response. Syria and Russia know that these brutalities will be necessary to wipe away Islamic terrorists in their fortified stronghold of Idlib and will be.
Meanwhile the Trump administration's attention towards one humanitarian crisis sheds light on the one they've ignored. Turkey has been occupying Afrin with the assistance of jihadists they backed. The Kurdish YPG have been turned into freedom fighters as reports of ISIS like atrocities spring from the region.
The Region details the situation:
Occupying militias are known to have kidnapped and tortured over a thousand civilians, especially those with any relationship to the autonomous self-administration of Afrin Canton. Local collaborators have reportedly provided militias with lists of Afrin residents whose families would be able to afford large ransoms.
The videos are reminiscent of those produced by ISIS when the group first overran parts of Iraq and Syria. It has been alleged that Turkey used ex-ISIS members in Operation Olive Branch, and videos of Olive Branch forces singing ISIS nasheeds, interrogating civilians about Muslim religious practices to determine their faith, and threatening to behead "infidel Kurds" circulated widely during the invasion.
With food shortages coming, it's a smart move to order organic, cooked, freeze-dried chicken for long-term storage from Prepper Organics.
The Trump administration has made little mention of the Afrin region even as relations with Turkey plummet due to their capturing of an American citizen. The war in Syria now hang in the balance of negotiations between Syria, Iran, Russia, and Turkey. The established nations have not engaged each other and have set up numerous fortresses or observation points within the country. Turkish observation points reside in the Islamists' territories.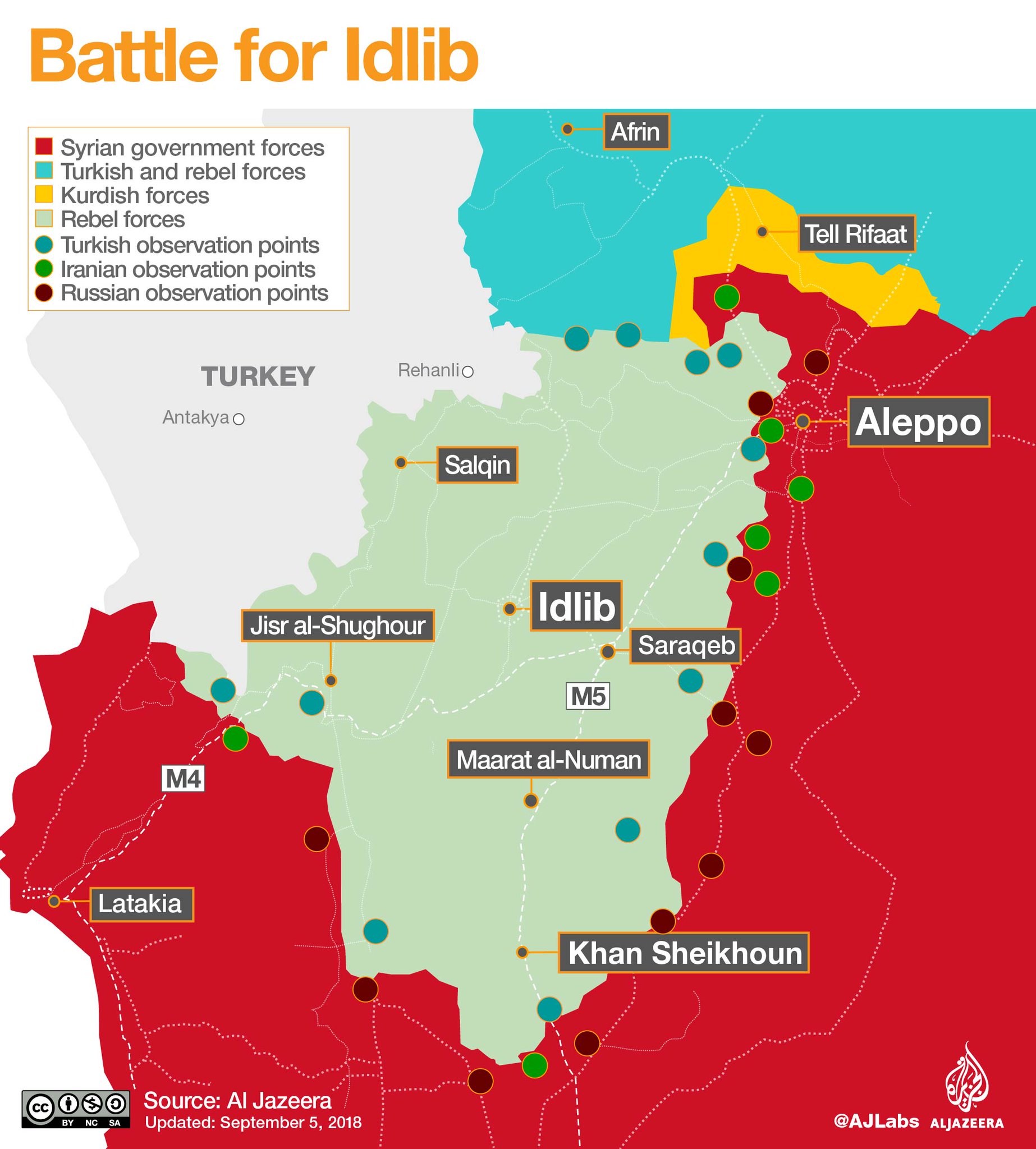 Concluding Thoughts
The terrorists hold too little ground to have any negotiating power. There refusal to surrender prevents a peaceful wrap up to the war. An offensive, therefore, is unavoidable. The Trump Administration appears to be more interested in keeping the status quo of the war which is opposed to the interest of the Syria and their people. Perhaps the offensive will be swift, but Sun Tzu also says to allow the enemy the ability to retreat. The Islamic terrorists are almost out of room to retreat, unless they want to work for Ergodan. The Trump administration is right to be concerned for Al-Qaeda's Last Stand in Syria being dangerous to civilians, but wrong in their indifference towards the Islamic terrorism in the region.
---
---
We Often Feel Like David Taking on Giants
Today's Goliath is the Mainstream Media Industrial Complex that brainwashes the masses.
Our mission is very straightforward: To counter the false narratives and nefarious agendas destroying America today. It isn't easy for obvious reasons; despite incredible growth over the last year we are still a very tiny fish in a huge media pond. But we're fighting and we will continue to do so, Lord willing, for as long as we possibly can. The battle for America's present and future is too important for us to back down to the giants that stand in our way.
We need help. I don't want to say "desperately," but the need is definitely great. If you have the means, please donate through our GivingFuel page, PayPal, or our Substack page. Your generosity is what keeps these sites running and allows us to get the truth to the masses. We've had great success in growing but we know we can do more with your assistance.
Thank you, and God Bless!
JD Rucker
---
Covid variant BA.5 is spreading. It appears milder but much more contagious and evades natural immunity. Best to boost your immune system with new Z-Dtox and Z-Stack nutraceuticals from our dear friend, the late Dr. Vladimir Zelenko.