Trump went full Globalist First with Syria strikes
Too often we find ourselves in emotive cycles. For instance, mass shootings are used by the anti-gun crowd as a means to motivate a legislative attack on our Second Amendment. Likewise, chemical weapon incidences in Syria are similarly used to create an emotionally based reason to use military action. We are quick to assume that the Assad regime was responsible for the previous high profile uses of chemical weapons in the Syrian Civil War. This started under the Obama administration with his famous "Red Line" blunder in which he declared any use of chemical warfare unacceptable even if against the Al Qaeda affiliates or the JV team, ISIS. Trump, in contrast, followed through on Obama's blunders, when the cycle repeated itself again.
A little over a year ago there was a chemical weapons attack in Khan Sheikhoun, in a province most openly ruled by the rebrandings of Al Qaeda. This incident led to Trump ordering airstrikes on Syria betraying his campaign promise of staying out of Syria. This attack was carried out under false and premature pretenses. This is an instance where the intelligence community says one thing but evidence says another. But before you defend the intelligence community's infallibility, look back to how they insisted the DNC was hacked despite the lack of evidence, specifically from the server, that a hack took place. And so the Russian Farce Began. Theodore Postol, a professor at MIT and former DoD scientific adviser pointed out the staged nature of the evidence regarding sarin gas attack in 2017. He ultimately showed that the crater and canister that is credited with the chemical weapons rocket was detonated from the ground, not the air. Read more about his findings here. The point is: the emotive response automatically assumes that the Assad regime carried out the attack. There have been many chemical weapons uses in the war, but only about three or four have gotten media notoriety. I don't deny that the Syrian Arab Army has used chemical weapons ever, but I seriously doubt the nonstrategic use of chemical weapons that occurred in these notorious incidences. Though as described below, this incident had a strategic outcome.
With the most recent incidence, guilt has already been pointed at Assad restarting the cycle. I don't care to defend Assad in this instance. I do however want to call Trump and his supporters out on their own support of globalism. So let's assume Assad carried out this attack. Let's assume Assad gassed Al Qaeda territories a day after launching a new offensive and because he did, the terrorists surrendered. Why should we care?
The easiest reason to dismiss is that striking Assad is beneficial to America's Middle Eastern strategy. This would imply that there has been a strategy in the Middle East. But even if we soften strategy to "interests" striking Assad is counter to America's interest. Al Qaeda has lost in Syria and is clinging to certain besieged areas. In the particular area of this incident the group that was beseiged was called the "Army of Islam". How does weakening the army that has done more to fight Al Qaeda and ISIS than the US in the last decade benefit Americans or their interests? If Hezbollah, a terror organization sponsored and allied with Assad, were alleged to have been responsible, this would be a different story. But instead, we target the one belligerent in the Syrian Civil War that can actually stabilize the region, even if slowly.
You could then claim about civilian deaths which have been a constant theme in this war on all sides. Most recently, this year Turkey has taken to slaughtering Kurds in its land grab of Northern Syria, but Donald Trump doesn't seem to care about the death toll there. Nor have other brutalities in Syria been enough for Trump or Obama, to act. Assad, along with every belligerent, has killed civilians in this war. Why are these deaths special? News flash they aren't. A person is a person is a person. A person dies whether being shot, stabbed or gassed. The people who died in the gas attack were no more important than the people who died in gunfire or strategic bombing. Every person has a moral worth that is irrelevant to their cause of death. So this isn't about civilian deaths. This is about chemical weapons in and of themselves.
So now that we established Trump attacked Syria because of chemical weapons, now lets dive in to why he's a globalist for it. Trump wanted to send a message that the use of chemical weapons is unacceptable. But why is it unacceptable? What makes chemical weapons different than bullets and shells. Why is gas morally reprehensible and incendiary bombs permissible? There is no logical way to construct an argument that chemical weapons are impermissible while nuclear, radiological, and biological aren't (though biological weapons are difficult if not impossible to control thus having little strategic use.) If we are to accept that weapons of mass destruction are morally wrong to ever use, then it would be inconsistent to not favor disarmament. Furthermore as Americans we would have to admit that the use of atomic bombs was a immoral decision if we do insist that the use of WMDs is morally impermissible.
I refuse to accept these premises and rewrite history in a globalist politically correct way. So why are chemical weapons such a big deal? The short answer is that the UN says they are a big deal. After World War 1, the League of Nations sought to outlaw chemical warfare and war in general. The ladder was ineffective. Though chemical weapons didn't see as much light in World War 2, more extreme weapons did. Since its founding, the UN has sought to control what weapons a country can have. In addition to chemical weapons, there's the anti-nuclear proliferation treaty. Article V of the NPT requires disarmament which nuclear nations have thus far refused. Some nuclear nations tolerate this treaty because they don't want have-nots to get nukes. Others such as Israel, India, and Pakistan recognize that the UN wants to place limitations on their self defense capabilities. UN limitations on chemical weapons are similarly globalist schemes for the UN to encroach on a nation's sovereignty. Chemical weapon use is wrong according to international law, not in and of themselves. As Ben Shapiro noted:
One of the arguments for intervention in Syria is that if we do nothing to reimpose the Obama red line in Syria, chemical weapons use will become more common. That's probably true. But it's also true that if someone attacked Americans with chemical weapons, we would end them. Furthermore, not all chemical weapons are the same: some are indeed weapons of mass destruction, but others are not as dangerous in scope as cluster bombs. Do the 500,000 dead in Syria's civil war care whether they were killed by Russian cluster bombs or sarin gas?
So when Trump attacked Syria, he wasn't responding to a threat nor can we really say it was about the people killed. He was upholding the UN's power which Syria defied. This is where Trump goes full globalist. Never go full globalist. To repeat myself: he had the United State's military attack another country because of a violation of international law! In the United States, international law has very little power here. This was established in Medellin v Texas. The globalist community cares not about American interests. Do we not remember when the UN condemned America's recognition of Jerusalem as Israel's capital? It was allowed by Congress for decades. The UN would want nothing more than for America to relinquish its power.
Globalist First
All of Trump's talk of nationalism is really a farce. He had our military act on a globalist cause, not "America First". Trump may talk tough on tariffs, but globalism isn't really about economics, its about sovereignty. Being "tough" on China doesn't benefit America First. Instead these tariffs are now the biggest  threat to our economic security coming out of the Great Recession. Bombing Syria doesn't benefit America first. It benefits Turkey and their terrorists. It benefits the UN. Trump wasted military resources doing the UN's bidding instead of making America or its allies safer. Trump upheld UN norms instead of his lawful duties as defined by Congress and the US Constitution.
In an America First foreign policy, we would have seen if the President had gone through America first. Congress. Instead Trump relied on a thumbs up which he got from the globalist community.
As Venezuela implodes, Trump administration recognizes Juan Guaidó as President
The destruction of Venezuela by socialism and corruption is practically complete, but hope is on the horizon. A new President has been recognized by the United States, making Nicolas Maduro's presidency nearly finished.
.@realdonaldtrump has officially recognized @jguaido as the legitimate constitutional President of #Venezuela.

— Marco Rubio (@marcorubio) January 23, 2019
Juan Guaidó has been serving as the President of the National Assembly of Venezuela since earlier this month and assumed the role of interim President earlier today. The United States joins Brazil, Canada, Chile, Colombia, and Puerto Rico in recognizing his claim as legitimate.
People have filled the streets of Caracas in an amazing display of solidarity against Maduro, who held an "inauguration" on January 11 despite clear indicators the May 2018 elections were rigged. Now, the streets of Caracas are full.
@SenRickScott Protest against Dictator Maduro in Caracas at this moment. pic.twitter.com/I4wXgZmN5L

— Víctor (@victorinox79) January 23, 2019
VIDEO: Huge anti-government demonstration in #Caracas #Venezuela today – @emiduartepic.twitter.com/jhRCfaTvn5

— Conflict News (@Conflicts) January 23, 2019
The beautiful@people of #Caracas protesting the socialist menace in #Venezuela

Go you good things. Follow Brazil. Throw off the enslavement of the left

See this @AOC? This is the nightmare you prescribe#VenezuelaGritaLibertad credit please @sol651

— Katie Hopkins (@KTHopkins) January 23, 2019
President Trump confirmed the move following multiple news outlets quoting White House officials.
The citizens of Venezuela have suffered for too long at the hands of the illegitimate Maduro regime. Today, I have officially recognized the President of the Venezuelan National Assembly, Juan Guaido, as the Interim President of Venezuela. https://t.co/WItWPiG9jK

— Donald J. Trump (@realDonaldTrump) January 23, 2019
Ironically, Guaidó's rallying cry happens to be "Sí, se puede!", Spanish for "Yes we can."
My Take
This is the only viable move given the circumstances. As I posted on Facebook:
It may not be possible for Guaidó to turn around the failing nation without a lot of outside assistance, but one thing is certain: Maduro had zero chance of making anything better for his starving people.
Democrats will use "Mexico is going to pay for it" more than they used "Read my lips, no new taxes"
America needs a border wall. This is evident to anyone who is honest and has an ounce of common sense. We need to pay for it as well. But that's not what we were promised. During the 2016 presidential campaign, then-candidate Trump repeatedly said he was going to build the wall "and Mexico's going to pay for it."
To be fair, only idiots believed him. It was one of those campaign promises that most conservatives assumed meant restructured trade deals or foreign aid changes that would siphon money from Mexico back into the United States, but that's not how it'll be positioned by Democrats in next year's Presidential election. They're going to make as many Americans believe that it was a literal promise, one the President hammered continuously. They will say it was a blatantly broken promise and Americans shouldn't trust any of his campaign promises going forward.
The President will counter with statistics and talking points showing how America is getting money from Mexico in other ways. They may not have written a check for the wall, but they're paying for it in other ways. That will be the storyline. Will it stick?
To answer that question, we'll need to see if the Democrats are able to make their narrative prominent without turning it into a joke. If they don't hammer it enough, it won't be effective. If they hammer it too much, it'll be viewed as a repetitive talking point, in which case the President will be able to reverse it on them by demonstrating it's the only argument they have against his reelection.
In 1992, candidate Bill Clinton was able to drive home the message that President George H.W. Bush lied to Americans when he famously said, "Read my lips, no new taxes." These words, which played extremely well during the 1988 campaign, came back to haunt him. Most historians attribute H. Ross Perot's candidacy as the reason the elder Bush wasn't reelected, but the adamant pronouncement followed by an inability to fulfill it didn't help Bush's cause.
For the President to overcome this 2020 election talking point, he must get wall construction started and he must demonstrate that jobs and businesses are coming back to America from Mexico. For America's sake, as well as for the 2020 election, BUILD THE WALL.
Is Israel on the brink of war?
Israel and Iran continue to trade threats and missile attacks over Syria as the latest round targeted Iranian Quds forces near Damascus. The IDF, which has confirmed attacks recently, went so far as to announce the attacks on Twitter.
We have started striking Iranian Quds targets in Syrian territory. We warn the Syrian Armed Forces against attempting to harm Israeli forces or territory.

— Israel Defense Forces (@IDF) January 20, 2019
This attack was in response to a missile launched from Syria by Iranian Quds Forces into the Golan Heights. The missile was intercepted by the Iron Dome, which was captured on camera by skiers on Mt. Hermon.
This is what's been happening:
On Sunday, Iranian Quds Forces operating in Syria launched a surface-to-surface rocket from Syria aimed at Israel's Golan Heights. The Iron Dome Aerial Defense System intercepted the rocket. pic.twitter.com/P7yvkpR6An

— Israel Defense Forces (@IDF) January 21, 2019
The overnight attacks on Syria resulted in many missiles and guided bombs being shot down, but enough made it through to damage Quds training grounds, weapons depots, and kill at least 11 people. There are no reports of how many of Iran's elite forces were killed, though British-based Syrian Observatory for Human Rights said only two of the dead were Syrians.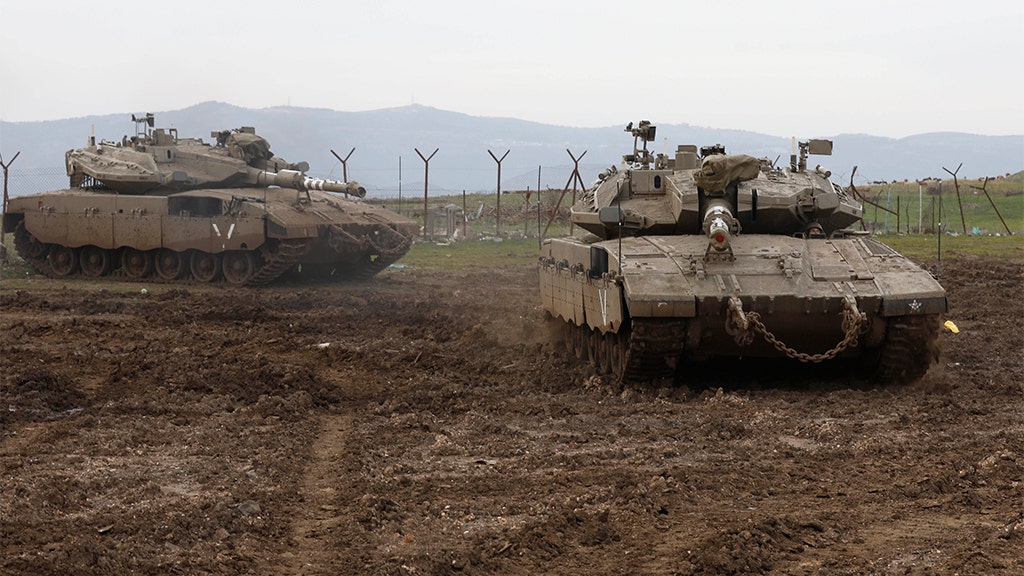 Israeli Prime Minister Benjamin Netanyahu recently confirmed that Israel had struck hundreds of targets in Syria linked to Iran and the Lebanese Hezbollah militant group, including a weapons facility two weeks ago.
Iran and Hezbollah are allied with the Syrian government in the civil war.
Iran has begun its loudest saber-rattling in some time as they send clear threats of war and the destruction of Israel through state television.
"The young people in the air force are fully ready and impatient to confront the Zionist regime and eliminate it from the Earth," IRIAF Brigadier General Aziz Nasirzadeh said following the strike.
The commander of the Iranian Air Force warned on Monday that Iran was prepared for a decisive war with Israel, "which will bring an end to the IDF's attacks on Syria." "Our armed forces are prepared for a war that will bring the crushing destruction of Israel," he said, according to media reports.
"We are ready for the day when we will see the end of Israel."
My Take
Americans are often unaware of the importance of Syria to Iran. For years, it's been assumed the only reason Iran hasn't attacked Israel, especially when they were at the height of their power during the latter years of President Obama's administration, is they have no clear path to reach Israel. Iraq, Syria, and Jordan are between Iran and the tiny Jewish state, making it nearly impossible for them to have any real reach into the heart of Israel.
This is why they are so intent on having an embedded military presence in Syria. It's why Israel is doing everything in its power to prevent them from getting a serious foothold there.
Iran's military is strong and somewhat sophisticated, but it's still no match for Israel. However, Iran could take advantage of Israel's small size if they can get enough missiles and launchers into Syria. Doing so would allow them to use Syrians as cover, a strategy currently in use by anti-Israeli forces in the Gaza Strip and Lebanon.
As long as Iran continues to pursue entrenchment in Syria, war is on the near horizon. Israeli strikes may be a catalyst for war, but they're necessary if they have any hopes of preventing Iran from taking over their Syrian neighbors wholesale.