The 4 universal gun safety rules, plus 13 more you should follow
Protecting myself and those I care about is what first interested me about firearms. Given my goal of being more safe in more situations, it'd be ironic—and even stupid—of me to not take gun safety incredibly seriously.
Regardless of what led to your involvement with firearms, whether you came from a similar place as me or not, following gun safety rules is a necessity.
In this guide, I'll be covering the 4 universal gun safety rule and explaining the importance of each. I'll then go on to add a number of additional rules I've picked up in my life that I think everyone else can benefit from.
The 4 Rules of Gun Safety
If you've ever been to a gun range, chances are you've seen these rules plastered on the wall somewhere or been required to watch instruction explaining them.
The 4 universal rules of gun safety are:
Treat all guns as if they are always loaded.
Never let the muzzle point at anything that you are not willing to destroy.
Keep your finger off the trigger until your sights are on target and you have made the decision to shoot.
Be sure of your target and what is behind it.
You should ALWAYS follow every single one of these rules, but I want to touch on each individually and explain how these rules can help protect you even if you forget to do another one of them. In the (hopefully) unlikely event you catch yourself breaking one of these rules, be sure to make a mental note of it so you can avoid doing so in the future.
1) Treat all guns as if they are always loaded.
Rules like this may seem like common sense. Shockingly, not everyone intuits things like not pointing a gun at themselves or their friends.
"Treating all guns as if they are always loaded" is largely intended to ensure you follow the other 3 gun safety rules, no matter the status of the weapon.
If you follow our additional rules, you should always know whether your gun is loaded or not. With that being said, people are forgetful and crazy accidents happen; so you should still treat every firearm as if it is loaded, as it actually could be. I'd even argue that many seasoned gun owners can become more careless than newbies about ensuring their guns are cleared after use.
2) Never let the muzzle point at anything you are not willing to destroy.
Every year, people shoot themselves or others unintentionally, though thankfully these statistics have steady been trending downward. Aside from "freak accidents" like ricochets (where in all likelihood the shooter probably didn't follow the next two safety rules), this means they probably broke the 2nd rule of gun safety.
I don't think I need to go into much explanation on how ANY gun can kill someone shot by it or damage anything it comes into contact with.
While you should always also follow Rule 3, you should never assume that you or someone else will keep their finger off the trigger. Even if you/they do, you don't want to be a part of an incredibly unlikely gun malfunction that leads to something or someone unintentionally getting shot.
3) Keep your finger off the trigger until your sights are on target and you have made the decision to shoot.
By this point you're probably starting to notice how these rules work together, potentially avoiding a disaster if you break another one of them. DO NOT EVER point a gun at something you don't want to destroy, but if you mistakenly do, and your finger is off the trigger, you're less likely to shoot that thing.
Trigger discipline, as it's known, is incredibly important to make a habit of. It's incredibly important in recreational shooting and also very important in a high-pressure defensive situation. Just because you draw your firearm for self-defense, does not necessarily mean you want to shoot.
4) Be sure of your target and what is behind it.
This is another rule that applies to recreational shooting and defensive situations. You might have also heard it as "always know your backstop".
Even if you're shooting a .22 pistol at an AR500 steel target, you might miss. When shooting recreationally, you should always have a backstop behind your targets to stop any missed shots or shots that penetrate your targets. If you're shooting at a private or public shooting range and follow rule 3, you should be safe.
In self-defense situations, this rule can be more difficult to assess and follow on the fly. It's important to identify your target, be sure that you want to take a shot, and know what lies behind your target. Even if you hit your target, an over-penetrating bullet may hit something you don't intend to shoot. Always ensure there are no innocent bystanders behind (or infront) of your target.
More Gun Safety Rules You Should Follow
While the above rules should keep you safe the vast majority of the time, there's some other rules I follow that can keep everyone even more safe.
Some of these might feel a bit obvious or even redundant, but I believe they're all important to know and follow.
The last thing to note is these aren't necessarily in any particular order of importance, so read and follow all of them!
5) Don't handle firearms when depressed or angry.
This rule is a very serious one I don't often see listed on firearm safety guides.
Those feeling angry or depressed are more likely to commit suicide and homicide. While the huge majority of legal firearm owners will never do either of these things and I don't think it's an excuse to take away our 2A rights, I still think this issue is important to talk about.
LEGAL firearm owners are far more at risk for committing suicide than homicide, as many homicides are carried out by those illegally owning firearms. Regardless of whether guns are owned legally or not, gun suicide victims have outnumbered gun homicide victims in most years since 1968.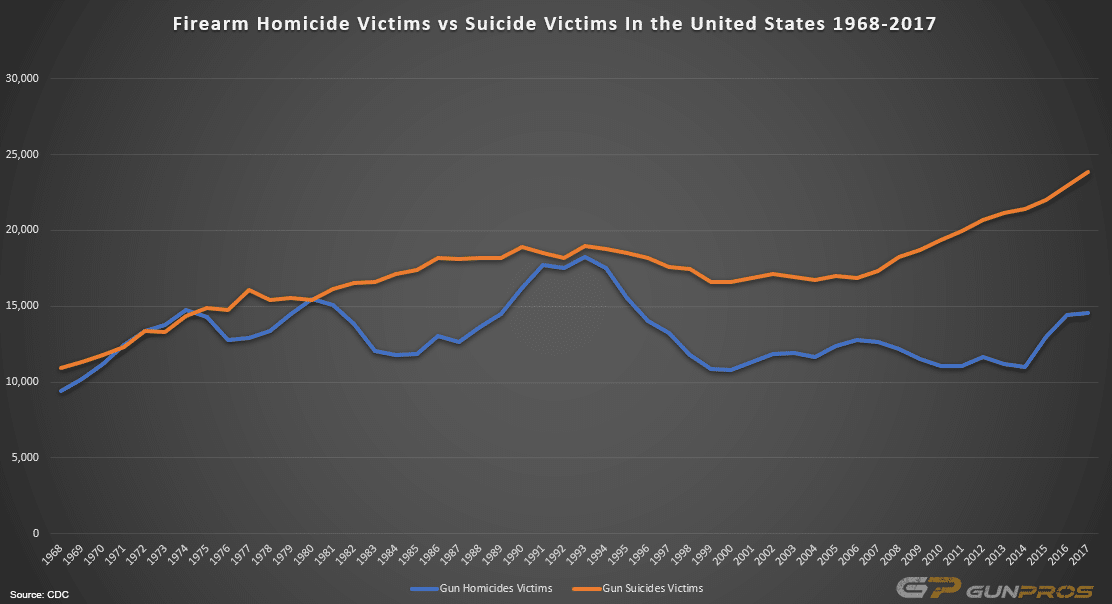 If you're in a bad mental state, you should seek help and make firearms inaccessible to yourself.
6) "Clear" a firearm anytime you touch one.
As soon as you pick up a firearm, without the immediate intention to shoot it, the first thing you should do is ensure that it's empty. For semi-automatic firearms, release the magazine, then inspect the chamber to ensure that it's empty.
You should also always do this before leaving the range or putting away your firearm.
At this point, it's become instinctual for me to do this 99% of the time as soon as I touch a firearm.
Despite this being a great rule to follow, you should still treat all firearms as if they were loaded even if they've been cleared.
7) Don't rely on your gun's safety.
Just as you should still treat all guns as if they are loaded even after clearing them, the use of a gun's safety is no excuse to disregard the other rules on this list. Even with your gun's fire controls in the "safe" position, malfunctions can still take place.
If we're being honest with ourselves, we've also all forgotten to flip to "Safe" on more than one occasion.
This of course does not mean that you shouldn't use your gun's safety, just that it shouldn't be the only thing preventing a firearm related accident.
8) Be sure that your barrel is clear of any obstructions before use.
First, be sure that your firearm is empty by removing the magazine and inspecting the chamber.
I mostly shoot pistols and AR-style rifles, so here's my procedure before using those:
Pistols
Quickly field strip your pistol to the point you can remove your barrel, then ensure there are no obstructions.
AR-Style Rifles
Remove the upper receiver from the lower receiver. Remove your charging handle and bolt carrier group. Ensure there are no obstructions.
No matter what style firearm you are using, never look down the barrel from where the bullet exits, especially if it is attached to the rest of your firearm. For other firearm platforms, research how to safely check your barrel.
9) Always wear ear and eye protection.
Always wear shooting glasses and ear protection when using or being around firearms.
Nearly all firearms can cause permanent hearing damage when not using proper hearing protection.
Shooting glasses can protect you from shrapnel and hot ejected casings.
If you're shooting at a public or privately owned range (that you pay to use), they usually do and should require you to put these on before entering the area where firearms are being shot.
10) Know your firearm.
I'm very much not a fan of people buying firearms then just setting them away in case of a home invasion. While I am in favor of using firearms to protect yourself, you should also become familiar with them.
This means reading the owners manual thoroughly and regularly practicing with your gun at the range. Regular range time will also help you internalize proper safety practices.
If you're new to firearms, it's also a great idea to take classes on firearm safety and operating a firearm.
11) You can't safely use an unsafe gun.
If your gun isn't in proper working condition, it can not be used safely.
As the previous rule stated, it's important to be familiar with your firearm. You should also regularly clean and service your firearm to ensure its in proper working order.
If you suspect any issues with your firearm, take it to a certified gunsmith. I'd also recommend having a gunsmith look at it regularly after every few thousand rounds or every year.
12) Know what to do when your gun fails to fire.
If you've pulled the trigger of your firearm and it failed to fire, the first step is to keep it pointed in a safe direction for 30 seconds. This will keep you safe in the event of a "hangfire" or delayed discharge.
After 30 seconds, remove and dispose of the cartridge in a safe way. Do not pull the trigger again before removing the cartridge.
13) Make a habit of safely removing your holstered handgun.
For those of you who concealed carry or just use holsters, make a habit of safely putting away your firearm. When not practicing drawing your firearm under safe conditions (dry fire or live practice at the range), remove the entire holster with your firearm still in it before removing the firearm from the holster.
This tip can help avoid accidents after long days of concealed carry. Though you should practice drawing your firearm from a holster, its not necessary when its loaded and you're at home.
14) Use the correct ammunition for your gun.
Using ammunition that's not intended to be used by your firearm can cause a catastrophic malfunction that can result in serious bodily harm. ALWAYS carefully read the owner's manuals for your guns and only use the ammunition listed.
For those of you who frequently shoot different calibers, you may want to consider using color coded tape or rubber bands for your firearms and magazines. This can help remind you which ammunition to use.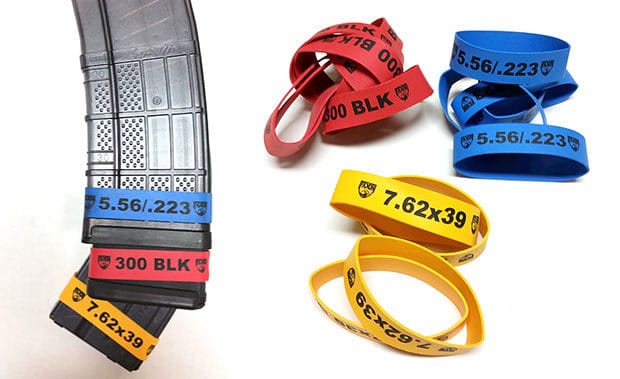 Faxon has even introduced this as a product, with color-coded and labeled rifle caliber marker bands—though you could also just use regular rubber bands. Another option is to use a marker to label everything.
15) Don't handle firearms under the influence.
In most areas it's illegal to possess a firearm while under the influence of alcohol or drugs. Regardless, doing so is a really bad idea.
Also keep in mind the effects of any prescription drugs you take. Some may prevent you from safely handling a firearm.
16) Store firearms safely.
How to store firearms is one of the more controversial subjects surround firearm safety. The reason for this is many firearm owners want to ensure their firearms are readily available for defending themselves, while some people recommend extremely strict storage practices.
One thing we should all be able to agree upon is that firearms should not be accessible to unauthorized users. When not on your person (concealed carry), you should store your firearms in a gun safe.
For those of you with children or who have children visiting your house, this arguably even more important. Children are most at risk for accidental firearm related injuries. Project Child Safe has some great in-depth information for keeping children safe from firearms.
17) Practice safe gun range practices.
When you bring guns to the range, be sure to always have them in a range bag or case.
Do not remove them from the case until you are in your shooting bay. This keeps you from "flagging" others at the range.
This is a rule at most ranges and if it's not, it should be.
Once you've unloaded your firearms, you can then move your bags out of the way.
Conclusion
This article wasn't intended to scare you about what can go wrong with firearms, but rather to help teach you how to use them safely. Following these rules and others like them can allow you to safely enjoy using firearms your entire life.
As a final note, remember that "everyone is a range safety officer". Be sure to call out unsafe practices and report them to your range safety officer. Those who don't follow proper gun safety put not only themselves, but you and others at risk.
Originally posted at GunPros.
Shame: Teens recorded fatal knifing of Khaseen Morris instead of helping him
Dozens of Long Island teenagers whipped out their phones an recorded the stabbing of one of their classmates instead of helping him, local police have reported.
Khaseen Morris, 16, was stabbed once in the chest while onlookers recorded the attack. The Oceanside High School senior had supposedly walked a girl home from a party the nigh before and was sought by the girl's ex-boyfriend. Reports indicate somewhere between 50-70 teens witnessed the attack with many of them recording it instead of intervening.
Morris was transported to a local hospital where he died.
Opinion
Kids do stupid things. They always have. But this recent trend of recording events rather than acting on them stems from a cultural and spiritual disregard for humanity. Events such as these happen outside of reach once mobile devices become the go-to. The response is not to participate or help. It's to record it. Many teens can't imagine being at an "event" without having digital record of it occurring.
This shift in mentality is isolated to those who have grown up separated from the real world by the devices they carry constantly. They might forget their keys or wallet when going somewhere, but they never forget their phones. These devices have become a part of us, very much like a technological extension similar to the cyborg technology found in science fiction. But this is willful. Nobody is forced to carry their phones everywhere. We do it willingly.
What does that say about society when someone is murdered right in front of dozens of people whose first reaction is to start recording the attack? How have Americans become so lost that the notion of helping our fellow men, women, and children is an instinct that has been superseded by the need for something to share with friends on social media? It's sickening.
These kids and their parents should be ashamed.
Quote
"Kids stood there and didn't help Khaseen. They'd rather video. They videoed his death instead of helping him." – Detective Lt. Stephen Fitzpatrick
Final Thoughts
Much of American society has become observers, recorders, and posters instead of doers. Young people in particular have grown up with faster reactions to their smartphones than to the world around them. This must change.
Gun control will be a litmus test for RINOs to primary in 2020
Gun control is a hot topic. Nearly the entirety of the modern day Democratic Party wants gun control measures in place at the local, state, or national level that they influence. This has been and always will be one of the main reasons conservatives vote for Republicans – as a shield against the gun-grabbers.
But today, many Republican lawmakers are leaning towards "common sense" gun control measures. Whether it's universal background checks that lead to a national gun registry, red flag gun laws that sidestep due process, or outright gun bans that will turn hundreds of thousands of law-abiding citizens into criminals if they are unwilling to give up their rights, the attacks against the 2nd Amendment are growing in scope and scale.
We will be watching very closely at how Republican politicians discuss and vote in regards to gun control measures. It's a litmus test; either they are willing to defend the 2nd Amendment or they are betraying their oath to protect the Constitution.
As the American Conservative Movement inches closer to officially launching, we will use this litmus test and a feasibility analysis to determine which RINOs (Republicans In Name Only) are poised for a Constitutional conservative challenger in their next election. We must be pragmatic about this. There's no reason to invest in primary battles that have no chance. But if a lawmaker favors gun control and is vulnerable, we will go on the attack.
This is, of course, secondary to the primary goal of removing progressives from office. Like a political Hippocratic Oath, we will not do harm to the republic by bolstering a progressive candidate against a moderate Republican. If it isn't feasible to replace a RINO with a Constitutional conservative who will win the general election, we will direct our efforts elsewhere. Gun control is a litmus test, not an ironclad call for immediate opposition.
We will not repeat the mistakes of those who came before us, who occasionally did so much harm to the Republican they tried to primary that they ended up helping a Democrat take over the position. We will also not attack for the sake of attacking. If we are unable to find a viable candidate to replace the RINO, then we'll move on and search harder next election.
Installing Constitutional conservatives into the halls of government requires a systematic approach. Gun control will help us identify targets. Realistic yet passionate grassroots efforts will help us push the right people into office.
We are currently forming the American Conservative Movement. If you are interested in learning more, we will be sending out information in a few weeks.
Democratic mega-donor Ed Buck arrested after third overdose at his residence
When a second man died at Ed Buck's home last year, we called on him to be investigated and arrested. But, as predicted, he was not. Now that a third man was overdosed but did not die, police have an eyewitness to the Democratic mega-donor's penchant for injecting men with methamphetamine. Now, he's been arrested.
Buck was arrested late Tuesday night and will be charged by the Los Angeles District Attorney's office with running a "drug den" in which people come and exchange favors, likely sexual, for access to Buck's drugs. Democrats who have received money from him in the past are scrambling to distance themselves from the progressive California "hero."
Jasmyne Cannick, an activist and show personality who has been calling for Buck's arrest from the beginning, could barely contain her excitement over the news.
Ed Buck's been arrested y'all. I'm headed to West Hollywood!

— Jasmyne Cannick (@Jasmyne) September 18, 2019
I'm here at Ed Buck's apartment—looking for parking.

— Jasmyne Cannick (@Jasmyne) September 18, 2019
Y'all I'm a bit overwhelmed right now. This has been two years of my life fighting for this man to be arrested. Let me get it together. I'll be back with all the deets and more. My phone won't stop ringing 😫😫😫😫I'm still out here at Ed Buck's doing interviews.

— Jasmyne Cannick (@Jasmyne) September 18, 2019
That's me—crime tape and all in front of Ed Buck's! Finally!!! This picture going up on the wall in my office tomorrow lol! pic.twitter.com/h1Qm1ICmIk

— Jasmyne Cannick (@Jasmyne) September 18, 2019
Other Twitter reactions were as expected… harsh:
Democrats when Ed Buck is arrested one month after Jeffrey Epstein died in prison pic.twitter.com/LkX2XDkynl

— Jack Posobiec 🇺🇸 (@JackPosobiec) September 18, 2019
Major @tedlieu benefactor arrested for drug pushing. Only two black men (known) had to die before he was arrested. https://t.co/nlkbXYBoy4

— Harmeet K. Dhillon (@pnjaban) September 18, 2019
Will @realDonaldTrump tweet about this considering Ed Buck's connections to @AdamSchiff?

This is a big donor! Serial killer!

Pictures of Ed Buck with Adam and other Democrats are all over!@parscale https://t.co/uNE8EBONPw

— Mike Cernovich (@Cernovich) September 18, 2019
Ed Buck with Democrats Ted Lieu, Clinton, Adam Schiff and former California Gov Brown. pic.twitter.com/1cTDT9GQMx

— Kambree Kawahine Koa (@KamVTV) September 18, 2019
OMG They arrested Ed Buck! Finally!

— Zerlina Maxwell (@ZerlinaMaxwell) September 18, 2019
Ed Buck's latest victim actually overdosed LAST WEEK on Sept. 11th. And authorities STILL kept it quiet and waited a week before they decided to charge him… Ironically, I tweeted this about Ed Buck last week https://t.co/9qD0I2WqsA

— Tariq Nasheed 🇺🇸 (@tariqnasheed) September 18, 2019
Good evening to everyone except Ed Buck's favorite congressmen

— Jack Posobiec 🇺🇸 (@JackPosobiec) September 18, 2019
As Ed Buck prepares to face the judge Wednesday, those who have been calling for justice against this powerful man, such as Jasmyne Cannick, finally have hope that he will face the music for his alleged crimes against so many.
We are currently forming the American Conservative Movement. If you are interested in learning more, we will be sending out information in a few weeks.