Not The Onion: Stabbing suspect claims to be a terrorist but police are "keeping an open mind" about motivation
A 19-year-old Afghan citizen with German residency is in custody after allegedly stabbing two American tourists at Central Station in Amsterdam Friday afternoon. Identified as Jawed S, he is believed to have been motivated as an Islamic terrorist to commit the attack.
The suspect claimed in police interviews to be a radical Islamic terrorist. However, police say they're "keeping an open mind while they investigate further."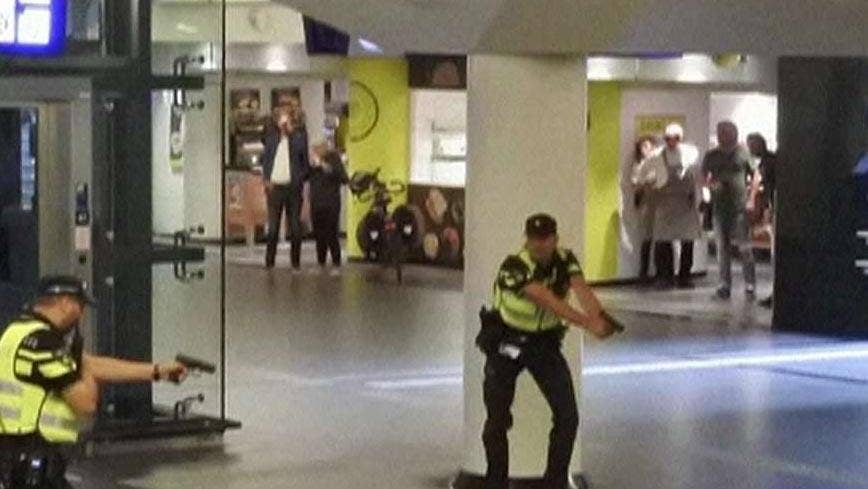 "Based on the suspect's first statements, he had a terrorist motive," the city administration said in a statement on Saturday. They did not elaborate on what the statements were or in what ways they might have shown intent.
Still, Netherlands Prime Minister Mark Rutte doubled down on these claims after taking to Twitter to confirm that investigation was zeroing in the role played by extremist ideology.
My Take
This is another example of all indicators pointing towards terrorism but an extended delay before this was begrudgingly acknowledged by local officials and world press. Even after his own admission, officials are skeptical for some reason. It's to be expected nowadays, but it's concerning because when terrorism strikes on a mass scale or through coordinated attacks, the reluctance to state the obvious until there's no way to hide it can end up costing more lives.
When a terrorist says he's a terrorist, don't keep an open mind about his motivations. Believe him. He's a terrorist.
India calling for diplomatic isolation of Pakistan following Pulwama terrorist attack
A massive terrorist attack in disputed Kashmir left 46 Indian paramilitary police officers dead and widens the rift between India and Pakistan. The attack, for which the Pakistani-based terrorist group Jaish-e-Mohammad has claimed responsibility, happened on the Srinagar-Jammu highway about 12 miles from the capital, Srinagar.
Alleged suicide bomber Adil Dar can be seen in a video released by Jaish-e-Mohammad claiming his assignment was to kill occupiers of the Muslim-majority region for atrocities committed against them by the Indian government.
Indian authorities claim they have "incontrovertible evidence" that Pakistan was aware of the terrorists' plan well ahead of time and did nothing to stop it or inform Indian authorities. Pakistan claims to have had no knowledge of the attack. The dispute has prompted India to make diplomatic moves in an attempt to isolate Pakistan, including rescinding "Most Favoured Nation" status which helps with trade between the nations.
My Take
The division between Pakistan and India has been wide for some time, but in recent years it has seemed the conflict has been cooling slowly. This attack will make relations much worse between the nations as India believes Pakistan was involved in the attacks while Pakistan feels indignant about the accusations.
As hot spots go, India-Pakistan is one of the hottest, yet the conflict gets very little coverage in the United States. We need to pay attention as any armed conflict will certainly spill over to affect our allies and enemies in the region. They are nuclear powers. This cannot be ignored.
As Benjamin Netanyahu meets with world leaders, focus centers on Iran in Syria
The threat represented by Iran in the war-torn nation of Syria manifests in multiple ways. Other Middle Eastern nations are concerned that if Iran's military is allowed to get entrenched in Syria, they will have too much direct access to the region in ways that threaten the peace. The United States and western allies are concerned that exerting control over the Syrian regime will turn them into a puppet state that will not solve the problems faced by the Syrian people.
Meanwhile, Israel faces the greatest threat as the nation that wants to wipe them off the map would be next door neighbors if they continue to fortify themselves in Syria. Prime Minister Benjamin Netanyahu knows this all too well and has not been shy about expressing these views to the world. In fact, he did it today in meetings with 60 world leaders and followed up by sharing his perspectives on Twitter.
Prime Minister Netanyahu added:
"What we are doing is pushing and driving Iran from Syria. We are committed to doing this.

It is cold in Warsaw right now but Israel's foreign relations are warming up, warming up for the better."

— PM of Israel (@IsraeliPM) February 13, 2019
Iran is not Israel's problem alone. They are a problem for all freedom-loving countries in the region as well as powers throughout Europe, Africa, and parts of Asia. Israel needs our support as well as the support of others who realize the threat Iran poses to us all.
Iranian Supreme Leader calls for death of Trump, Bolton, and Pompeo
It's against the terms of service for Twitter to call for the death of anyone. That doesn't seem to be a problem for Ayatollah Khamenei, who continues to use Twitter to level death threats on American politicians. This time, he specifically targeted President Trump, National Security Adviser John Bolton, and Secretary of State Mike Pompeo.
"Down with USA" means down with @realDonaldTrump , @AmbJohnBolton and @SecPompeo . It means death to the American politicians currently in power. It means death to the few people running that country; we have nothing against the American nation. pic.twitter.com/cq1TBZY9FR

— Khamenei.ir (@khamenei_ir) February 8, 2019
The thread is oddly careful to note that "Down with America" is not targeting the American people. They simply want all of the current politicians killed.
Unfortunately for the Iranian government, this "sudden" hatred for those in charge doesn't jibe with the recent past when they also hated on President Obama despite him securing the United Nations' Iran Nuclear Deal. During negotiations, the Ayatollah repeatedly called American politicians liars and pronounced "death to America" on multiple occasions.
This administration didn't attempt to win favor with the Iranian government. Instead, they pulled out of the U.N. deal after it was clear Iran was continuing to pursue ballistic missiles capable of delivering nuclear warheads to those in the region, including Israel.
The leader's comments come as the Trump administration moves to further tighten economic sanctions on Iran in a bid to choke off its funding streams and end the country's military efforts in Syria, Yemen, and other regional hotspots.
Next week, U.S. officials and their counterparts from several nations, including key Arab allies, will meet in Warsaw, Poland, to discuss Iran's increasingly provocative military efforts and plan ways to stop the country.
Will Twitter ban the account? That's unlikely. Only the little people generally get banned for making death threats. When it's a world leader making the threats, Twitter has a tendency to turn a blind eye.