The Biden Regency has assumed power over the United States. Trump exits with a whimper while the Biden Regency unveils multiple first-day executive orders that undermine America's sovereignty. With Joe Biden's obvious dementia and malleable policy proposals, there is clear reason to believe that Joe Biden will not actually be the one running the United States of America, despite having title. CCP propaganda outlets vocalized their celebration of Trump's exits.
Good Riddance, Donald Trump! https://t.co/kYNQ0jTCfH pic.twitter.com/UoDm8RIT6V

— China Xinhua News (@XHNews) January 20, 2021
Every Presidential candidate, in this era, has a slew of day-one promises. Joe Biden appears to have set the tone from day one with executive action. He signed 17 executive orders. Here is a list below.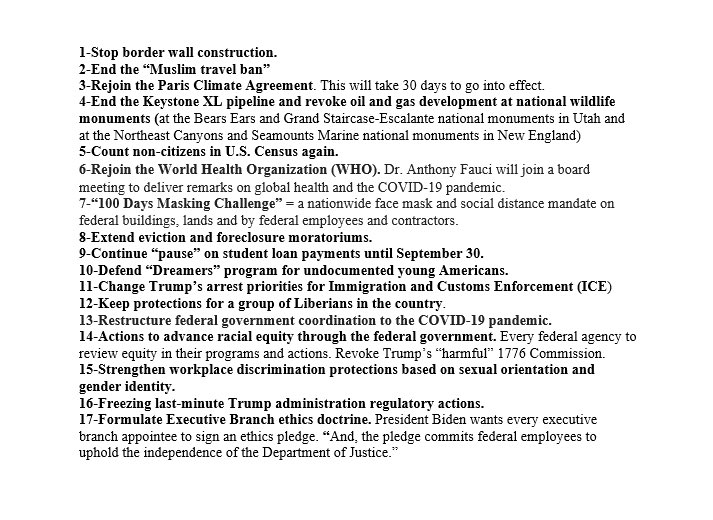 Majority of these undermine American sovereignty. Rejoining the Paris Accord sends hundreds of millions of dollars overseas, so that we can pay for other countries to build green energy. America will rejoin the World Health Organization which proved in 2020 to be a Chinese puppet, the reason the Trump Administration left. And of course, the Democrats dream of irreversibly changing the voting demographics of this country with illegal immigration comes steps closer to full realization. The cultural impact is there as well. The end of the 1776 Commission, Trump's effort to combat Critical Race Theory, means woke ideology will become policy.
The biggest benefactor of this is China. One of the Trump administration's final acts was to label the Chinese extermination of the Uighurs as genocide. It will be interesting to see how long the US government maintains this position. But for the Chinese, they have a President who is bought and paid for. The Hunter Biden escapades overseas in Ukraine and especially China show how compromised this regency already is. When I said, we were living in Star Wars land, prior Big Tech's execution of Order 66, that includes the notion of a Phantom Menace. Many have speculated that a Biden Regency will be a third term of the Obama Presidency or that Kamala Harris or perhaps Nancy Pelosi will be pulling the strings. But Xi Jinping is the Phantom Menace that the Biden Regency will ultimately benefit.
America is the last thing preventing China from asserting itself as the dominant world power. The world's largest population paired with a quickly modernizing economy means that America's days were numbered if unable to combat the rise of China before their numerical advantage becomes insurmountable. It requires America have a more aggressive posture and repair its culture from that which has fueled this declining state. But already the Biden Regency is quick to feed America's decline with pagan prayers, open borders immigration policy, and supporting China's geopolitical agenda with the WHO and the Paris Accords. America is China's vassal not because we were beaten in battle but because we aren't going to stand in the way.
---
---
COVID-19 lockdowns are taking down an independent news outlet
Nobody said running a media site would be easy. We could use some help keeping this site afloat.
Colleagues have called me the worst fundraiser ever. My skills are squarely rooted on the journalistic side of running a news outlet. Paying the bills has never been my forte, but we've survived. We have ads on the site that help, but since the site's inception this has been a labor of love that otherwise doesn't bring in the level of revenue necessary to justify it.
When I left a nice, corporate career in 2017, I did so knowing I wouldn't make nearly as much money. But what we do at NOQ Report to deliver the truth and fight the progressive mainstream media narrative that has plagued this nation is too important for me to sacrifice it for the sake of wealth. We know we'll never make a ton of money this way, and we're okay with that.
Things have become harder with the coronavirus lockdowns. Both ad money and donations that have kept us afloat for a while have dropped dramatically. We thought we could weather the storm, but the resurgence of lockdowns that mainstream media and Democrats are pushing has put our prospects in jeopardy. In short, we are now in desperate need of financial assistance.
The best way NOQ Report readers can help is to donate. Our Giving Fuel page makes it easy to donate one-time or monthly. Alternatively, you can donate through PayPal as well. We need approximately $17,300 to stay afloat through March when we hope the economy will be more open, but more would be wonderful and any amount that brings us closer to our goal is greatly appreciated.
The second way to help is to become a partner. We've strongly considered seeking angel investors in the past but because we were paying the bills, it didn't seem necessary. Now, we're struggling to pay the bills. This shouldn't be the case as our traffic the last year has been going up dramatically. June, 2018, we had 11,678 visitors. A year later in June, 2019, we were up to 116,194. In June, 2020, we had 614,192. In November, 2020, we hit 1.2 million visitors.
We're heading in the right direction and we believe we're ready talk to patriotic investors who want to not only "get in on the action" but more importantly who want to help America hear the truth. Interested investors should contact me directly with the contact button above.
As the world spirals towards radical progressivism, the need for truthful journalism has never been greater. But in these times, we need as many conservative media voices as possible. Please help keep NOQ Report going.
---
---
---
Join fellow patriots as we form a grassroots movement to advance the cause of conservatism. The coronavirus crisis has prompted many, even some conservatives, to promote authoritarianism. It's understandable to some extent now, but it must not be allowed to embed itself in American life. We currently have 11,000+ patriots with us in a very short time. If you are interested, please join us to receive updates.
---
---
---
---
Big Pharma's Five Major Minions that Everyone, Vaxxed or Unvaxxed, Must Oppose
This is not an "anti-vaxxer" article, per se. It's a call for everyone to wake up to the nefarious motives behind vaccine mandates, booster shots, and condemnation of freedom.
The worst kept secret in world history SHOULD be that the unquenchable push for universal vaccinations against Covid-19 has little if anything to do with healthcare and everything to do with Big Pharma's influence over the narrative. Unfortunately, that secret has stayed firmly hidden from the vast majority of people because of the five major minions working on behalf of Big Pharma.
What's even worse is the fact that Big Pharma's greed is merely a smokescreen to hide an even darker secret. We'll tackle that later. First, let's look at the public-facing ringleaders behind the vaccine push, namely Big Pharma. But before we get into their five major minions, it's important to understand one thing. This is NOT just an article that speaks to the unvaccinated. Even those who believe in the safety and effectiveness of the vaccines must be made aware of agenda that's at play.
Let's start with some facts. The unvaccinated do NOT spread Covid-19 more rampantly than the vaccinated. Even Anthony Fauci acknowledged the viral load present in vaccinated people is just as high as in the unvaccinated. This fact alone should demolish the vaccine mandates as it demonstrates they have absolutely no effect on the spread of the disease. But wait! There's definitely more.
This unhinged push to vaccinate everyone defies science. Those with natural immunity may actually have their stronger defenses against Covid-19 hampered by the introduction of the injections which fool the body into creating less-effective antibodies. Moreover, the push to vaccinate young people is completely bonkers. The recovery rate for those under the age of 20 is astronomical. Children neither contract, spread, nor succumb to Covid-19 in a statistically meaningful way. What they DO succumb to more often than Covid-19 are the adverse reactions to the vaccines, particularly boys.
All of this is known and accepted by the medical community, yet most Americans are still following the vaccinate-everybody script. It requires pure cognitive dissonance and an overabundant need for confirmation bias to make doctors and scientists willingly go along with the program. Yet, here we are and that should tell you something.
Before I get to the five major minions of of Big Pharma, I must make the plea for help. Between cancel culture, lockdowns, and diminishing ad revenue, we need financial assistance in order to continue to spread the truth. We ask all who have the means, please donate through our GivingFuel page or via PayPal. Your generosity is what keeps these sites running and allows us to expand our reach so the truth can get to the masses. We've had great success in growing but we know we can do more with your assistance.
Who does Big Pharma control? It starts with the obvious people, the ones who most Americans believe are actually behind this push. Our governments at all levels as well as governments around the world are not working with Big Pharma. They are working for Big Pharma. Some are proactive as direct recipients of cash. Others may oppose Big Pharma in spirit but would never speak out because they know anyone who does has no future in DC.
This may come as a shock to some, but it's Big Pharma that drives the narrative and sets the agenda for the "experts" at the CDC, FDA, WHO, NIH, NIAID, and even non-medical government organizations.
Most believe it's the other way around. They think that Big Pharma is beholden to the FDA for approval, but that's not exactly the case. They need approval for a majority of their projects, but when it comes to the important ones such as the Covid injections, Big Pharma is calling the shots. They have the right people in the right places to push their machinations forward.
That's not to say that everyone at the FDA is in on it. Big Pharma only needs a handful of friendlies planted in leadership in order to have their big wishes met. We have seen people quitting the FDA in recent weeks for this very reason. The same can be said about the other three- and five-letter agencies. Too many people in leadership have been bribed, bullied, or blackmailed into becoming occasional shills for the various Big Pharma corporations. Some have even been directly planted by Big Pharma. That's the politics of healthcare and science that drives such things as Covid-19 "vaccines."
Read the rest of this story, but please be sure to donate first if you can.
---
---
All ORIGINAL content on this site is © 2021 NOQ Report. All REPUBLISHED content has received direct or implied permission for reproduction.
With that said, our content may be reproduced and distributed as long as it has a link to the original source and the author is credited prominently. We don't mind you using our content as long as you help out by giving us credit with a prominent link. If you feel like giving us a tip for the content, we will not object!
JD Rucker – EIC
@jdrucker
---