ISIS recruit Hoda Muthana will not be allowed to 'face justice'
Secretary of State Mike Pompeo addressed calls for an Alabama woman, Hoda Muthana, to return to the United States to face justice after betraying the nation and joining the Islamic State. Five years and three husbands later, she has requested to come back to America with her son to face justice, but she cannot. She is not a United States citizen, according to Pompeo.
Sorry, the US is not open for #ISIS rehab or ISIS buyer's remorse. Better luck next time you succumb to Islamist radicalization, declare war on your country, and decide to participate in war crimes for years. Don't let the wall hit you on the way out.

Thank you @SecPompeo! pic.twitter.com/bylpwYwt1Z

— M. Zuhdi Jasser زهدي جاسر (@DrZuhdiJasser) February 20, 2019
Update: President Trump reiterated Pompeo's statement.
I have instructed Secretary of State Mike Pompeo, and he fully agrees, not to allow Hoda Muthana back into the Country!

— Donald J. Trump (@realDonaldTrump) February 20, 2019
My Take
Hoda Muthana made a choice. She chose the brutal murderers, oppressors, and terrorists of the Islamic State over the United States. It wasn't the type of decision anyone can make lightly. It's the type of decision that takes a very clear will and a deceived heart, a decision that requires planning and initiative. She should not be allowed to come back to the United States to "face justice," as she puts it.
The justice she faces must be with the group she chose to join. She wanted to live a life with the enemy. She wanted to raise her children with the enemy. She wanted to support an organization that she knew had every intention of killing Americans and anyone else who stood in their way. It may be harsh to say this, but traitors should not be welcome back, even for the sake of justice.
She chose her path to justice.
If she were allowed to come back to America, it sets the precedent that anyone who betrays their nation because they were misled will be allowed to come back. The prospects of life in jail seem to be more comforting to her than the life she's currently living. She should not be afforded that luxury.
People make mistakes, but there are some mistakes that simply cannot be overlooked. It may have been a mistake for a murderer to kill someone. They may regret that decision later, but their regret doesn't change the fact that they murdered someone. That mistake cannot be overlooked.
"Soooo many Aussies and Brits here, but where are the Americans, wake up u cowards," she Tweeted in January, 2015.
Some will say it's better for her to face justice in America for the sake of her family, her child, or any other innocent people harmed by her decision, but American justice only applies to those who are American citizens. She chose ISIS over us.
We can and should forgive her for her actions, but forgiveness doesn't mean repatriation.
Cuban illegal immigrant apprehensions increase 1600% in Del Rio Sector alone
Central American migrants may get the bulk of the attention from Border Patrol since they account for the largest groups crossing our southern border illegally, but Cubans have been making their way into Mexico and on to the United States at a higher rate than ever, up 1600% in the Del Rio Sector alone.
"This recent trend in the Del Rio Sector area of responsibility of Cuban Nationals crossing the border illegally between the POEs highlights the complexity of the immigration problem and the need for an immediate solution," said Del Rio Sector Acting Chief Patrol Agent Randy Davis.
Del Rio Sector #USBP Border Patrol sees 1600% increase in illegal aliens from Cuba. Read more here: https://t.co/6ysiYSEgS0 #CBP pic.twitter.com/jt5JyJzz8J

— CBP South Texas (@CBPSouthTexas) May 22, 2019
Del Rio Sector has seen increases in illegal immigrant apprehensions from 30 countries other than Mexico, accounting for 23,000 apprehensions, a 450% increase year-over-year.
Opinion
Our sovereignty has become the joke of the world. We are no longer a nation that is willing to defend our own borders or protect our citizens. This was the case in Europe recently and it has harmed many of the nations of the European Union to the point that some of them are finally starting to say "no more." Are we going to wait until more tragedies strike (there have been more tragedies than we can document here) before we start taking this crisis seriously?
My best friend is a legal Cuban immigrant. She has been a wonderful and loyal friend as well as a patriotic American. She is even more opposed to illegal immigration than I am because she's seen how it has taken away many of her own opportunities and cast a stigma on her that is not indicative of her own lawful behavior. She, like so many millions of American immigrants, want the illegal aliens to stop breaking the law as their first action in America.
This needs to come to a quick and decisive end. We will no longer be a nation if we continue allowing anyone and everyone to enter the country and roam free.
Quote
"Migrants seeking entry into the United States need to present themselves at a Port of Entry to be lawfully admitted." – Randy Davis
Final Thoughts
The word is out, and not just in Central America. Our southern borders are barely protected and our laws are conducive to illegal immigrants who want to claim asylum. This is becoming an existential threat to American citizens.
None of the states that have signed the National Popular Vote Compact voted for Trump in 2016
File this in the "not surprising" cabinet. Of the 14 states plus the District of Columbia who have signed on for the National Popular Vote Interstate Compact, none of them voted for President Trump in 2016. So as of today, the 189 electoral college votes that have been promised to the winner of the popular vote in the presidential election were votes that went to Hillary Clinton anyway.
That doesn't mean this isn't a real threat. If they're able to get to the 270-vote mark, the level necessary to trigger the compact and elect the President, that would mean they were able to take some states that voted for Trump in 2016. But that's not the real threat, here.
As some states move forward with efforts to prevent President Trump from appearing on their ballots unless he releases his tax returns, the combination of the two efforts could make it literally impossible for President Trump to win reelection.
There were very good reasons the founding fathers did not want the popular vote to determine the presidency. The first and biggest is a fear of mob rule. Oppression by the majority is a natural and unfair concept that, in theory, could change the way our nation operates for decades to come. Because so much Democratic power is concentrated in large cities on the coasts, it is easier for them to unify behind a leftist message and dominate the elections. Democrat-heavy New York City has more people than 38 states.
As for the states' requirements to have tax returns released before letting a candidate on the ballot, it may be draconian but it's neither illegal nor immoral. I know that's not a popular opinion to have since it's being used against President Trump, but the states are allowed to set whatever criteria they want for BALLOT entry. Keep in mind, that does NOT mean I condone the actions as they're directed against the President. Also, in no way can a state supersede the requirements for someone to be elected president. Ballot issues, as bad as they've been over the years, are still squarely under the jurisdiction of the states and must be protected. There are enough states' rights that have been taken away over the years. This shouldn't be one of them.
With that said, it makes things very, very difficult for someone who is not on the ballot. Write-in votes don't always work properly. Bad spelling, bad handwriting, bad vote-counters – the possibilities are endless. I sincerely hope no state, especially California, moves forward with such a plan to keep the President off the ballot.
Imagine this scenario: President Trump wins the popular vote and takes not only the states that he wins but also the states that would have voted for the Democrat. It would be the biggest landslide since Reagan, 1984.
The 4 universal gun safety rules, plus 13 more you should follow
Protecting myself and those I care about is what first interested me about firearms. Given my goal of being more safe in more situations, it'd be ironic—and even stupid—of me to not take gun safety incredibly seriously.
Regardless of what led to your involvement with firearms, whether you came from a similar place as me or not, following gun safety rules is a necessity.
In this guide, I'll be covering the 4 universal gun safety rule and explaining the importance of each. I'll then go on to add a number of additional rules I've picked up in my life that I think everyone else can benefit from.
The 4 Rules of Gun Safety
If you've ever been to a gun range, chances are you've seen these rules plastered on the wall somewhere or been required to watch instruction explaining them.
The 4 universal rules of gun safety are:
Treat all guns as if they are always loaded.
Never let the muzzle point at anything that you are not willing to destroy.
Keep your finger off the trigger until your sights are on target and you have made the decision to shoot.
Be sure of your target and what is behind it.
You should ALWAYS follow every single one of these rules, but I want to touch on each individually and explain how these rules can help protect you even if you forget to do another one of them. In the (hopefully) unlikely event you catch yourself breaking one of these rules, be sure to make a mental note of it so you can avoid doing so in the future.
1) Treat all guns as if they are always loaded.
Rules like this may seem like common sense. Shockingly, not everyone intuits things like not pointing a gun at themselves or their friends.
"Treating all guns as if they are always loaded" is largely intended to ensure you follow the other 3 gun safety rules, no matter the status of the weapon.
If you follow our additional rules, you should always know whether your gun is loaded or not. With that being said, people are forgetful and crazy accidents happen; so you should still treat every firearm as if it is loaded, as it actually could be. I'd even argue that many seasoned gun owners can become more careless than newbies about ensuring their guns are cleared after use.
2) Never let the muzzle point at anything you are not willing to destroy.
Every year, people shoot themselves or others unintentionally, though thankfully these statistics have steady been trending downward. Aside from "freak accidents" like ricochets (where in all likelihood the shooter probably didn't follow the next two safety rules), this means they probably broke the 2nd rule of gun safety.
I don't think I need to go into much explanation on how ANY gun can kill someone shot by it or damage anything it comes into contact with.
While you should always also follow Rule 3, you should never assume that you or someone else will keep their finger off the trigger. Even if you/they do, you don't want to be a part of an incredibly unlikely gun malfunction that leads to something or someone unintentionally getting shot.
3) Keep your finger off the trigger until your sights are on target and you have made the decision to shoot.
By this point you're probably starting to notice how these rules work together, potentially avoiding a disaster if you break another one of them. DO NOT EVER point a gun at something you don't want to destroy, but if you mistakenly do, and your finger is off the trigger, you're less likely to shoot that thing.
Trigger discipline, as it's known, is incredibly important to make a habit of. It's incredibly important in recreational shooting and also very important in a high-pressure defensive situation. Just because you draw your firearm for self-defense, does not necessarily mean you want to shoot.
4) Be sure of your target and what is behind it.
This is another rule that applies to recreational shooting and defensive situations. You might have also heard it as "always know your backstop".
Even if you're shooting a .22 pistol at an AR500 steel target, you might miss. When shooting recreationally, you should always have a backstop behind your targets to stop any missed shots or shots that penetrate your targets. If you're shooting at a private or public shooting range and follow rule 3, you should be safe.
In self-defense situations, this rule can be more difficult to assess and follow on the fly. It's important to identify your target, be sure that you want to take a shot, and know what lies behind your target. Even if you hit your target, an over-penetrating bullet may hit something you don't intend to shoot. Always ensure there are no innocent bystanders behind (or infront) of your target.
More Gun Safety Rules You Should Follow
While the above rules should keep you safe the vast majority of the time, there's some other rules I follow that can keep everyone even more safe.
Some of these might feel a bit obvious or even redundant, but I believe they're all important to know and follow.
The last thing to note is these aren't necessarily in any particular order of importance, so read and follow all of them!
5) Don't handle firearms when depressed or angry.
This rule is a very serious one I don't often see listed on firearm safety guides.
Those feeling angry or depressed are more likely to commit suicide and homicide. While the huge majority of legal firearm owners will never do either of these things and I don't think it's an excuse to take away our 2A rights, I still think this issue is important to talk about.
LEGAL firearm owners are far more at risk for committing suicide than homicide, as many homicides are carried out by those illegally owning firearms. Regardless of whether guns are owned legally or not, gun suicide victims have outnumbered gun homicide victims in most years since 1968.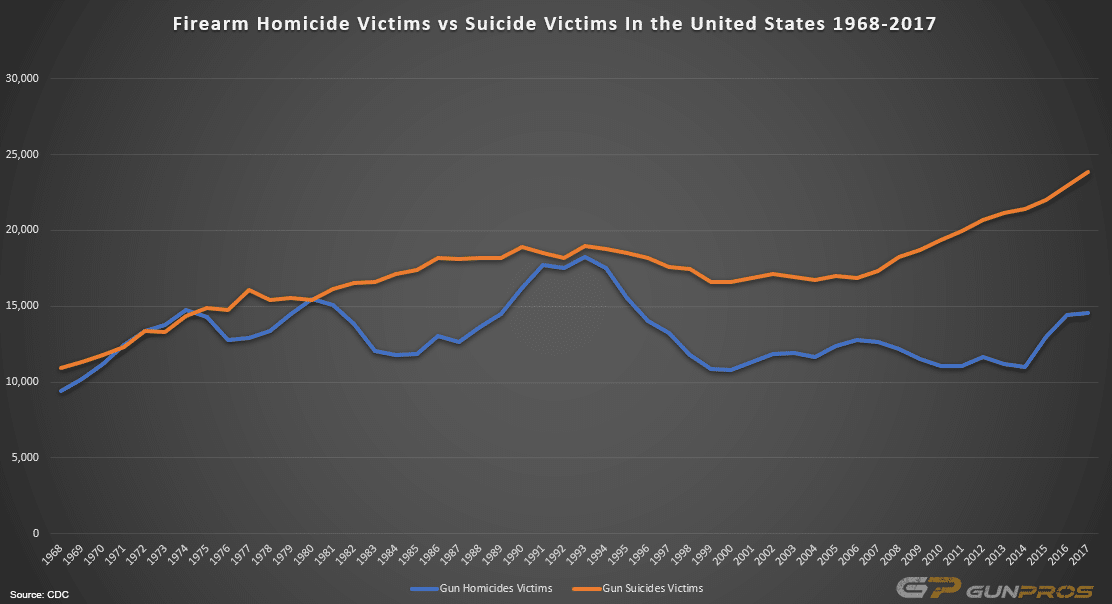 If you're in a bad mental state, you should seek help and make firearms inaccessible to yourself.
6) "Clear" a firearm anytime you touch one.
As soon as you pick up a firearm, without the immediate intention to shoot it, the first thing you should do is ensure that it's empty. For semi-automatic firearms, release the magazine, then inspect the chamber to ensure that it's empty.
You should also always do this before leaving the range or putting away your firearm.
At this point, it's become instinctual for me to do this 99% of the time as soon as I touch a firearm.
Despite this being a great rule to follow, you should still treat all firearms as if they were loaded even if they've been cleared.
7) Don't rely on your gun's safety.
Just as you should still treat all guns as if they are loaded even after clearing them, the use of a gun's safety is no excuse to disregard the other rules on this list. Even with your gun's fire controls in the "safe" position, malfunctions can still take place.
If we're being honest with ourselves, we've also all forgotten to flip to "Safe" on more than one occasion.
This of course does not mean that you shouldn't use your gun's safety, just that it shouldn't be the only thing preventing a firearm related accident.
8) Be sure that your barrel is clear of any obstructions before use.
First, be sure that your firearm is empty by removing the magazine and inspecting the chamber.
I mostly shoot pistols and AR-style rifles, so here's my procedure before using those:
Pistols
Quickly field strip your pistol to the point you can remove your barrel, then ensure there are no obstructions.
AR-Style Rifles
Remove the upper receiver from the lower receiver. Remove your charging handle and bolt carrier group. Ensure there are no obstructions.
No matter what style firearm you are using, never look down the barrel from where the bullet exits, especially if it is attached to the rest of your firearm. For other firearm platforms, research how to safely check your barrel.
9) Always wear ear and eye protection.
Always wear shooting glasses and ear protection when using or being around firearms.
Nearly all firearms can cause permanent hearing damage when not using proper hearing protection.
Shooting glasses can protect you from shrapnel and hot ejected casings.
If you're shooting at a public or privately owned range (that you pay to use), they usually do and should require you to put these on before entering the area where firearms are being shot.
10) Know your firearm.
I'm very much not a fan of people buying firearms then just setting them away in case of a home invasion. While I am in favor of using firearms to protect yourself, you should also become familiar with them.
This means reading the owners manual thoroughly and regularly practicing with your gun at the range. Regular range time will also help you internalize proper safety practices.
If you're new to firearms, it's also a great idea to take classes on firearm safety and operating a firearm.
11) You can't safely use an unsafe gun.
If your gun isn't in proper working condition, it can not be used safely.
As the previous rule stated, it's important to be familiar with your firearm. You should also regularly clean and service your firearm to ensure its in proper working order.
If you suspect any issues with your firearm, take it to a certified gunsmith. I'd also recommend having a gunsmith look at it regularly after every few thousand rounds or every year.
12) Know what to do when your gun fails to fire.
If you've pulled the trigger of your firearm and it failed to fire, the first step is to keep it pointed in a safe direction for 30 seconds. This will keep you safe in the event of a "hangfire" or delayed discharge.
After 30 seconds, remove and dispose of the cartridge in a safe way. Do not pull the trigger again before removing the cartridge.
13) Make a habit of safely removing your holstered handgun.
For those of you who concealed carry or just use holsters, make a habit of safely putting away your firearm. When not practicing drawing your firearm under safe conditions (dry fire or live practice at the range), remove the entire holster with your firearm still in it before removing the firearm from the holster.
This tip can help avoid accidents after long days of concealed carry. Though you should practice drawing your firearm from a holster, its not necessary when its loaded and you're at home.
14) Use the correct ammunition for your gun.
Using ammunition that's not intended to be used by your firearm can cause a catastrophic malfunction that can result in serious bodily harm. ALWAYS carefully read the owner's manuals for your guns and only use the ammunition listed.
For those of you who frequently shoot different calibers, you may want to consider using color coded tape or rubber bands for your firearms and magazines. This can help remind you which ammunition to use.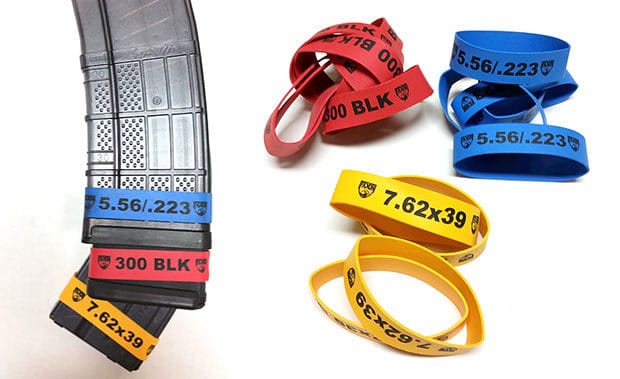 Faxon has even introduced this as a product, with color-coded and labeled rifle caliber marker bands—though you could also just use regular rubber bands. Another option is to use a marker to label everything.
15) Don't handle firearms under the influence.
In most areas it's illegal to possess a firearm while under the influence of alcohol or drugs. Regardless, doing so is a really bad idea.
Also keep in mind the effects of any prescription drugs you take. Some may prevent you from safely handling a firearm.
16) Store firearms safely.
How to store firearms is one of the more controversial subjects surround firearm safety. The reason for this is many firearm owners want to ensure their firearms are readily available for defending themselves, while some people recommend extremely strict storage practices.
One thing we should all be able to agree upon is that firearms should not be accessible to unauthorized users. When not on your person (concealed carry), you should store your firearms in a gun safe.
For those of you with children or who have children visiting your house, this arguably even more important. Children are most at risk for accidental firearm related injuries. Project Child Safe has some great in-depth information for keeping children safe from firearms.
17) Practice safe gun range practices.
When you bring guns to the range, be sure to always have them in a range bag or case.
Do not remove them from the case until you are in your shooting bay. This keeps you from "flagging" others at the range.
This is a rule at most ranges and if it's not, it should be.
Once you've unloaded your firearms, you can then move your bags out of the way.
Conclusion
This article wasn't intended to scare you about what can go wrong with firearms, but rather to help teach you how to use them safely. Following these rules and others like them can allow you to safely enjoy using firearms your entire life.
As a final note, remember that "everyone is a range safety officer". Be sure to call out unsafe practices and report them to your range safety officer. Those who don't follow proper gun safety put not only themselves, but you and others at risk.
Originally posted at GunPros.