By Canadian mayor's standard, Donald Trump is a terrorist, while it's ok for Muslims to support ISIS
In Marseille, a North African man yelled "Allahu akbar" and then used a knife to kill a 17-year-old and a 20-year-old in broad daylight outside the city's Saint Charles train station. One woman had her throat slit and the other was stabbed in the stomach. The killer was shot dead by police.
In Edmonton, Alberta, an asylum-seeking 30-year-old Somali man was arrested for stabbing a policeman and injuring four pedestrians with his vehicle while driving at high speed. They found an ISIS flag in his vehicle, according to CBC and CTV reports.
In both cases, the respective countries' leaders condemned the attacks. Canadian Prime Minister Justin Trudeau called it a "terrorist attack." French President Emanuel Macron called it a "barbarous act." In neither case did the leaders address the real cause of the problem. In fact, Edmonton Mayor Don Iveson said "Terrorism is about creating panic and sowing divide about disrupting people's lives."
"We can succumb to that or rise above it," he added, while urging calm.
Opinion
By Iveson's definition, Donald Trump is a terrorist. He certainly creates panic, sows divide, and disrupts lives. But let's get to the root here. As we've seen in England, France, Belgium, Sweden, and Canada, importing refugees from countries where Islamic radicalism breeds is dangerous. It's more dangerous in western pluralistic democracies where terrorism, as a tactic, is most effective. We must remember that terrorism is not an enemy or even an objective of an enemy. Terrorism is a tactic used in asymmetrical warfare.
A tactic cannot be fought, it can only be countered or neutralized. Every military and high-level intelligence agency knows this, yet the politicians continue to offer mealy-mouthed excuses.
The answer is surely to get rid of the enemy who is practicing terrorism, because their goals are the overthrow of pluralistic western democracies (including America's, if they attain sufficient numbers here). But that's not politically correct, so they "rise above it" and live with acceptable losses.
Perspectives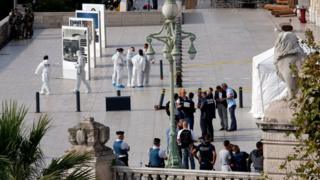 Soldiers were already in the station as part of Operation Sentinelle, which sees combat troops patrol streets and protect key sites amid France's ongoing state of emergency.
IS claimed it was behind the attack via its Amaq news outlet. The group regularly claims responsibility for militant attacks it believes are inspired by its ideology.
IS recently released a tape purportedly of leader Abu-Bakr al-Baghdadi in which he urged supporters to step up attacks.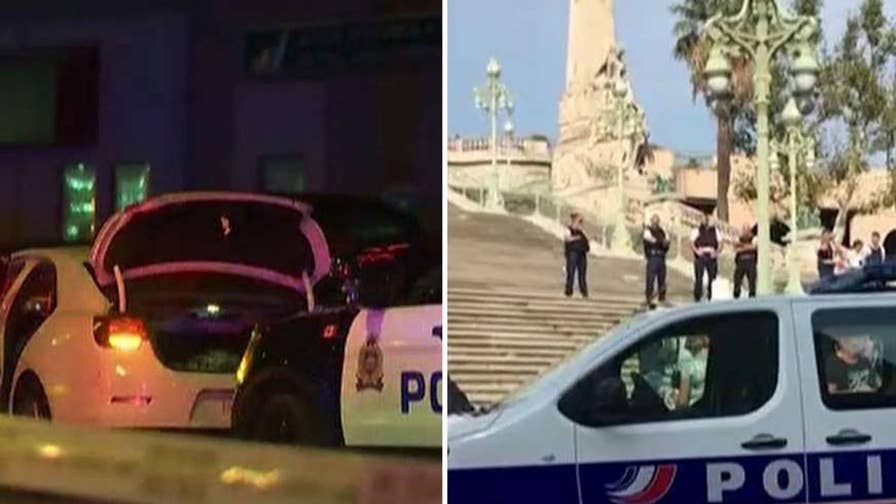 The claim was carried in a statement Sunday night by the ISIS-affiliated Amaq news agency. It said the attacker on Sunday was one of its "soldiers" who acted in response to the group's calls to target countries involved in the U.S.-led coalition fighting ISIS in Syria and Iraq. French security forces shot and killed the attacker.
Police sources told Sky News the attacker shouted "Allahu Akbar" as he carried out the attack at Gare St. Charles.
EDMONTON, Alberta (Reuters) – A Somali refugee who had been on a watch list over extremist views faced five counts of attempted murder and terror charges on Sunday after Canadian police said he stabbed a police officer and ran down four pedestrians with a car in Edmonton, Alberta.
The suspect, a 30-year-old man whom police did not identify, had been investigated two years ago for promoting extremist ideology but was not deemed a threat, the Royal Canadian Mounted Police (RCMP) said.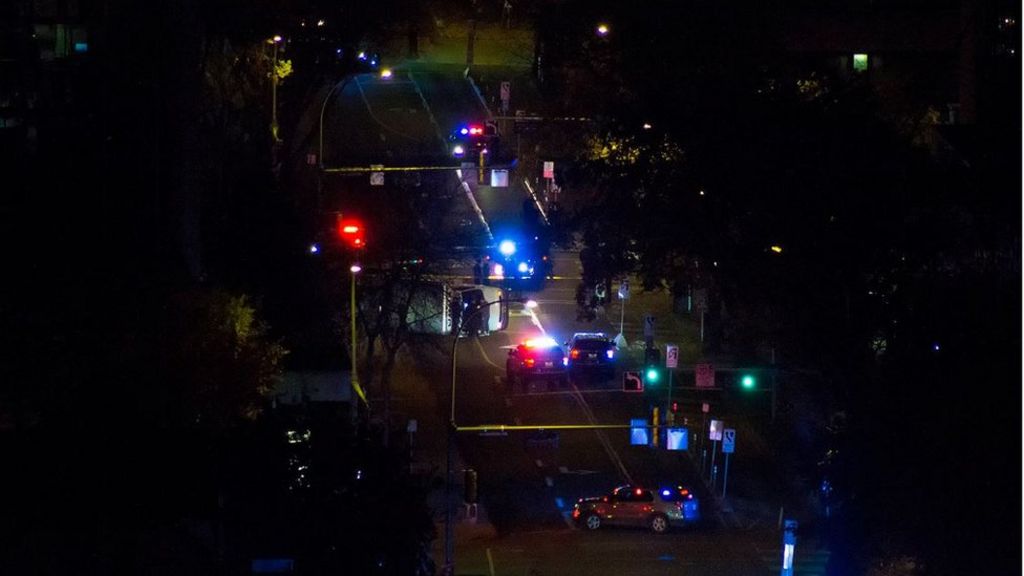 Shortly before midnight, a man driving a rented van was pulled over at a checkpoint. His name on documents was said to be "very similar" to that of the man police were searching for.
The truck then fled the scene, and was pursued by officers. Four pedestrians were struck during the chase in what police say appeared to be a deliberate action.
Reactions
Knife attacker slit 1 woman's throat. And stabbed another to death. Please tell these women's children we carry on as normal #Marseille

— Katie Hopkins (@KTHopkins) October 1, 2017
Hey Khan. Is it by chance coordinated? #marseilleattack #CanadaAttack #banislam

— Jerry Jermaine (@Sir_Jayxx4) October 1, 2017
My statement on suspected terrorist attacks in #Edmonton last night. Albertans are resilient & will stand strong.https://t.co/SKlkK1nO1V

— David Khan 🇨🇦 (@Dave_Khan) October 1, 2017
Are you surprised by the #EdmontonAttack?
They gathered and chanted in Mississauga:
"The Army of Mohammad will return" mere months ago! https://t.co/TPfuCOUcPx

— Schtev🇨🇦 (@schtev69) October 1, 2017
Yesterday, Cdn media was obsessing over ppl expressing their views re: Islamic violence. Labelled them as "racists". Today, #EdmontonAttack

— Troll Hunter (@thecrazycannuck) October 1, 2017
Trudeau "We must not let violent extremism take root in our communities"
Flies in 50,000 Syrians 😮#TrojanHorse #EdmontonAttack https://t.co/0j5nxKLHqu

— Schtev🇨🇦 (@schtev69) October 1, 2017
Update: Edmonton attack suspect is a Somali national in the refugee claimant system: police

— CBC News Alerts (@CBCAlerts) October 1, 2017
Final thoughts
When innocent individuals are killed in the name of a violent strain of a major world religion, how should governments react? Are they so afraid of insulting practitioners of Islam that they cannot bring themselves to reject certain individuals who are likely to believe in killing for their religion? That's more racist than they know–they are implying that non-violent Muslims accept and support the violent ones by assuming they'll be insulted when a government takes action.
This is the same logic used by those who oppose President Trump's travel bans. They call it racist, but they are really the ones painting all Muslims with a big brush. If Muslims truly condemned violent jihad, they would applaud government actions to keep those loony individuals out.
As Venezuela implodes, Trump administration recognizes Juan Guaidó as President
The destruction of Venezuela by socialism and corruption is practically complete, but hope is on the horizon. A new President has been recognized by the United States, making Nicolas Maduro's presidency nearly finished.
.@realdonaldtrump has officially recognized @jguaido as the legitimate constitutional President of #Venezuela.

— Marco Rubio (@marcorubio) January 23, 2019
Juan Guaidó has been serving as the President of the National Assembly of Venezuela since earlier this month and assumed the role of interim President earlier today. The United States joins Brazil, Canada, Chile, Colombia, and Puerto Rico in recognizing his claim as legitimate.
People have filled the streets of Caracas in an amazing display of solidarity against Maduro, who held an "inauguration" on January 11 despite clear indicators the May 2018 elections were rigged. Now, the streets of Caracas are full.
@SenRickScott Protest against Dictator Maduro in Caracas at this moment. pic.twitter.com/I4wXgZmN5L

— Víctor (@victorinox79) January 23, 2019
VIDEO: Huge anti-government demonstration in #Caracas #Venezuela today – @emiduartepic.twitter.com/jhRCfaTvn5

— Conflict News (@Conflicts) January 23, 2019
The beautiful@people of #Caracas protesting the socialist menace in #Venezuela

Go you good things. Follow Brazil. Throw off the enslavement of the left

See this @AOC? This is the nightmare you prescribe#VenezuelaGritaLibertad credit please @sol651

— Katie Hopkins (@KTHopkins) January 23, 2019
President Trump confirmed the move following multiple news outlets quoting White House officials.
The citizens of Venezuela have suffered for too long at the hands of the illegitimate Maduro regime. Today, I have officially recognized the President of the Venezuelan National Assembly, Juan Guaido, as the Interim President of Venezuela. https://t.co/WItWPiG9jK

— Donald J. Trump (@realDonaldTrump) January 23, 2019
Ironically, Guaidó's rallying cry happens to be "Sí, se puede!", Spanish for "Yes we can."
My Take
This is the only viable move given the circumstances. As I posted on Facebook:
It may not be possible for Guaidó to turn around the failing nation without a lot of outside assistance, but one thing is certain: Maduro had zero chance of making anything better for his starving people.
Four Republicans Senators ask the President to transfer ISIS prisoners in Syria
As the United States military prepares for a full withdrawal from Syria, some are concerned that Islamic State fighters currently being held by Syrian Democratic Forces (SDF) will be released or others be allowed to rejoin ISIS. Four Republican stalwarts in the Senate are calling on President Trump transfer the worst of these prisoners to Guantanamo Bay.
Senators Tom Cotton, John Cornyn, Ted Cruz, and Marco Rubio all signed the letter to the President requesting this action.
Proud to join @SenTomCotton, @JohnCornyn & @marcorubio in sending a letter to @POTUS urging him to send battle-hardened ISIS fighters currently detained in Syria to Guantanamo Bay. –> https://t.co/IA8QV0JlhH pic.twitter.com/VKDAXdYRIP

— Senator Ted Cruz (@SenTedCruz) January 23, 2019
The President announced the move to pull out of Syria on Twitter last month following a phone call with Turkish President Recep Tayyip Erdogan. This prompted the resignation of former Secretary of Defense James Mattis and drew condemnation from people on the left and right who felt the President was abandoning our allies in the war against ISIS.
Turkey has long wanted the United States out of Syria so they could deal with the Kurdish forces that they consider to be terrorists.
My Take
This is a smart move to do before the withdrawal, but this letter was also a not-so-subtle reminder to the President that pulling out of Syria quickly will have repercussions. Both National Security Adviser John Bolton and Secretary of State Mike Pompeo have tempered the President's remarks by saying the United States will pull out just as soon as ISIS is fully defeated.
One thing is certain: if these terrorists and militants are not moved to Guantanamo Bay, many if not all of them will eventually return to the Islamic State to continue their mission against the the rest of the world.
Venezuela's invigorated opposition take streets in key test
CARACAS, Venezuela (AP) — Venezuela's re-invigorated opposition faces a crucial test Wednesday as it seeks to fill streets nationwide with protesters in an appeal to the military and the poor to shift loyalties that until recently looked solidly behind President Nicolas Maduro's socialist government.
The protests have been called to coincide with a historic date for Venezuelans — the anniversary of the 1958 coup that overthrew military dictator Marcos Perez Jimenez. Government supporters are also expected to march in downtown Caracas in a rival show of strength.
The competing demonstrations will come after a whirlwind week that saw an uprising by a tiny military unit, fires set during protests in poor neighborhoods and the brief detention by security forces of the newly installed head of the opposition-controlled congress.
For much of the past two years, following a deadly crackdown on protests in 2017 and the failure of negotiations ahead of last May's boycotted presidential election, the coalition of opposition parties has been badly divided by strategy and ego battles as millions of desperate Venezuelans fled the country's hyperinflation and widespread food shortages. But buoyed by unprecedented international criticism of Maduro, anti-government forces have put aside their differences and are projecting a united front.
Their leader this time, taking the reins from a long list of better-known predecessors who have been exiled, outlawed or jailed, is Juan Guaido, the new president of the National Assembly who was dragged from an SUV just over a week ago by intelligence agents but quickly released amid an international outcry.
In the run-up to Wednesday's actions, the defiant 35-year-old lawmaker has crisscrossed Caracas attending outdoor assemblies known as "Open Cabildos" — for the revolutionary citizen councils held against Spanish colonial rule — pumping up crowds by arguing that Maduro must go for democracy to be restored.
Speaking on Monday from the roof of a college building, Guaido proclaimed with fist raised: "We are tired of this disaster. We know this isn't a fight of a single day but one that requires lots of resistance."
An enthusiastic crowd of students answered with shouts of "Freedom!" and "Get out, Maduro!"
Driving the crisis has been Maduro's decision to plow ahead in the face of international condemnation and take the presidential oath Jan. 10 for a second term widely considered illegitimate after his main opponents were banned from running against him.
Guaido has been targeting his message to Venezuela's military, the traditional arbiter of political disputes.
Maduro, who lacks the military pedigree of his mentor and predecessor, the late Hugo Chavez, has sought to shore up support from the armed forces by doling out key posts to top generals, including heading the PDVSA oil monopoly that is the source of virtually all of Venezuela's export earnings. He has also been playing commander in chief, appearing last week at a military command meeting wearing camouflage fatigues and receiving the blessing of the defense minister, Gen. Vladimir Padrino Lopez.
But beyond the public displays of loyalty from the top brass, a number of cracks have started to appear.
On Monday, Venezuelans awoke to news that a few dozen national guardsmen had taken captive a loyalist officer and seized a stockpile of assault rifles in a pre-dawn raid. The government quickly quelled the uprising, but residents in a nearby slum took to the streets to show their support for the mutineers by burning cars and throwing stones at security forces, who fired back with tear gas.
Distubrances continued into Tuesday, with small pockets of unrest in a few working-class neighborhoods where the government has traditionally enjoyed strong support. More violence was reported Tuesday night.
"People are tired of so much misery," said Carmen Marcano, holding up her shirt to show seven buckshot wounds suffered during the clashes in the Cotiza slum next to where the rebellious guardsmen were captured.
Retired Maj. Gen. Cliver Alcala, a one-time aide to Chavez and now in exile, said the opposition's newfound momentum has reverberated with the military's lower ranks, many of whom are suffering the same hardships as regular Venezuelan families.
"I am absolutely certain that right now, especially younger troops are asking themselves whether Maduro is their commander in chief or a usurper," Alcala said. "As we say in the barracks, hunger is the only thing that can devour fear of the government."
The government has accused the opposition of inciting violence with the aim of provoking a bloodbath. Top socialist leaders have threatened to unleash on demonstrators menacing motorcycle gangs of pro-government die-hards known as "colectivos."
"I demand the full rigor of the law against the fascists," Maduro said Tuesday night while blaming "terrorists" allegedly linked to Guaido's Popular Will party for a fire at a cultural center named for a pro-government lawmaker murdered in 2014.
He also accused U.S. Vice President Mike Pence of trying to foment unrest after Pence released a video pledging support, in Spanish, for the planned demonstrations.
Though intimidation has worked for the government in the past, it may not this time, said Dimitris Pantoulas, a Caracas-based political analyst. Discontent now appears to be more widespread and the ranks of security forces and government-allied groups have been thinned by the mass exodus of mostly young Venezuelans, he said.
"The government is resorting to its old tricks, but the people no longer believe them," Pantoulas said.
___
Associated Press writer Fabiola Sanchez contributed to this report.
___
Joshua Goodman on Twitter: https://twitter.com/APjoshgoodman