The military is not the place for social engineering
Recently, President Trump told the military to discontinue Barack Obama's proposal allowing transgendered individuals to be recruited into the military. And, right on queue, came screams of bigotry and discrimination. Shocking.
My only concern regarding the transgender ban is that any obligations already made be honored. This is non-negotiable to me. If we make a promise to a servicemember, we must uphold it. period.
The politicians and media can fight over the specific rule and whether it is discrimination or not.
We the people will once again be the adults and have the necessary discussion – whether the military is strengthened or weakened by the integration or ban of transgendered service members.
The only thing that matters in the military is that our squads are the best they can possibly be.
A couple years ago, there was controversy over another military integration proposal. It was the question of whether women could be in combat roles.
As a man, putting women into combat roles makes me uneasy. It feels morally wrong to knowingly put a woman in harm's way. Whether it is my toxic masculinity, my white privilege, my male privilege, or my cis privilege, something feels morally wrong.
But feelings alone aren't enough to pass a judgment. Facts don't care about my feelings, either. So let's look at some facts.
There was a yearlong comparison between an all-male and mixed male and female units. It looked at varying situations that could occur in combat and assessed the effectiveness of both groups.
From NPR's article summarizing the study, "all-male squads performed better than mixed groups in 69 percent of the tasks evaluated." It also showed that men had more speed, more lethality, and were less prone to injuries.
The full study also stated that "all-male squads, teams and crews and gender-integrated squads, teams, and crews had a noticeable difference in their performance of the basic combat tasks of negotiating obstacles and evacuating casualties."
They continue, "during casualty evacuation assessments, there were notable differences in execution times between all-male and gender-integrated groups" with the exception of "casualty evacuation as a one-Marine fireman's carry of another (in which case it was most often a male Marine who "evacuated" the casualty)."
Feel free to look through the study yourself and see what you find.
While this is just one study, it doesn't ease my concern. This study gives reason to doubt the effectiveness of gender-integrated combat units. I can only imagine the effectiveness of a gender-integrated combat unit where some of the men identify as women and women identify as men. How do you even study that?
How do you even study that? Are male-to-female transgenders counted as females and vice versa? If every female in the previous study was a male-to-female transgender, they would still have had the benefits of increased testosterone levels. It would be an absolute nightmare to figure out.
To pretend none of this matters, that the ends of equality justify the means, is objectively immoral. One small mistake and someone can die. If our combat units are slightly less efficient than they could be, more lives will be lost. One is too many.
Until a change in the makeup of our military services is shown to be as effective or more effective than an all-male squad, then I support prohibiting it. (Note: Defense Secretary Mattis has postponed the "transgender ban" pending studies for implementation.)
Call it discrimination, I don't care. Call me a bigot, I don't care. I'll gladly trade being called names if it will save just one life.
This isn't a matter of personal opinion on transgenderism or feminism. It is literal life and death.
The battlefield is not the place for social experimentation. The risks are too high and the reward of good feelings can never outweigh the risk of losing another American in war.
If we knowingly send out a sub par combat unit, then we are leaving Americans behind before they even see an enemy.
And we don't leave anyone behind.
To all those who serve in our military, thank you.
Is Israel on the brink of war?
Israel and Iran continue to trade threats and missile attacks over Syria as the latest round targeted Iranian Quds forces near Damascus. The IDF, which has confirmed attacks recently, went so far as to announce the attacks on Twitter.
We have started striking Iranian Quds targets in Syrian territory. We warn the Syrian Armed Forces against attempting to harm Israeli forces or territory.

— Israel Defense Forces (@IDF) January 20, 2019
This attack was in response to a missile launched from Syria by Iranian Quds Forces into the Golan Heights. The missile was intercepted by the Iron Dome, which was captured on camera by skiers on Mt. Hermon.
This is what's been happening:
On Sunday, Iranian Quds Forces operating in Syria launched a surface-to-surface rocket from Syria aimed at Israel's Golan Heights. The Iron Dome Aerial Defense System intercepted the rocket. pic.twitter.com/P7yvkpR6An

— Israel Defense Forces (@IDF) January 21, 2019
The overnight attacks on Syria resulted in many missiles and guided bombs being shot down, but enough made it through to damage Quds training grounds, weapons depots, and kill at least 11 people. There are no reports of how many of Iran's elite forces were killed, though British-based Syrian Observatory for Human Rights said only two of the dead were Syrians.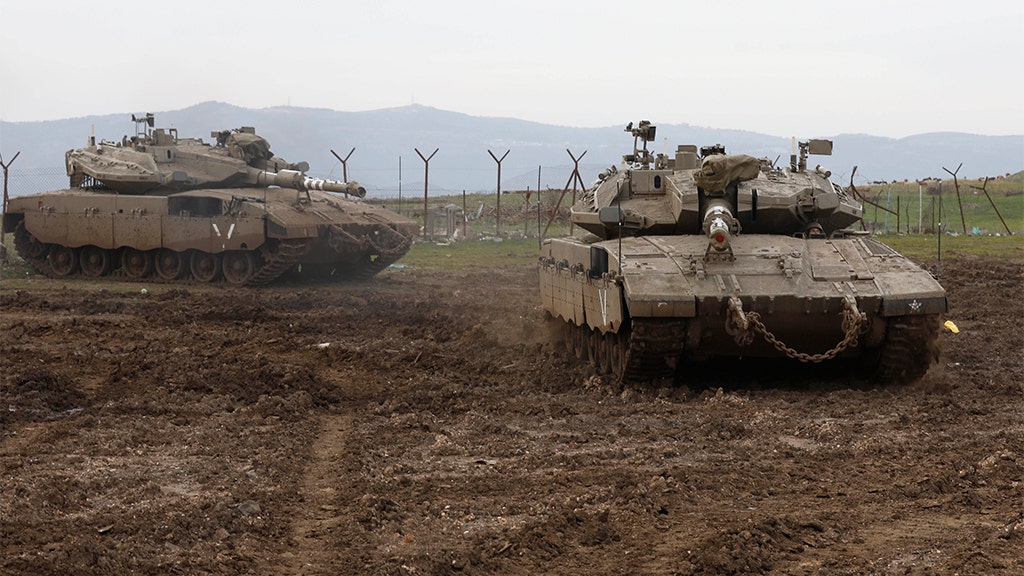 Israeli Prime Minister Benjamin Netanyahu recently confirmed that Israel had struck hundreds of targets in Syria linked to Iran and the Lebanese Hezbollah militant group, including a weapons facility two weeks ago.
Iran and Hezbollah are allied with the Syrian government in the civil war.
Iran has begun its loudest saber-rattling in some time as they send clear threats of war and the destruction of Israel through state television.
"The young people in the air force are fully ready and impatient to confront the Zionist regime and eliminate it from the Earth," IRIAF Brigadier General Aziz Nasirzadeh said following the strike.
The commander of the Iranian Air Force warned on Monday that Iran was prepared for a decisive war with Israel, "which will bring an end to the IDF's attacks on Syria." "Our armed forces are prepared for a war that will bring the crushing destruction of Israel," he said, according to media reports.
"We are ready for the day when we will see the end of Israel."
My Take
Americans are often unaware of the importance of Syria to Iran. For years, it's been assumed the only reason Iran hasn't attacked Israel, especially when they were at the height of their power during the latter years of President Obama's administration, is they have no clear path to reach Israel. Iraq, Syria, and Jordan are between Iran and the tiny Jewish state, making it nearly impossible for them to have any real reach into the heart of Israel.
This is why they are so intent on having an embedded military presence in Syria. It's why Israel is doing everything in its power to prevent them from getting a serious foothold there.
Iran's military is strong and somewhat sophisticated, but it's still no match for Israel. However, Iran could take advantage of Israel's small size if they can get enough missiles and launchers into Syria. Doing so would allow them to use Syrians as cover, a strategy currently in use by anti-Israeli forces in the Gaza Strip and Lebanon.
As long as Iran continues to pursue entrenchment in Syria, war is on the near horizon. Israeli strikes may be a catalyst for war, but they're necessary if they have any hopes of preventing Iran from taking over their Syrian neighbors wholesale.
ISIS bombing in Syria makes no sense
A terrorist bombing in Manbij, Syria, caused many casualties, including U.S. troops. ISIS-affiliated al-Amaq Agency has claimed responsibility for the attack.
Manbij, which is 20 miles from the Turkish border in northern Syria, has troops from multiple nations and groups regularly on the streets. The restaurant where the bombing took place was reported the venue for a meeting between U.S., French, and Kurdish troops at the time of the attack.
BREAKING: @NBCNews' @RichardEngel reports American forces are among the casualties after an explosion in Manbij, Syria. A senior Kurdish security official tells NBC the forces were on foot in the center of the city when they were approached by a suicide bomber, claimed by ISIS.

— Willie Geist (@WillieGeist) January 16, 2019
Here is a video of the attack. Warning: Graphic.
Warning! Graphic Video! Alleged video of the suicide attack in #Manbij pic.twitter.com/85MkFOTOpn

— Mutlu Civiroglu (@mutludc) January 16, 2019
My Take
Terrorism in general doesn't make sense, but this attack seems especially strange. Why would ISIS plan an attack now when the United States is close to leaving the region?
National Security Adviser John Bolton and Secretary of State Mike Pompeo have indicated the troop withdrawal will happen more slowly and methodically than President Trump initially indicated when he announced the move. But this attack is not going to prompt our exit to speed up. If anything, it gives the President justification to keep troops in Syria against the wishes of Turkish President Recep Tayyip Erdogan.
Not that he needs it, but apparently he thinks he does.
It's futile to try to make sense of any acts of terrorism, or more specifically, the inhumane motivations for committing them. But they usually serve a purpose, at least in the eyes of the terrorists. This one seems out of place.
Iran's first satellite launch goes up in flames
Iran's space program is all about national pride and has absolutely nothing to do with the weapons program they may or may not be engaging in that runs contrary to the agreement they made with the United Nations in 2015. That's their story, at least.
The reality, according to United States officials, is that both the technology they're using to attempt to put satellites in orbit and possible the satellites themselves are easily weaponized. Their contention is Iran can continue their nuclear weapons ambitions unabated by hiding behind the guise of "national pride" to fuel weapons research and testing.
Their first attempt went spectacularly wrong.
"I would have liked to make everybody happy with good news but sometimes life doesn't go forward the way we anticipate," he said on Twitter.
Another satellite, named Doosti, was waiting to be launched.
"We should not come up short or stop," Azari-Jahromi wrote. "It's exactly in these circumstances that we Iranians are different than other people in spirit and bravery."
There is no date set yet for the second or third attempts.
My Take
There is absolutely no reason for Iran to spend the money on their own satellites if not for weapons research and/or implementation. Space has been considered the next great battleground as the United States, China, Russia, and others continue exploring ways to rain down terror from orbit. Considering how badly Iran's economy is doing lately, they should spend more money on keeping their nation functioning and their people fed instead of wasting it on national pride.
Between the money President Obama gave them and the growth of their oil markets, it's unlikely Iran will stop until they've achieved their goal of having nuclear weapons capable of striking anywhere in the world. They can already reach a large chunk.