Maryland was one of the first states to lockdown and one of the first to enact a public mask requirement. These were the draconian measures that Republican Larry Hogan has enacted. Governor Hogan has been a top two tyrannical governor in wake of corona virus on the Republican side, alongside Mike DeWine in Ohio, earning him the nickname Lockdown Larry by Daniel Horowitz over at Conservative Review.
In contrast to to several other states, even Gavin Newsom's California, Maryland has made zero moves to reopen or demonstrate a light at the end of the tunnel. The dysfunction in Annapolis is compounded by an ineffective online portal for unemployment claims and possible corruption involving taxpayer money used to purchase testing kits from Korea using the governor's wife as a liaison. President Trump chided Hogan for this move, and Hogan responded by placing the test under protection of the national guard to defend against the federal government.
Unlike in California or Michigan, Hogan has not seen an effective mass resistance as the Reopen Maryland campaign has yet to organize any grassroots outdoor protests. But the first notorious act of resistance comes all the way from the Eastern Shore with the Ocean City deciding to reopen the beaches on Mother's Day weekend.
Mayor Richard Meehan issued a declaration reopening public facilities and beaches effective Saturday May 9th. While the language of the declaration recognizes Hogan's stay-at-home order, the rest of the declaration makes no prohibitions about tourists visiting the beach. The declaration also maintains that social distancing guidelines remain in effect. The response from Annapolis has been cordial towards Mayor Meehan's actions. A statement released be Hogan's communications director states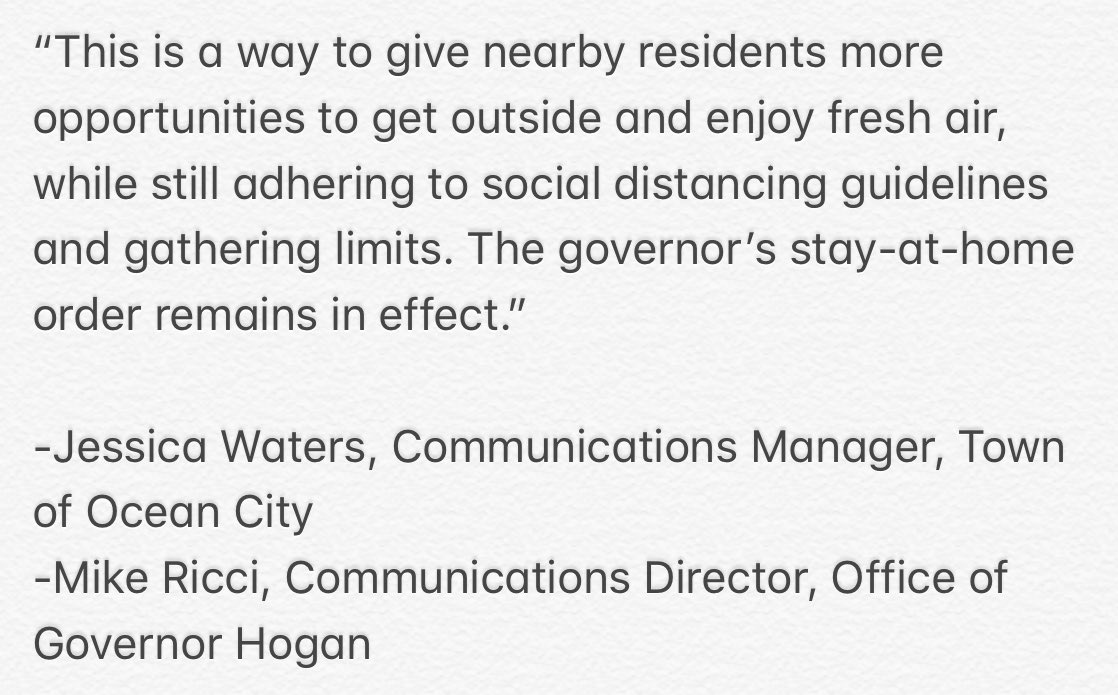 How will this be enforced against probable tourist turnout has yet to be seen. Marylanders could easily circumvent much of state police checkpoint, if they were to establish them, by driving through Delaware. But there do not seem to be any checkpoints set up for these purposes yet in Maryland, so a day-trip to Ocean City appears to be a safe weekend option.
Mayor Meehan's efforts are the first meaningful steps in reopening Maryland in contrast to the Governor "Roadmap to Recovery" that contains no deadlines or dates for the rolling back of draconian measures. Good on the mayor for not waiting on Annapolis to think of a real plan, while Hogan enjoys his newfound power and the rest of the country moves towards reopening.
---
Check out the NEW NOQ Report Podcast.
---
Join fellow patriots as we form a grassroots movement to advance the cause of conservatism. The coronavirus crisis has prompted many, even some conservatives, to promote authoritarianism. It's understandable to some extent now, but it must not be allowed to embed itself in American life. We currently have 8000+ patriots with us in a very short time. If you are interested, please join us to receive updates.
[yikes-mailchimp form="1″]
---
---
---
---
---
Will America-First News Outlets Make it to 2023?
Things are looking grim for conservative and populist news sites.
There's something happening behind the scenes at several popular conservative news outlets. 2021 was bad, but 2022 is proving to be disastrous for news sites that aren't "playing ball" with the corporate media narrative. It's being said that advertisers are cracking down, forcing some of the biggest ad networks like Google and Yahoo to pull their inventory from conservative outlets. This has had two major effects. First, it has cooled most conservative outlets from discussing "taboo" topics like Pandemic Panic Theater, voter fraud, or The Great Reset. Second, it has isolated those ad networks that aren't playing ball.
Certain topics are anathema for most ad networks. Speaking out against vaccines or vaccine mandates is a certain path to being demonetized. Highlighting voter fraud in the 2020 and future elections is another instant advertising death penalty. Throw in truthful stories about climate change hysteria, Critical Race Theory, and the border crisis and it's easy to understand how difficult it is for America-First news outlets to spread the facts, share conservative opinions, and still pay the bills.
Without naming names, I have been told of several news outlets who have been forced to either consolidate with larger organizations or who have backed down on covering certain topics out of fear of being "canceled" by the ad networks. I get it. This is a business for many of us and it's not very profitable. Those of us who do this for a living are often barely squeaking by, so loss of additional revenue can often mean being forced to make cuts. That means not being able to cover the topics properly. Its a Catch-22: Tell the truth and lose the money necessary to keep telling the truth, or avoid the truth and make enough money to survive. Those who have chosen survival simply aren't able to spread the truth properly.
We will never avoid the truth. The Lord will provide if it is His will. Our job is simply to share the facts, spread the Gospel, and educate as many Americans as possible while exposing the forces of evil.
To those who have the means, we ask that you please donate. We have options available now, but there is no telling when those options will cancel us. We just launched a new GiveSendGo page. We also have our GivingFuel page. There have been many who have been canceled by PayPal, but for now it's still an option. Your generosity is what keeps these sites running and allows us to get the truth to the masses. We've had great success in growing but we know we can do more with your assistance.
Thank you, and God Bless!
JD Rucker
---
---
All ORIGINAL content on this site is © 2021 NOQ Report. All REPUBLISHED content has received direct or implied permission for reproduction.
With that said, our content may be reproduced and distributed as long as it has a link to the original source and the author is credited prominently. We don't mind you using our content as long as you help out by giving us credit with a prominent link. If you feel like giving us a tip for the content, we will not object!
JD Rucker – EIC
@jdrucker
---