Social Justice is what the Montgomery County Council strives for, and in doing so the county released a statement on Twitter Thursday night explaining that we conservatives are spreading fake news as the county has had over half a dozen arrests for rape involving illegal aliens since July 25th. It's worth noting that multiple victims are children and not all of the incidents occurred in the aforementioned time period.
The high profile nature of the crimes adjacent to the nation's capital attracted a host of criticism from the Trump administration. The vanguard for calling out the sanctuary county is United States Citizenship and Immigration Services acting director Ken Cuccinelli.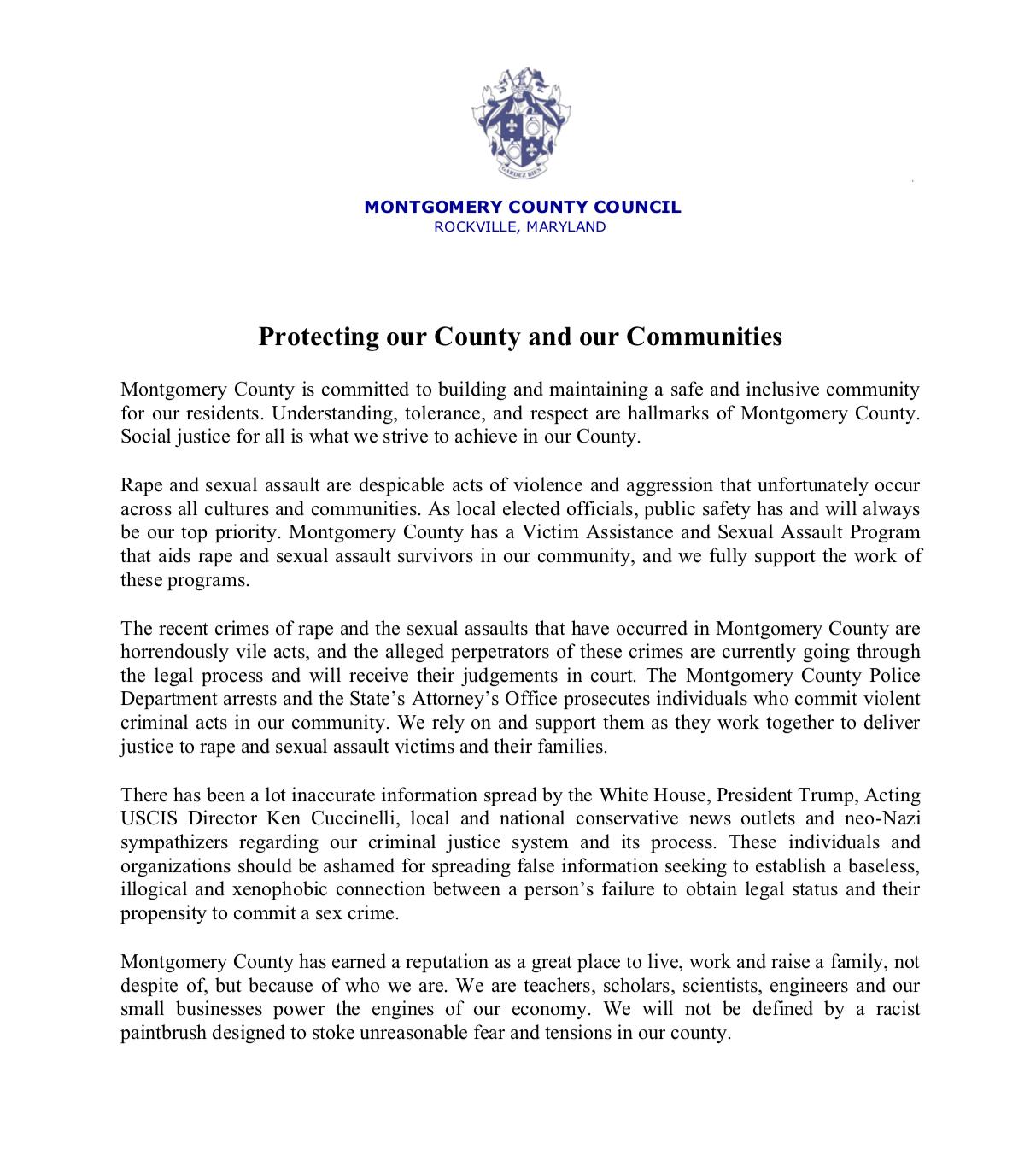 Montgomery County's statement can be broken down as a statement of their values, an over generalized condemnation of sex violence, a greater vitriolic condemnation of political adversaries, and ended with a pat on the back for being a great place to live.
In a stunning lack of self-awareness, Montgomery County refuses to acknowledge that the illegal immigration they promote has impact on crime, specifically sex crime. They refuse to acknowledge the immigration status of the perps arrested is anything other than circumstantial. They refuse to acknowledge that reasonable immigration policy enforcement very likely would have prevented at least some of these crimes. Instead pointing out these facts is racist, xenophobic, bigoted, and somehow illogical.
Montgomery County is Maryland's most socialist friendly county, the Democrat think tank for implementing policy on the rest of the state. It's worth noting that the county is so leftist and populated, Democrats gerrymandered it into three Congressional districts. Therefore the actions of Montgomery County cannot be isolated, especially as the county is well commuted though. The illegal alien rape playground the Montgomery County government has created will, if not already, spread beyond to other counties because Montgomery County believes in releasing illegal alien criminals back into the wild. Hopefully Howard County, which recently failed to pass a sanctuary county policy, will heed these avoidable tragedies.
It's unlikely that these incidents of rape and sexual assault will die down. But rest assured, Montgomery County strives for social justice.
We are currently forming the American Conservative Movement. If you are interested in learning more, we will be sending out information in a few weeks.
[gravityform id="2″ title="true" description="false"]