Social Justice is what the Montgomery County Council strives for, and in doing so the county released a statement on Twitter Thursday night explaining that we conservatives are spreading fake news as the county has had over half a dozen arrests for rape involving illegal aliens since July 25th. It's worth noting that multiple victims are children and not all of the incidents occurred in the aforementioned time period.
The high profile nature of the crimes adjacent to the nation's capital attracted a host of criticism from the Trump administration. The vanguard for calling out the sanctuary county is United States Citizenship and Immigration Services acting director Ken Cuccinelli.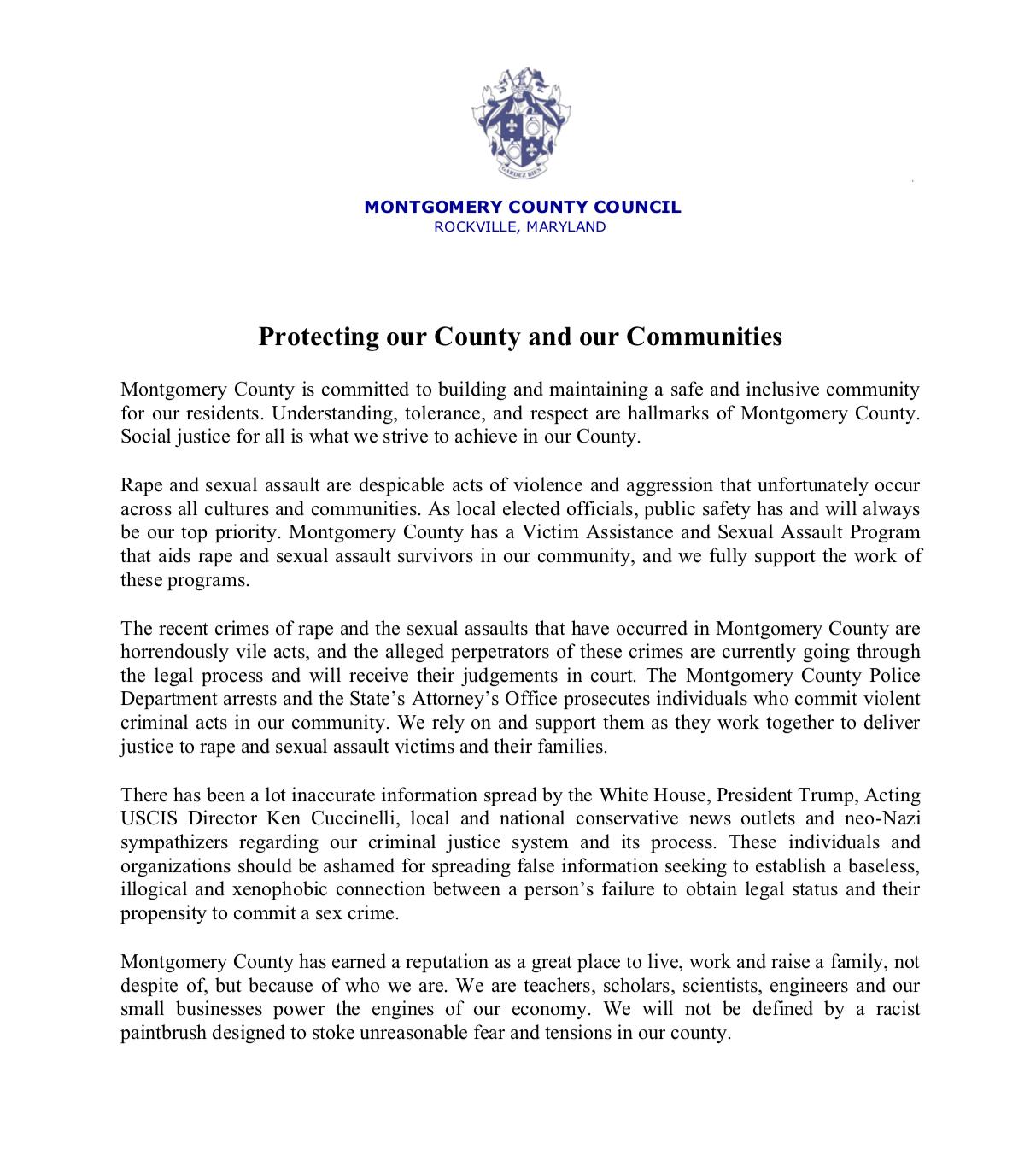 Montgomery County's statement can be broken down as a statement of their values, an over generalized condemnation of sex violence, a greater vitriolic condemnation of political adversaries, and ended with a pat on the back for being a great place to live.
In a stunning lack of self-awareness, Montgomery County refuses to acknowledge that the illegal immigration they promote has impact on crime, specifically sex crime. They refuse to acknowledge the immigration status of the perps arrested is anything other than circumstantial. They refuse to acknowledge that reasonable immigration policy enforcement very likely would have prevented at least some of these crimes. Instead pointing out these facts is racist, xenophobic, bigoted, and somehow illogical.
Montgomery County is Maryland's most socialist friendly county, the Democrat think tank for implementing policy on the rest of the state. It's worth noting that the county is so leftist and populated, Democrats gerrymandered it into three Congressional districts. Therefore the actions of Montgomery County cannot be isolated, especially as the county is well commuted though. The illegal alien rape playground the Montgomery County government has created will, if not already, spread beyond to other counties because Montgomery County believes in releasing illegal alien criminals back into the wild. Hopefully Howard County, which recently failed to pass a sanctuary county policy, will heed these avoidable tragedies.
It's unlikely that these incidents of rape and sexual assault will die down. But rest assured, Montgomery County strives for social justice.
We are currently forming the American Conservative Movement. If you are interested in learning more, we will be sending out information in a few weeks.
[gravityform id="2″ title="true" description="false"]
---
---
Most "Conservative" News Outlets Are on the Big Tech Teat
Not long ago, conservative media was not beholden to anyone. Today, most sites are stuck on the Big Tech gravy train.
I'll keep this short. The rise of Pandemic Panic Theater, massive voter fraud, and other "taboo" topics have neutered a majority of conservative news sites. You'll notice they are very careful about what topics they tackle. Sure, they'll attack Critical Race Theory, Antifa, and the Biden-Harris regime, but you won't see them going after George Soros, Bill Gates, the World Economic Forum, or the Deep State, among others.
The reason is simple. They are beholden to Big Tech, and Big Tech doesn't allow certain topics to be discussed or they'll cut you off. Far too many conservative news outlets rely on Google, Facebook, and Twitter for the bulk of their traffic. They depend on big checks from Google ads to keep the sites running. I don't necessarily hold it against them. We all do what we need to do to survive. I just wish more would do like we have, which is to cut out Big Tech altogether.
We don't get Google checks. We don't have Facebook or Twitter buttons on our stories. We don't have a YouTube Channel (banned), an Instagram profile (never made one), or a TikTok (no thanks, CCP). We're not perfect, but we're doing everything we can to not owe anything to anyone… other than our readers. We owe YOU the truth. We owe YOU the facts that others won't reveal about topics that others won't tackle. And we owe America, this great land that allows us to take hold of these opportunities.
Like I said, I don't hold other conservative sites under too much scrutiny over their choices. It's easy for people to point fingers when we're not the ones paying their bills or supporting their families. I just wish there were more who would make the bold move. Today, only a handful of other major conservative news outlets have broken free from the Big Tech teat. Of course, we need help.
The best way you can help us grow and continue to bring proper news and opinions to the people is by donating. We appreciate everything, whether a dollar or $10,000. Anything brings us closer to a point of stability when we can hire writers, editors, and support staff to make the America First message louder. Our Giving Fuel page makes it easy to donate one-time or monthly. Alternatively, you can donate through PayPal or Bitcoin as well. Bitcoin: 3A1ELVhGgrwrypwTJhPwnaTVGmuqyQrMB8
Our network is currently comprised of six sites:
We are also building partnerships with great conservative sites like The Liberty Daily and The Epoch Times to advance the message as loudly as possible, and we're always looking for others with which to partner.
Some of our content is spread across multiple sites. Other pieces of content are unique. We write most of what we post but we also draw from those willing to allow us to share their quality articles, videos, and podcasts. We collect the best content from fellow conservative sites that give us permission to republish them. We're not ego-driven; I'd much rather post a properly attributed story written by experts like Dr. Joseph Mercola or Natural News than rewrite it like so many outlets like to do. We're not here to take credit. We're here to spread the truth.
While donations are the best way to help, you can also support us by buying through our sponsors:
We know we could make a lot more money if we sold out like so many "conservative" publications out there. You won't find Google ads on our site for a reason. Yes, they're lucrative, but I don't like getting paid by minions of Satan (I don't like Google very much if you couldn't tell).
Time is short. As the world spirals towards The Great Reset, the need for truthful journalism has never been greater. But in these times, we need as many conservative media voices as possible. Please help keep NOQ Report and the other sites in the network going. Our promise is this: We will never sell out America. If that means we're going to struggle for a while or even indefinitely, so be it. Integrity first. Truth first. America first.
Thank you and God Bless,
JD Rucker
Bitcoin: 32SeW2Ajn86g4dATWtWreABhEkiqxsKUGn
Covid variant BA.5 is spreading. It appears milder but much more contagious and evades natural immunity. Best to boost your immune system with new Z-Dtox and Z-Stack nutraceuticals from our dear friend, the late Dr. Vladimir Zelenko.