In the days following the shootings in El Paso and Dayton, Bill Mitchell, a prominent social media figure on the right, came out in support of gun control legislation. This sudden betrayal has invited a host of scrutiny, that his endorsement of gun control following Parkland did not, because it also, coincidentally, occurred ninety days after he launched a crowdfunding campaign with the intent to move to Washington DC to open a new studio for his YourVoice America show.
A thread by @TjMaga1 on Twitter shed much light on what appeared to be a bait and switch by Bill Mitchell. But the depth of this story went beyond the thread with the emergence of a business partnership with a tech company amidst the lack of consistency and transparency. This installment of Conservative Grifters investigates Bill Mitchell and his emerging business relationship with Yippy.com and reconciles the findings with the promises Mitchell has made about his boosted capacity to support the cause.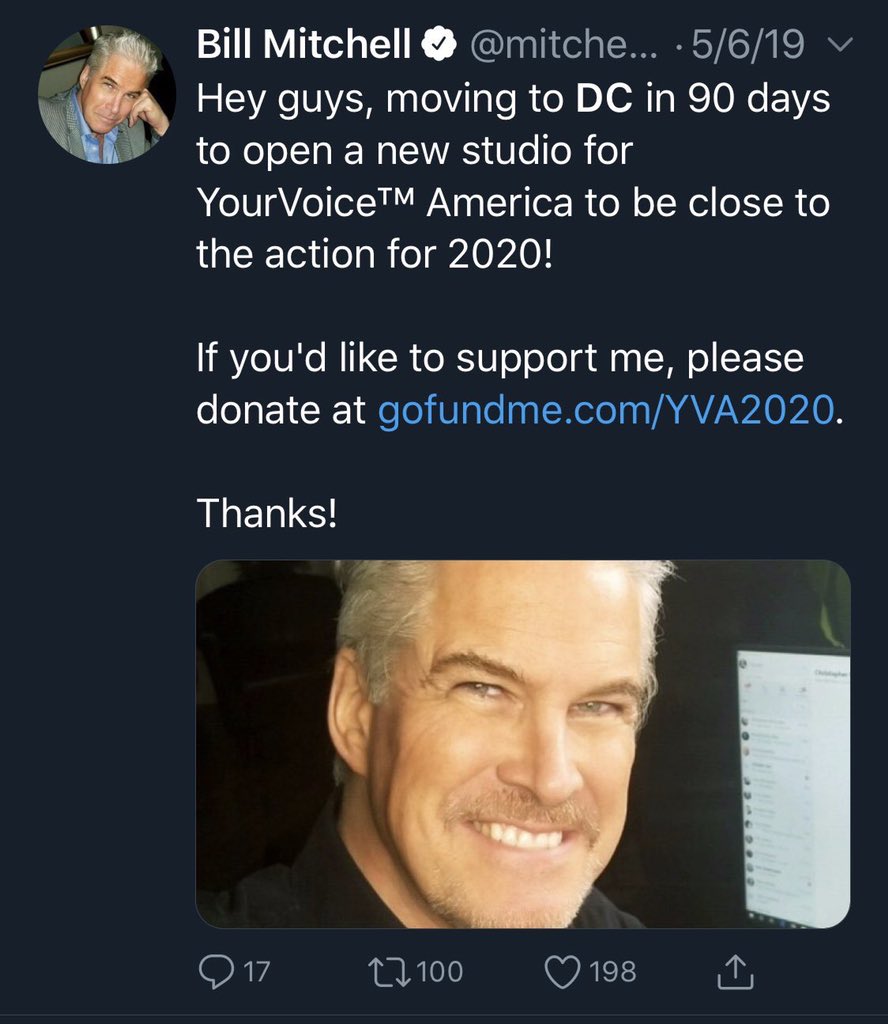 This scam started on May 5th 2019 (just look at the dates)
Boomer said he was moving to DC! Even gave a deadline, 90 DAYS!
For days he pimped out a gofundme for the DC move.
A weeks worth of internet panhandling (from the 5th -12th)
And people were generous…
Well, 90 days have went by and…
And when people ask about it, this is what you will get from ole Boomer Bill.
He's an ungrateful lying asshat!
Enough of handing your hard earned money over to scum like Bitchell!
#UnfollowGunGrabbinBill
Deeper Dive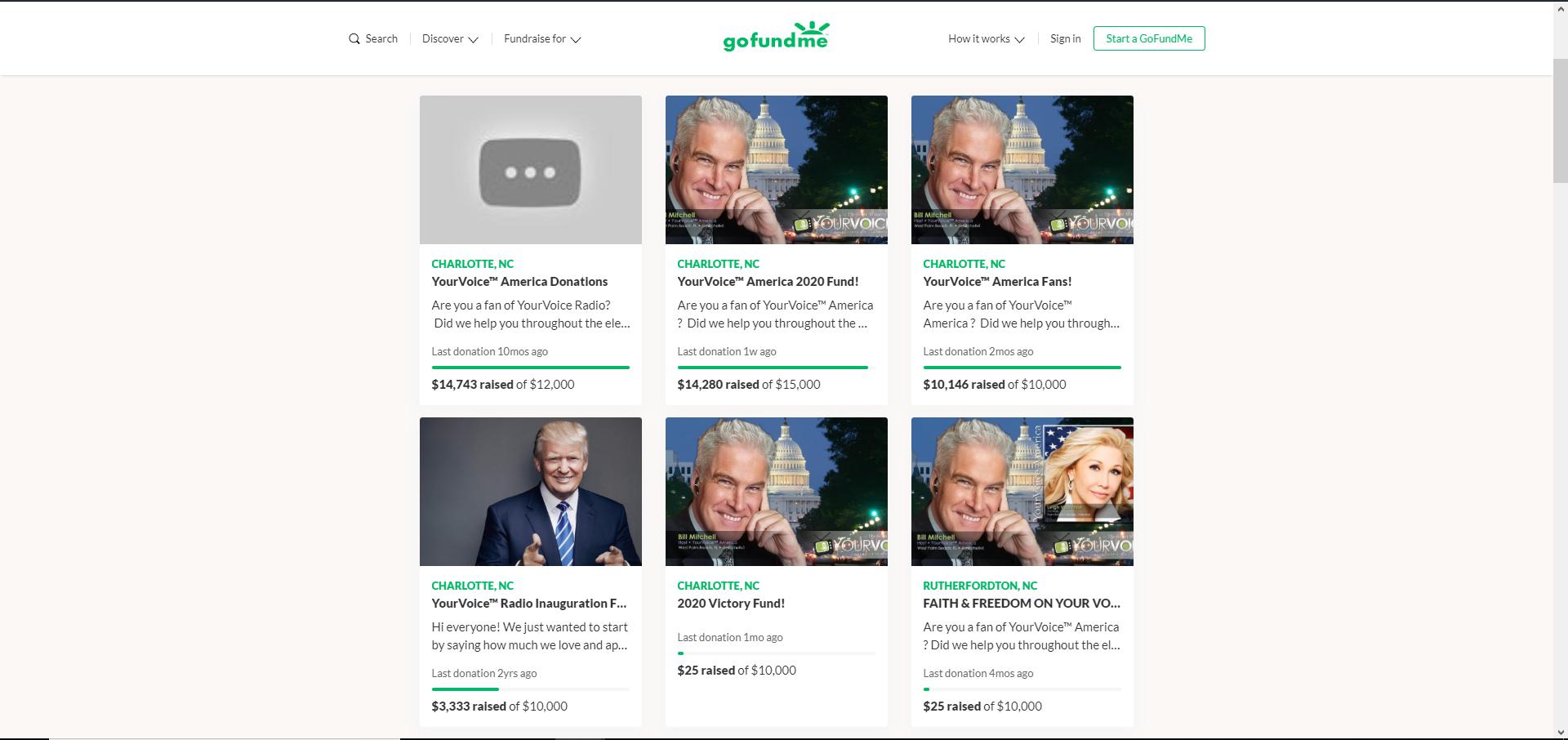 Bill Mitchell currently has five open campaigns on the crowdfunding platform, some of them are years old. The amount from all the campaigns totals $42552, and the money went towards supporting his independent platform YourVoice. The platform operates a subscription model like BlazeTV.
Any Recourse?
Short answer? No. The specific GoFundMe page in question mentions nothing about moving to Washington DC to move into a studio that can bring in people for interviews and be more politically relevant. If his word is his bond, then he surely lied to his audience in both tweets and his own show. It appears this is an instance of caveat emptor.
Why Miami?
https://twitter.com/mitchellvii/status/1160989337875623938?s=20
It may come off that he is living the life of Miami luxury, but, not to discredit these assumptions, Bill Mitchell is not just involved with YourVoice America. He is also deeply integrated in Republican Legion, a Qanon apparel website he regularly advertises. And he has telegraphed his involvement in a media role for Yippy.com, an alternative search engine.
---
---
Hanging with Rich Granville, CEO of https://t.co/kOX6tF5hoI on Miami! pic.twitter.com/GHPUr0YwxE

— Bill Mitchell (@mitchellvii) August 10, 2019

The confusion exists due to the cryptic nature of his communications. The response to Mindy Robinson reeks of overpromising.
Yippy.com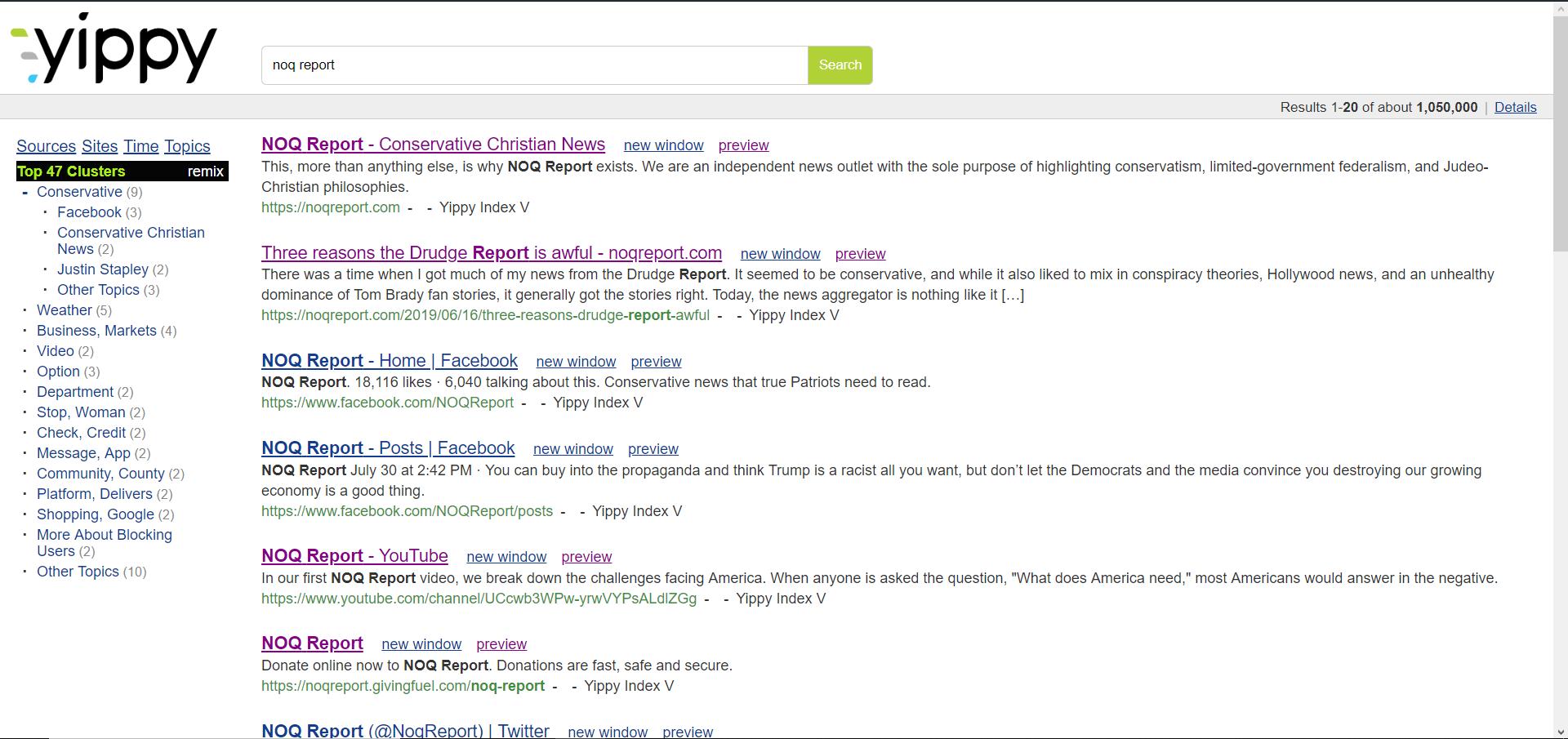 Yippy, Inc (OTC Pink: YIPI) a unified search company known for its clustering technology, big data consolidation and eDiscovery tools. Specializing in the development of search, data normalization, and aggregation through application service environments for consumer and enterprise markets. Yippy's proprietary web-based product suites are deployed over cloud architecture and provide secure, redundant and maintained data services for businesses and education markets.
Yippy's platform is a fully customizable solution, providing highly innovative and secure solutions for a broad range of "Big Data" initiatives. The challenges and opportunities in collecting, analyzing and disseminating data in today's business environment are vast. In response, Yippy maintains industry-leading programs in the field of data science through both internal development and strategic acquisition, and continues to evolve ahead of the industry curve. By providing flexible, scalable solutions to organize, store, disseminate, protect and manipulate "Big Data," Yippy's cloud-based platform allows business, academia and governmental clients to manage their information effectively and efficiently.
It seems as though the meat and potatoes of Yippy is behind the scenes in their B2B sales of their proprietary software. To the layman, however, Yippy is an alternative to Google founded in 2009 by Richard Granville who was recently featured on One America News Network claiming DuckDuckGo wasn't really protecting user data. It is important to note that Granville also promotes Qanon and Mitchell's associated business Republican Legion.
https://twitter.com/GranvilleReal/status/1161098601545850880?s=20
But Granville is not just some media pundit or "wantrepreneur" as he has extensive executive experience. According to Crunchbase, Yippy has raised $2 million since 2006 and made two acquisitions. The $2 million was raised in 2012 as debt financing. The search engine is marketed towards education. In July of 2019, Yippy received about 500000 visitors, an unsteady increase from 460000 in February of 2019. Yippy is a publicly traded penny stock registered under the ticker OTCMKTS:YIPI. Financial records reported on an annual basis (fiscal year ends May 31st) show that the company has reported a net loss in the millions from 2015 through 2018. The company's statement of cash flows show that the company has been receiving debt to finance the net loss from operations. The balance sheet shows that the company has negative net tangible assets of $3,546,000 and retained losses of $25,888,000. In conclusion, the financial statements show obvious weakness, though not insurmountable, in the company's financial viability.
Trump 2020
https://twitter.com/mitchellvii/status/1161404615604297728
https://twitter.com/mitchellvii/status/1161437604627324930
https://twitter.com/mitchellvii/status/1161438719091646464
So the question now is why would a social media personality like Bill Mitchell be working for a tech company? And what does Bill Mitchell claim Yippy will contribute to Trump's campaign prospects in 2020? With Occam's Razor in full force the swiftest conclusion is the company is hiring Mitchell to promote the product so it can be the next Parler. There are many rumors about Parler paying influencers on the right to promote the product. In turn, not only will Mitchell be compensated but will have a chance to promote or integrate his platform. But let's consider, first, why the narrative that Bill Mitchell is spinning about Yippy seems improbable.
Yippy has been a concept for 13 years. Its search is only web, and its interface looks outdated. There does not appear to be an app either. $2 million in venture debt and the sale of a penny stocks does not position this company to have the financial grit to challenge Google or Twitter even with a, seemingly erroneous, market capitalization of approximately $23.09 million dollars. So how about a thought exercise of what he could be suggesting. Not only do Mitchell's claims seem outlandish, though in a idiosyncratic entrepreneurial way, but they seem to have little to do with political activism as opposed to self promotion.
Realistically speaking, Yippy is probably seeking to be a Conservative homepage, like MSN and Bill Mitchell will be in charge of producing content for the homepage that will include a search engine. It's good business practice to exploit a core competency which in this case would be web search. But since Bill Mitchell has a (good) habit of integrating his brands together, it's reasonable to speculate that his YourVoice platform will be integrated into the search engine. The ambition seems to be the creation of a one stop website for Trump supporters. The missing component remaining is the social media.
Full Circle

The story doesn't seem like it will go away, partially because Bill Mitchell invites the criticism by continuing to defend himself. The alleged incident in the captured screenshot above was tweeted and deleted, thus drawing more suspicion to its validity. Part of what signifies being a Conservative Grifter is a lack of transparency about beliefs and motives. And while there is nothing wrong with seeking a profit with openness, the sudden switch from moving to DC to moving to Miami and the doubling down on the decision to not disclose a business opportunity that had been in the works prior, at the very least as a possibility of interfering with the promise of moving to DC which was obviously not in the works in the last of the ninety days. The failure to disclose an impeding lack of delivery on a promise shows a complete disregard for self-accountability. The lack of self-accountability was followed up by what all signs point to as an even greater promise of grandeur. Politics aside, this looks like the pattern of a conman, so Conservatives should be warned.
Image via Twitter.
We are currently forming the American Conservative Movement. If you are interested in learning more, we will be sending out information in a few weeks.
[gravityform id="2″ title="true" description="false"]
---
---
---
Newsletter
Join fellow patriots as we keep Americans informed and advance the cause of conservatism.
---
---