Game of Thrones Series Finale: Review and Analysis
The ending finally arrive. It was a tumultuous controversial season. The Game of Thrones series finale had to deal with a malcontentious internet fanbase that saw bad writing, but mostly in the wrong places. Indeed the Daenerys fans were unduly upset by her demise, and the Arya and Sansa fans consistently had bad takes. This ending was hardly for these people who wanted happy, predictable, endings that reinforced your "fandom." Still this episode is where the good writing for the last three or four seasons went to. It was not the dreaded ending of a Republic, which given Tyrion's voyage to Volantis, was conceivable. The idea was address and ridiculed. Instead it was two kingdoms at peace, at last. The Game of Thrones series finale was well shot, well performed, and strangely well-written(thanks to the cliff-notes of George RR Martin.) The ending was somber. On a scale of Dexter to Breaking Bad, the Game of Thrones series finale lands in the middle, being held back by D&D's poor ability to get to the final two episodes.
Overall: The episode was a solid ending, given the poor last few seasons.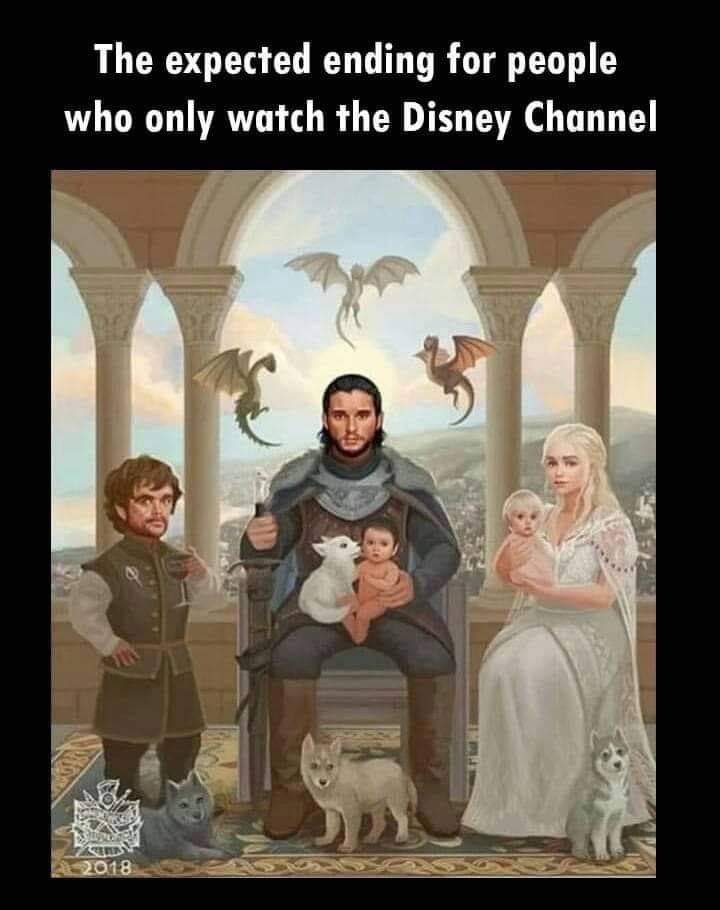 A Critique of Stalinism
In her speech, Daenerys Targaryen champions how she destroyed the system that oppressed people and made a bold goal to conquer the rest of the known world minus the far east of the continent south of Essos. There's a lot to tackle from her speech. First, she seems to have a Rashida Tlaib recollection of history. Yes, she freed the Astapori slaves, but it ends horribly for the slaves in her new world. She left Astapor without a garrison, so a butcher took over, being the only one able to wield a blade semi-competently. She then abandons Astapor and the Yunkish coalition destroy the city and the newly freed slaves. who knows what happened to the Mereenese slaves she misruled, but with her dead, it's a safe assumption they will be vanquished, probably by Volantis. So Daenerys is already rewriting her history, but other than freeing slaves in a world away, she has done nothing to systematically change the way of life for Westeros. She has only deposed Cersei Lannister, which is nothing new for a kingdom that saw Roberts Rebellion. So after giving a fictional account of history she vows to conquer the world, with her brand of liberation. It sounds exactly like Communism. Part of the end goal for communism, as the Soviets saw it was to make every country around them communist, which is what Stalin did during and after World War 2. The idea that a communist government can dissolve and the "people" own everything must come after private ownership everywhere is eliminated, in theory. Of course communism always failed, as does Daenerys. In her final words to Jon, Daenerys talks of removing people who stand in her way and declares herself the supreme authority of what is good. You can almost here the words: "in order to make an omelet, you have to crack a few eggs." This classic defense of genocide is uttered, in sentiment, by Daenerys in her final words. In the Game of Thrones world, Daenerys was Josef Stalin. Off to the gulag with Tyrion and the other undesirables.
Drogon
Either Jon is good at playing innocent or Drogon knew the Iron Throne was what really killed Daenerys Targaryen. Either way, such moral accountability from a dragon knowing better than his mother. His subsequent escape is one unclosed detail that works really well.
Jon Snow King-Beyond-the-Wall
Jon Snow was sentenced to the Night's Watch begging the question: why is the order still a thing? Still, Jon Snow is depicted leading the wildlings to the "true North" and the gate behind him is shut. Jon Snow was never cut out for the Night's Watch, as shown in season one, and he's killed for disregarding his vows in the books. The implication of Jon being King is made readily apparent.
Bran as King
The leaks told it true. I was extremely weary of this especially since I had Tyrion in mind for the Kingship or I thought the Seven Kingdoms would split. After all, Robert's strength held them together, and he died in season one. But the Lords were too weak to seize their own kingship. But minus the cringy Edmere Tully return, Tyrion sold it, in large part because of the acting of Peter Dinklage. It was better written than one would have thought. The idea is growing on me personally and contains a lack of predictability Game of Thrones is known for. It also tied up succession nicely while providing a stable outcome a Targaryen dynastic return would not have brought.
Small Council
My biggest point of displeasure from this episode was the small council. Bronn receiving Highgarden and the Lord Paramount title was a sickening end to his character. He should have been killed off years ago. Sam becoming the Grand Maester was a bit of a stretch. Davos as Master of Ships was fitting and Brienne as Lord Commander of the Kingsguard wasn't too shabby. The scene where she writes down Jaime's legacy was excellent.
MVP Tyrion
Peter Dinklage gave an award winning performance this episode. I was getting critical of his poor portrayal of the Tyrion character, in large part because of the writing. But in the final two episodes, Peter Dinklage hit a grand slam on his performance. All of the actors did a superb job, but his was by far the best his episode.
NBA's bad week just got the Steve Kerr treatment
The NBA is in trouble. They've bowed to Communist China. They quashed their own players and coaches. They've shown the backbone they displayed when being social justice warriors over transgender bathroom rights was a virtue signaling act, nothing more. Then yesterday, their chief social justice warrior, who happens to coach a team named Warriors, gave a response that was off the rails.
When he received a question wondering if he's ever been asked about human rights while visiting China, he answered by condemning America. Seriously.
Steve Kerr on if he's ever been asked about human rights during his previous trips to China:

"No. Nor has (America's) record of human rights abuses come up either… People in China didn't ask me about, you know, people owning AR-15s and mowing each other down in a mall." pic.twitter.com/56mNC7LmID

— Sam Hustis (@SamHustis) October 11, 2019
By comparing the atrocities that have been taking place in China for decades to our 2nd Amendment right to keep and bear arms is ludicrous. China has killed more of their own people over the last 70 years than there are AR-15s in existence. For Kerr to make the false equivalence that America's human rights abuses are somehow comparable to China's is a perfect example of why politics and sports shouldn't mix.
Twitter wasn't happy with his comments.
Someone should ask Kerr how many people have been murdered under communism. There is no equivalent between us and China. This is disgusting to see these scumbags like Kerr promote the communist line. https://t.co/GZiygMhCB1

— Nick Short 🇺🇸 (@PoliticalShort) October 11, 2019
If you're response to China's human rights abuses is to compare China to individuals who commit mass shootings in America, maybe sit this one out.

It's clear the NBA won't tolerate any criticism of China, but don't throw the US under the bus because you're too scared to say it. https://t.co/Hldw601jXv

— Josh Jordan (@NumbersMuncher) October 11, 2019
Steve Kerr decided to make everything worse https://t.co/FOyDNCJW47

— Tim Pool (@Timcast) October 11, 2019
Oh this is really bad from Steve Kerr. https://t.co/PJvmTpOCdm

— Matt Stoller (@matthewstoller) October 11, 2019
Honestly was not expecting the NBA's appetite for Chinese blood money to produce an "ackshually we're just as bad" take https://t.co/pj20Y6dqvH

— Allahpundit (@allahpundit) October 11, 2019
This guy should stop talking if he wants people to take him seriously. https://t.co/bOW4v9KlDR

— Jonah Goldberg (@JonahDispatch) October 11, 2019
If Steve Kerr wants to move to China, I will personally pay for his one-way first class ticket. https://t.co/QG8DAYP7L8

— Michael Knowles (@michaeljknowles) October 11, 2019
An elephant and a mouse are walking in the desert. The mouse looks back and says to the elephant: "Wow. Look at all the sand we're kicking up." https://t.co/NbOy2JPHXX

— trick-or-treater (@neontaster) October 11, 2019
Nobody's perfect, some countries have governments that respect an individual right to bear arms, and other countries violently squash all dissent and imprison people in labor camps, so you know, potato, potahto https://t.co/FDFI9CCtms

— Patterico (@Patterico) October 11, 2019
And here's Steve Kerr comparing China's human rights abuses (holding people in camps and silencing Hong Kong protestors) with individuals in the US that commit gun violence.

This is pathetic. The NBA deserves whatever fallout they get from their cowardice. https://t.co/Hldw601jXv

— Josh Jordan (@NumbersMuncher) October 11, 2019
If you think gun violence in America is in any way comparable to the atrocities the Chinese government has done and continues to do… wow.

What is going on here? This is a national disgrace. https://t.co/Ysr6L2AbDF

— Mark Hemingway (@Heminator) October 11, 2019
wow good point. isolated mass shootings perpetrated by madmen is basically the same thing as government-sponsored campaigns of mass exterminations. https://t.co/23Wh08Rtt1

— 𝔱𝔰𝔞𝔯 𝔟𝔢𝔠𝔨𝔢𝔱 𝔞𝔡𝔞𝔪𝔰 (@BecketAdams) October 11, 2019
What an immense idiot. The Chinese communist state has murdered tens of millions of people. It has concentration camps open right now. People who shoot ARs in American malls are criminals. https://t.co/vFumkVVdlM

— David Harsanyi (@davidharsanyi) October 11, 2019
Steve Kerr comparing the right to gun ownership in America to China locking up millions of religious minorities in camps and censoring any criticism of their regime.

Maybe "shut up and coach" might not be the worst advice for some people… https://t.co/XZCKQEQNvb

— (((AG))) (@AG_Conservative) October 11, 2019
Pretty apparent #NBA would have had no problem playing in Germany through August of 1939. https://t.co/6I7SExjtho

— Hugh Hewitt (@hughhewitt) October 11, 2019
China's power is such that it can force rich and famous Americans to resort to Twitter-troll-level whataboutism https://t.co/ziJaxaSmXg

— Noah Smith 🐇 (@Noahpinion) October 11, 2019
This piece of anti-American garbage is comparing the United States of America to the Communist Party of China

China has murdered tens of millions of its own citizens and has millions locked up in concentration camps and is waging an all out war on Western democracies https://t.co/ww8PTpGHsb

— Ryan Saavedra (@RealSaavedra) October 11, 2019
Guys, I'm not positive, but…but I'm beginning to suspect that Steve Kerr may be a cowardly, hypocritical bag of shit. https://t.co/331r6LyUPV

— James Hasson (@JamesHasson20) October 11, 2019
Every day, thousands of people online misuse "whataboutism." Thank you @SteveKerr for coming and showing us what whataboutism really means. https://t.co/qxS9XIx2gK

— Daniel Foster (@DanFosterType) October 11, 2019
You know who could use a few AR-15s? The Uyghurs. https://t.co/FwJ2C1HHoV

— prop op (@ProperOpinion) October 11, 2019
In case there's ever a shortage of off-base whataboutisms, we can store Steve Kerr's comparison of China's atrocities to AR-15s as a never-ending supply to replay again and again. The NBA has become a cesspool of communist idiocy.
We are currently forming the American Conservative Movement. If you are interested in learning more, we will be sending out information in a few weeks.
Ted Cruz blasts NBA for pandering to Communist China
It's not the first time it's happened. In fact, it seems to be becoming a trend. Conservative firebrand Senator Ted Cruz and socialist provocateur Representative Alexandria Ocasio-Cortez agree on something. This time, it's the way the NBA is bending over backwards to cater to demands made by China, silencing their players and pressuring a general manager who Tweeted about Hong Kong independence.
When Houston Rockets general manager Daryl Morey Tweeted support for Hong Kong protesters, he likely didn't realize he was stepping into a firestorm. He was probably unaware that Beijing is extremely paranoid, overly protective, and that their authoritarianism spreads well beyond their own borders. They didn't like it and let the NBA know it. And the NBA caved to many of their demands.
Now, Cruz and Ocasio-Cortez are joining together to blast both the Chinese government and the NBA for their weak moves.
It is outrageous that the Chinese Communist Party is using its economic power to suppress the speech of Americans inside the United States: https://t.co/9t04p1jxuP

— Ted Cruz (@tedcruz) October 10, 2019
A bipartisan group of eight lawmakers fiercely criticized the NBA in a Wednesday letter to commissioner Adam Silver, demanding the league scale back its operations in China and take a stronger stand against Chinese government pressure.
The ideologically diverse coalition of lawmakers — including Sen. Ted Cruz (R-Texas) and Rep. Alexandria Ocasio-Cortez (D-N.Y.) — blasted Silver for the NBA's initial response to China after the Houston Rockets' general manager expressed support for demonstrators in Hong Kong.
I love the NBA. Correction: I loved the NBA. This is ridiculous and needs to be called out for the betrayal of American values that it is. It's good to see both sides of the political aisle recognizing and condemning this outrageous debacle.
We are currently forming the American Conservative Movement. If you are interested in learning more, we will be sending out information in a few weeks.
Liz Wheeler has a message to Steph Curry and the NBA about China
Some say the NBA is making a mistake by being so feeble against China while playing social justice warriors in the transgender bathroom debate. This isn't a mistake. This is exactly what the NBA wants, and those who say it's all about money are missing the point.
One America News host Liz Wheeler gets it. In her commentary, she lambastes future Hall of Fame point guard Steph Curry for playing ignorant about China's offenses. And this is the real takeaway from the whole China-NBA debacle, that everyone from players to owners to coaches to the media realizes this is wrong and they just don't care. They'd rather pretend to be ignorant of the decades of atrocities committed by Communist China rather than address the issues meaningfully.
As my colleague noted yesterday, it's time to boycott the NBA. And as Liz Wheeler notes, either the education Steph Curry received in school was terribly lacking or the desire to cater to China is so overwhelming, the NBA will lie to save face.
We are currently forming the American Conservative Movement. If you are interested in learning more, we will be sending out information in a few weeks.