Game of Thrones Series Finale: Review and Analysis
The ending finally arrive. It was a tumultuous controversial season. The Game of Thrones series finale had to deal with a malcontentious internet fanbase that saw bad writing, but mostly in the wrong places. Indeed the Daenerys fans were unduly upset by her demise, and the Arya and Sansa fans consistently had bad takes. This ending was hardly for these people who wanted happy, predictable, endings that reinforced your "fandom." Still this episode is where the good writing for the last three or four seasons went to. It was not the dreaded ending of a Republic, which given Tyrion's voyage to Volantis, was conceivable. The idea was address and ridiculed. Instead it was two kingdoms at peace, at last. The Game of Thrones series finale was well shot, well performed, and strangely well-written(thanks to the cliff-notes of George RR Martin.) The ending was somber. On a scale of Dexter to Breaking Bad, the Game of Thrones series finale lands in the middle, being held back by D&D's poor ability to get to the final two episodes.
Overall: The episode was a solid ending, given the poor last few seasons.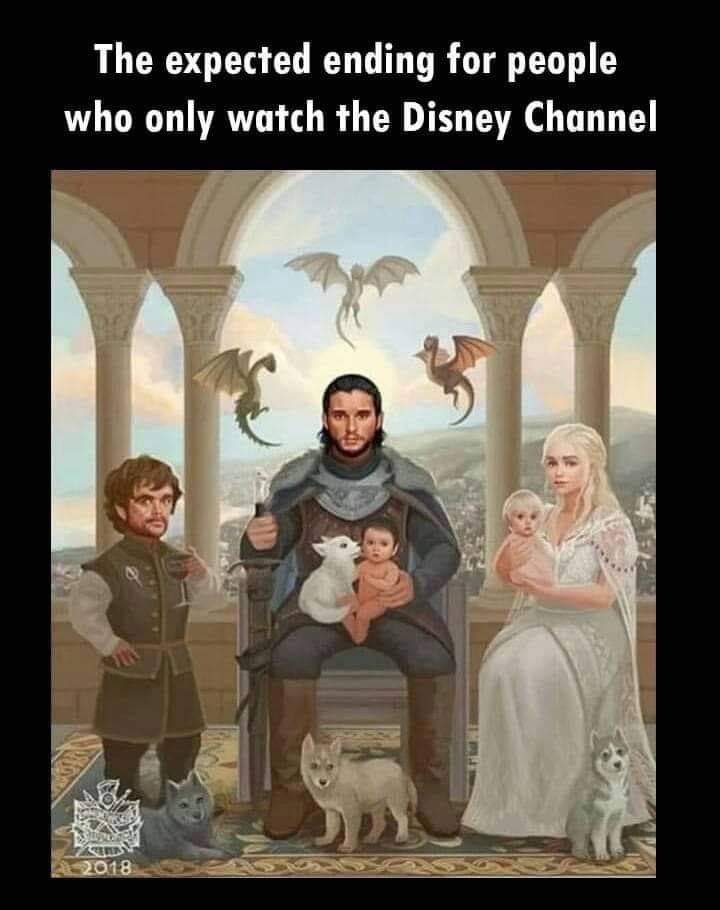 A Critique of Stalinism
In her speech, Daenerys Targaryen champions how she destroyed the system that oppressed people and made a bold goal to conquer the rest of the known world minus the far east of the continent south of Essos. There's a lot to tackle from her speech. First, she seems to have a Rashida Tlaib recollection of history. Yes, she freed the Astapori slaves, but it ends horribly for the slaves in her new world. She left Astapor without a garrison, so a butcher took over, being the only one able to wield a blade semi-competently. She then abandons Astapor and the Yunkish coalition destroy the city and the newly freed slaves. who knows what happened to the Mereenese slaves she misruled, but with her dead, it's a safe assumption they will be vanquished, probably by Volantis. So Daenerys is already rewriting her history, but other than freeing slaves in a world away, she has done nothing to systematically change the way of life for Westeros. She has only deposed Cersei Lannister, which is nothing new for a kingdom that saw Roberts Rebellion. So after giving a fictional account of history she vows to conquer the world, with her brand of liberation. It sounds exactly like Communism. Part of the end goal for communism, as the Soviets saw it was to make every country around them communist, which is what Stalin did during and after World War 2. The idea that a communist government can dissolve and the "people" own everything must come after private ownership everywhere is eliminated, in theory. Of course communism always failed, as does Daenerys. In her final words to Jon, Daenerys talks of removing people who stand in her way and declares herself the supreme authority of what is good. You can almost here the words: "in order to make an omelet, you have to crack a few eggs." This classic defense of genocide is uttered, in sentiment, by Daenerys in her final words. In the Game of Thrones world, Daenerys was Josef Stalin. Off to the gulag with Tyrion and the other undesirables.
Drogon
Either Jon is good at playing innocent or Drogon knew the Iron Throne was what really killed Daenerys Targaryen. Either way, such moral accountability from a dragon knowing better than his mother. His subsequent escape is one unclosed detail that works really well.
Jon Snow King-Beyond-the-Wall
Jon Snow was sentenced to the Night's Watch begging the question: why is the order still a thing? Still, Jon Snow is depicted leading the wildlings to the "true North" and the gate behind him is shut. Jon Snow was never cut out for the Night's Watch, as shown in season one, and he's killed for disregarding his vows in the books. The implication of Jon being King is made readily apparent.
Bran as King
The leaks told it true. I was extremely weary of this especially since I had Tyrion in mind for the Kingship or I thought the Seven Kingdoms would split. After all, Robert's strength held them together, and he died in season one. But the Lords were too weak to seize their own kingship. But minus the cringy Edmere Tully return, Tyrion sold it, in large part because of the acting of Peter Dinklage. It was better written than one would have thought. The idea is growing on me personally and contains a lack of predictability Game of Thrones is known for. It also tied up succession nicely while providing a stable outcome a Targaryen dynastic return would not have brought.
Small Council
My biggest point of displeasure from this episode was the small council. Bronn receiving Highgarden and the Lord Paramount title was a sickening end to his character. He should have been killed off years ago. Sam becoming the Grand Maester was a bit of a stretch. Davos as Master of Ships was fitting and Brienne as Lord Commander of the Kingsguard wasn't too shabby. The scene where she writes down Jaime's legacy was excellent.
MVP Tyrion
Peter Dinklage gave an award winning performance this episode. I was getting critical of his poor portrayal of the Tyrion character, in large part because of the writing. But in the final two episodes, Peter Dinklage hit a grand slam on his performance. All of the actors did a superb job, but his was by far the best his episode.
HBO should can Bill Maher, but don't hold your breath
Until yesterday, I actually liked Bill Maher. I never agreed with his politics but he got an "entertainer's pass" in my books as someone who can't really do much to harm the political process and actually helps galvanize conservatives against the clear media bias mounted against us. But then he went to a new low, saying he was glad David Koch was head and hoped he died in pain.
It's too far. Even if we disregard the fact that it's disrespectful of Koch's loved ones, the hideous nature of the comments makes it something we as a people should denounce. When Ruth Bader Ginsburg dies, which may be soon, I'm hopeful no notable conservatives act the way Maher did. If they do, I'll condemn them just as quickly as I'm condemning Maher.
This behavior is beyond being a provocateur and HBO shouldn't stand for it. But they will. In fact, they'll probably support him. He's good for subscriptions and espouses their collective ideology. Therefore, a toxic jab at a dead Libertarian is far from grounds for termination and may be grounds for added support from executives at HBO.
Here are some Twitter reactions:
Those who are praising Bill Maher for mocking/celebrating the death of David Koch seem blind to how inhumane they are; how their souls have been consumed by sheer hatred. It's ugly and dehumanizing. In that respect they remind me of the man they detest, Donald J. Trump.

— Peter Wehner (@Peter_Wehner) August 24, 2019
Bill Maher rails against recently deceased philanthropist David Koch, "f**k him. I'm glad he's dead"
This is low. Even for Bill Maher, who after 9/11 claimed the hijackers were "brave", and called the US military cowardspic.twitter.com/5kO4Tw7Icv

— Harry Khachatrian (@Harry1T6) August 24, 2019
Maher: I Hope Koch's Death Was Painful..

RAISE YOUR HAND IF YOU THINK IS HBO SHOULD FIRE BILL MAHER …🙋🏻‍♂️https://t.co/JoB5JNmbBC

— Chuck Callesto (@ChuckCallesto) August 25, 2019
Bill Maher Celebrates The Death of David Koch And Hopes That He Died In Pain https://t.co/OxcXk9W6Tl pic.twitter.com/QkW1jEvBgi

— Jonathan Turley (@JonathanTurley) August 24, 2019
Bill Maher's contribution to society: ZERO ……. pic.twitter.com/FMrNydTpMI

— Steve Foget (@FOGETS) August 25, 2019
Bill Maher, low-life scum https://t.co/V4d7n7EIeY

— Gerry Callahan (@GerryCallahan) August 24, 2019
People like Bill Maher have the gall to point at President Trump as a reason for the degradation of American society. It's true that we're losing our civility, but it's mostly at the hands of progressives who have no respect for anything American.
We are currently forming the American Conservative Movement. If you are interested in learning more, we will be sending out information in a few weeks.
Dean Cain's label of San Francisco's new incarceration language is spot on
Actor Dean Cain is one of the few outspoken conservatives in Hollywood. The star of Lois & Clark: The New Adventures of Superman has taken plenty of heat for voicing support for President Trump and for calling out his progressive peers as they rant unhinged.
One of his latest critiques of leftism was in response to San Francisco's plan to change official words that pertain to convicted felons and juvenile delinquents. In pure Bay Area-style, the city is planning on sanitizing certain phrases so as to not "further victimize" criminals.
Once we catch our breath after laughing at the way these progressives see criminals, reality sets in about how asinine – and potentially dangerous – it is to cater to the criminal aspects of society at the expense of law abiding citizens.
Here are some of the details of the proposal:
They recently passed a resolution containing "person first" language guidelines that all agencies and departments are urged to used.
For example, an offender will now be called a "formerly incarcerated person", "justice-involved person", or "returning resident."
A juvenile delinquent will go by "young person with justice system involvement" or a "young person impacted by the juvenile justice system."
How did San Francisco leaders find time to address this non-issue when homelessness has reached crisis-levels and their city is literally covered in human feces? Have voters become so engulfed in tribal allegiance that they can't see the absurdity in front of their faces?
Cain's reaction was short and perfect.
Welcome to "Newspeak." #Orwell #1984 https://t.co/7QVLPFZLMN

— Dean Cain (@RealDeanCain) August 23, 2019
In George Orwell's Nineteen Eighty-Four, the nation of Oceania had adopted the official language of Newspeak, "a controlled language of restricted grammar and limited vocabulary, meant to limit the freedom of thought." It's both a partial precursor to and a necessity of socialism because freedom of thought allows deviations from authoritarian control. Whether the leaders of San Francisco know it or not, they're building a version of Oceania right now.
As long as Americans stand by and elect leaders who are more interested in not offending criminals than solving the massive problems faced by law abiding American citizens, this lunacy will continue. San Francisco is dying.
We are currently forming the American Conservative Movement. If you are interested in learning more, we will be sending out information in a few weeks.
Kristy Swanson's reaction to Rob Reiner is an instant classic
Actress Kristy Swanson has been known for slaying vampires among her many Hollywood endeavors. The Buffy the Vampire Slayer actress demonstrated she didn't need Luke Perry to save her from the evil hordes in the 1992 movie that launched a successful television series. Today, she's slaying a different kind of vampire as the evil Hollywood hordes of progressives express their Trump Derangement Syndrome on a daily basis.
Her latest kick in the face came at the expense of director Rob Reiner.
Calm Yer Tits 🤪 https://t.co/uz5eAq7zMV

— Kristy Swanson (@KristySwansonXO) August 22, 2019
The 72-year-old Hollywood icon who brought us This is Spinal Tap and A Few Good Men has been on a tear recently with unhinged Tweets condemning the very existence of President Trump. When faced with so much hatred, reasoning with them is impossible. Sometimes, you just have to smack them back to reality and hope they come out of their hate-driven stupor.
With Hollywood rife with radical progressives who promote socialism (as long as their money is safe), open borders (as long as nobody crosses their fences), and gun control (as long as they have armed security), seeing people like Swanson hit back is refreshing.
We are currently forming the American Conservative Movement. If you are interested in learning more, we will be sending out information in a few weeks.