The ending finally arrive. It was a tumultuous controversial season. The Game of Thrones series finale had to deal with a malcontentious internet fanbase that saw bad writing, but mostly in the wrong places. Indeed the Daenerys fans were unduly upset by her demise, and the Arya and Sansa fans consistently had bad takes. This ending was hardly for these people who wanted happy, predictable, endings that reinforced your "fandom." Still this episode is where the good writing for the last three or four seasons went to. It was not the dreaded ending of a Republic, which given Tyrion's voyage to Volantis, was conceivable. The idea was address and ridiculed. Instead it was two kingdoms at peace, at last. The Game of Thrones series finale was well shot, well performed, and strangely well-written(thanks to the cliff-notes of George RR Martin.) The ending was somber. On a scale of Dexter to Breaking Bad, the Game of Thrones series finale lands in the middle, being held back by D&D's poor ability to get to the final two episodes.
Overall: The episode was a solid ending, given the poor last few seasons.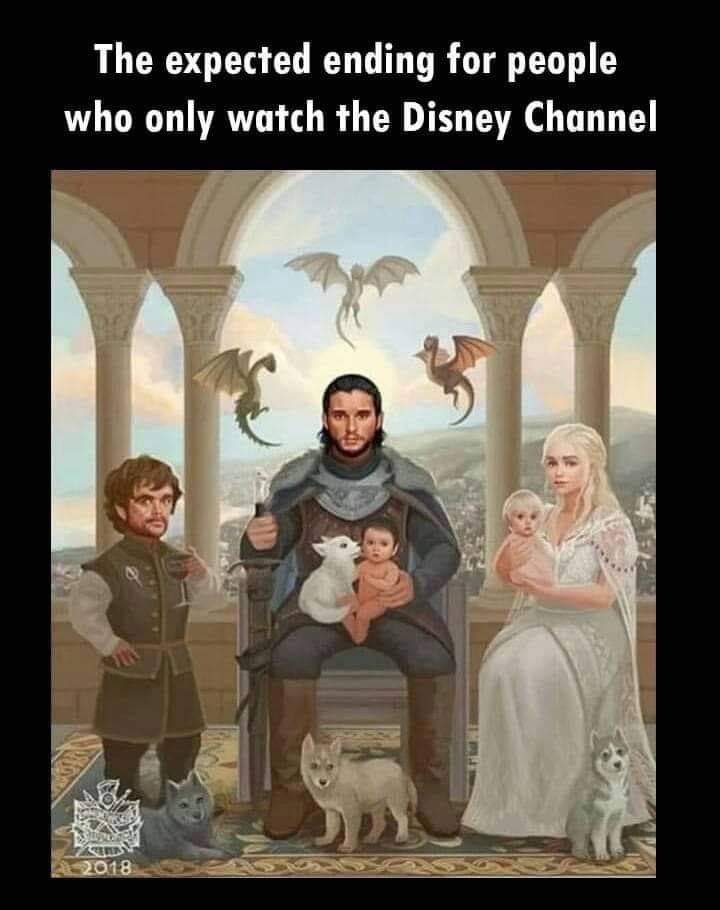 A Critique of Stalinism
In her speech, Daenerys Targaryen champions how she destroyed the system that oppressed people and made a bold goal to conquer the rest of the known world minus the far east of the continent south of Essos. There's a lot to tackle from her speech. First, she seems to have a Rashida Tlaib recollection of history. Yes, she freed the Astapori slaves, but it ends horribly for the slaves in her new world. She left Astapor without a garrison, so a butcher took over, being the only one able to wield a blade semi-competently. She then abandons Astapor and the Yunkish coalition destroy the city and the newly freed slaves. who knows what happened to the Mereenese slaves she misruled, but with her dead, it's a safe assumption they will be vanquished, probably by Volantis. So Daenerys is already rewriting her history, but other than freeing slaves in a world away, she has done nothing to systematically change the way of life for Westeros. She has only deposed Cersei Lannister, which is nothing new for a kingdom that saw Roberts Rebellion. So after giving a fictional account of history she vows to conquer the world, with her brand of liberation. It sounds exactly like Communism. Part of the end goal for communism, as the Soviets saw it was to make every country around them communist, which is what Stalin did during and after World War 2. The idea that a communist government can dissolve and the "people" own everything must come after private ownership everywhere is eliminated, in theory. Of course communism always failed, as does Daenerys. In her final words to Jon, Daenerys talks of removing people who stand in her way and declares herself the supreme authority of what is good. You can almost here the words: "in order to make an omelet, you have to crack a few eggs." This classic defense of genocide is uttered, in sentiment, by Daenerys in her final words. In the Game of Thrones world, Daenerys was Josef Stalin. Off to the gulag with Tyrion and the other undesirables.
Drogon
Either Jon is good at playing innocent or Drogon knew the Iron Throne was what really killed Daenerys Targaryen. Either way, such moral accountability from a dragon knowing better than his mother. His subsequent escape is one unclosed detail that works really well.
Jon Snow King-Beyond-the-Wall
Jon Snow was sentenced to the Night's Watch begging the question: why is the order still a thing? Still, Jon Snow is depicted leading the wildlings to the "true North" and the gate behind him is shut. Jon Snow was never cut out for the Night's Watch, as shown in season one, and he's killed for disregarding his vows in the books. The implication of Jon being King is made readily apparent.
Bran as King
The leaks told it true. I was extremely weary of this especially since I had Tyrion in mind for the Kingship or I thought the Seven Kingdoms would split. After all, Robert's strength held them together, and he died in season one. But the Lords were too weak to seize their own kingship. But minus the cringy Edmere Tully return, Tyrion sold it, in large part because of the acting of Peter Dinklage. It was better written than one would have thought. The idea is growing on me personally and contains a lack of predictability Game of Thrones is known for. It also tied up succession nicely while providing a stable outcome a Targaryen dynastic return would not have brought.
---
Smells like FREEDOM. Order Founders Blend Organic Coffee from Freedom First Coffee. Use "NOQ" as the promo code for 10% off!
---
Small Council
My biggest point of displeasure from this episode was the small council. Bronn receiving Highgarden and the Lord Paramount title was a sickening end to his character. He should have been killed off years ago. Sam becoming the Grand Maester was a bit of a stretch. Davos as Master of Ships was fitting and Brienne as Lord Commander of the Kingsguard wasn't too shabby. The scene where she writes down Jaime's legacy was excellent.
MVP Tyrion
Peter Dinklage gave an award winning performance this episode. I was getting critical of his poor portrayal of the Tyrion character, in large part because of the writing. But in the final two episodes, Peter Dinklage hit a grand slam on his performance. All of the actors did a superb job, but his was by far the best his episode.
https://widget.civist.cloud/?api_url=https%3A%2F%2Fapi.civist.cloud%2Ft%2Fc3a94636-74a7-482e-90b6-c4448a6919e5%2F#/RW1iZWRkaW5nOjQ1M2MwYjQxLWRlNDUtNGJlNi04ZWVhLWFiOTMyZGRlZmVhZQ==