Twitter mocks as Alyssa Milano calls for a 'sex strike' to protest Georgia heartbeat bill
Who's the boss? When it comes to the leftist outrage against Georgia's "heartbeat bill," actress Alyssa Milano has taken the reins. She has called for a boycott by Hollywood to the state of Georgia until they reverse the bill, but that wasn't enough. Now, she's calling for a "sex strike" in which women who are pro-abortion stop having sex until the bill is gone.
The irony, of course, is very thick. One can argue that if fewer progressive women were having sex, then there would be fewer abortions. But it's worse than that. The goal, as Milano states in her Tweet, is to pressure men to help fight for "reproductive rights." This seems to fly in the face of feminism since it means they are unable to achieve their own "reproductive rights" unless men join them in their crusade.
Our reproductive rights are being erased.

Until women have legal control over our own bodies we just cannot risk pregnancy.

JOIN ME by not having sex until we get bodily autonomy back.

I'm calling for a #SexStrike. Pass it on. pic.twitter.com/uOgN4FKwpg

— Alyssa Milano (@Alyssa_Milano) May 11, 2019
Twitter responded as only Twitter could with the mocking fervor of anyone who just witnessed something insanely stupid. It's not that Milano is stupid, but whatever possesses her to come up with some of her silly ideas makes her seem less intelligent than she actually is.
Genius. Consequences of@her master plan?

– Liberals will die out.

– No more babies will be killed
in the womb.

Give this woman an award. https://t.co/FmFMWsMu1q

— Sebastian Gorka DrG (@SebGorka) May 11, 2019
We're going on a sex strike which will result in fewer abortions. Owned, cons. https://t.co/tzMvXKv7aF

— Stephen Miller (@redsteeze) May 11, 2019
*clears throat*

Mike Pence loves this idea https://t.co/obv80R3UeJ

— Caleb Hull (@CalebJHull) May 11, 2019
Literally, Christians have been saying to stop having sex outside of marriage if you don't want a baby.

The response from liberals? "Yeah? We'll show you! We're going to stop having sex w/ you!"

Our response: that's all we've been asking you to do. #SexStrike pic.twitter.com/Q3AcnxoHvk

— Jeff Dornik #SOCIALINJUSTICEBOOK (@JeffTheGK) May 11, 2019
Liberal women: "We're going on a #SexStrike!"

Liberal men: pic.twitter.com/c8r2CQrJWf

— Matt Barber (@jmattbarber) May 11, 2019
Here's one of many ironies. She is asking women to use their actual reproductive right to not have sex as a way to attack the human right to life for preborn babies.

If enough progressive women join the #SexStrike, abortions will be reduced. I'll happily pass it on as requested. https://t.co/2rq1LasVR8

— JD Rucker (@JDRucker) May 11, 2019
Apparentlythere is a #SexStrike on. Good news it's the right kind of ppl not reproducing.

— Oumaumua (@oumaumua) May 11, 2019
The beauty of being married to someone who shares my values is that Ill be unaffected by the #SexStrike since we're both Pro-Life.

Have fun though

— Mr Triceratops (@TriceratopsMr) May 11, 2019
Voluntarily reducing the number of potential abortions to own the pro-lifers https://t.co/RpwGO2853y

— Jerry Dunleavy (@JerryDunleavy) May 11, 2019
It's as if you had the power to avoid an unwanted pregnancy the whole time. What an odd moment to put it together https://t.co/kheFH4osRf

— Amy (@AmyOtto8) May 11, 2019
I enthusiastically endorse leftist women boycotting sex.

This is a terrific idea.

There is no downside. https://t.co/fhdQ6D3V18

— Mark Pantano (@TheMarkPantano) May 11, 2019
It's almost as if there are ways to avoid the consequences of pregnancy that don't involve terminating a human being….

Wait until you discover the various forms of birth control. https://t.co/50vsIzOHED

— (((AG))) (@AG_Conservative) May 11, 2019
It appears liberal women are going on a #SexStrike…

Yeah, we good. pic.twitter.com/o4n89b4pL7

— Carmine Sabia (@CarmineSabia) May 11, 2019
New headline: "Hollywood finally embraces abstinence." We will now call abstinence education, "sex strike education" and the liberals will no longer have a problem with it. @Alyssa_Milano

— Abby Johnson (@AbbyJohnson) May 11, 2019
The #SexStrike will have about as much effect on the heartbeat bill as the Mueller report had on the President's reelection chances. This is just the latest in a long string of busts for progressives as they push further to the left.
Game of Thrones Series Finale: Review and Analysis
The ending finally arrive. It was a tumultuous controversial season. The Game of Thrones series finale had to deal with a malcontentious internet fanbase that saw bad writing, but mostly in the wrong places. Indeed the Daenerys fans were unduly upset by her demise, and the Arya and Sansa fans consistently had bad takes. This ending was hardly for these people who wanted happy, predictable, endings that reinforced your "fandom." Still this episode is where the good writing for the last three or four seasons went to. It was not the dreaded ending of a Republic, which given Tyrion's voyage to Volantis, was conceivable. The idea was address and ridiculed. Instead it was two kingdoms at peace, at last. The Game of Thrones series finale was well shot, well performed, and strangely well-written(thanks to the cliff-notes of George RR Martin.) The ending was somber. On a scale of Dexter to Breaking Bad, the Game of Thrones series finale lands in the middle, being held back by D&D's poor ability to get to the final two episodes.
Overall: The episode was a solid ending, given the poor last few seasons.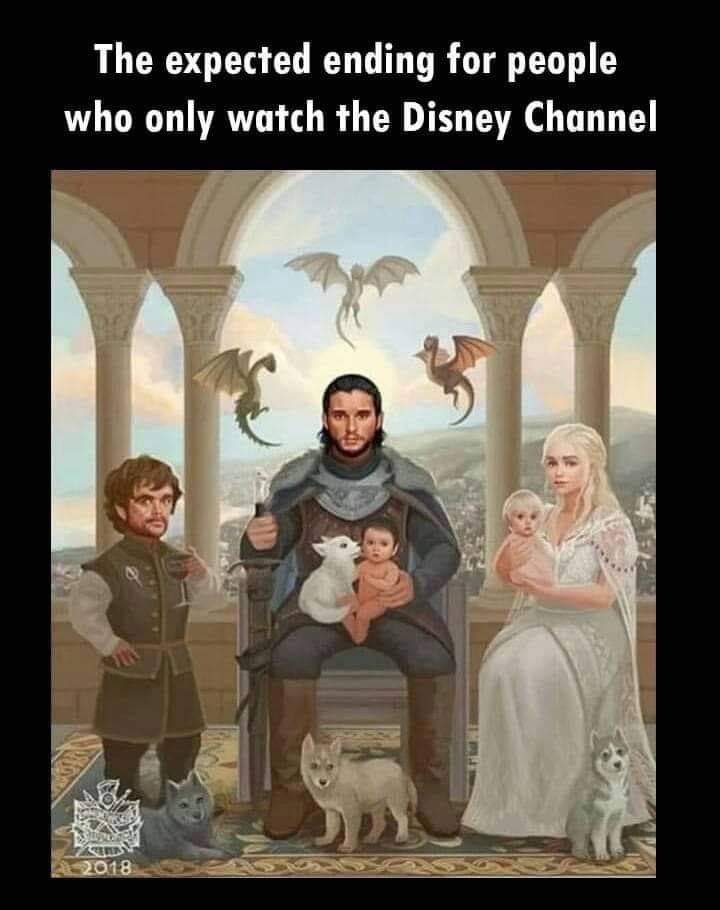 A Critique of Stalinism
In her speech, Daenerys Targaryen champions how she destroyed the system that oppressed people and made a bold goal to conquer the rest of the known world minus the far east of the continent south of Essos. There's a lot to tackle from her speech. First, she seems to have a Rashida Tlaib recollection of history. Yes, she freed the Astapori slaves, but it ends horribly for the slaves in her new world. She left Astapor without a garrison, so a butcher took over, being the only one able to wield a blade semi-competently. She then abandons Astapor and the Yunkish coalition destroy the city and the newly freed slaves. who knows what happened to the Mereenese slaves she misruled, but with her dead, it's a safe assumption they will be vanquished, probably by Volantis. So Daenerys is already rewriting her history, but other than freeing slaves in a world away, she has done nothing to systematically change the way of life for Westeros. She has only deposed Cersei Lannister, which is nothing new for a kingdom that saw Roberts Rebellion. So after giving a fictional account of history she vows to conquer the world, with her brand of liberation. It sounds exactly like Communism. Part of the end goal for communism, as the Soviets saw it was to make every country around them communist, which is what Stalin did during and after World War 2. The idea that a communist government can dissolve and the "people" own everything must come after private ownership everywhere is eliminated, in theory. Of course communism always failed, as does Daenerys. In her final words to Jon, Daenerys talks of removing people who stand in her way and declares herself the supreme authority of what is good. You can almost here the words: "in order to make an omelet, you have to crack a few eggs." This classic defense of genocide is uttered, in sentiment, by Daenerys in her final words. In the Game of Thrones world, Daenerys was Josef Stalin. Off to the gulag with Tyrion and the other undesirables.
Drogon
Either Jon is good at playing innocent or Drogon knew the Iron Throne was what really killed Daenerys Targaryen. Either way, such moral accountability from a dragon knowing better than his mother. His subsequent escape is one unclosed detail that works really well.
Jon Snow King-Beyond-the-Wall
Jon Snow was sentenced to the Night's Watch begging the question: why is the order still a thing? Still, Jon Snow is depicted leading the wildlings to the "true North" and the gate behind him is shut. Jon Snow was never cut out for the Night's Watch, as shown in season one, and he's killed for disregarding his vows in the books. The implication of Jon being King is made readily apparent.
Bran as King
The leaks told it true. I was extremely weary of this especially since I had Tyrion in mind for the Kingship or I thought the Seven Kingdoms would split. After all, Robert's strength held them together, and he died in season one. But the Lords were too weak to seize their own kingship. But minus the cringy Edmere Tully return, Tyrion sold it, in large part because of the acting of Peter Dinklage. It was better written than one would have thought. The idea is growing on me personally and contains a lack of predictability Game of Thrones is known for. It also tied up succession nicely while providing a stable outcome a Targaryen dynastic return would not have brought.
Small Council
My biggest point of displeasure from this episode was the small council. Bronn receiving Highgarden and the Lord Paramount title was a sickening end to his character. He should have been killed off years ago. Sam becoming the Grand Maester was a bit of a stretch. Davos as Master of Ships was fitting and Brienne as Lord Commander of the Kingsguard wasn't too shabby. The scene where she writes down Jaime's legacy was excellent.
MVP Tyrion
Peter Dinklage gave an award winning performance this episode. I was getting critical of his poor portrayal of the Tyrion character, in large part because of the writing. But in the final two episodes, Peter Dinklage hit a grand slam on his performance. All of the actors did a superb job, but his was by far the best his episode.
Binge-worthy show: I recommend Killing Eve to everyone even though I hated it
I wish I could say my entertainment tastes were simply too refined for most, but that wouldn't be the truth. I like great television shows like Bosch yet I am not too proud to stop laughing at Family Guy. But somewhere in the middle is the artsy, modern, beautiful, and unpredictable world of great television shows that work today even if they wouldn't have worked just a couple of years ago. One such show is Killing Eve.
When I first started watching it by accident with my mother-in-law (circumstances not important) I instantly fell in love with it. Literally 10 minutes in I realized this was the show I'd been wanting to see since all of the other great ones I've been watching were complete. I'm a 2-3-shows-at-a-time king of guy, so binging is the only way I can normally keep up. But lately, there's been a lull. With Killing Eve, the lull was officially over.
Then the last two episodes went a little too weird for me. I should have seen it coming throughout, but I suspended my own logical disbelief and continued forward. I don't regret it, and even though the show lost me to the point I won't be watching season 2 or any future season, I still highly recommend it.
Have you ever read a review of a show or movie in which the reviewer hated it but still recommended it? Now you have.
Sandra Oh and Jodie Comer, the titular good guy and her prey/predator, are both award-worthy in their performances. The writing is sharp. The direction is spot-on. No complaints about any of the technical components of the show.
Where it lost me is the direction they chose to take their relationship. In retrospect, the writing was on the wall from the first episode on, but I refused to see it. I wanted a traditional cat and mouse, cops and murders show and Killing Eve is not that. Still, it was fun while I thought it would be that and when it took a turn I didn't like, I was okay with it. Like I said, I recommend the show even though I didn't like it.
Will it make one of my binge-worthy lists? Probably not. I reserve those lists for shows I loved. I didn't love Killing Eve, but I know most probably will which is why I have no problem recommending it.
Fighting the allure of celebrity idolatry
One does not have to be an obsessed fan with pictures of a celebrity on their bedroom walls to be practicing a form of idolatry. Even casual fans, a group that encompasses the majority of western society, are falling into the trap of idolizing celebrities.
Let's spell it all out in one paragraph before diving deeper into the subject. Most forms of spectator entertainment (watching movies, going to sporting events, reading news about celebrities, etc) are distractions at the least and can be extremely harmful for us spiritually when taken to extremes. Unfortunately, "extremes" in this case are probably not what most would consider to be extreme because fanaticism is so rampant that it has been accepted as part of our society.
Let's dive into the topic, but first, a confession…
Fighting my own challenges
Throughout my life, I've allowed myself to fall victim to this on countless occasions. It may seem hypocritical to write about it since I'm fighting my own demons, but there's a justification. Anyone who talks about fighting sins is technically a hypocrite because we're all sinners, but that doesn't make the message any less valid.
I grew up watching television. Lots of television. By the time I was an adult, I was an avid sports fan who followed many teams religiously. I started writing a screenplay with the dream of making it in Hollywood. I watched tons of movies. I studied many of them, reading the scripts and breaking down performances in a way that took it beyond being a hobby.
It's a struggle to avoid clicking on links about this celebrity event or that actor's latest follies, but I'm doing everything I can through discipline and prayer to pull away from these distracting aspects of the world.
Now, let's discuss why it's important.
Different scales of idolatry
… or do we?
Just because we aren't in the desert melting down our gold earrings to be formed into the image of a calf for worship doesn't mean that we're not participating in idolatry.
Let's look at it in the Bible, Exodus 20:4-6 (KJV):
4 Thou shalt not make unto thee any graven image, or any likeness of any thing that is in heaven above, or that is in the earth beneath, or that is in the water under the earth.
5 Thou shalt not bow down thyself to them, nor serve them: for I the Lord thy God am a jealous God, visiting the iniquity of the fathers upon the children unto the third and fourth generation of them that hate me;
6 And shewing mercy unto thousands of them that love me, and keep my commandments.
We can assume that we're not practicing Biblical idolatry as it pertained to the Jews of the Torah, but that's not the only place that speaks of idolatry. While we see the second commandment as a binding statement to guide our lives, we must also look to Paul in his letter to the Colossians to gain a better understanding of how idolatry can affect us in modern times.
Colossians 3:2-7 (KJV):
4 Set your affection on things above, not on things on the earth.
3 For ye are dead, and your life is hid with Christ in God.
4 When Christ, who is our life, shall appear, then shall ye also appear with him in glory.
5 Mortify therefore your members which are upon the earth; fornication, uncleanness, inordinate affection, evil concupiscence, and covetousness, which is idolatry:
6 For which things' sake the wrath of God cometh on the children of disobedience:
7 In the which ye also walked some time, when ye lived in them.
If there's one delusion that has overcome nearly all in western society, it's the delusion that shrouds covetousness. Very few people would admit to it because they're probably not even aware of it, but the primary reason that we follow our "idols" of movies, television, music, and sports is that we covet what they have. It's not just the fame and fortune. It's the skills, talents, attention, lifestyles, and access to things that we do not have in our own lives.
Let's reiterate Paul's words: "Set your affections on things above, not on things on the earth."
Do we spend more of our time watching movies, television, listening to music, or watching sporting events than doing things that honor our Lord? Are our affections focused on things above or things on the earth? Finally, is there a scale when it comes to idolatry? Is wearing our favorite football player's jersey less idolatrous than praying to a graven image?
The last questions are tougher and definitely up for debate, so let's look at it from a practical perspective.
Time well spent
We can assume that in a world that has its attentions focused on the secular that few will be convinced of the concept that watching movies is a sin. Pointing fingers and declaring something is unholy simply isn't practical.
I know this because I struggle with it all the time.
The thing that helps to keep me focused is the preciousness of time. I have a family. I run a company. I drink lots of espresso to try to keep up with both. Without distractions of entertainment, I have to make a conscious effort to set aside time for my Lord.
Part of this can be accomplished by inserting a Biblical mindset into everything I do. It's hard sometimes because there are always things to do that don't have an easy path for inserting that Biblical mindset, but nobody said this was going to be easy.
What's the point of all this? Knowing that I want to please my Lord with everything I do acts as a reminder to avoid the distractions of this world. A popular question that many ask (at least they used to ask it) is "What would Jesus do?"
I prefer to look at it by asking the question, "Would Jesus like what I'm doing right now?"
In 1987, I watched every single Mets game.  All of them. I used to spend Saturdays and Sundays watching football for at least 4 hours each day. Add in Monday Night Football and there's another three. Until a decade ago, I would watch 2-4 hours of television per day. Until about five years ago, I would watch a minimum of two movies per week. Looking back, I know that every minute of time spent entertaining myself in this manner did nothing to honor my Lord nor expand my spiritual understanding. I had set my affections on things of the earth.
This isn't meant to condemn any of us for what we've done or what we're doing now. It's simply meant to make us think about what we're going to do going forward. Time is precious, so I try to spend mine wisely.