If there's ever a time, to bury something that must be made public, Friday is the day to do it. Nobody is paying attention as much. Often on weekends, the new cycle is dominated by one event that typically happened on Friday or Saturday. This was an incredibly slow news week, so inevitably this weekend would be dominated be the Final Four. Knowing this fact of human nature, it appears the now folded Alliance of American Football dropped an apology tweet in the 11th hour. The official statement was time stamped 10:56 PM – 5 Apr 2019.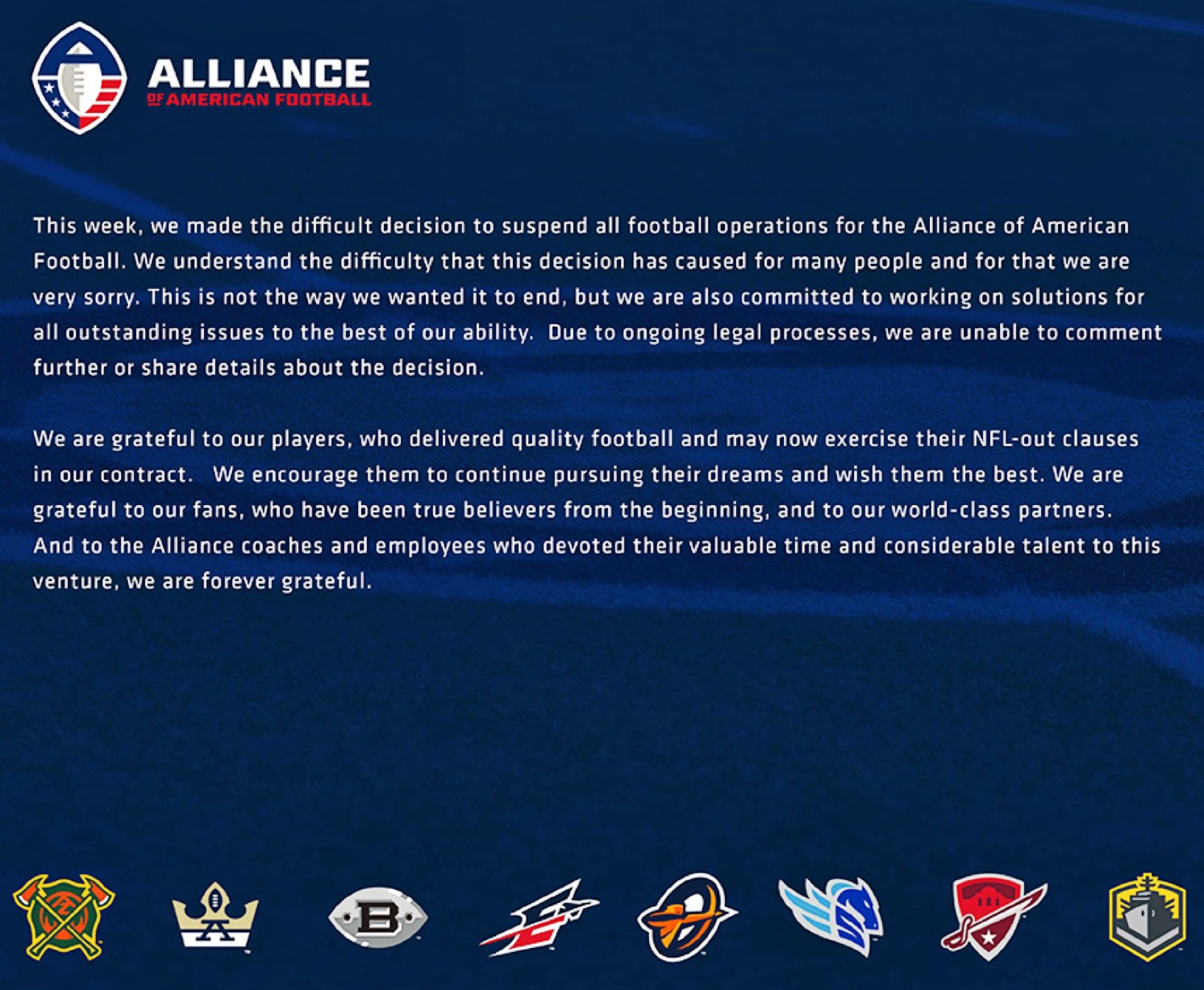 The responses to the tweet weren't so sympathetic to the league itself, rather the players or the lost opportunity of spring football. The league took yet another PR hit when it was uncovered that players were abandoned and have to pay their own ways home. This shameful act, which may not (directly) be the fault of its founders, explains the explanation. This was the second tweet since the drama unfolded earlier in the week.
Opinion
If they didn't royally screw this opportunity, they would not be dropping an 2300 tweet on a Friday. This was shameful. And thankfully people saw right through it. This tactic to cushion the shunning they deserve is exactly why I am drawing attention to that which they wanted to slip under the radar with minimal views.
Quotes
Effective immediately, all AAF players are authorized to sign with NFL Clubs.

— The Alliance (@TheAAF) April 4, 2019
Reactions
Next time, don't sink money into an app that doesn't enhance the experience of the game or base the headquarters in San Francisco.

— Raymond Fava (@RaymondFava) April 6, 2019
Delivered at 11pm EST on a friday… 🙄

— Dana Fisher (@FFHardKnocks) April 6, 2019
The way the players, coaches and everyone else involved are being treated is disgusting. The upper level management of this league should be ashamed.

— Chris Asleson (@chris_asleson) April 6, 2019
First my wife and now this

— Chiefs_All_Day (@Chiefs_All_Day) April 6, 2019
They made the jump to try and get a head start on the XFL. Not enough sponsors put in place. It was almost doomed from the beginning by going in a year early. Originally was supposed to be 2020.

— Dave (@blitzburgh6) April 6, 2019

https://twitter.com/Profhofcantonf/status/1114363219328544769
https://twitter.com/writerhaha/status/1114375329928204290
AAF wasting 250 million in 53 days pic.twitter.com/NeLbJXSwjw

— Dylan Case (@dylancase21) April 6, 2019