With Kevin Hart's downfall, hosting the Oscars got harder
LOS ANGELES (AP) — The "most thankless job in town" just got even more difficult.
The Oscars have a longstanding host problem, but Kevin Hart's swift downfall over old anti-gay tweets has led to bigger questions about the gig and the liability of social media histories.
It's just the latest controversy for the organization that puts on the Academy Awards, which is trying to combat declining ratings for its marquee event while weathering the pressure of being a focal point for the shortcomings of the entertainment industry as a whole.
"I think it's embarrassing," Matthew Belloni, the editorial director of The Hollywood Reporter, said about the academy's decision to pick Hart. "It shows that they either didn't vet this host properly, or they did vet him and didn't think this would be an issue. And both are a little troubling."
Hart seemed to fit the bill for what the academy was looking for.
"He checks all the boxes for a show like the Oscars," Belloni said. "He's a legitimate movie star. He's a funny guy and can handle the stand-up element of the show. And he has a gigantic social following. And to the academy, that's important. They want someone who can bring a new audience to the show."
But Oscars hosts have always been subjected to a lot of scrutiny.
Poor or even mediocre performances can haunt people for years (Anne Hathaway and James Franco). Off-color jokes have a way of festering in the cultural consciousness (think of Seth MacFarlane's "we saw your boobs" song, or Chris Rock's Asian jokes). And even when things go decently enough, everyone is handed the right envelope and nobody walks away offended, the hosts can still be blamed for poor ratings.
"Oscars host has become a not very desirable job in Hollywood. Very few people see an upside," Belloni said. "You put a huge target on your back."
People have stepped down from being the public face of the event amid controversy, as producer Brett Ratner did in 2011 for anti-gay slurs. But Hart's case is a little different. Ratner's offensive remarks came after he had secured the gig. Hart's tweets were from almost a decade ago and were well known.
But in 2018, an unsavory social media past can cost someone their job. Just this past summer, the Walt Disney Co. fired director James Gunn from the third "Guardians of the Galaxy" movie for old tweets in which he joked about subjects including rape and pedophilia. As with Hart, the problematic tweets were amplified by social media outrage.
Immediately after Hart was confirmed as host on Tuesday night, some journalists began tweeting reminders of Hart's past comments. By Thursday morning, a few publications had written articles about them. The outrage escalated, Hart commented but did not apologize, stoking even more outrage, which culminated with Hart's announcement on Thursday night that he was stepping down as host of the 91st Academy Awards.
As the dust settles, the situation has proved vexing for some in the entertainment business. Actor D.L. Hughley commended Hart for his decision.
"A Comedian says something that offends people and refuses to apologize?" Hughley tweeted. "(Expletive) 'em if they can't take a joke! Well done #KevinHart." Snoop Dogg posted an even more colorful Instagram video in support of Hart.
The advocacy organization GLAAD wishes Hart hadn't stepped down, however.
"Hart's apology to LGBTQ people is an important step forward, but he missed a real opportunity to use his platform and the Oscars stage to build unity and awareness," said GLAAD President and CEO Sarah Kate Ellis.
The film academy has yet to address Hart's departure. Hart said the film academy told him he had to apologize or he'd lose the gig. He bowed out on his own, and with an apology.
Now everyone has an opinion about who should be named host. A woman? A comedian? Not a comedian? Someone in the LGBTQ community? All of the above?
Many keep coming back to Whoopi Goldberg, who has hosted the awards four times. Some have said Ellen DeGeneres, who hosted one of the Oscars' highest-rated shows, or Tom Hanks, who has a longstanding academy relationship.
Others have said Keegan Michael-Key and Jordan Peele, Will Smith or Lin-Manuel Miranda. Busy Phillips threw her own name out there ("I AM AVAILABLE," she tweeted). Philips also proposed Issa Rae, Sarah Silverman, Ali Wong, Samantha Bee, Robin Thede and Aisha Tyler, or "any other woman working in Hollywood right now who wants to." Stephen King suggested Patton Oswalt (He's "funny, sharp-tongued, and he knows film," King tweeted.) Some have even proposed Philadelphia Flyers mascot Gritty. Or no host at all, which has been done several times before, and as recently as 1989.
But the film academy will need to move quickly. The 91st Oscars are less than three months out.
__
Follow AP Film Writer Lindsey Bahr on Twitter.
Twitter suspends Houston Rockets' account
What happened to the Houston Rockets' Twitter account? Did they Tweet something conservative or Christian? Did they misgender someone? Is this retribution for falling to the Golden State Warriors in the playoffs four out of five of years? Whatever they did, Twitter decided to suspend them, leaving their 2.8 million followers in the dark.
Okay. What did the Houston Rockets do? pic.twitter.com/Qc3FCWhhmA

— 𝚁𝚎𝚢-𝚁𝚎𝚢 🤞🏾✌🏾 (@TheNoLookPass) May 20, 2019
All jesting aside, there are three likely scenarios. They could be the victims of a mass reporting attack in which multiple Twitter accounts report a user in a short period of time, prompting an algorithmic suspension. Or, if they'd been hacked, Twitter may have detected it and shut them down until the real users can regain control and change passwords.
But the most likely culprit is a DMCA takedown complaint that triggers instant temporary suspension. Chances are, they posted a video that included music they didn't have permission to use. It happens.
Iowans, Tigers, and Rockets… oh my!
The DMCA copyright takedown notices that took out Iowa and Iowa State football twitter accounts this past weekend are now joined by @AuburnFootball and the @HoustonRockets—who knows if they were legit, the system presumes it wasn't! pic.twitter.com/oQhD2t9rvU

— RedditCFB (@RedditCFB) May 20, 2019
The Rockets have not responded to our request for comment.
If you or someone you know gets suspended on social media, take solace in knowing even big organizations like the Houston Rockets can fall victim to the ban-hammer (though I doubt they'll get the same scorn from Twitter as James Woods).
Game of Thrones Series Finale: Review and Analysis
The ending finally arrive. It was a tumultuous controversial season. The Game of Thrones series finale had to deal with a malcontentious internet fanbase that saw bad writing, but mostly in the wrong places. Indeed the Daenerys fans were unduly upset by her demise, and the Arya and Sansa fans consistently had bad takes. This ending was hardly for these people who wanted happy, predictable, endings that reinforced your "fandom." Still this episode is where the good writing for the last three or four seasons went to. It was not the dreaded ending of a Republic, which given Tyrion's voyage to Volantis, was conceivable. The idea was address and ridiculed. Instead it was two kingdoms at peace, at last. The Game of Thrones series finale was well shot, well performed, and strangely well-written(thanks to the cliff-notes of George RR Martin.) The ending was somber. On a scale of Dexter to Breaking Bad, the Game of Thrones series finale lands in the middle, being held back by D&D's poor ability to get to the final two episodes.
Overall: The episode was a solid ending, given the poor last few seasons.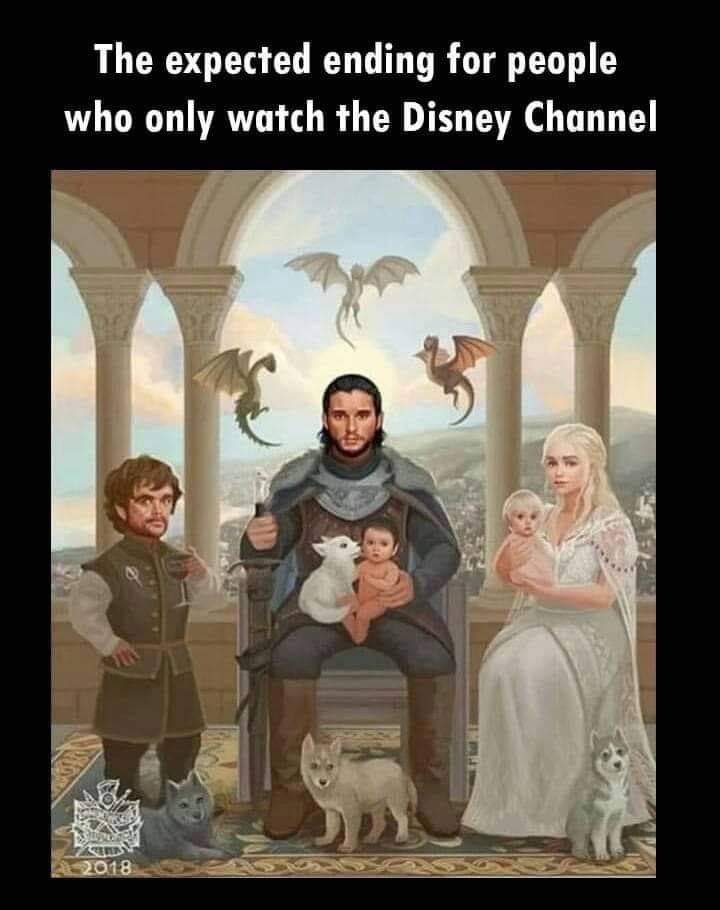 A Critique of Stalinism
In her speech, Daenerys Targaryen champions how she destroyed the system that oppressed people and made a bold goal to conquer the rest of the known world minus the far east of the continent south of Essos. There's a lot to tackle from her speech. First, she seems to have a Rashida Tlaib recollection of history. Yes, she freed the Astapori slaves, but it ends horribly for the slaves in her new world. She left Astapor without a garrison, so a butcher took over, being the only one able to wield a blade semi-competently. She then abandons Astapor and the Yunkish coalition destroy the city and the newly freed slaves. who knows what happened to the Mereenese slaves she misruled, but with her dead, it's a safe assumption they will be vanquished, probably by Volantis. So Daenerys is already rewriting her history, but other than freeing slaves in a world away, she has done nothing to systematically change the way of life for Westeros. She has only deposed Cersei Lannister, which is nothing new for a kingdom that saw Roberts Rebellion. So after giving a fictional account of history she vows to conquer the world, with her brand of liberation. It sounds exactly like Communism. Part of the end goal for communism, as the Soviets saw it was to make every country around them communist, which is what Stalin did during and after World War 2. The idea that a communist government can dissolve and the "people" own everything must come after private ownership everywhere is eliminated, in theory. Of course communism always failed, as does Daenerys. In her final words to Jon, Daenerys talks of removing people who stand in her way and declares herself the supreme authority of what is good. You can almost here the words: "in order to make an omelet, you have to crack a few eggs." This classic defense of genocide is uttered, in sentiment, by Daenerys in her final words. In the Game of Thrones world, Daenerys was Josef Stalin. Off to the gulag with Tyrion and the other undesirables.
Drogon
Either Jon is good at playing innocent or Drogon knew the Iron Throne was what really killed Daenerys Targaryen. Either way, such moral accountability from a dragon knowing better than his mother. His subsequent escape is one unclosed detail that works really well.
Jon Snow King-Beyond-the-Wall
Jon Snow was sentenced to the Night's Watch begging the question: why is the order still a thing? Still, Jon Snow is depicted leading the wildlings to the "true North" and the gate behind him is shut. Jon Snow was never cut out for the Night's Watch, as shown in season one, and he's killed for disregarding his vows in the books. The implication of Jon being King is made readily apparent.
Bran as King
The leaks told it true. I was extremely weary of this especially since I had Tyrion in mind for the Kingship or I thought the Seven Kingdoms would split. After all, Robert's strength held them together, and he died in season one. But the Lords were too weak to seize their own kingship. But minus the cringy Edmere Tully return, Tyrion sold it, in large part because of the acting of Peter Dinklage. It was better written than one would have thought. The idea is growing on me personally and contains a lack of predictability Game of Thrones is known for. It also tied up succession nicely while providing a stable outcome a Targaryen dynastic return would not have brought.
Small Council
My biggest point of displeasure from this episode was the small council. Bronn receiving Highgarden and the Lord Paramount title was a sickening end to his character. He should have been killed off years ago. Sam becoming the Grand Maester was a bit of a stretch. Davos as Master of Ships was fitting and Brienne as Lord Commander of the Kingsguard wasn't too shabby. The scene where she writes down Jaime's legacy was excellent.
MVP Tyrion
Peter Dinklage gave an award winning performance this episode. I was getting critical of his poor portrayal of the Tyrion character, in large part because of the writing. But in the final two episodes, Peter Dinklage hit a grand slam on his performance. All of the actors did a superb job, but his was by far the best his episode.
Binge-worthy show: I recommend Killing Eve to everyone even though I hated it
I wish I could say my entertainment tastes were simply too refined for most, but that wouldn't be the truth. I like great television shows like Bosch yet I am not too proud to stop laughing at Family Guy. But somewhere in the middle is the artsy, modern, beautiful, and unpredictable world of great television shows that work today even if they wouldn't have worked just a couple of years ago. One such show is Killing Eve.
When I first started watching it by accident with my mother-in-law (circumstances not important) I instantly fell in love with it. Literally 10 minutes in I realized this was the show I'd been wanting to see since all of the other great ones I've been watching were complete. I'm a 2-3-shows-at-a-time king of guy, so binging is the only way I can normally keep up. But lately, there's been a lull. With Killing Eve, the lull was officially over.
Then the last two episodes went a little too weird for me. I should have seen it coming throughout, but I suspended my own logical disbelief and continued forward. I don't regret it, and even though the show lost me to the point I won't be watching season 2 or any future season, I still highly recommend it.
Have you ever read a review of a show or movie in which the reviewer hated it but still recommended it? Now you have.
Sandra Oh and Jodie Comer, the titular good guy and her prey/predator, are both award-worthy in their performances. The writing is sharp. The direction is spot-on. No complaints about any of the technical components of the show.
Where it lost me is the direction they chose to take their relationship. In retrospect, the writing was on the wall from the first episode on, but I refused to see it. I wanted a traditional cat and mouse, cops and murders show and Killing Eve is not that. Still, it was fun while I thought it would be that and when it took a turn I didn't like, I was okay with it. Like I said, I recommend the show even though I didn't like it.
Will it make one of my binge-worthy lists? Probably not. I reserve those lists for shows I loved. I didn't love Killing Eve, but I know most probably will which is why I have no problem recommending it.