12 binge-worthy shows: The unconventional list
If you haven't seen The Wire, Breaking Bad, and Game of Thrones, this list isn't for you. We're not highlighting the most obvious shows that you should have binge-watched already if you're a real binge-watcher like us. This is a list of shows that you've probably considered at one point or another but weren't absolutely certain.
This list should make you absolutely certain.
As usual, no spoilers.
We've seen all of these and have reviewed some of them, so this isn't a list of shows pulled from other lists. In fact, there are shows we've seen that are regulars on other lists that we didn't include because, despite critical acclaim or being fan favorites, they simply aren't as good as these.
12. The Night Of
It was supposed to be a limited series, but buzz started surrounding The Night Of as soon as it was released on HBO. Now, they're working on a follow up to the unique show. In it, character development in extreme situations over time is the prominent theme. It revolves around an innocent man (or is he?) charged with a heinous crime, his street-smart lawyer, and some incredible supporting characters who bring both of the leads to life.
11. Stranger Things
A handful of shows on this list have received a ton of buzz, and few have received as much as Stranger Things. The tale of 80s kids, supernatural events, a powerful young girl, and a demogorgon keeps viewers on the edge of their seats throughout. We know you've probably already binged this one, but if you haven't, do so now.
10. Bosch
I'm not a fan of overused tropes, including the brilliant cop who bends the rules to put justice over protocol. Bosch is a walking embodiment of that trope, but it's able to overcome it by embracing it and mixing in incredible acting across the board. The stories are realistic enough that we don't get caught into false magnitudes of importance surrounding the main character. He's just a great cop with a perfect partner and a stellar boss. None of them are perfect without each other, but combined they do what they can to keep the streets of Hollywood safe.
9. Sherlock
Another popular show, this one made the list because rumors are circulating that it's coming back for a 5th season. If we are willing to forgive the abysmal 4th season, the rest of the seasons are immaculate. Not much needs to be said other than Sherlock; if you're a fan of the drug-using, narcissistic high-functioning sociopath, then you'll probably enjoy this modern interpretation.
8. Daredevil
The show has been canceled. That alone should be enough to keep it off any binge-watching list, but Daredevil is special. The self-contained nature of the seasons means they come to proper conclusions, including the final season. There are a handful of unanswered questions that are annoyingly left, but it's no more than most completed series. Of the various superhero shows, this is by far the best. There's also a chance it could be resurrected by Disney+, the upcoming streaming service that notably has a cozy relationship with Marvel.
7. Longmire
Shows that go episode-to-episode rarely interest me, but this one was different. First, the setting was unique; a small county in Wyoming isn't the first thing that comes to mind when people think of murder mysteries, but Longmire pulls it off remarkably. Unlike other shows on the list, the characters in this particular show aren't outstanding other than the titular lead character himself. Thankfully, he's able to carry the show the first couple of seasons before it switches gears and formulates a long-spanning cohesive storyline.
6. Bodyguard
This is the second of four BBC shows to make this list, and one can easily argue it deserves to be closer to the top. It's the most watch BBC drama in decades and for good reason. Though only six episodes long, it makes the most of it and introduces us to the person we think is most likely to be the next James Bond once Daniel Craig finishes his run. Of all the shows on here, this has arguably the best overall acting.
5. Mr. Robot
Few who have seen Mr. Robot argue that the biggest appeal is a tight race between the astounding storytelling that dives into the deep hacker world or the amazing character built by Rami Malek. After three seasons, we're ready to wrap it all up in 2019 for the final season, but not without a sense of a void that no show will ever be able to fill. Like Game of Thrones and The Walking Dead, this is a show that will own its genre for a long time. Anyone who tries to take on hacking as a topic will be compared to Mr Robot and will fall short.
4. Homecoming
It's no coincidence this show made it to #4 on our list. It was hard to know which of Sam Esmail's creations would rank higher, but since this show seems to have a longer future than Mr. Robot, we went with Homecoming. It's a smaller drama (at least for now) that doesn't deal with the shift of civilization like Esmail's previous show did. But being smaller by no means it's any less entertaining.
3. Peaky Blinders
The top three could really go in any order. We're starting off with Peaky Blinders because it's the one that has the most flaws. As the ever-expanding power of Thomas Shelby starts to weigh down the show's gritty and more humble beginnings, we're start to see challenges in keeping up the tension without artificially creating it. Season one was better than two, which was better than three. But season four came along and blew us out of the water, so all is forgiven. It's also worth noting that season 3, the worst of the bunch, was still great. It just wasn't quite as great as the rest.
2. The Expanse
Of all the shows on this list, The Expanse is the most underappreciated. It already suffered through cancellation by SyFy to be picked up by Amazon, promising a long run ahead. The thing that makes this show so great is the part that's hidden from most who haven't seen it yet. They look at the premise or watch a trailer and think it's just another sci-fi drama. It is, but behind the science fiction is a rich story that works as both a political thriller and a stunning mystery. Sorry Star Trek or Battlestar Galactica fans (of which I am one). This is the best sci-fi show on television.
1. Luther
If you're not watching Luther, then shame on you. This isn't just the best cop drama on television. It's the most binge-worthy show right now, period. That's not to say it's the best overall show on television, but one of the attributes necessary to make a show binge-worthy is its ability to make you want to keep watching even after you've been sitting around for a three or four hour binge session. Season five is coming soon. If you haven't watched Luther yet, now's the perfect time to start.
What do you think? Did we miss a show? Are there any on the list you think don't belong here? Let us (and everyone else) know.
Why Game of Thrones felt rushed
One of the biggest criticisms the eighth season of Game of Thrones received was that the final season was rushed. However, the given the numerous deviations from the source material, not only did DB Weiss and David Benioff not rush the show, they dragged out the plot. For those who noted that the eighth season of Game of Thrones needed to be longer, they would have to answer the question of what fills the four additional episodes. In my opinion there really is nothing. Episode 2 was a filler episode before the Battle of Winterfell. Under the guise of "character development" prepubescent Arya had sex with bastard Gendry. This move then had to be undone in episode four, as a clear indicator that the moment was a pathetic instance of fan service, along with Jaime and Brienne, which the show also undid. D&D didn't put much thought into building a plot, but they didn't really have to. Their job was to adapt the novels into film, a challenging task. People tend to forget that the first four seasons were based on the first three books in the A Song of Ice and Fire series. Season five was based on half of book five, A Dance With Dragons. Book four was, with exception to Arya, passed over until season six, where D&D doubled back into A Feast For Crows in a rushed attempt to… I don't know… fill the time and bring back old characters. D&D essentially followed books 1-3, skipped book four, went to book five, inserted non-existent and forgettable plots(Dorne), then went beyond canon, then rushed through book four, then went back beyond. If Game of Thrones only now feels rushed to you, you have not been paying attention. So what am I saying? Two arguments. One Game of Thrones cut out and deviated so much from the books that they did not have enough plot points to build to a longer series. Second, D&D, instead of writing substitute plot points, they chose to drag out a plot remaining plot but instead of building up to it with actual plot points, the filled the time in-between with fast travel, fan service in the form of plot armor and nostalgia, and contradictory story elements. So, in order to build a non rushed series, we truly have to go back and redo season five onward.
Season Five
However, in correcting a major mistake in the Tyrion arc, in season four, Jaime will confess to Tyrion that his first wife Tysha was as she seemed and not a whore. However in keeping Episode 4.10 the same, we can have Lord Varys deliver the news to Tyrion. Tyrion will begin season five wondering "wherever whores go." Sansa will not be married to Ramsay Snow/Bolton. She will end the season witnessing the genius of Petyr Baelish as he takes over the Vale as its de facto lord. Instead, the show will proceed with Fake Arya. Jon Snow still becomes Lord Commander of the Night's Watch and makes a pact with the alive Mance Rayder and chooses to spare his son over Craster's. The viewer will actually get to see Cersei suck at ruling as Queen Regent and burn the tower of the hand. The viewer will also get to see Daenerys suck at ruling Mereen. Ser Barristan will not be killed. The Ironborn plot will be introduced here. Euron Greyjoy will be more than just bumfinger. The Dornish plot will feature Arianne and Quentyn Martell. Jaime goes to the Riverlands, with Bronn(a deviation from the books I can support). Most importantly, Young Griff will be featured.
The hardest part of the new season five would be coming up with a sufficient "episode nine" which has a massive reputation to live up to. The Dornish plot is one instance where this could climax. The viewer could get to watch Ser Areys Oakheart die. Daenerys flying off on Drogon in the fighting pits is another good move.
Season Six
Now season six would be like season four was to season three, just nonstop excitement as the viewer reaches the climaxes of the fourth and fifth books. The Siege of Mereen would persist and Ser Barristan Selmy muscles his way to clean the mess created by Daenerys. Tyrion becomes a more malicious schemer. Cersei walk of shame. Mance Rayder killed by Ramsay Bolton. Theon rescues Fake Arya. Prince Doran drops a big reveal. Baelish announces his northern ambitions to Sansa. Stannis is defeated, and not killed by Brienne. We get the Pink Letter! Jon Snow is killed.
Season Seven
The Siege of Mereen is lifted. Tyrion rises to power. Davos retrieves Rickon Stark (speculation). Jon becomes King in the North after the Battle of the Bastards where either the Knights of the Vale arrive before the battle begins or Sansa and Jon are not in communication so the Vale surprises in the end, much like Stannis and the Night's Watch. Daenerys gets a Dothraki army. Cersei defeats her enemies via wildfire. Young Griff and the Dornish form an alliance (speculation). Young Griff arrives in the Stormlands makes an alliance with the Dornish.
Season Eight
Daenerys arrives to Westeros. Battle of Winterfell, with actual military tactics applied. Jon Snow and Daenerys love story. One of the major claimants falls.
Season Nine
Jon Snow vs Daenerys vs Cersei vs Young Griff (speculation) vs Euron (less one of these.) Daenerys sours and is betrayed for love.
Game of Thrones Rushed or Gutted?
I could go further into detail, but I know not the bullet points D&D were given. Which surely would have had more than the less than two hundred words of plot above that go beyond the books. All of the sudden, if the show follows the books the series doesn't seem rushed or dragged out. Imagine a pyramid. Each story arc is a corner on the base that all comes together at the end. What D&D did is not reset the pyramid like George RR Martin does in the books. So, the plot comes together much sooner than it would have if they had followed the books. Therefore seasons seven and eight had so much nostalgia and filler. The source material and reasonable speculation paved the path to writing a much better series that what fans saw on the back half of Game of Thrones. It's pressingly clear, D&D never read the books or in their hubris thought they knew how to honor the source material better than the author or its more devoted fans. Game of Thrones was not so much rushed, as it was gutted, for the fans only saw the skeleton of the real story.
Twitter suspends Houston Rockets' account
What happened to the Houston Rockets' Twitter account? Did they Tweet something conservative or Christian? Did they misgender someone? Is this retribution for falling to the Golden State Warriors in the playoffs four out of five of years? Whatever they did, Twitter decided to suspend them, leaving their 2.8 million followers in the dark.
Okay. What did the Houston Rockets do? pic.twitter.com/Qc3FCWhhmA

— 𝚁𝚎𝚢-𝚁𝚎𝚢 🤞🏾✌🏾 (@TheNoLookPass) May 20, 2019
All jesting aside, there are three likely scenarios. They could be the victims of a mass reporting attack in which multiple Twitter accounts report a user in a short period of time, prompting an algorithmic suspension. Or, if they'd been hacked, Twitter may have detected it and shut them down until the real users can regain control and change passwords.
But the most likely culprit is a DMCA takedown complaint that triggers instant temporary suspension. Chances are, they posted a video that included music they didn't have permission to use. It happens.
Iowans, Tigers, and Rockets… oh my!
The DMCA copyright takedown notices that took out Iowa and Iowa State football twitter accounts this past weekend are now joined by @AuburnFootball and the @HoustonRockets—who knows if they were legit, the system presumes it wasn't! pic.twitter.com/oQhD2t9rvU

— RedditCFB (@RedditCFB) May 20, 2019
The Rockets have not responded to our request for comment.
If you or someone you know gets suspended on social media, take solace in knowing even big organizations like the Houston Rockets can fall victim to the ban-hammer (though I doubt they'll get the same scorn from Twitter as James Woods).
Game of Thrones Series Finale: Review and Analysis
The ending finally arrive. It was a tumultuous controversial season. The Game of Thrones series finale had to deal with a malcontentious internet fanbase that saw bad writing, but mostly in the wrong places. Indeed the Daenerys fans were unduly upset by her demise, and the Arya and Sansa fans consistently had bad takes. This ending was hardly for these people who wanted happy, predictable, endings that reinforced your "fandom." Still this episode is where the good writing for the last three or four seasons went to. It was not the dreaded ending of a Republic, which given Tyrion's voyage to Volantis, was conceivable. The idea was address and ridiculed. Instead it was two kingdoms at peace, at last. The Game of Thrones series finale was well shot, well performed, and strangely well-written(thanks to the cliff-notes of George RR Martin.) The ending was somber. On a scale of Dexter to Breaking Bad, the Game of Thrones series finale lands in the middle, being held back by D&D's poor ability to get to the final two episodes.
Overall: The episode was a solid ending, given the poor last few seasons.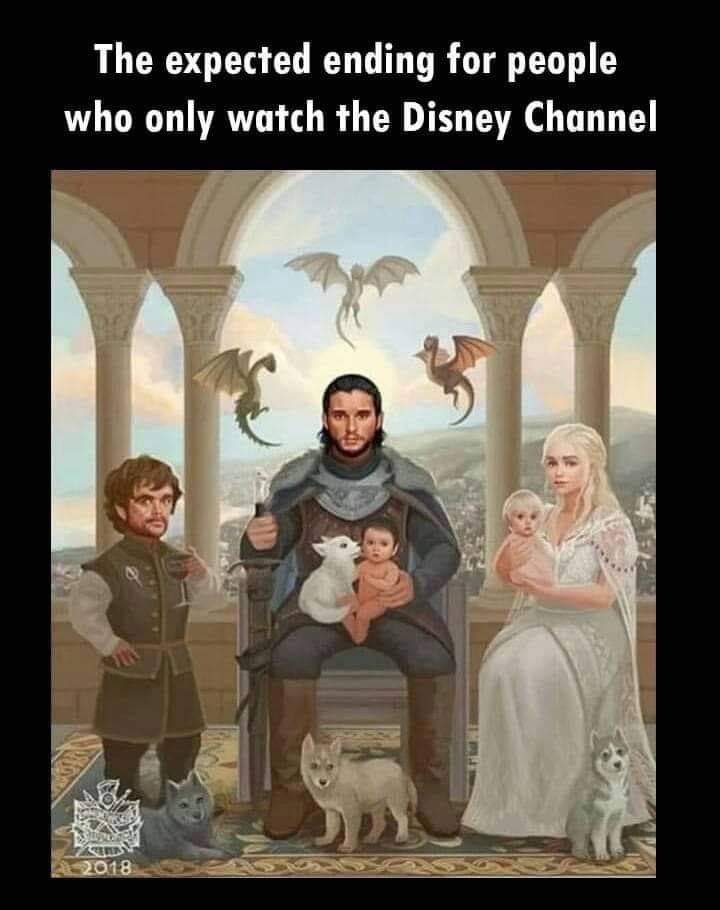 A Critique of Stalinism
In her speech, Daenerys Targaryen champions how she destroyed the system that oppressed people and made a bold goal to conquer the rest of the known world minus the far east of the continent south of Essos. There's a lot to tackle from her speech. First, she seems to have a Rashida Tlaib recollection of history. Yes, she freed the Astapori slaves, but it ends horribly for the slaves in her new world. She left Astapor without a garrison, so a butcher took over, being the only one able to wield a blade semi-competently. She then abandons Astapor and the Yunkish coalition destroy the city and the newly freed slaves. who knows what happened to the Mereenese slaves she misruled, but with her dead, it's a safe assumption they will be vanquished, probably by Volantis. So Daenerys is already rewriting her history, but other than freeing slaves in a world away, she has done nothing to systematically change the way of life for Westeros. She has only deposed Cersei Lannister, which is nothing new for a kingdom that saw Roberts Rebellion. So after giving a fictional account of history she vows to conquer the world, with her brand of liberation. It sounds exactly like Communism. Part of the end goal for communism, as the Soviets saw it was to make every country around them communist, which is what Stalin did during and after World War 2. The idea that a communist government can dissolve and the "people" own everything must come after private ownership everywhere is eliminated, in theory. Of course communism always failed, as does Daenerys. In her final words to Jon, Daenerys talks of removing people who stand in her way and declares herself the supreme authority of what is good. You can almost here the words: "in order to make an omelet, you have to crack a few eggs." This classic defense of genocide is uttered, in sentiment, by Daenerys in her final words. In the Game of Thrones world, Daenerys was Josef Stalin. Off to the gulag with Tyrion and the other undesirables.
Drogon
Either Jon is good at playing innocent or Drogon knew the Iron Throne was what really killed Daenerys Targaryen. Either way, such moral accountability from a dragon knowing better than his mother. His subsequent escape is one unclosed detail that works really well.
Jon Snow King-Beyond-the-Wall
Jon Snow was sentenced to the Night's Watch begging the question: why is the order still a thing? Still, Jon Snow is depicted leading the wildlings to the "true North" and the gate behind him is shut. Jon Snow was never cut out for the Night's Watch, as shown in season one, and he's killed for disregarding his vows in the books. The implication of Jon being King is made readily apparent.
Bran as King
The leaks told it true. I was extremely weary of this especially since I had Tyrion in mind for the Kingship or I thought the Seven Kingdoms would split. After all, Robert's strength held them together, and he died in season one. But the Lords were too weak to seize their own kingship. But minus the cringy Edmere Tully return, Tyrion sold it, in large part because of the acting of Peter Dinklage. It was better written than one would have thought. The idea is growing on me personally and contains a lack of predictability Game of Thrones is known for. It also tied up succession nicely while providing a stable outcome a Targaryen dynastic return would not have brought.
Small Council
My biggest point of displeasure from this episode was the small council. Bronn receiving Highgarden and the Lord Paramount title was a sickening end to his character. He should have been killed off years ago. Sam becoming the Grand Maester was a bit of a stretch. Davos as Master of Ships was fitting and Brienne as Lord Commander of the Kingsguard wasn't too shabby. The scene where she writes down Jaime's legacy was excellent.
MVP Tyrion
Peter Dinklage gave an award winning performance this episode. I was getting critical of his poor portrayal of the Tyrion character, in large part because of the writing. But in the final two episodes, Peter Dinklage hit a grand slam on his performance. All of the actors did a superb job, but his was by far the best his episode.