Mitch McConnell's claim about transforming the judiciary is a lie
A few days ago, Mitch McConnell admitted to something we already knew about Trump and the GOP Clown Show; they loved the Brett Kavanaugh confirmation circus because it served as the perfect distraction for shifting voter attention away from two years of lies and broken promises. Additionally, it energized some of their shrinking base, something they badly needed since Trump and the GOP's pathetic job performance wasn't exciting anyone.
In a telephone interview, McConnell boasted about how the fight had "energized (their) base like nothing else (they've) been able to come up with." Translation? Republicans have been governing like Democrats, so I'm hoping this distraction has succeeded in hiding this fact from voters not paying attention, and eventually save my job as Majority Leader.
Mickey then broke out the three-step election year strategy outlined in the GOP Election Playbook:
Make empty promises
Break those promises
Repeat as necessary
Turning the Kavanaugh distraction into a rallying cry to save the courts, McConnell issued a declaration about how his "project" to reshape the judiciary wasn't done yet — as if it ever got started — and said that "Putting strict constructionists, relatively young, on the courts for lifetime appointments is the best way to have a long-term positive impact on America."
McConnell is partially correct. He's correct with his implication that the GOP isn't the best way to make a positive impact on America, but he's wrong about how Republicans are transforming the judiciary.
While the jury's still out — pardon the pun — early indications are that Neil Gorsuch and Brett Kavanaugh are anything but strict constructionists. And while Trump, the GOP, and so-called conservatives sing praises over how the courts are being transformed, the sad reality is that they have done very little to fix our broken judiciary.
For example, at about the same time Kavanaugh was nominated, Trump's nominee for the Ninth Circuit Court of Appeals, Jeremy Bennett, was confirmed by the Senate thanks to the unanimous support of the Democrats. Bennett was opposed by only 27 Republicans, even though he believes that gun bans are constitutional and he favored same-sex marriage even before the Obergefell decision.
The Founding Fathers never intended for the judiciary to wield the power they have been given. Though designed to be the weakest branch of government, the judiciary has grown into a tyrannical super power and the final arbiter of all things constitutional.
With Democrats and Republicans only interested in defending Democrats and Republicans, pesky little things like protecting and defending the Constitution of the United States of America and restoring the balance of power aren't very high on their priority list.
Despite Mitch McConnell's claim to the contrary, Trump and the GOP aren't doing anything to change that.
Originally posted on StridentConservative.com.
---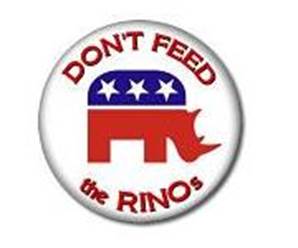 David Leach is the owner of The Strident Conservative. His daily radio commentary is distributed by the Salem Radio Network and is heard on stations across America.
Follow the Strident Conservative on Twitter and Facebook.
Subscribe to receive podcasts of radio commentaries: iTunes | Stitcher | Tune In | RSS
Leftist media pushes back on Green New Deal criticism
It's been an up-and-down couple of weeks for proponents of the Green New Deal. Before details were released, it was already being heralded as the greatest thing since President Obama's election. Then, the details came out and even many on the left were taken aback by the ambitious and incoherent provisions of the deal as detailed in a FAQ section on Representative Alexandria Ocasio-Cortez's government web page.
But that was just a draft. They took it down. At least that was the story.
Unfortunately for proponents, they were caught a little flat-footed as questions started pouring in about, well, all of it. Even if we dismiss the less-draconian concepts such as eliminating air travel or the less-sane ideas like taking care of those who are unwilling to work, the left is still stuck with a proposal that the most frugal estimates put at costing around $7 trillion while other's consider the decade-long cost to be in the HUNDREDS of trillions of dollars.
This is, of course, ludicrous. There's not enough money in the entire world to pay for the proposal if its cost is somewhere between the lowest and highest estimates, but that hasn't stopped leftist media from regrouping. Now that the dust has settled a little bit, they're doing everything they can to recommit to this concept. It's not that they suddenly believe in this fairy tale. It's that they don't want this to be the issue Republicans attack in the 2020 elections.
One article in particular that I read from CNN (yes, sometimes I need to see what the other side is thinking) really struck me for its honesty about the situation. Though I stopped reading it in paragraph two when it referred to "non-partisan" PolitiFact, I went back to it just now to digest the awfulness fully (see the sacrifices I make for our readers!).
I tried to read this article. I really did. But @DeanObeidallah lost me in paragraph two when he referred to the "non-partisan" Politifact. https://t.co/bjRAXbN2b0

— JD Rucker (@JDRucker) February 19, 2019
To be clear, much of what this article says is correct. It asserts the GOP will take the tenets of the Green New Deal and use it to scare voters into thinking it's even worse than Obamacare. From 2010 through 2016, Republicans attacked Obamacare incessantly and it worked, giving them the House in 2010, the Senate in 2014, and the White House in 2016. Unfortunately, they stopped there and didn't actually go after Obamacare with the same fervor they held in their campaign rhetoric and now the Democrats have turned the issue on its head.
But here's the thing. Obamacare may have been bad, but the Green New Deal truly is worse. It's not even close. Even if we take at face value the notion that the Green New Deal is simply an ambitious framework around which real legislation can be forged, we have to look at the core issues entailed in order to see the true damage it can do. This is a socialist document. It's a call for the same levels of insanity that drive the Medicare-for-All movement. Within its frivolous attempts to change perceptions of air travel, cows, and job creation is a deep-rooted desire to convert Americans to needing more government.
NOQ Report needs your support.
The Green New Deal represents the far-left's desire to make more American dependent on government. At the same time, it aims to increase the levels of dependency for those who are already in need of assistance. It wants Democrats to latch their wagons on the notion that if we become a militantly environmentalist nation, that will serve the dual purpose of giving us fulfillment while saving the planet.
I believe most leftist journalists understand this, but they see in the ridiculous framework a path through which Republicans can be defeated wholesale in 2020 as long as the left can control the narrative surrounding the Green New Deal. They fear another Obamacare counterinsurgency that would wipe out the anti-Trump gains they made in 2018, so they've adopted a stance that the Green New Deal isn't as bad as Fox News says it is. Meanwhile, they're doing everything they can to say, "look over here and not at the Green New Deal."
Don't misread leftist media's resurging push to defend the Green New Deal as actually believing it's a good idea. Their big concern is if they don't nip it in the bud now, it'll harm Democrats in 2020. So they say "it's good, don't worry," and move on to another subject.

— JD Rucker (@JDRucker) February 19, 2019
The politics behind what the Green New Deal represents is more in play than the tenets of the proposal itself, at least in the eyes of leftist media. It's not that they want to promote the concept. They simply don't want the concept to derail their party in the next election.
Louis Farrakhan refers to Ilhan Omar as 'sweetheart,' prompting zero outrage
Nation of Islam leader Louis Farrakhan referred to Representative Ilhan Omar (D-MN) as "Sweetheart" as he addressed her during a speaking engagement on Sunday. He apparently caught his faux pas and immediately justified the remark, but at that point the moniker which many consider to be sexist or misogynistic had already been noted.
Nevertheless, it didn't cause the stir one might expect. As a far-left progressive, Omar is known for being a feminist icon on Capitol Hill even though she hasn't been in office for a full two months yet. As our EIC noted, the lack of a rebuke was because of the source, not because she now feels it's okay to refer to her as "sweetheart."
Imagine if someone other than @LouisFarrakhan called @ilhanmn #Sweetheart.

It would be a Twitter war to end all wars as women across the nation denounce the misogynistic moniker. But since it was Farrakhan, I'm sure she'll let it slide.

— JD Rucker (@JDRucker) February 18, 2019
The statement came as Farrakhan was telling Omar she shouldn't be sorry for the statements she made last week about Israel, AIPAC, and Jewish influence in Washington DC, particularly over Republicans.
Farrakhan tells 'sweetheart' Rep. Omar not to apologize for Israel comments https://t.co/RmEBcRGOv8 #FoxNews

— Eddie Donovan, Ph.D. (@EddieDonovan) February 18, 2019
In a world where consistency was still considered a virtue, followers of Omar would be wondering why she's not expressing outrage over the belittling reference from a powerful man. But the world isn't consistent and Farrakhan always gets a pass.
Kamala Harris stutters through non-answer when asked about her Jussie Smollett Tweet
In one of the most cringeworthy moments of Senator Kamala Harris's new presidential campaign, the California Democrat found herself hesitant and uncertain about her feelings towards Jussie Smollett's apparent hate-crime hoax. This is in stark contrast to her bold and racially charged accusations of a "modern day lynching" allegedly perpetrated by two Nigerian actors at the request of Smollett himself.
Above, you can see her attempt to calm the situation and state that facts are still emerging about the case. Of course, this is three weeks after the alleged incident, which is strange since her response the moment the news broke seemed to express zero interest in waiting for facts to emerge.
".@JussieSmollett is one of the kindest, most gentle human beings I know. I'm praying for his quick recovery. This was an attempted modern day lynching. No one should have to fear for their life because of their sexuality or color of their skin. We must confront this hate."
.@JussieSmollett is one of the kindest, most gentle human beings I know. I'm praying for his quick recovery.

This was an attempted modern day lynching. No one should have to fear for their life because of their sexuality or color of their skin. We must confront this hate.

— Kamala Harris (@KamalaHarris) January 29, 2019
This is the latest minefield Democrats find themselves traversing after quickly reacting to false claims. It happened with the Covington Catholic School boys. It's happened far too many times since President Trump ran for President in 2016.
There's a trend that's been quietly, consistently rearing its ugly head against the President of the United States and his supporters since before the 2016 election. We've seen it among unhinged journalists, virtue-signaling celebrities, and Democratic politicians. We've seen it manifest in the ugliest form of hatred – the common hate-hoax – and it's doing more to divide America than the source of the perpetrators' anger.
They hate President Trump. They hate the people who got him elected. The hate the idea of making America great again because as much of the MAGA agenda comes to pass, they're learning they've been wrong the whole time. I know first hand. I've been proven wrong myself.
It doesn't take a skilled orator or ethical paragon to say, "I reacted too quickly before. I should have waited for all of the facts to come out before reacting emotionally." Of course, doing so requires humility, which Kamala Harris apparently does not have.