With the Kavanaugh story fading, expect more anti-conservative stories to hit
With their hopes of blocking Justice Brett Kavanaugh dashed, Democrats and mainstream media will begin their flood of anti-conservative storylines filling the news feeds in their predictable attempt to terrify conscientious Independents and drive their deflated base to the polls of election day.
It's important to understand the distinction between leftist or progressive storylines and anti-conservative storylines. The former is what they do when they're in power. In the homestretch of an election year with all the power with the Republicans, they'll instead shift to anti-conservatism. In other words, they aren't going to tell us what they would do if they were given the reins on Capitol Hill. Instead, they'll try to scare people with visions of apocalypse coming if America chooses not to give them control.
It's easier to see some examples of stories that popped up just this week:
In the 728-page document, the U.N. organization detailed how Earth's weather, health and ecosystems would be in better shape if the world's leaders could somehow limit future human-caused warming to just 0.9 degrees Fahrenheit (a half degree Celsius) from now, instead of the globally agreed-upon goal of 1.8 degrees F (1 degree C). Among other things:
Leftist Narrative: OMG! The world is going to literally die if we elect conservatives!
Vote like the future of humanity on earth depends on it because it uh, does https://t.co/fatBYeuWx3

— Fredduccine Afraido (@freddyscott) October 8, 2018
Please read this. Please. I'm literally begging. https://t.co/pdVUpFFRAE

— Jeff Curtis (@JeffCurtisLA) October 8, 2018
if you think the #SCOTUSKavanaugh things is bad, U.N. report about #GlobalWarming warns of "life-or-death situation". #climatechange #IPCC https://t.co/opFFWlL2O2

— The Real Honz (@TheRealHonz) October 8, 2018
Do you believe in Science @SenToomey because your president is killing the planet more and more with each bill he signs to allow more pollution of water and air. U.N. report about global warming warns of "life-or-death situation" https://t.co/xaj0PteUh1 via @cbsscitech

— paula wood (@paulawood9) October 8, 2018
And hey, lets continue to vote for ppl who lie deny & ignore the issue!#VoteBlueSaveGreen https://t.co/Vg3J04DNn2

— Speaks4Majority (@Speaks4Majority) October 8, 2018
Yes, the President's withdrawal from the Paris Climate Accords was unpopular with leftists and many Independents, but it was absolutely the right thing to do. Now, mainstream media is going to remind as many people as they can that voting Republican means voting against science in an effort to kill all life on the planet.
As we continue to fight for the future of abortion rights, it is critical for us to take a moment to acknowledge that many in the United States currently live without the ability to get abortion care. Prior Supreme Court decisions like Roe v. Wade and Whole Woman's Health v. Hellerstedt have reaffirmed every person's right to access abortion services, however, many obstacles — from laws designed to shut down abortion clinics to bans on insurance coverage — stand in the way of exercising that right.
Leftist Narrative: Double whammy! When they can attack pro-lifers and conservatives opposed to universal healthcare in one story, it's a progressive windfall.
For decades, the Hyde Amendment has blocked Medicaid from covering abortion care, except in the case of rape, incest, or when the pregnancy is life-threatening. #BeBoldEndHyde https://t.co/7RmTR3Gp9i

— Planned Parenthood Advocates of Indiana & Kentucky (@PPAdvocatesINKY) October 4, 2018
Allowing women to get insurance coverage for reproductive healthcare, including abortion, would not only give women the ability to make the best decisions for their lives, but also help them have equal economic opportunities.https://t.co/mXDx0cw8ms

— HR2FP, a program of Uplift International (@HR2FP) October 4, 2018
Lifting the bans on Medicaid coverage for abortion is critical to ensuring every person has the right to make their own decisions about their body, their family, and their life's path. #BeBoldEndHyde https://t.co/fxeZu1egff

— NIRHealth (@nirhealth) October 3, 2018
Restricting Medicaid abortion coverage forces some women to carry unwanted pregnancies which in turn lead to poorer health outcomes for mothers and their children. https://t.co/0h1LUszreZ

— Kirsten Moore (@KirstenBMoore) October 3, 2018
They have already tried and failed to convince a majority of Independent voters that Roe v. Wade is in real trouble. It's been promised by Republicans and threatened by Democrats for so long that few believe it can actually happen regardless of who sites on the Supreme Court. However, there's a clear play for them to highlight abortion restrictions. That's the real scare tactic they're going to employ going forward.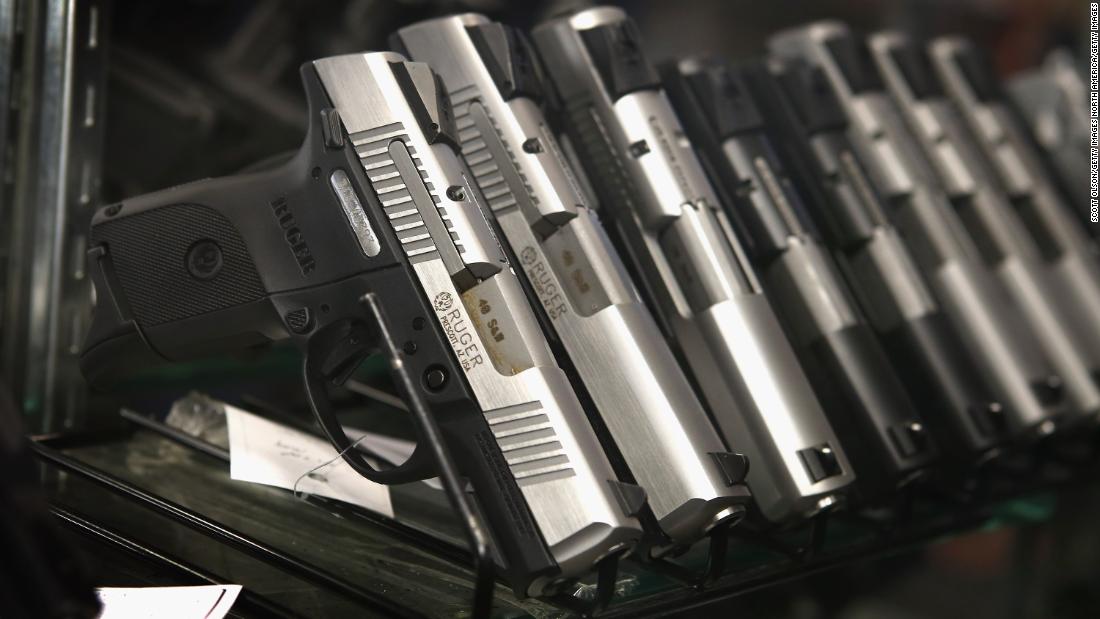 There were loud and sustained calls for more gun control legislation after the mass shooting earlier this year at a high school in Parkland, Florida.
A lot of those efforts failed — but not in California.
Leftist Narrative: We can't save the world from those crazy gun people because conservatives always get in the way, but California doesn't have a conservative problem.
When the gun lobby says gun laws don't work, just remember:

California has the strongest gun laws in the country — and one of the lowest gun death rates. https://t.co/EF0JydTpLY

— Giffords (@GiffordsCourage) October 3, 2018
I ❤ California! https://t.co/fP6c8QeiwZ

— Jill Nolen (@JenniferJNolen) October 1, 2018
California has put the safety of it's residents first with these laws….. when will NC do the same? https://t.co/hkc6KtNv2X

— NC Teen Democrats (@NCTeenDems) October 4, 2018
So glad to live in the most progressive state in the nation. https://t.co/chmo6AvotB

— Sheila Lowe (@sheila_lowe) October 1, 2018
New #gunlaws go into effect January 1, 2019. Should the rest of the country follow #California's example?https://t.co/KUkagsSwkN

— Biometrica Systems (@biometrica_inc) October 1, 2018
Expect gun control to be a major topic in the last weeks of election season. The NRA and other gun rights groups have had public relations problems among Independents lately, so Democrats will attach them and every shooting death in America to conservatives.
Controlling the narrative is easy for Democrats. So far they haven't been able to use it to their advantage, but that can change in these final weeks as they go after conservative ideologies instead of promoting progressive ones. Be mindful.
You can help get more conservative news spread to the masses by donating to this site. We really need the help.
Sex offender Anthony Weiner released from federal prison early
Disgraced former Representative Anthony Weiner (D-NY) has been released from federal prison ahead of the completion of his 21-month term for good behavior. He is currently in a Residential Re-entry Management facility in Brooklyn, New York, where he will remain until his full release in May.
He will be on probation for three years after his release and must register as a sex offender.
Anthony Weiner released from federal prison early under re-entry program – CBS News https://t.co/Z4N9SpZBGZ pic.twitter.com/hF6U6PeHWM

— Tamara ∟ (@Tamazalez) February 17, 2019
My Take
Something tells me this isn't the last we're going to see from Anthony Weiner. He's not only a sick, sexual pervert, but he's also a narcissist who can be easily made to believe the people want him back in public office.
Why didn't the Green New Deal include the issue of Liberty Control?
The latest expression of the fraud of socialism failed to mention gun control. Why?
Socialism has always been a fraudulent ideology, abounding with fallacious promises of free health care, free college, free housing, free food, and free income in the case of its latest abomination in the embodiment of the 'Green New Deal'. The new wrinkle is that people won't have to feel guilty about receiving stolen goods because they are saving the planet.
Curiously enough, while it had just about every socialist 'justice' cause under the sun, there was no mention of guns, 'gun safety' or even 'gun reform' (whatever that means). Why does it seem as though the subjects of socialism and Liberty [gun] control are now on parallel political tracks?
Up until a few years ago, it could be guaranteed that Leftists would parrot certain lies and talking points on both the subjects of Liberty control and alluding to the need for socialism. In the case of Liberty control, it would be calling for more and more laws overlaid on all the other laws. In the case of socialism it would be calling for implementation of the policy agendas of this ideology without the use of the word itself. Then recently it all seemed to change.
First came the opening of the socialistic floodgates
For the most part, even though the Oxford English Dictionary definition of Left was closely tied to socialism, Leftists tended to deny this obvious connection. Then along came Bernie Sanders and this seemed to serve to rip the mask off the Left as to their true identity. Now they embrace and revel in the label. Suddenly people who vehemently denied being socialist, almost tacitly admit to the decades of lies on the subject.
The false narrative is that we on the Pro-Liberty Right are somehow 'afraid' of them now. That this fear meme traces its roots back 500 years to the book 'Utopia' is a subject for another time. Suffice it to say that it began Karl Marx's horrendous tome from over 170 years ago up to the words of Alexandria Ocasio-Cortez today.
Then over time, the Left's gun confiscation obsession came into focus
We have this Leftist obsession well documented and as in the case of hiding their obvious socialist national agenda, they also tended to lie about this as well. Even to this day they are trying to parrot the line that 'No one is talking about confiscating guns' despite over 70 instances that were a variation on that theme.
As of late, they have essentially dropped the mask, but still fail to be honest about their final solution to the Liberty problem. Most major Birdcage liners have openly demanded gun confiscation, sometimes with multiple instances spanning several years. With more gun confiscation demands being added to the list at the occasion of every serious crisis.
There's something happening here, but it's not exactly clear
Oddly enough, with both Leftist obsessions out in the open they never rhetorically connect them. Witness the present example of the Green New Deal, just about every Leftist dream 'imaginable' except for Liberty control.
Why are they reluctant to connect the tight control of the population and wealth redistribution with the common sense human Right of Self-preservation? Why would they avoid connecting the taking of one's property with denying the right of self-defense?
The Takeaway – the answer should be obvious by now
They can't exactly connect up these two issues because it would make it entirely obvious why they obsess over gun confiscation. One can't forcibly take property from people who have the means to 'resist' [to coin a phrase] this governmental theft. Making it perfectly clear that this had nothing to do with 'safety' or 'The children' [Only after they are born, and in some cases, not even that]
The Left cannot mention gun confiscation and Liberty control in the same breath as socialistic theft because they cannot make it obvious that our right of self-defense throws a spanner into the works. Better to try to keep people perplexed as to their true intent for as long as possible until it is entirely obvious they only care about power.
Did the 'party of science' prank themselves with the greatest practical joke ever, the 'Green New Deal'?
There is one big problem with trying to 'net-zero' greenhouse gases, it can never happen.
Sometimes it is hard to shake the thought that a higher power played a practical joke on the Authoritarian Socialist-Left with history's greatest prank. Those familiar with the subject know that the highest manifestation of this 'art form' is when the target plays it on themselves and from a source that no one expects. The coincidences leave one gobsmacked as to how it all could be mere happenstance.
The Left's inherent arrogance has led them to believe they can never be wrong. Even if the result is that they 'rule the population' in the end. The problem for them is that they can't exactly cast themselves as the 'the party of science' when they forget about the most abundant greenhouse gas.
Full disclosure, we had been very reluctant to critique the purveyor of this plan knowing that her 'proclivities' would be her downfall, knowing it would pay a handsome dividend. We knew that everyone's favourite socialist would eventually go off the deep end, bringing the rest of the Socialist-Left along with her. Little did we know that it would happen so quickly.
Losing the plot on promises.
While the abject fraud of socialism will have it's disciples make all manner of promises that will never come to fruition. At least some have a little bit of grounding in reality, neglecting the fact that they will quickly run out of other people's money. However, in the 'Green New Deal' we substantially have an historic first, a completely impossible goal. Consider this passage in their napkin pencil sketch of the outline of a plan to rebuild our entire economy from the ground up:
Resolved, That it is the sense of the House of Representatives that—
(1) it is the duty of the Federal Government to create a Green New Deal—
(A) to achieve net-zero greenhouse gas emissions through a fair and just transition for all communities and workers;
[Our Emphasis]
Trying to get to 'net-zero' is a fool's errand because it's impossible to get to that point with the most important greenhouse gas: Water Vapour.
Never mind that other parts of the scheme are beyond feasibility. Or that the rest of the world will just take up the slack after we self-immolate [After buying the appropriate carbon credits of course]. No, they ignored the most important greenhouse gas and thus rendered their entire plan scientifically absurd.
The problem for them and the indication that this was the greatest prank of all time is that water vapour is the most abundant greenhouse gas. Now perhaps they overlooked this scientific fact because the powers that be in the Global Cooling, Global warming, Climate Change, Global Cooling cabal also tend to ignore this 'inconvenient truth' to coin a phrase.
Just in case there are any Leftists reading this, we will spell it out for those of the 'Party of science': We can never net-zero water vapour since that would entail getting rid of all the water on the planet. Perhaps they don't realise that Approximately 71 percent of the Earth's surface is covered by this ubiquitous substance, sometimes referred to as dihydrogen monoxide.
But its impossible elimination would certainly help in providing high-speed rail service to Hawaii.
We can add to this by pointing out that the climate boffins prefer to use terms such as 'scientific uncertainty' when referring to poorly understood effects of the 'positive feedback loop' of Water vapour. From the National Climatic Data Center on Greenhouse Gases:
As the temperature of the atmosphere rises, more water is evaporated from ground storage (rivers, oceans, reservoirs, soil). Because the air is warmer, the absolute humidity can be higher (in essence, the air is able to 'hold' more water when it's warmer), leading to more water vapor in the atmosphere. As a greenhouse gas, the higher concentration of water vapor is then able to absorb more thermal IR energy radiated from the Earth, thus further warming the atmosphere. The warmer atmosphere can then hold more water vapor and so on and so on. This is referred to as a 'positive feedback loop'. However, huge scientific uncertainty exists in defining the extent and importance of this feedback loop.
As water vapor increases in the atmosphere, more of it will eventually also condense into clouds, which are more able to reflect incoming solar radiation (thus allowing less energy to reach the Earth's surface and heat it up). The future monitoring of atmospheric processes involving water vapor will be critical to fully understand the feedbacks in the climate system leading to global climate change. As yet, though the basics of the hydrological cycle are fairly well understood, we have very little comprehension of the complexity of the feedback loops.
[Our Emphasis]
In other words, they don't want to admit how water vapour can act as a means for the planet to keep Global Cooling, Global warming, Climate Change, Global Cooling in check. They don't know for certain about this crucial aspect of the issue. But those of the climate cult do know that if we don't hand over control of our entire lives to them, entire nations could be wiped off the face of the Earth by the year 2000, as in this report from the Associated Press:
U.N. Predicts Disaster if Global Warming Not Checked June 30, 1989
UNITED NATIONS (AP) _ A senior U.N. environmental official says entire nations could be wiped off the face of the Earth by rising sea levels if the global warming trend is not reversed by the year 2000.
Coastal flooding and crop failures would create an exodus of ″eco- refugees,′ ′ threatening political chaos, said Noel Brown, director of the New York office of the U.N. Environment Program, or UNEP.
He said governments have a 10-year window of opportunity to solve the greenhouse effect before it goes beyond human control. We all might have been too busy dealing with Y2K and the millennium, but entire nations being swept off the face of the earth most assuredly wouldn't of escaped notice of everyone.
Of course the alarmism never stops with criticism of predictions of world-wide disasters being 'too rosy' as in this report from the New York times Nov. 18, 2007: Alarming UN report on climate change too rosy, many say:
VALENCIA, Spain — The blunt and alarming final report of the United Nations Intergovernmental Panel on Climate Change, released here by UN Secretary General Ban Ki Moon, may well underplay the problem of climate change, many experts and even the report's authors admit.
…
The IPCC chairman, Rajendra Pachauri, an engineer and economist from India, acknowledged the new trajectory. "If there's no action before 2012, that's too late," Pachauri said. "What we do in the next two to three years will determine our future. This is the defining moment."
Okay, they were over blown about having to do something that 'in the next two to three years', but it's a certainty that in 2009 Barack Obama had only had four years to save the world from The Guardian:
President 'has four years to save Earth'
Sun 18 Jan 2009 00.01 GMT
Barack Obama has only four years to save the world. That is the stark assessment of Nasa scientist and leading climate expert Jim Hansen who last week warned only urgent action by the new president could halt the devastating climate change that now threatens Earth. Crucially, that action will have to be taken within Obama's first administration.
Lest anyone think that since the world ended a few years ago that it would have stopped the predictions of doom, other lists have been since published here and here.
The problem for the Global Cooling cult is that they keep on predicting disaster in a few years and they keep on coming up short. But, we're not supposed to notice the decades of alarmism, we're not supposed to rhetorical sleight of hand of the change from Global Cooling in the 1970's to Global warming when that didn't happen to Climate Change when that also didn't happen as well. We're not supposed to notice the extraordinary claims that demand extraordinary evidence. Most certainly we're not supposed to notice that these claims that demand immediate action requires that we all give up our Liberty to the very people making the demands.
The takeaway.
Perhaps this epic practical joke on the Socialist-Left will serve as a prime indicator to the rational majority to reject the Green New Deal and the rest of their ancient collectivist ideas. That finally enough people will recognise their socialist snake oil for what it truly is, a fraud of the highest order. It certainly has wrought enough destruction, leaving behind a body count in the millions to make that case.