No, ThinkProgress, it's not antisemitic to mention George Soros in a Tweet
Billionaire leftist George Soros has used his money and influence to drive progressive causes across the globe. There are conspiracy theories, some of which are credible, that attach parts of Soros' operation to organized protests against conservatives. This is commonly believed by people on both sides of the political aisle.
For example: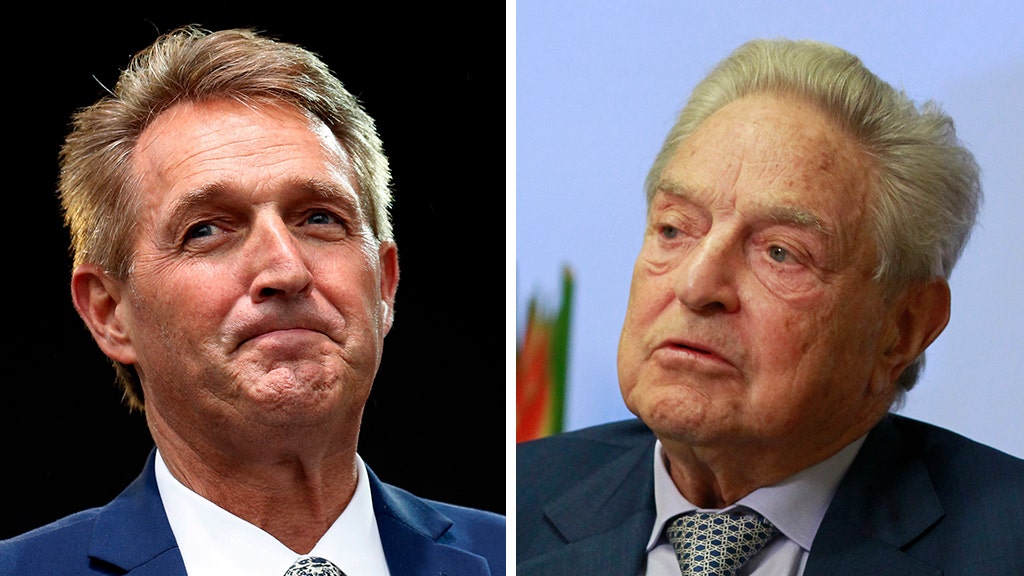 Seemingly organic, powerful protests. But in both instances, the women involved came from a nonprofit called Center for Popular Democracy that has received funding from liberal billionaire George Soros, records show.
Soros donated $1.5 million to Center for Popular Democracy in 2016 and 2017 through his philanthropy organization Open Society Foundations, the records show.
He also donated in the past two years another $1.2 million to the nonprofit's sister organization Center for Popular Democracy Action, which helped organize protests at the Kavanaugh hearings in early September that resulted in more than 200 arrests.
It isn't a crazy notion that a man as powerful as Soros with the passion for progressive causes that he has will sometimes utilize covert methods to promote his ideology. Powerful conservatives and liberals have been doing it for decades. The difference with Soros is that his name and the theory are often invoked by antisemitic hate groups.
Progressive media outlet ThinkProgress used this to paint President Trump as an antisemite because of a Tweet that mentioned Soros and the idea that he funds protesters:
Now the President of the United States is getting in on the anti-Semitic action, claiming that protests against his Supreme Court nominee Brett Kavanaugh, who has been accused of sexual misconduct by multiple women, were "Paid for by Soros and others" in a Friday tweet.
This was the first time Trump has mentioned Soros on Twitter, per the Toronto Star's Daniel Dale. However, The Atlantic's David Frum noted Soros was one of the "three identifiable "faces of international finance"" featured in a 2016 Trump campaign ad that was widely criticized for its anti-Semitic overtones.
By their logic:
Many thoughtful, rational people believe Soros funds protests based on clear evidence
Antisemitic hate groups often talk about these theories and say antisemitic things about Soros
President Trump mentioned Soros and the theory in a Tweet
Therefore, President Trump is promoting antisemitic conspiracy theories on Twitter
This is one of the purest examples of spinning something so hard that it contorts from the force of the spin. It's a juicy headline for Trump-haters to embrace and share lovingly on social media. It's stretching the truth far beyond its limits to the point that it has no validity at all, yet it will likely be shared by a large number of progressives so the accusing headline gets tons of coverage.
It's garbage.
There's a difference between an anitsemitic conspiracy theory and a valid theory that happens to be shared by antisemitic hate groups.
Here's the President's Tweet:
The very rude elevator screamers are paid professionals only looking to make Senators look bad. Don't fall for it! Also, look at all of the professionally made identical signs. Paid for by Soros and others. These are not signs made in the basement from love! #Troublemakers

— Donald J. Trump (@realDonaldTrump) October 5, 2018
This is one of the reasons we're so adamant about expanding our site. With so many leftist media outlets getting attention, we need conservative media outlets to grow. You can help…
Why didn't the Green New Deal include the issue of Liberty Control?
The latest expression of the fraud of socialism failed to mention gun control. Why?
Socialism has always been a fraudulent ideology, abounding with fallacious promises of free health care, free college, free housing, free food, and free income in the case of its latest abomination in the embodiment of the 'Green New Deal'. The new wrinkle is that people won't have to feel guilty about receiving stolen goods because they are saving the planet.
Curiously enough, while it had just about every socialist 'justice' cause under the sun, there was no mention of guns, 'gun safety' or even 'gun reform' (whatever that means). Why does it seem as though the subjects of socialism and Liberty [gun] control are now on parallel political tracks?
Up until a few years ago, it could be guaranteed that Leftists would parrot certain lies and talking points on both the subjects of Liberty control and alluding to the need for socialism. In the case of Liberty control, it would be calling for more and more laws overlaid on all the other laws. In the case of socialism it would be calling for implementation of the policy agendas of this ideology without the use of the word itself. Then recently it all seemed to change.
First came the opening of the socialistic floodgates
For the most part, even though the Oxford English Dictionary definition of Left was closely tied to socialism, Leftists tended to deny this obvious connection. Then along came Bernie Sanders and this seemed to serve to rip the mask off the Left as to their true identity. Now they embrace and revel in the label. Suddenly people who vehemently denied being socialist, almost tacitly admit to the decades of lies on the subject.
The false narrative is that we on the Pro-Liberty Right are somehow 'afraid' of them now. That this fear meme traces its roots back 500 years to the book 'Utopia' is a subject for another time. Suffice it to say that it began Karl Marx's horrendous tome from over 170 years ago up to the words of Alexandria Ocasio-Cortez today.
Then over time, the Left's gun confiscation obsession came into focus
We have this Leftist obsession well documented and as in the case of hiding their obvious socialist national agenda, they also tended to lie about this as well. Even to this day they are trying to parrot the line that 'No one is talking about confiscating guns' despite over 70 instances that were a variation on that theme.
As of late, they have essentially dropped the mask, but still fail to be honest about their final solution to the Liberty problem. Most major Birdcage liners have openly demanded gun confiscation, sometimes with multiple instances spanning several years. With more gun confiscation demands being added to the list at the occasion of every serious crisis.
There's something happening here, but it's not exactly clear
Oddly enough, with both Leftist obsessions out in the open they never rhetorically connect them. Witness the present example of the Green New Deal, just about every Leftist dream 'imaginable' except for Liberty control.
Why are they reluctant to connect the tight control of the population and wealth redistribution with the common sense human Right of Self-preservation? Why would they avoid connecting the taking of one's property with denying the right of self-defense?
The Takeaway – the answer should be obvious by now
They can't exactly connect up these two issues because it would make it entirely obvious why they obsess over gun confiscation. One can't forcibly take property from people who have the means to 'resist' [to coin a phrase] this governmental theft. Making it perfectly clear that this had nothing to do with 'safety' or 'The children' [Only after they are born, and in some cases, not even that]
The Left cannot mention gun confiscation and Liberty control in the same breath as socialistic theft because they cannot make it obvious that our right of self-defense throws a spanner into the works. Better to try to keep people perplexed as to their true intent for as long as possible until it is entirely obvious they only care about power.
Did the 'party of science' prank themselves with the greatest practical joke ever, the 'Green New Deal'?
There is one big problem with trying to 'net-zero' greenhouse gases, it can never happen.
Sometimes it is hard to shake the thought that a higher power played a practical joke on the Authoritarian Socialist-Left with history's greatest prank. Those familiar with the subject know that the highest manifestation of this 'art form' is when the target plays it on themselves and from a source that no one expects. The coincidences leave one gobsmacked as to how it all could be mere happenstance.
The Left's inherent arrogance has led them to believe they can never be wrong. Even if the result is that they 'rule the population' in the end. The problem for them is that they can't exactly cast themselves as the 'the party of science' when they forget about the most abundant greenhouse gas.
Full disclosure, we had been very reluctant to critique the purveyor of this plan knowing that her 'proclivities' would be her downfall, knowing it would pay a handsome dividend. We knew that everyone's favourite socialist would eventually go off the deep end, bringing the rest of the Socialist-Left along with her. Little did we know that it would happen so quickly.
Losing the plot on promises.
While the abject fraud of socialism will have it's disciples make all manner of promises that will never come to fruition. At least some have a little bit of grounding in reality, neglecting the fact that they will quickly run out of other people's money. However, in the 'Green New Deal' we substantially have an historic first, a completely impossible goal. Consider this passage in their napkin pencil sketch of the outline of a plan to rebuild our entire economy from the ground up:
Resolved, That it is the sense of the House of Representatives that—
(1) it is the duty of the Federal Government to create a Green New Deal—
(A) to achieve net-zero greenhouse gas emissions through a fair and just transition for all communities and workers;
[Our Emphasis]
Trying to get to 'net-zero' is a fool's errand because it's impossible to get to that point with the most important greenhouse gas: Water Vapour.
Never mind that other parts of the scheme are beyond feasibility. Or that the rest of the world will just take up the slack after we self-immolate [After buying the appropriate carbon credits of course]. No, they ignored the most important greenhouse gas and thus rendered their entire plan scientifically absurd.
The problem for them and the indication that this was the greatest prank of all time is that water vapour is the most abundant greenhouse gas. Now perhaps they overlooked this scientific fact because the powers that be in the Global Cooling, Global warming, Climate Change, Global Cooling cabal also tend to ignore this 'inconvenient truth' to coin a phrase.
Just in case there are any Leftists reading this, we will spell it out for those of the 'Party of science': We can never net-zero water vapour since that would entail getting rid of all the water on the planet. Perhaps they don't realise that Approximately 71 percent of the Earth's surface is covered by this ubiquitous substance, sometimes referred to as dihydrogen monoxide.
But its impossible elimination would certainly help in providing high-speed rail service to Hawaii.
We can add to this by pointing out that the climate boffins prefer to use terms such as 'scientific uncertainty' when referring to poorly understood effects of the 'positive feedback loop' of Water vapour. From the National Climatic Data Center on Greenhouse Gases:
As the temperature of the atmosphere rises, more water is evaporated from ground storage (rivers, oceans, reservoirs, soil). Because the air is warmer, the absolute humidity can be higher (in essence, the air is able to 'hold' more water when it's warmer), leading to more water vapor in the atmosphere. As a greenhouse gas, the higher concentration of water vapor is then able to absorb more thermal IR energy radiated from the Earth, thus further warming the atmosphere. The warmer atmosphere can then hold more water vapor and so on and so on. This is referred to as a 'positive feedback loop'. However, huge scientific uncertainty exists in defining the extent and importance of this feedback loop.
As water vapor increases in the atmosphere, more of it will eventually also condense into clouds, which are more able to reflect incoming solar radiation (thus allowing less energy to reach the Earth's surface and heat it up). The future monitoring of atmospheric processes involving water vapor will be critical to fully understand the feedbacks in the climate system leading to global climate change. As yet, though the basics of the hydrological cycle are fairly well understood, we have very little comprehension of the complexity of the feedback loops.
[Our Emphasis]
In other words, they don't want to admit how water vapour can act as a means for the planet to keep Global Cooling, Global warming, Climate Change, Global Cooling in check. They don't know for certain about this crucial aspect of the issue. But those of the climate cult do know that if we don't hand over control of our entire lives to them, entire nations could be wiped off the face of the Earth by the year 2000, as in this report from the Associated Press:
U.N. Predicts Disaster if Global Warming Not Checked June 30, 1989
UNITED NATIONS (AP) _ A senior U.N. environmental official says entire nations could be wiped off the face of the Earth by rising sea levels if the global warming trend is not reversed by the year 2000.
Coastal flooding and crop failures would create an exodus of ″eco- refugees,′ ′ threatening political chaos, said Noel Brown, director of the New York office of the U.N. Environment Program, or UNEP.
He said governments have a 10-year window of opportunity to solve the greenhouse effect before it goes beyond human control. We all might have been too busy dealing with Y2K and the millennium, but entire nations being swept off the face of the earth most assuredly wouldn't of escaped notice of everyone.
Of course the alarmism never stops with criticism of predictions of world-wide disasters being 'too rosy' as in this report from the New York times Nov. 18, 2007: Alarming UN report on climate change too rosy, many say:
VALENCIA, Spain — The blunt and alarming final report of the United Nations Intergovernmental Panel on Climate Change, released here by UN Secretary General Ban Ki Moon, may well underplay the problem of climate change, many experts and even the report's authors admit.
…
The IPCC chairman, Rajendra Pachauri, an engineer and economist from India, acknowledged the new trajectory. "If there's no action before 2012, that's too late," Pachauri said. "What we do in the next two to three years will determine our future. This is the defining moment."
Okay, they were over blown about having to do something that 'in the next two to three years', but it's a certainty that in 2009 Barack Obama had only had four years to save the world from The Guardian:
President 'has four years to save Earth'
Sun 18 Jan 2009 00.01 GMT
Barack Obama has only four years to save the world. That is the stark assessment of Nasa scientist and leading climate expert Jim Hansen who last week warned only urgent action by the new president could halt the devastating climate change that now threatens Earth. Crucially, that action will have to be taken within Obama's first administration.
Lest anyone think that since the world ended a few years ago that it would have stopped the predictions of doom, other lists have been since published here and here.
The problem for the Global Cooling cult is that they keep on predicting disaster in a few years and they keep on coming up short. But, we're not supposed to notice the decades of alarmism, we're not supposed to rhetorical sleight of hand of the change from Global Cooling in the 1970's to Global warming when that didn't happen to Climate Change when that also didn't happen as well. We're not supposed to notice the extraordinary claims that demand extraordinary evidence. Most certainly we're not supposed to notice that these claims that demand immediate action requires that we all give up our Liberty to the very people making the demands.
The takeaway.
Perhaps this epic practical joke on the Socialist-Left will serve as a prime indicator to the rational majority to reject the Green New Deal and the rest of their ancient collectivist ideas. That finally enough people will recognise their socialist snake oil for what it truly is, a fraud of the highest order. It certainly has wrought enough destruction, leaving behind a body count in the millions to make that case.
Trump to Acosta: 'You have an agenda. You're CNN. You're fake news.'
During President Trump's press conference announcing his declaration of a national emergency, CNN's Jim Acosta asked whether the President was concocting the national emergency in order to build his border wall because he couldn't get it done through Congress. The President responded in standard fashion, attacking Acosta's question itself as biased.
"You have an agenda. You're CNN. You're fake news," the President said to the reporter.
Acosta has been at the center of controversy throughout President Trump's term, tussling with members of the administration and the President himself at times. He lost access to the White House in November, 2018, after an altercation with a White House staffer.
This time, the President answered Acosta's question about whether or not the emergency was manufactured by telling him to ask the Angel moms sitting in the front row if they thought the emergency was manufactured. Acosta did not.