Why I'm not upset by Bert and Ernie sort of coming out
It's been speculated for a long time. Even when I was a kid, it was a topic of discussion sometimes at the lunch table. "Hey, do you think Bert and Ernie are gay?" I remember going home and asking my mother what that even meant.
Now, a Sesame Street writer claims that the two puppets are a "loving couple" that he based upon his own relationship with a Sesame Street editor.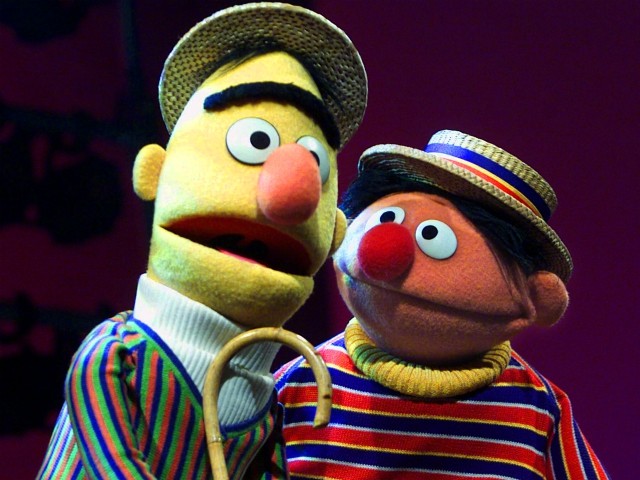 The official Sesame Street Twitter account tweeted a statement Tuesday, saying while Bert and Ernie "are identified as male characters and possess many human traits and characteristics (as most Sesame Street Muppets do), they remain puppets, and do not have a sexual orientation."
According to Pink News, the Sesame Street pair is widely viewed within the LGBT movement as "gay icons."
Those of us who are against the indoctrination of our children into the LGBTQ worldview should probably be upset. Many are. I'm not.
Why it doesn't matter
Bert and Ernie skits never included anything that seemed to even hint at a relationship other than being close roommates. Their purpose was to highlight that people who were very different could get along and coexist. That still seems to be their intent today.
But that's not even the main reason it doesn't matter. I have no intention of ever having my kids watch Sesame Street and I encourage other parents to do the same. In fact, don't let your kids watch anything on PBS. Take it even a step further and avoid PBS yourself. If you like classical music, use YouTube. Stay away from the state-funded leftist propaganda network.
Kamala Harris stutters through non-answer when asked about her Jussie Smollett Tweet
In one of the most cringeworthy moments of Senator Kamala Harris's new presidential campaign, the California Democrat found herself hesitant and uncertain about her feelings towards Jussie Smollett's apparent hate-crime hoax. This is in stark contrast to her bold and racially charged accusations of a "modern day lynching" allegedly perpetrated by two Nigerian actors at the request of Smollett himself.
Above, you can see her attempt to calm the situation and state that facts are still emerging about the case. Of course, this is three weeks after the alleged incident, which is strange since her response the moment the news broke seemed to express zero interest in waiting for facts to emerge.
".@JussieSmollett is one of the kindest, most gentle human beings I know. I'm praying for his quick recovery. This was an attempted modern day lynching. No one should have to fear for their life because of their sexuality or color of their skin. We must confront this hate."
.@JussieSmollett is one of the kindest, most gentle human beings I know. I'm praying for his quick recovery.

This was an attempted modern day lynching. No one should have to fear for their life because of their sexuality or color of their skin. We must confront this hate.

— Kamala Harris (@KamalaHarris) January 29, 2019
This is the latest minefield Democrats find themselves traversing after quickly reacting to false claims. It happened with the Covington Catholic School boys. It's happened far too many times since President Trump ran for President in 2016.
There's a trend that's been quietly, consistently rearing its ugly head against the President of the United States and his supporters since before the 2016 election. We've seen it among unhinged journalists, virtue-signaling celebrities, and Democratic politicians. We've seen it manifest in the ugliest form of hatred – the common hate-hoax – and it's doing more to divide America than the source of the perpetrators' anger.
They hate President Trump. They hate the people who got him elected. The hate the idea of making America great again because as much of the MAGA agenda comes to pass, they're learning they've been wrong the whole time. I know first hand. I've been proven wrong myself.
It doesn't take a skilled orator or ethical paragon to say, "I reacted too quickly before. I should have waited for all of the facts to come out before reacting emotionally." Of course, doing so requires humility, which Kamala Harris apparently does not have.
President Trump lowers himself to SNL's level every time he gives them attention
Many conservatives have been in the midst of a conundrum since the 2016 election. On one hand, there are things to like about President Trump's agenda as he cuts bureaucracy, reduces our tax burden, and addresses certain foreign policy issues appropriately. On the other hand, he has the temperament of a high school student at times and seems reluctant to act like the President of the United States.
The latest example of his willingness to dive into the fray with unimportant but insulting entities is his ongoing war with SNL and NBC.
Nothing funny about tired Saturday Night Live on Fake News NBC! Question is, how do the Networks get away with these total Republican hit jobs without retribution? Likewise for many other shows? Very unfair and should be looked into. This is the real Collusion!

— Donald J. Trump (@realDonaldTrump) February 17, 2019
My advice to the President:
Seriously, Mr. President, please just ignore them. Yes, they insult you. Yes, they mock you. Yes, they hate you. But you're doing them a favor when you pay so much attention to them just because they were able to prick below your paper-thin skin. Collusion? No. It's comedy, and not very funny comedy at that. There's nothing they can do to actually hurt you in the eyes of the American public because those who are still watching aren't your friends anyway. Even if some of your allies are watching, it's not like they're saying to themselves, "Man, I liked Trump but now that I've seen Alex Baldwin's latest skit, I'm changing my mind."
This is below the President. It's so far below the President that much lesser-known people who get made fun of by SNL have the common sense to either ignore it or play along with the gag. President Trump is one of the few people of power who actually takes SNL seriously enough to draw as much attention to them as possible. It's counterproductive and will only make them want to attack more often.
How many people actually watched the skit before the President Tweeted it? Now, he's chosen to make the skit go viral, emboldening Baldwin and the whole SNL crew into wanting to make fun of him even more. It's one of the saddest displays of inappropriate attention being given to something so far below the White House it's a wonder that he took the time to Tweet about it, let along watch it and get masses of others to watch it as well.
Every time he gives SNL this level of attention, all he does is reaffirm what his detractors already think while making his supporters scratch their head wondering why the most powerful man in the world is whining about a comedy sketch.
This old Tweet by Jussie Smollett may have been prescient as a condemnation of his gullible supporters
As the walls (and possibly law enforcement) continue to close in on actor Jussie Smollett following reports he hoaxed the world by pretending to be attacked by Trump supporters, a Tweet from 2016 is quite interesting.
In today's context, this quote would demonize those who believed Smollett's suspicious claims without even considering the possibility they could be made up. It's one thing to think Trump supporters are racist. It's another to take this belief and use it as intellectual cover to blind one to obvious truths. Smollett seems to be calling out the very people who have supported him.