Serena Williams champions victimhood, double standards
Tennis is by far one of the most boring sports. Generally speaking, the same athletes win the same tournaments. Even the matches themselves are designed to be a meticulous test of consistency and endurance. So when a household name, like Serena Williams, loses, this should send a shock wave of excitement throughout the sport? William's lost did, but the credit that Naomi Osaka deserved was undermined by the controversy Serena Williams created. Umpire, Carlos Ramos, found himself the victim of a smear campaign for adhering to the rules. Serena Williams used her platform to play the victim of sexism, which of course, is compounded by intersectionality. Only, it wasn't sexist nor, by extension, racist. Her side was in clear violation. The call was fair and uncontroversial per the rules. Jesse Kelly tweeted a perfect thread on the issue.
Serena is the perfect representative for the women's rights movement. She has it all but she's never happy and always playing the victim. https://t.co/RxvfhZvvo4

— Jesse Kelly® (@JesseKellyDC) September 9, 2018
There's a real cultural issue here and I'm not sure if it's an American problem or something. These people like Serena and LeBron reach levels of fortune and fame 99.999999999% of people will never know.

— Jesse Kelly® (@JesseKellyDC) September 9, 2018
For too many people, "victim" is the highest calling on earth. That is truly pathetic. That's all.

— Jesse Kelly® (@JesseKellyDC) September 9, 2018
Serena Williams believes herself the victim because enforcing the agreed upon rules led to her side being punished. This enforcement, as Williams and Jack Dorsey would have us believe, was the scheme of a sexist ploy to deny a woman of color the ability to be emotional during a tennis match. This would mean she doesn't want women to be held to the same standards of men. Rather she believes in being held to a different, privileged, set of standards. And of course, all this assumes she is being altruistic in her fight against perceived sexism. We must recall, she was beaten by a woman, and the match wasn't particularly close. Who is to say that Serena Williams doesn't want to be held to a unique set of lower standards while the rest of the tennis playing society, except maybe Venus, adhere to the regular standards.
And here we find the core flaw in championing victimhood. The ones in society claiming victimhood aren't interested in restoration, rather elevation. Recall the Black Lives Matter movement. A normal person evaluated each notorious cop shooting on its merits. Yet the facts of each case didn't matter to the BLM activists. It didn't matter whether the dead was armed, committing a crime, or attacking a police officer. The facts of several cases were ignored to push a status of victimhood. The goal of the movement was not to end police shootings or brutality for everybody but to hold black Americans to a different standard in law enforcement. Championing victimhood does the opposite of championing equality or meritocracy. It creates division and double standards. Serena Williams isn't interested in gender equality; she just wants to deflect blame and distract from her loss.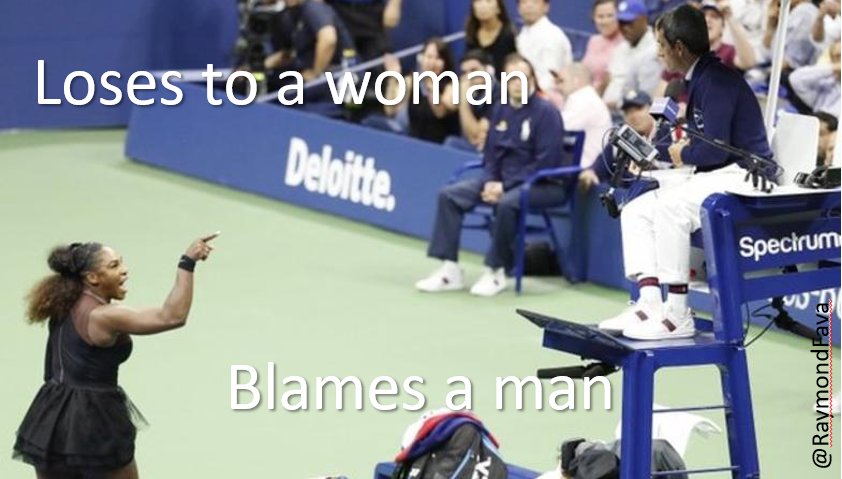 President Trump lowers himself to SNL's level every time he gives them attention
Many conservatives have been in the midst of a conundrum since the 2016 election. On one hand, there are things to like about President Trump's agenda as he cuts bureaucracy, reduces our tax burden, and addresses certain foreign policy issues appropriately. On the other hand, he has the temperament of a high school student at times and seems reluctant to act like the President of the United States.
The latest example of his willingness to dive into the fray with unimportant but insulting entities is his ongoing war with SNL and NBC.
Nothing funny about tired Saturday Night Live on Fake News NBC! Question is, how do the Networks get away with these total Republican hit jobs without retribution? Likewise for many other shows? Very unfair and should be looked into. This is the real Collusion!

— Donald J. Trump (@realDonaldTrump) February 17, 2019
My advice to the President:
Seriously, Mr. President, please just ignore them. Yes, they insult you. Yes, they mock you. Yes, they hate you. But you're doing them a favor when you pay so much attention to them just because they were able to prick below your paper-thin skin. Collusion? No. It's comedy, and not very funny comedy at that. There's nothing they can do to actually hurt you in the eyes of the American public because those who are still watching aren't your friends anyway. Even if some of your allies are watching, it's not like they're saying to themselves, "Man, I liked Trump but now that I've seen Alex Baldwin's latest skit, I'm changing my mind."
This is below the President. It's so far below the President that much lesser-known people who get made fun of by SNL have the common sense to either ignore it or play along with the gag. President Trump is one of the few people of power who actually takes SNL seriously enough to draw as much attention to them as possible. It's counterproductive and will only make them want to attack more often.
How many people actually watched the skit before the President Tweeted it? Now, he's chosen to make the skit go viral, emboldening Baldwin and the whole SNL crew into wanting to make fun of him even more. It's one of the saddest displays of inappropriate attention being given to something so far below the White House it's a wonder that he took the time to Tweet about it, let along watch it and get masses of others to watch it as well.
Every time he gives SNL this level of attention, all he does is reaffirm what his detractors already think while making his supporters scratch their head wondering why the most powerful man in the world is whining about a comedy sketch.
This old Tweet by Jussie Smollett may have been prescient as a condemnation of his gullible supporters
As the walls (and possibly law enforcement) continue to close in on actor Jussie Smollett following reports he hoaxed the world by pretending to be attacked by Trump supporters, a Tweet from 2016 is quite interesting.
In today's context, this quote would demonize those who believed Smollett's suspicious claims without even considering the possibility they could be made up. It's one thing to think Trump supporters are racist. It's another to take this belief and use it as intellectual cover to blind one to obvious truths. Smollett seems to be calling out the very people who have supported him.
As Jussie Smollett story evolves, let's not give it the Covington Catholic School treatment
When a juicy story hits social media, the instant reaction is to run with it and all the implications. That's the nature of our on-demand, always-on, real-time media world. The only thing faster than hot takes from the first hint of a story are the assumptions made by both sides regardless of the details.
Such is the case with Jussie Smollett, the actor who was allegedly attacked by MAGA-loving bigots. Smollett, a gay man of color, was allegedly targeted on the streets of Chicago, but now reports are coming in that it may have been an elaborate hoax designed to help him save his job on the cast of Empire.
And there it is. @ABC7Chicago: Jussie Smollett reportedly staged Chicago attack after being told he was being written off Empire. https://t.co/hjFln4Gk6q

— Emily Zanotti (@emzanotti) February 15, 2019
But so far, police have only confirmed that Smollett is still being treated as a victim. Yes, there were two persons of interest questioned by police. Yes, Smollett skipped a voluntary interview with police this morning. Yes, the story was strange from the start and this new narrative seems to match much better regardless of which side of the political or cultural aisle you're on.
And yet, nothing has been confirmed.
It's incumbent on us, whether journalists or simply social media users, to wait for the facts before jumping to conclusions. It works in both directions.
Regarding Jussie Smollett, let's PLEASE wait for a report from authorities. Just as the left jumped too quickly on the Covington Catholic School story, so too am I seeing conservatives scream #HOAX without confirmation from law enforcement. If/when he's charged, then we #Pounce.

— JD Rucker (@JDRucker) February 15, 2019
Was it all a hoax? Possibly. Some who are looking at he evidence today and the report released by local Chicago news may come to the conclusion that a hoax was likely. But let's not assume until the truth is revealed by officials.