LeSean McCoy domestic violence accusation: the "Hold My Beer" of recent NFL player scandals
Players getting into trouble off the field is nothing new for the NFL, but the accusations levied against LeSean McCoy on Instagram tops the accusations made and found true against the likes of Ray Rice, Michael Vick, Adrian Peterson, and countless others. This follows a recent arrest of former Seattle Seahawk, Brandon Browner, being charged with attempted murder.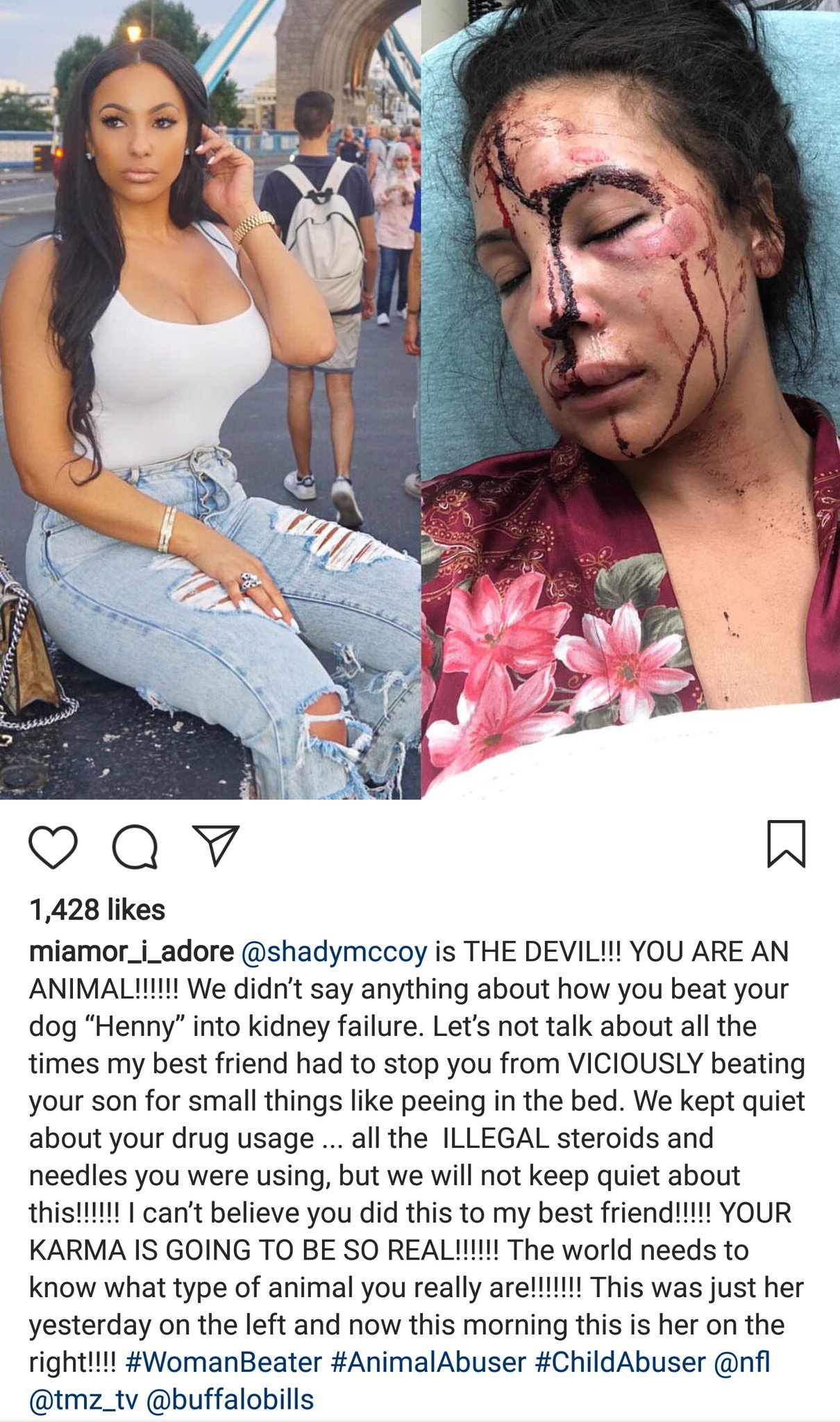 Shady McCoy is publicly accused of illegal drugs, PED, animal abuse, domestic abuse, and child abuse. The seriousness of the accusations alone could endanger his career. Like any person guilty or innocent, McCoy took to denying the accusations, claiming to have had no direct contact with them in months.
LeSean McCoy's defense is he has not had direct contact with the individuals involved in months. So, he's saying he isn't an active role in his child's life. What a dirt bag.

— Raymond Fava (@RaymondFava) July 10, 2018
But the evidence is being gathered. Police say they are investigating a home invasion of the victim's residence. So far, McCoy has not been named a person of interest.
The report from the Milton (Ga.) Police on the home invasion late last night involving a victim whose friend then accused #Bills RB LeSean McCoy of domestic violence. McCoy adamantly denied the accusations. pic.twitter.com/zpw2xbVyGF

— Ian Rapoport (@RapSheet) July 10, 2018
Furthermore TMZ reports that the victim has lawyered up and named LeSean McCoy as the orchestrater of the attack. This changes the narrative from the original IG post, but in no way lessens the severity. As of now, McCoy stands accused of sending people to do this attack.
Delicia Cordon has hired attorney Tanya Mitchell Graham — who issued a statement saying Delicia was sleeping early Tuesday morning when a man entered her Georgia home and pistol whipped her.
Graham says the assailant demanded specific items of jewelry that had been given to her by McCoy — jewelry that McCoy had previously demanded she return to him. She claims the victim also sustained injuries to her wrist when the assailant tried to rip off her bracelet.
Graham claims before the incident, McCoy "would often suggest to Ms. Cordon that she could be robbed because the jewelry was expensive."
Graham — who's joined by associate attorneys Demetrius Price and Kiarra Brown — never straight-up accuses McCoy of criminal activity, but strongly implies it.
For example, Graham claims the assailant entered the house with NO signs of forced entry. She also claims McCoy changed the security system at the house and did not give Cordon access to the new one.
She also claims McCoy has a documented history of having other people do his dirty work for him — and references the time he allegedly ordered other people to evict her from his home in June and remove her furniture from the house.
Graham says despite the fact Cordon and McCoy have had a relationship since 2016, he has NOT called to check in on her since the details of the violent attack went public.
Final Thoughts
LeSean McCoy doesn't have a reputation for being a model citizen. As Smitty of Barstool Sports notes:
Look, LeSean McCoy has always been a shitbag of a human. Not tipping, among many other examples, justifies that fact.

But (allegedly) beating up women, a child, and a pup to the point the poor animal suffers kidney failure ensures anyone a first ballot HOF nomination into hell.

— Smitty (@SmittyBarstool) July 10, 2018
The odds of Shady McCoy being guilty are high. That being said, the NFL doesn't wait for due process. Otherwise Ezekiel Elliott wouldn't have undergone a 6 game suspension. They will have to act as this scandal is prime to escalate and disrupt the storyline of the upcoming season.
Listen to every word Burgess Owens says about reparations
Former NFL player Burgess Owens delivered an amazing speech before Congress today talking about reparations. He called for them, but not from the United States government as Democrats are wanting. He wants reparation paid by the Democratic Party to the African-Americans Owens believes have been hurt by the leftist ideology espoused by today's Democrats.
The opening minute of his speech was exceptional:
"Thank you so much for this opportunity. I'm gonna take a different tack from beginning. We are at this point, this is not about black and white, rich or poor, blue collar, white collar. We're fighting for the heart and soul of our nation.
"We have a very, very special country instilled with the Judeo-Christian values that allowed every single generation become better than the last, and that has not ended, that has not stopped… until now. We're telling our kids a little bit something different, that they don't have the opportunities that we had.
"I'm going to talk about some ideologies and when I talk about them I'm not talking about people. People change. I used to be Democratic until I did my history and found out the misery that that party brought to my race. So when I talk about these ideologies, ideologies don't change. People do.
"We are fighting for the heart and soul of our nation against socialism, Marxism, and evil that it has brought to us in distilling of our history. Karl Marx said it best, the father of socialism, an atheist, anti-semite, and a blatant racist."
As good as his opening was, the rest of it was even better.
In our post-truth society, the words of Burgess Owens will be dismissed or ignored by the left. But hopefully some will hear them and start asking questions about Democrats as he did.
We are currently forming the American Conservative Movement. If you are interested in learning more, we will be sending out information in a few weeks.
Socialism is the antithesis of the American dream
It's very rare that I get riled up over internet trolls. I appreciate those who read through comments, DMs, Tweets, Facebook posts, and other attempts to spew vitriol on conservatives, Christians, and the things we believe in, but I'm not one of them. I can count on two hands the number of times this year I've engaged with the people who try to troll me on social media. Life's too short.
Every now and then, I do come across a troll who strikes a nerve. It's rarely about me when it happens; I've heard every variation of ad hominem attacks over the years. But one troll in particular made a passionate argument that actually has me concerned. It wasn't just what they posted but how adamant they were about being correct that has been itching in the back of my mind for several days.
I finally addressed it tonight in a Tweet:
Socialism is now being billed as an "alternative path" to achieving the American dream.

Socialism is the antithesis of the American dream. It's a path that leads some people (and possibly the rest of us if the socialists get their way) in the absolute wrong direction.

— JD Rucker (@JDRucker) June 16, 2019
I won't share the original offending post. There's no need to draw attention to one of the standard 45-follower troll accounts who like to provoke conservatives and spread their false perspectives in the reply sections of bigger accounts. Instead, I want to address the fundamental issue with the notion of socialism being an "alternative path" to achieving the American dream.
There are definitely multiple paths to achieving it. Most get there by working hard and building a lifestyle for themselves and their families. Some go to college. Some go straight to work. Some get jobs and move up the ladder. Others build their own businesses and struggle through rough times to get to better times.
Some get lucky; I've bought a few lottery tickets in my life, just in case I'm one of them. Others are beneficiaries of the hard work and/or luck of their families.
But there's one way of achieving a false version of the American dream that is often glorified (to some extent) in Hollywood. But it isn't just fictional. It happens in every American city every day. Theft is not a proper path to achieving the American dream. Just because Tony Montana went from being a low-level pawn to the king of a criminal empire in the movie Scarface doesn't mean his version of achieving the American dream is acceptable. It's not.
Al Pacino's titular character used violence and sold drugs to get there, but sometimes the theft of prosperity doesn't involve a gun. In The Wolf Of Wall Street, Jordan Belfort used unethical and illegal methods to commit financial crimes. And unfortunately, this depiction isn't entirely fictional. The real Belfort committed real crimes to steal prosperity from others. Did he achieve a dream? Yes. Was it a version of the American dream? Absolutely not.
As we continue our way down from drug lord to Wall Street criminal, we come to another piece of fiction that I must admit up front I didn't watch. The Hunger Games series of books and movies depicts a class structure in which the elites are both dependent on and masters over the rest of the people in other districts who are forced to live in poverty without the potential to do more with their lives. It has been heralded as a rallying cry against the Marxist variation of the bourgeoisie and their elite masters. Only through armed revolt are the oppressed able to take their fair share from the bad guys in the upper echelons of this Dystopian society.
And that's where we're headed today. The rise in popularity of socialism is driven by a mentality that if the elites can be heeled into contributing their "fair share" to American society, more Americans will be able to achieve the dream that was promised by birthright. In fact, they've extended it beyond birthright to include anyone who can make it into the United States regardless of how they managed to get here. This "Hunger Games mentality" is seen by many radical progressives as a way to take prosperity achieved by others and redistribute it to the masses who cannot achieve the dream on their own.
It's a false notion on multiple levels, but I'm just going to address two. First, achieving prosperity through the work of others is not part of the American dream. This, more than anything else, is why socialism is not an "alternative path" to the American dream. It's the antithesis of it. Second, the very concept of socialism and the hope that's now creeping into the radical progressive consciousness that it can actually be achieved is offensive to the supposed beneficiaries. We have big enough problems trying to take care of the portions of society who truly need assistance because they cannot work. By adding in a new group of people who must be taken care of simply because they're unwilling to work, how can any thinking human being believe this is going to solve problems?
Socialism offers a path to laziness and too many people are starting to buy into the notion that they'd rather be beholden to government for the sake of personal security than work their way to achieving the American dream on their own. This is part of the rising victim mentality. It's a side-effect of the lies being promoted by the vast majority of Democratic candidates for president. It's the rallying cry for those who see in Representative Alexandria Ocasio-Cortez and her hyper-leftist handlers at the Justice Democrats a path to personal economic security that does not require input from the recipients.
What the leaders of the socialist movement know but are unwilling to acknowledge is equality of economic status can only be achieved at the detriment of economic freedom. When economic freedom us subverted, the ability of those who would initially drive a socialist utopia dries up over time. As Margaret Thatcher famously noted, "The problem with socialism is that you eventually run out of other people's money."
Some people steal the American dream through murder, theft, or manipulation. Others want to make it all legal by installing socialism in America. Just because it could eventually be legal doesn't make it less of a crime.
We are currently forming the American Conservative Movement. If you are interested in learning more, we will be sending out information in a few weeks.
Jessica Biel goes anti-vaxxer and Twitter goes nuts
If you want to get scorn from both sides of the political aisle, come out against vaccines. Progressives, conservatives, and everyone in between seems to have a majority of people in favor of laws that would force parents to get their children vaccinated.
California is currently debating legislation that would eliminate many of the exemptions currently used by parents to prevent their children from being vaccinated. Actress Jessica Biel met with lawmaker to discuss it, and suddenly Twitter is loaded with hate for the Total Recall reboot star.
Jessica Biel meets with legislators to discuss California vaccination bill
When it comes to healthcare issues, the debate normally rests around costs. Healthcare rights of parents are ignored, pushed into the trash bin of "settled science" that makes many go completely unhinged when skeptics voice their concerns. Google has gone so far as to "educate" the population; you won't find videos attacking vaccines without a clear warning by YouTube attempting to debunk their concerns.
For some reason, it's been turned into a conspiracy theory when in reality it comes down to the rights of parents. But don't call it that in the wrong crowd. You'll be labeled an anti-vaxxer like Jessica Biel.
We are currently forming the American Conservative Movement. If you are interested in learning more, we will be sending out information in a few weeks.