LeSean McCoy domestic violence accusation: the "Hold My Beer" of recent NFL player scandals
Players getting into trouble off the field is nothing new for the NFL, but the accusations levied against LeSean McCoy on Instagram tops the accusations made and found true against the likes of Ray Rice, Michael Vick, Adrian Peterson, and countless others. This follows a recent arrest of former Seattle Seahawk, Brandon Browner, being charged with attempted murder.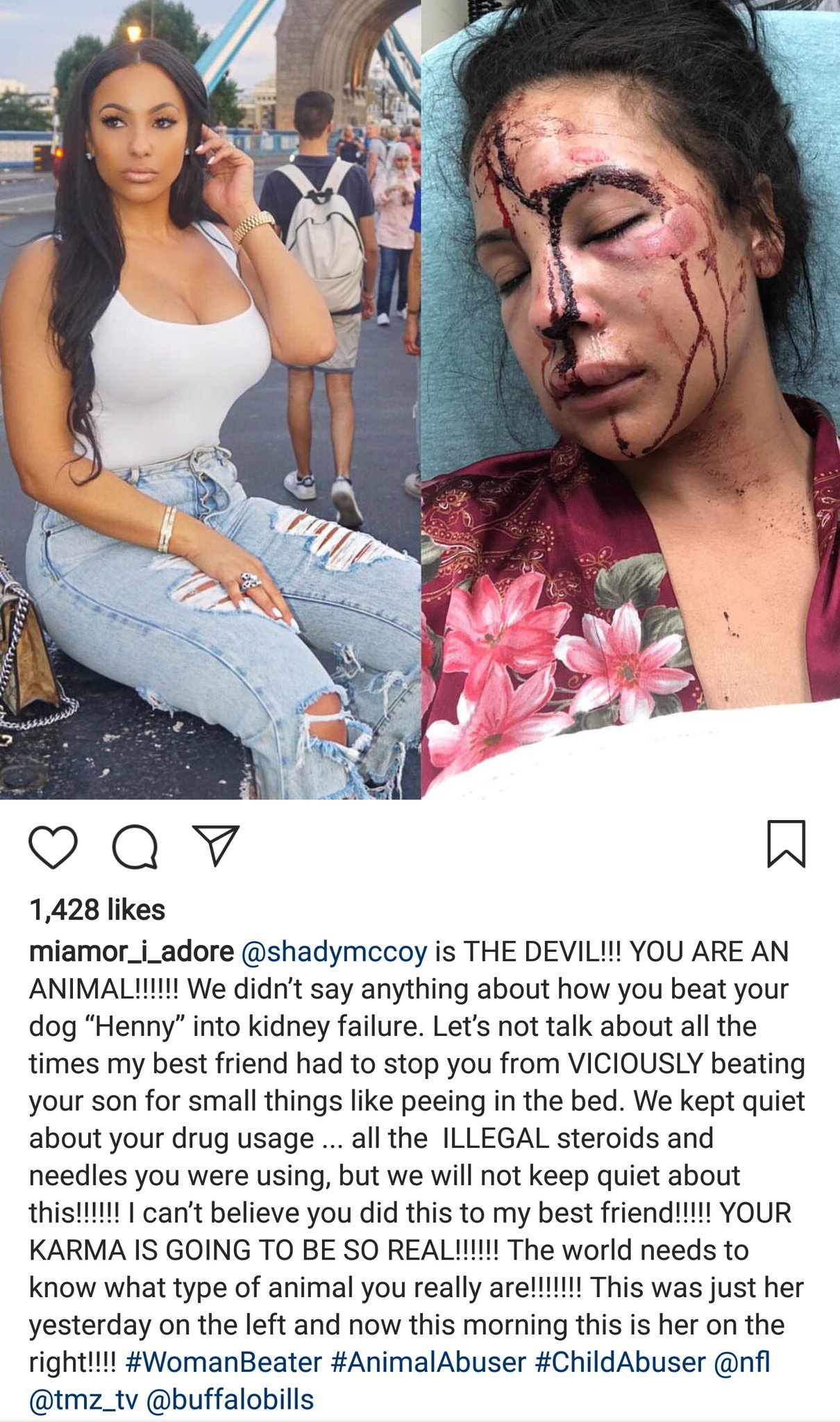 Shady McCoy is publicly accused of illegal drugs, PED, animal abuse, domestic abuse, and child abuse. The seriousness of the accusations alone could endanger his career. Like any person guilty or innocent, McCoy took to denying the accusations, claiming to have had no direct contact with them in months.
LeSean McCoy's defense is he has not had direct contact with the individuals involved in months. So, he's saying he isn't an active role in his child's life. What a dirt bag.

— Raymond Fava (@RaymondFava) July 10, 2018
But the evidence is being gathered. Police say they are investigating a home invasion of the victim's residence. So far, McCoy has not been named a person of interest.
The report from the Milton (Ga.) Police on the home invasion late last night involving a victim whose friend then accused #Bills RB LeSean McCoy of domestic violence. McCoy adamantly denied the accusations. pic.twitter.com/zpw2xbVyGF

— Ian Rapoport (@RapSheet) July 10, 2018
Furthermore TMZ reports that the victim has lawyered up and named LeSean McCoy as the orchestrater of the attack. This changes the narrative from the original IG post, but in no way lessens the severity. As of now, McCoy stands accused of sending people to do this attack.
Delicia Cordon has hired attorney Tanya Mitchell Graham — who issued a statement saying Delicia was sleeping early Tuesday morning when a man entered her Georgia home and pistol whipped her.
Graham says the assailant demanded specific items of jewelry that had been given to her by McCoy — jewelry that McCoy had previously demanded she return to him. She claims the victim also sustained injuries to her wrist when the assailant tried to rip off her bracelet.
Graham claims before the incident, McCoy "would often suggest to Ms. Cordon that she could be robbed because the jewelry was expensive."
Graham — who's joined by associate attorneys Demetrius Price and Kiarra Brown — never straight-up accuses McCoy of criminal activity, but strongly implies it.
For example, Graham claims the assailant entered the house with NO signs of forced entry. She also claims McCoy changed the security system at the house and did not give Cordon access to the new one.
She also claims McCoy has a documented history of having other people do his dirty work for him — and references the time he allegedly ordered other people to evict her from his home in June and remove her furniture from the house.
Graham says despite the fact Cordon and McCoy have had a relationship since 2016, he has NOT called to check in on her since the details of the violent attack went public.
Final Thoughts
LeSean McCoy doesn't have a reputation for being a model citizen. As Smitty of Barstool Sports notes:
Look, LeSean McCoy has always been a shitbag of a human. Not tipping, among many other examples, justifies that fact.

But (allegedly) beating up women, a child, and a pup to the point the poor animal suffers kidney failure ensures anyone a first ballot HOF nomination into hell.

— Smitty (@SmittyBarstool) July 10, 2018
The odds of Shady McCoy being guilty are high. That being said, the NFL doesn't wait for due process. Otherwise Ezekiel Elliott wouldn't have undergone a 6 game suspension. They will have to act as this scandal is prime to escalate and disrupt the storyline of the upcoming season.
Game of Thrones Final Season Episode 2 Review
As with episode's one's review there is no promise of keeping free of spoilers. In fact there is nothing to spoil. Last week's episode was gritty in a political thriller sort of way as the divided North became the main focus. Episode 2 takes place in the limbo period between the preparation episode and the battle itself. It served as a second preparation episode that was unnecessary filler between two important events. In practice, I like to keep these reviews free of shiny objects and focus on the more analytical aspects of the show, but those were few and far between.
Verdict: Episode 2 was a hollow turd.
Ser Jaime
Ser Jaime Lannister is the MVP of this episode, having the only interesting opportunities continuing throughout the script, but still failed to depict, accurately, Jaime's character once more. Jaime opens up on "trial" before his former enemies. In truth, Jaime, blurring the lines between sarcastic and serious, regards slaying Mad King Areys II as his "finest deed." He regrets little, but that which he regrets are the deeds of concealing his (past) love for Cersei, like throwing a child out of a tower, and [spoiler alert] lying to Tyrion about his first wife Tysha being a whore. The latter is an increasingly frustrating deviation that not only undermines Jaime's character development but has paved the way for HBO to emasculate Tyrion Lannister, metaphorically speaking as opposed to the literal emasculating of Theon Greyjoy. In confronting Daenerys, Jaime was not as defiant enough to make an interesting confrontation better. Instead this was undermined by the power struggle between Daenerys and Sansa, denying a far richer scene where Jaime declares that he saved half a million people. During the drinking scene that resembled previous buildups before battles, Jaime's character could have amended the Tysha deviation. This hope was unrealized; however, the episode's best scene was the knighting of Brienne of Tarth, a misfit too ugly to be a lady but unable to be a knight. "Any knight can make a knight" is a well-known Westerosi saying.
Lack of Military Realism
The show goes out of its way to paint incompetent characters like Sansa and Daenerys as quality leaders. Last week, was the first time characters acknowledged how selfish Daenerys is. Sansa is the last person on the show you want as a "wartime president." Very few remaining characters in Game of Thrones can play the game and command an army. Jon Snow is one. Tyrion is a second, but the show has made him irredeemably stupid. Jaime refused the game but technically has a winning record as a commanding officer. Bronze Yohn Royce was technically featured in the episode and can do both. Daenerys is probably better at military command than playing politics, but when you have dragons, it takes far less skill, Aegon the Conquerer proved as much. Last weeks episode delved into the logistics of war. That was virtually undone in this episode.
For instance Brienne of Tarth is given command of the left flank. Looking closely at the war maps, the left flank featured the knights of the Vale. Instead of having Lord Yohn Royce, a season military commander who fought in Robert's Rebellion, the Greyjoy Rebellion, led the winning cavalry charge in the Battle of the Bastards, has the loyalty of his men as the most powerful lord in the Vale, the show has Brienne of Tarth command the Vale's force. Brienne of Tarth has fought one battle, at most! She has never led an army and has no ties to the Vale. The only thing dumber than giving her command of the Vale would be giving her command of the Dothraki, who I believe are on the right flank, the place of honor in ancient Greek culture (perhaps relevant). It's not that Brienne of Tarth is unworthy of any command, they simply chose the second least believable place for her to lead.
Prepubescent Sex Scene
This is not the poorest written sex scene in Game of Thrones, that still belongs to Sansa being married off to Ramsay Bolton, one of the worst plot deviations from the books. Arya having sex with Gendry was up there though. Arya is eleven when the show starts. A year has passed, no doubt, maybe two, but not anything beyond three which would barely put her at fourteen, at most. It's not the combo, it's the age. Arya is a child, not a sensual woman. The show has unrealistically aged these characters. Heck, why didn't they recast Gilly's [Mance's] son? They've had over three Mountains, two Dario Naharises (both poorly casted), two Myrscella Baratheons, and I'm sure there are others.
Only Meaning
The only meaning in the episode that was of any worth was Bran revealing the motive of the White Walkers to erase the memory of mankind. There was no buildup and little foreshadow towards this reveal. Game of Thrones is all about placing mysteries on the backburner (who really killed Jon Arryn) but this was a little rushed.
Final Thoughts
This episode was less worthwhile than watching the first three episodes of Star Wars. You could have missed episode 2 and have gone straight to episode 3 and you would have missed nothing that wasn't known already. I'm not saying this was the worst Game of Thrones episode ever but its down there.
Boost This Post
Get this story in front of tens of thousands of patriots who need to see it. For every $30 you donate here, this story will be broadcast to an addition 7000 Americans or more. If you'd prefer to use PayPal, please email me at jdrucker@reagan.com and let me know which post you want boosted after you donate through PayPal.
Will you help revive the American Conservative Movement?
World made dumber by leftist Lil Dicky 'Earth' video
This is perhaps the worst song I've heard since the Mo Bama song. Music has truly descended into the cultural depths never ventured by previous generations. This is not art, rather its propaganda complied by the biggest names in the Pop/Rap music and whomever Lil Dicky is. The song is a call for action to stop climate change but is perhaps the least compelling argument for action I've ever seen. If this is what planet earth, sign us up for SpaceX trip to Mars.
One sign of trash music is autotune, because talented musicians never use autotune. But the only compelling reason this song offer for saving the earth is imminent danger that prevents male ejaculation and female orgasms. But the premise of the song is a lie. Human are not threatened by climate change. Forest fires in California result from poor forestry management. Warmer weather has historically been a net gain for almost every civilization in human history. It means increased yields in agriculture. The song is also not premised in real chronology. America is the leading nation reducing emissions despite not participating in the Paris Climate Accords. China and India, the two nations specifically called out in a superficially endearing way, are the leading polluters. The ocean garbage we hear about is not from America. And the Paris Climate Accords wanted to give them money. These celebrities joined forces to shame people who are not threatened by that which cannot kill us is yet. The song celebrates debauchery.
The lyrics read as though written by a middle schooler after sex ed class. "Earth" is trash and Lil Dicky is untalented. I've posted the lyrics so that you do not simply take my word for it.
[Intro: Lil Dicky ]
What up, world? It's your boy, just one of the guys down here. Well, I could be more specific. Uh, I'm a human, and I just wanted to, for the sake of all of us earthlings out there, just wanted to say:
[Chorus]
We love the Earth, it is our planet
We love the Earth, it is our home
We love the Earth, it is our planet
We love the Earth, it is our home
[Justin Bieber]
Hi, I'm a baboon
I'm like a man, just less advanced and my anus is huge
[Ariana Grande]
Hey, I'm a zebra
No one knows what I do, but I look pretty cool
Am I white or black?
[Halsey]
I'm a lion cub, and I'm always getting licked (Meow!)
[Zac Brown]
How's it going? I'm a cow (Moo!)
You drink milk from my tits (Moo)
[Brendon Urie]
I'm a fat, fucking pig
[Hailee Steinfeld]
I'm a common fungus
[Wiz Khalifa]
I'm a disgruntled skunk, shoot you out my butthole
[Snoop Dogg]
I'm a marijuana plant, I can get you fucked up
[Kevin Hart]
And I'm Kanye West
[Chorus]
We love the Earth, it is our planet
We love the Earth, it is our home
We love the Earth, it is our planet
We love the Earth, it is our home
We love the Earth
[Adam Levine]
Ba-dum-da-dum-dum, ba-dum-da-di
We are the vultures, feed on the dead
[Shawn Mendes]
We're just some rhinos, horny as heck
[Charlie Puth]
I'm just a giraffe, what's with this neck?
[Sia]
Hippity-hop, I'm a kangaroo
I hop all day, up and down with you
[Miley Cyrus]
I'm an elephant, I got junk in my trunk
[Lil Jon]
What the fuck? I'm a clam!
[Rita Ora]
I'm a wolf. Howl!
[Miguel]
I'm a squirrel, lookin' for my next nut
[Katy Perry]
And I'm a pony, just a freak horse, heh-heh-heh
But, uh, c'mon, get on (Yah)
Giddee-up, let's ride
[Lil Yachty]
I'm HPV, don't let me in
[Ed Sheeran]
I'm a koala and I sleep all the time
So what? It's cute
[Meghan Trainor]
We love you, India
[Joel Embiid]
We love you, Africa
[Tory Lanez]
We love the Chinese
[ Lil Dicky ]
We forgive you, Germany
[Chorus: Lil Dicky, (Snoop Dogg), Meghan Trainor, Lil Dicky & Sia, John Legend]
Earth, it is our planet (It's our planet)
We love the Earth (We love the Earth), it is our home (Home)
We love the Earth, it is our planet (It is our planet)
We love the Earth, it is our home
We love the Earth
[Verse 3: Lil Dicky ]
I'm a man (Hello?)
Can you hear me? (Anyone out there? Hello?)
I've trudged the Earth for so damn long
And still don't know shit (What's going on?)
I hope it's not a simulation (Huh)
Give each other names like Ahmed and Pedro
And, yeah, we like to wear clothes, girls still look beautiful
And it covers up our human dick (Woo), eat a lot of tuna fish
But these days, it's like we don't know how to act
All these shootings, pollution, we under attack on ourselves
Like, let's all just chill (Hey), respect what we built (Hey)
Like look at the internet! It's cracking as hell
Fellas, don't you love the cum when you have sex? (Ayy)
And I heard women orgasms are better than a dick (Uh)
So what we got this land for? What we gotta stand for?
Love, and we love the Earth (The Earth)
[Ariana Grande]
Oh, yeah, baby, I love the Earth
I love this planet
[ Lil Dicky ]
Hey, Russia, we're cool
Hey, Asia, all of you, c'mon
Every one of you from the plains to the Sahara
Let's come together and live
[Choir]
Hum-dum-dum-dae-dum, hum-dum-dum-dae-dum
[PSY]
우-우-우리는 지구를 사랑해요
[Bad Bunny]
Amamos la tierra
[Kris Wu]
我们爱地球
[ Lil Dicky ]
(We love you, we love you)
C'mon everybody, I know we're not all the same
But we're living on the same Earth
(We love you, we love you)
[Ariana Grande]
Have you ever been to Earth?
[ Lil Dicky ]
Everyone who is listening has been to Earth, Ariana
(We love you, we love you)
We're not making music for aliens here
[Justin Bieber]
Are we gonna die?
[ Lil Dicky ]
You know what, Bieber? We might die
(We love you, we love you)
I'm not going to lie to you
I mean, there's so many people out here who don't believe Global Warming's a real thing. You know? We gotta save this planet. We're being stupid
[Ariana Grande]
Unless we get our shit together now
Final Thoughts- if you bothered to read through this garbage
This song also enhances the most pagan notion of love that is both superficial and unfulfilling. If you are interested in real love, know that Jesus suffered for our sins. Know that life has more meaning that the base desires presented in this song. God has a plan for those who know Him.
Avengers: Endgame ending has leaked. Here are two reasons to avoid watching it.
Don't worry. I won't spoil the movie for you for two reasons. First, I haven't watched the leak. Second, if I watched the leak, I wouldn't be so cruel as to spoil it for anyone. I'm not Rosie O'Donnell.
What I will do is attempt to dissuade you from trying to find the ending. There are two important reasons to avoid it. The first is obvious. With the moving coming out in a little over a week, why would anyone who enjoys Marvel movies want to have the culminating movie spoiled for them? You're almost there, kid. Wait it out.
The second reason is less obvious. Hackers love to take advantage of buzz. They find what people are trying to find on the internet, especially things like spoilers or pirated shows, and they use the interest as an opportunity to spread malware. This has become so common, those who are fighting hackers will do the same thing by hunting for trends and anticipating which ones are going to be hit by the hackers.
You can't really trust anyone when it comes to fleeting interests like this. Even mainstream media sites have linked to what they believe to be a safe and innocent piece of content, and for a time it is. But once interest grows and traffic starts going up, hackers replace the original safe content with malware-laced content, hitting all the unsuspecting victims until their subterfuge is discovered. But by the time that happens, they've already infected countless devices.
Do yourself a favor. Wait a week and a half. It may be hard for some who are so desperate to find out if Captain America or Iron Man jumps on a Thanos hand grenade to protect their friends, but it's worth the wait.
Boost This Post
Get this story in front of tens of thousands of patriots who need to see it. For every $30 you donate here, this story will be broadcast to an addition 7000 Americans or more. If you'd prefer to use PayPal, please email me at jdrucker@reagan.com and let me know which post you want boosted after you donate through PayPal.
Will you help revive the American Conservative Movement?