Bridge Collapsed in Miami
A so-called "instant" bridge collapsed in Miami early this afternoon just days after its installation, reportedly trapping pedestrians underneath.
The bridge was installed by Florida International University to give students a safer crossing over, rather than across, the busy seven-lane Tamiami Trail.
The main span is 174 feet long. Pictures from the scene show most of the span collapsed and pancaked.
CNN is reporting that multiple people have been killed. Possibly a dozen dead.
---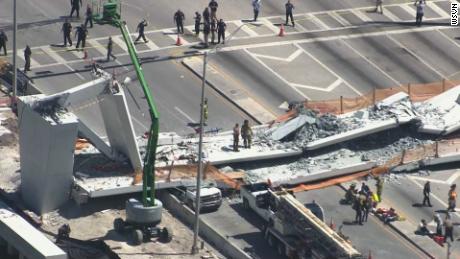 (CNN)Multiple people have died as a result of a pedestrian bridge collapse at Florida International University in Miami, according to a spokesman with the Florida Highway Patrol.
Instant bridge? Not quite, but in a single morning Florida International University dropped a new elevated pedestrian span into place over the Tamiami Trail to provide students a safe route over the perilous roadway for the first time.
Once it's finished in early 2019, the new pedestrian bridge will link FIU's Modesto A. Maidique Campus directly to the small suburban city of Sweetwater, where the university estimates 4,000 of its students live.
A pedestrian bridge under construction collapsed Thursday, just days after crews dropped an elevated 950-ton span in place in a project that was intended to give Florida International University students a safe route across the busy roadway.
The bridge crashed across six lanes of heavily traveled Tamiami Trail, crushing a still undetermined number of car and killing a still unclear number of people. Police on the scene said at least six people could be dead. The Florida Highway Patrol reported five or six cars were trapped under the bridge. Miami-Dade County police said at least eight cars had been crushed under the walkway, which was not yet open to student traffic.
---
NOQ Staff Contributors: Eric Dixon & Terresa Monroe-Hamilton
Amazon backs out of NYC headquarters
One of the most talked-about business decisions last year was Amazon's choice of New York City (technically, Long Island City across from Manhattan) as one of its new headquarter homes. Opposition to the deal was heavy from both sides as the right thought the price in the form of tax cuts was too high while the left wondered why a company the size of Amazon needed tax cuts in the first place.
Now, it seems like it's a moot point. Amazon has decided to pull out of New York City while continuing their plans with Washington DC and Nashville.
@AOC VICTORY! Congratulations Congresswoman, you have saved you city. SMH… Amazon pulls out of plan to build New York City headquarters https://t.co/pqhuLEj3GG #FoxNews

— John Ward (@YamIinRI) February 14, 2019
My Take
Is this a negotiating tool? That would be hard to swallow since the deal they were getting was so good, it's hard to imagine needing to negotiate for even more incentives. Then again, it's Amazon. It's Jeff Bezos. They have a ton of influence and would be considered an amazing prize for any city, even the biggest of them all.
We'll keep a close eye on this one. It's not that we're overly concerned about the business moves of Amazon, but this new development puts such a new wrinkle in understanding one of the most powerful companies in the world.
Trump asks California to return $3.5 billion for bullet train, but plans appear to still be moving forward
The dream of past Democrats to have a speedy, environmentally friendly train that connected San Francisco and Los Angeles is officially dead. New Governor Gavin Newsom declared earlier this week it was time to pull the plug on the failed project that has already cost a ton of money while facing years of delays.
Now, President Trump is asking for the federal government's money back.
California has been forced to cancel the massive bullet train project after having spent and wasted many billions of dollars. They owe the Federal Government three and a half billion dollars. We want that money back now. Whole project is a "green" disaster!

— Donald J. Trump (@realDonaldTrump) February 14, 2019
Green disaster, indeed.
This project was doomed from the start in the eyes of many observers, particularly those who recognize the reality that whatever big projects the government decides to undertake will invariably cost more, take longer, and work worse than anticipated. This train was no exception as it's best-case scenario placed it being complete by 2033.
Now, it's not going to happen… or is it? According to Curbed SF, a more modest stretch will continue to be built between Merced and Bakersfield. They also quoted local politicians in San Francisco who said the project will still include the full scope of the original plan.
California high-speed rail between LA to SF still on, says governor. https://t.co/9tDiIYvY46 pic.twitter.com/mLg9E2RM2J

— Curbed SF (@CurbedSF) February 13, 2019
Estimates put the project at $37 billion over budget. Meanwhile Los Angeles can barely contain its homeless problem and San Francisco has more drug abusers than public school children. Yes, California is a shining example of poor prioritization by the far-leftists in charge.
Charlie Kirk: We love the environment which is why we need market solutions
Charlie Kirk from Turning Point USA and Nathan Rubin from Millennial Politics took to Fox & Friends this morning to have a short debate over the Green New Deal. While we should give Rubin kudos for his willingness to address the insane piece of legislation, it didn't play out as well as he would have liked.
The problem isn't that he's bad at making points or that Kirk is a prime-time debater. The problem is it's almost impossible to intellectually defend the Green New Deal. It only works on an emotional level, as our EIC noted on Twitter:
The Green New Deal is intended to pull at our heartstrings. We're supposed to weep for the environment, but what people like @AOC won't tell you is the tears are used to blur our vision from seeing the lunacy of their proposal.

Protect the environment? Yes! But not like this.

— JD Rucker (@JDRucker) February 13, 2019
Whether one believes in man-made climate change or not, we should all be able to agree we should be good stewards of the world around us. The best way to do this is not through mandates or gigantic pieces of legislation. It's through the free market that works with an educated populace…
…and therein lies the problem. We do not have an educated populace. We have a populace that feels like it's educated, but it's through our higher education system that some of the worst ideas invariably come. The Green New Deal is a product of the indoctrination being pushed through society via education, mainstream media, and other forms of leftist propaganda at nearly every level of society. The concepts that work, namely freedom and capitalism, are the very concepts we should be working through to improve the world… and that includes the environment itself.
This excellent take by Kirk is one of the shining examples of how Americans should be thinking when addressing problems like climate change. Instead, we're stuck battling against leftist principles of big government being the solution to everything.