Most foreign affairs analysts rightly predicted the rhetoric that would come from most of the Muslim political world following President Trump's announcement that the U.S. would recognize Jerusalem as the capitol of Israel and move the U.S. Embassy there. The reaction of Turkish President Erdogan has been more boisterous than just about anyone expected, considering he's been relatively quiet in regards to Israeli-Palestinian relations for several months.
Now, he's getting downright nasty: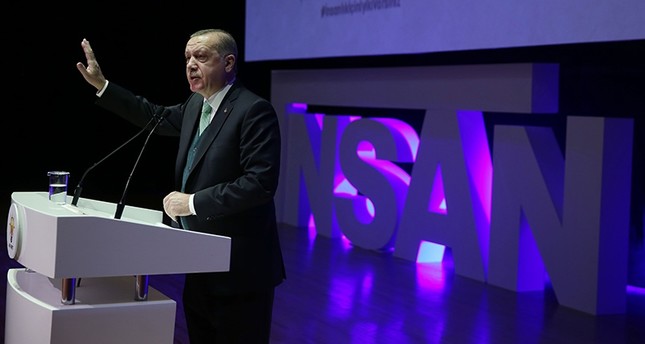 "Those who turn Jerusalem into a prison for Muslims and members of other religions will never be able to clear the blood off their hands," Erdoğan said at an event held in the capital Ankara.
The ongoing Jerusalem dispute will be a decisive point in determining who is sincere in its quest for peace, the president said. "In this case, nobody who is not on the side of the oppressed and righteous can say a word about human rights or global and regional peace. We will follow the declarations and statements on the subject of Palestine and Jerusalem, and we will give everyone their note accordingly."
The president's tone over the weekend was even harsher. "Israel is a perfect invader state," Erdoğan said. He also called Israel "a terrorist state." "We won't leave Jerusalem to the mercy of a child-murdering country."
This does not bode well for either Israel or the United States. Turkey is a NATO nation, though they've been growing more and more cozy with Russia and other non-NATO nations over the last two years. Israel is already facing backlash around the globe. To have it come so harshly from one of the most powerful leaders of the Muslim political world is troubling.
Israeli Prime Minister Benjamin Netanyahu responded with his characteristic flair:
Israeli Prime Minister Benjamin Netanyahu, speaking at a news conference in Paris alongside French President Emmanuel Macron after the two leaders met, responded to Erdogan:
"I'm not used to receiving lectures about morality from a leader who bombs Kurdish villages in his native Turkey, who jails journalists, helps Iran go around international sanctions and who helps terrorists, including in Gaza, kill innocent people," Netanyahu said, according to Reuters.
This is a story to watch very closely in the coming weeks. Threats from the Palestinians themselves have been manifesting into real violence. Iran and Syria are always a threat. Jordan has soured on the U.S. and Israel following the move. Egypt isn't happy. With Erdogan ramping up the rhetoric, it's likely other leaders who have voiced concern could follow his lead and call for more than just protests. This could be the start of multiple major conflicts that could pull Israel and the United States into war.
It behooves patriots to acquire physical gold and silver or make the move to self-directed precious metals IRAs from
America-First companies
that do not donate to Democrats. Go to
Our Gold Guy
for the personal buying experience with Ira Bershatsky. Go to
Genesis Gold Group
, a Christian fellowship-driven precious metals company. Or go to
GoldCo
for peace of mind from a bigger company.
---
---
Yes, We Need Your Help
I hate being "that guy" who asks people to donate because I think our conservative news network is so crucial, but here I am…
When I left my cushy corporate job in 2017, I did so knowing that my family would have to make sacrifices. But I couldn't continue to watch the nation slip into oblivion and was inspired by President Trump's willingness to fight the good fight even at his own personal expense. What I didn't realize then is that conservative media would be so heavily attacked, canceled, and defunded that the sacrifices would be extreme.
Many in this nation are struggling right now even though we weren't struggling just a few years ago. I'm not alone. But I wake up every morning and operate the sites we've been able to build because there's really no other choice. I refuse to be beholden to Big Tech like so many other conservative news outlets, which is why you won't see Google ads here. With that said, it's often challenging to pay the bills and it's even harder to expand so we can get the America First message out to a wider audience.
The economic downturn has forced me to make a plea for help. Between cancel culture, lockdowns, and diminishing ad revenue, we need financial assistance in order to continue to spread the truth. We ask all who have the means, please donate through our Giving Fuel. Your generosity is what keeps these sites running and allows us to expand our reach so the truth can get to the masses. We've had great success in growing but we know we can do more with your assistance.
We currently operate:
Five other conservative news sites
I would even be willing to entertain investments and partnerships at this stage. I've turned them down in the past because editorial purity is extremely important. I'll turn them down again if anyone wants us to start supporting RINOs or avoid "taboo" topics like voter fraud, vaccines, or transgender supremacy. But I'd talk to fellow America First patriots who want to help any (or all) of our 10 news sites. Hit me up at jdrucker (at) substack (dot) com if you're interested.
For those who have the means and just want to help keep the mission of spreading a conservative, Christian message to the nation, please consider a generous donation.
---
Covid variant BA.5 is spreading. It appears milder but much more contagious and evades natural immunity. Best to boost your immune system with new Z-Dtox and Z-Stack nutraceuticals from our dear friend, the late Dr. Vladimir Zelenko.