Fast and furious: Korea edition
A few weeks ago I wrote about my opposition to continuing the war in Afghanistan. I explained why. My opposition to remaining in Afghanistan was based on personal experience and a firm understanding that continued fighting is useless. It doesn't mean I'm a libertarian or a liberal who thinks if we just try to get along with everyone all war can be avoided.
Korea is a whole other ball of wax. Kim Jong-un is directly threatening the United States, not to mention the rest of the world, with hydrogen warheads on his ICBMs, which may or may not be able to hit something other than the Sea of Japan.
North Korea's current leader is far more confrontational than even his father and grandfather were, and it seems that things may be coming to a head after more than 65 years of stalemate on the Korean Peninsula.
Korea is an interesting socio-political example. You have the Republic of Korea (ROK) in the south which is capitalist, free, prosperous. They have successful trading relationships with much of the world.
Then you have the deceptively named Democratic People's Republic of Korea (DPRK) in the north. Communist, totalitarian, with people living in abject poverty, and what little the country does have used for their military, largely coming from their communist patron, China. North Korea's military is formidable, but it's really all they have, making it inevitable that they will eventually want to use it to conquer their southern brothers, and conquer the wealth they've accumulated.
When the North comes across the DMZ it will be with the coiled energy of six decades of military buildup. Their artillery will rip apart the massive minefields we've laid in wait for them. North Korean commando units will likely infiltrate the South prior to any invasion and wreak havoc. Tanks will enter Seoul in a matter of days, at best. More likely, hours. Maybe we beat them back, at which point Kim Jong Un launches ICBMs carrying nuclear weapons at Tokyo and Washington DC.
That's the nightmare scenario, of course. There is another option. We could hit them first.
Many on the American Left have expressed displeasure at President Trump's rhetoric regarding this particular portion of what President George W. Bush called the "Axis of Evil." Personally, I hope his rhetoric matches the action we actually take.
This country is struggling through difficult times. We're in serious debt, radical groups of every stripe are rising to create chaos, and this hurricane season is making up for the fact that we have not had a serious hurricane problem since Katrina. The last thing we need is a lunatic running around the Far East with nuclear weapons. What we need second least is to get into yet another protracted war.
President Trump's rhetoric is not dissimilar to Secretary of Defense James Mattis' own rhetoric on the matter. Mattis is someone who has much more credibility than Trump on these matters, having served his entire adult life as a Marine officer and is one of the most respected generals in a generation. There is little doubt that he has a plan for every contingency, and I'm sure he is telling Trump exactly what I would tell him, which is this is not a war like we've seen in the last half century.
This will not be about politics, or making sure the people of the DPRK like us. Should another open conflict with North Korea come, this will be about the complete annihilation of Kim Jong Un's military forces, in the air, on the ground, and at sea.
North Korea's naval forces will be of little concern to our Navy, but as we've seen with recent collisions at sea, there is always the possibility of terrorist attacks causing significant damage to our ships. Their air forces are older, and our Air Force, Navy, Marine Corps, not to mention the ROK's very competent Air Force, should have no problem handling them. However, the DPRK has a robust anti-air defense network, including plentiful modernized radars, missiles and anti-aircraft guns. Our pilots would face the densest anti-air network possibly in history.
The B-2 Spirit stealth bomber and the fifth generation F-22 Raptor would no doubt find themselves gainfully employed. B-1Bs and F-15Es, some of them flown by old friends of mine, would likely shoulder the bulk of the strike duties. Mobile surface-to-air missile (SAM) batteries would still be a threat even after the stealth aircraft had whittled the stationary SAMs down to size.
Establishing air supremacy very quickly would be vital. The Korean Penninsula doesn't have a lot of land to trade for time, and Seoul, the capital and home to a quarter of the population of the ROK, isn't far from the DMZ.
The ground war will be messy. We can move soldiers fairly quickly by air, but moving M-1A2 Abrams tanks, Strykers, and Bradleys is much more difficult and time consuming. Equipment prepositioned at various locations cuts down on the time, but as I mentioned already, time is at a premium. The armies of the US and ROK will need to slow the advance of the DPRK until the Air Force and Navy can start to cut off their supply routes and then kill the advancing units.
I have no doubt we will win, but the casualties will be high, and we have to make certain we hit the DPRKs nuclear capabilities very early on to prevent a scorched earth retaliation. The war will be fast and furious, but if it comes, I hope it will be one trouble spot we can finally leave behind and allow the ROK to integrate what is left of the DPRK into their society with a minimum of help from us. We don't need more mouths to feed. I've already pointed out we have enough problems already.
Is Israel on the brink of war?
Israel and Iran continue to trade threats and missile attacks over Syria as the latest round targeted Iranian Quds forces near Damascus. The IDF, which has confirmed attacks recently, went so far as to announce the attacks on Twitter.
We have started striking Iranian Quds targets in Syrian territory. We warn the Syrian Armed Forces against attempting to harm Israeli forces or territory.

— Israel Defense Forces (@IDF) January 20, 2019
This attack was in response to a missile launched from Syria by Iranian Quds Forces into the Golan Heights. The missile was intercepted by the Iron Dome, which was captured on camera by skiers on Mt. Hermon.
This is what's been happening:
On Sunday, Iranian Quds Forces operating in Syria launched a surface-to-surface rocket from Syria aimed at Israel's Golan Heights. The Iron Dome Aerial Defense System intercepted the rocket. pic.twitter.com/P7yvkpR6An

— Israel Defense Forces (@IDF) January 21, 2019
The overnight attacks on Syria resulted in many missiles and guided bombs being shot down, but enough made it through to damage Quds training grounds, weapons depots, and kill at least 11 people. There are no reports of how many of Iran's elite forces were killed, though British-based Syrian Observatory for Human Rights said only two of the dead were Syrians.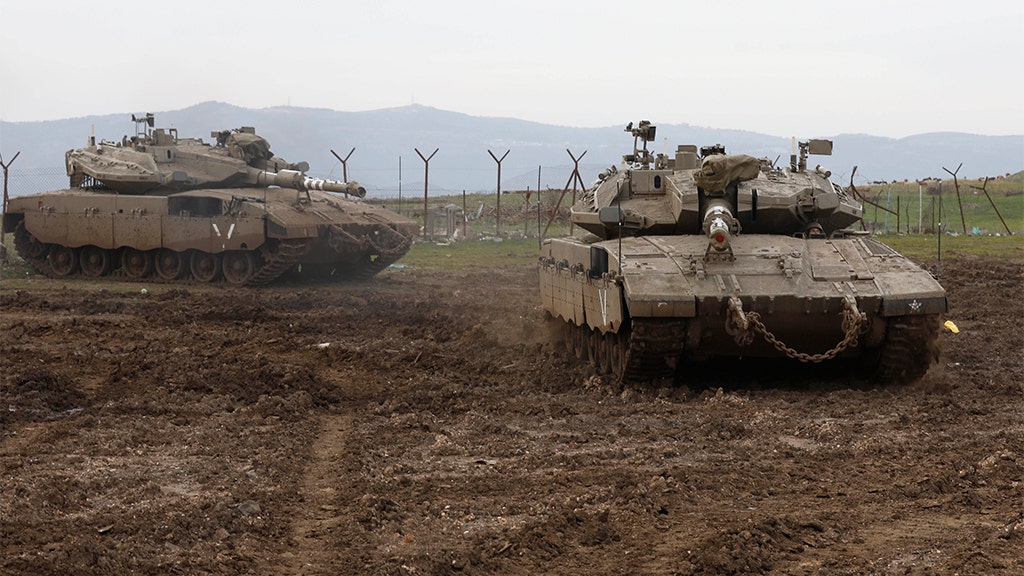 Israeli Prime Minister Benjamin Netanyahu recently confirmed that Israel had struck hundreds of targets in Syria linked to Iran and the Lebanese Hezbollah militant group, including a weapons facility two weeks ago.
Iran and Hezbollah are allied with the Syrian government in the civil war.
Iran has begun its loudest saber-rattling in some time as they send clear threats of war and the destruction of Israel through state television.
"The young people in the air force are fully ready and impatient to confront the Zionist regime and eliminate it from the Earth," IRIAF Brigadier General Aziz Nasirzadeh said following the strike.
The commander of the Iranian Air Force warned on Monday that Iran was prepared for a decisive war with Israel, "which will bring an end to the IDF's attacks on Syria." "Our armed forces are prepared for a war that will bring the crushing destruction of Israel," he said, according to media reports.
"We are ready for the day when we will see the end of Israel."
My Take
Americans are often unaware of the importance of Syria to Iran. For years, it's been assumed the only reason Iran hasn't attacked Israel, especially when they were at the height of their power during the latter years of President Obama's administration, is they have no clear path to reach Israel. Iraq, Syria, and Jordan are between Iran and the tiny Jewish state, making it nearly impossible for them to have any real reach into the heart of Israel.
This is why they are so intent on having an embedded military presence in Syria. It's why Israel is doing everything in its power to prevent them from getting a serious foothold there.
Iran's military is strong and somewhat sophisticated, but it's still no match for Israel. However, Iran could take advantage of Israel's small size if they can get enough missiles and launchers into Syria. Doing so would allow them to use Syrians as cover, a strategy currently in use by anti-Israeli forces in the Gaza Strip and Lebanon.
As long as Iran continues to pursue entrenchment in Syria, war is on the near horizon. Israeli strikes may be a catalyst for war, but they're necessary if they have any hopes of preventing Iran from taking over their Syrian neighbors wholesale.
ISIS bombing in Syria makes no sense
A terrorist bombing in Manbij, Syria, caused many casualties, including U.S. troops. ISIS-affiliated al-Amaq Agency has claimed responsibility for the attack.
Manbij, which is 20 miles from the Turkish border in northern Syria, has troops from multiple nations and groups regularly on the streets. The restaurant where the bombing took place was reported the venue for a meeting between U.S., French, and Kurdish troops at the time of the attack.
BREAKING: @NBCNews' @RichardEngel reports American forces are among the casualties after an explosion in Manbij, Syria. A senior Kurdish security official tells NBC the forces were on foot in the center of the city when they were approached by a suicide bomber, claimed by ISIS.

— Willie Geist (@WillieGeist) January 16, 2019
Here is a video of the attack. Warning: Graphic.
Warning! Graphic Video! Alleged video of the suicide attack in #Manbij pic.twitter.com/85MkFOTOpn

— Mutlu Civiroglu (@mutludc) January 16, 2019
My Take
Terrorism in general doesn't make sense, but this attack seems especially strange. Why would ISIS plan an attack now when the United States is close to leaving the region?
National Security Adviser John Bolton and Secretary of State Mike Pompeo have indicated the troop withdrawal will happen more slowly and methodically than President Trump initially indicated when he announced the move. But this attack is not going to prompt our exit to speed up. If anything, it gives the President justification to keep troops in Syria against the wishes of Turkish President Recep Tayyip Erdogan.
Not that he needs it, but apparently he thinks he does.
It's futile to try to make sense of any acts of terrorism, or more specifically, the inhumane motivations for committing them. But they usually serve a purpose, at least in the eyes of the terrorists. This one seems out of place.
Iran's first satellite launch goes up in flames
Iran's space program is all about national pride and has absolutely nothing to do with the weapons program they may or may not be engaging in that runs contrary to the agreement they made with the United Nations in 2015. That's their story, at least.
The reality, according to United States officials, is that both the technology they're using to attempt to put satellites in orbit and possible the satellites themselves are easily weaponized. Their contention is Iran can continue their nuclear weapons ambitions unabated by hiding behind the guise of "national pride" to fuel weapons research and testing.
Their first attempt went spectacularly wrong.
"I would have liked to make everybody happy with good news but sometimes life doesn't go forward the way we anticipate," he said on Twitter.
Another satellite, named Doosti, was waiting to be launched.
"We should not come up short or stop," Azari-Jahromi wrote. "It's exactly in these circumstances that we Iranians are different than other people in spirit and bravery."
There is no date set yet for the second or third attempts.
My Take
There is absolutely no reason for Iran to spend the money on their own satellites if not for weapons research and/or implementation. Space has been considered the next great battleground as the United States, China, Russia, and others continue exploring ways to rain down terror from orbit. Considering how badly Iran's economy is doing lately, they should spend more money on keeping their nation functioning and their people fed instead of wasting it on national pride.
Between the money President Obama gave them and the growth of their oil markets, it's unlikely Iran will stop until they've achieved their goal of having nuclear weapons capable of striking anywhere in the world. They can already reach a large chunk.