Death & taxes: What's so American about plunder?
We've all heard the old line about the certitude of death and taxes. It's a bit telling about the nature of human beings and how they will use power, even if just a little, to try and extract the fruits of their neighbor's labor for their own gain that we consider taxation as just another inevitable aspect of life. However, are taxes something that we should so readily come to expect?
Yesterday was the 4th of July, where we celebrated our forefathers' decision to extricate themselves from British rule because of the many abuses by the crown, foremost among them, what the colonials considered excessive and unjust taxes. When independence was won, so loathe of taxes were the Founders that, under the Articles of Confederation, there were no national taxes; Congress had to scrounge what it could thru voluntarily contributions -contributions that were unsurprisingly lacking. Veterans of the War could not collect their pensions, and the infant nation could do nothing to keep British merchants from harboring in its bays and running roughshod over American vendors. The ensuing chaos from such a government resulted in the Constitution being ratified, creating a new, strong but limited central government whose powers included the ability to levy taxes nationally.
Presently in American politics there are two prevailing perceptions on taxation: on the Left, there is the misguided belief that taxes are the "price we pay for living in a free(?) and just society". Per this narrative, we all pay taxes because we all benefit from living in a democratic society and thus must all share in the burden. This wouldn't be a half-bad sell for taxes if half the people in American didn't pay effectively zero taxes. (The Left's reasoning also has the unfortunate trait of being utter bullshit.) It's interesting to note: the people most attached to this narrative also hold the honorary title of "tight-fisted jerkwads who refuse to pay more to Uncle Sam than what the law requires." If taxes are such an honorary patriotic duty, why don't those on the Left pay more?
On the Right, we have the "taxation is theft" mantra. While truer to the nature of taxation -which is, money taken by force from unwilling payers- it has a major glaring weakness: if taxation is theft, why do we let the government "steal" from us while punishing individuals for doing the same thing? Why is theft illegal in most cases but not some, and if we allow theft to occur at some levels, why not others? Moral and reasonable people can agree: immoral acts do not become moral simply because the majority agree to engage in the act; government is an extension of the individual -of the People…what a person has right to do, the government may do also and nothing more. The problem with "taxation is theft" is that it implies that all taxes are inherently bad, and thus should be eliminated. Ask the Founders how easily a time they had funding even a small basic government with a Congress and an army under the Articles of Confederation.
The reality is taxes, when done properly and equitably, are somewhere in the middle. They are a necessary evil that funds government -government which is necessary and vital to secure and protect our rights from those who would take them from us. To call them theft is disingenuous, to call them "the price we pay to live in a free(?) or just society" is a lie. Taxes are the price we as citizens pay -in theory equally- for goods and services that only the government can provide, such as national defense or trade infrastructure and courts, that we all benefit from. Taxes pay for those services both necessary for the preservation of liberty and our rights and inadequately provided for by free markets because of market weaknesses like externalities or the free rider issue. And the American default is -or at least ought to be- to err on the side of letting free markets handle the care and provision of the goods and services necessary to preserve the public good and peaceful order.
To do more or less than this is tyranny, slavery, & theft. To tax one group to service another group is legalized looting, it is plunder on a national scale on behalf of the politically favored. For taxes to be fair, they must apply equally in cost and benefit. All must pay "their fair share" -i.e. equally burdened, and all must benefit equally and have equal access to the fruits of tax spending. That is what is meant by "the common good" and the "general welfare".
As Jefferson so eloquently stated, "Whether property alone, and the whole of what each citizen possesses, shall be subject to contribution, or only its surplus after satisfying his first wants, or whether the faculties of body and mind shall contribute also from their annual earnings, is a question to be decided. But, when decided, and the principle settled, it is to be equally and fairly applied to all. To take from one, because it is thought that his own industry and that of his fathers has acquired too much, in order to spare to others, who, or whose fathers have not exercised equal industry and skill, is to violate arbitrarily the first principle of association, 'the guarantee to every one of a free exercise of his industry, and the fruits acquired by it.'"
Let us remember that overly burdensome taxes are why the Founders rejected British rule and sought independence and self-governance. Let us also remember that what they considered heavy and burdensome are peanuts in comparison to the taxes we pay today…those of us who pay taxes anyways. Liberty cannot exist where one man is taxed so that another may eat of his labor, or where one group is shouldered with a greater burden because of political favors bestowed upon another group.
And without liberty, there can be no justice. Without justice, there can be no peace. Without peace, life is little more than waiting around for death and taxes.
16 states hit 9th Circuit to sue President Trump, as expected
It was one of the most replayed parts of President Trump's announcement regarding his national emergency declaration last Friday – a sing-song moment as the President predicted the declaration would be made, Democrats would sue, they'd go through the 9th circuit, and their decision will hopefully be overturned by the Supreme Court. So far, he's been absolutely correct as 16 states have filed against the declaration.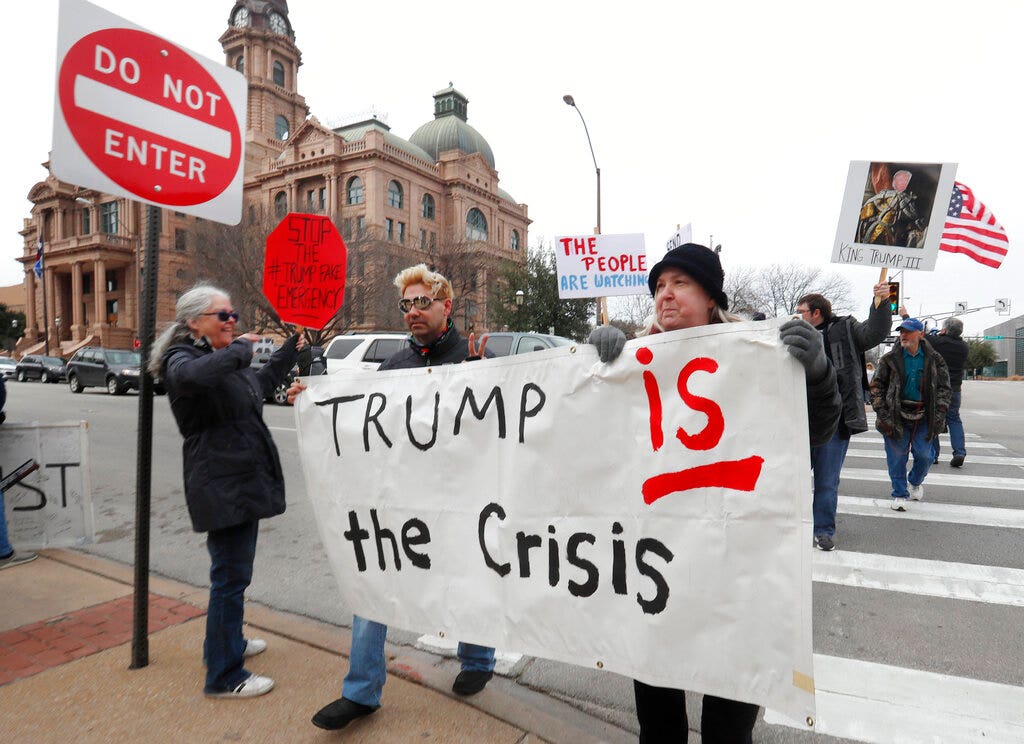 The attorneys general of California, New York, and 14 other states on Monday filed a lawsuit in the Ninth Circuit against the White House's recent national emergency declaration over border security, claiming President Trump has "veered the country toward a constitutional crisis of his own making."
President Trump sarcastically had predicted the lawsuit last week. He's slammed the Ninth Circuit multiple times as "disgraceful" and politically biased.
My Take
This is their right, and while it may annoy those who support building the border wall, it would be a mistake to condemn these states for trying to stop it. This is part of the way our nation is intended to operate. If one or more states feel the need to challenge the authority of Washington DC, they should be able to make their case before the courts. If the courts make decisions based on the Constitution, then the end result will be the accurate and righteous one.
That's how this was all intended.
I'm not suggesting the 9th Circuit is going to treat this fairly, nor am I confident the Supreme Court will make its decision solely on the Constitution, but until things are changed, this is what we've got. Attempts to subvert any component of this system from the President's right to declare the emergency to the states' rights to challenge it to the courts' responsibility to make a ruling about it all would be to denounce the foundation upon which this nation was built.
There was a way this could have been avoided. Had the President and the GOP decided to have the debate over the wall while they had power over the House, Senate, and White House, they would have been in better position to get the wall going by now. Unfortunately, they an improper political calculation to hold off on the wall debate until after the midterm elections, and now it's costing the American citizens. It costs us money to sit here through the shutdown and the legal battle over the national emergency declaration. It's costing us time; the wall should be much further along by now. It may end up costing us the wall altogether if they aren't able to make a strong case before the Supreme Court.
We are in the midst of a crisis at the border, one that has been going on for decades. Let's not exacerbate the crisis by adding a Constitutional crisis on top. This needs to play all the way out.
Liz Wheeler on the most disgusting part of the Jussie Smollett scandal
There are plenty of things about the Jussie Smollett scandal that should disgust us. The instant reaction by celebrities, politicians, and the media is right there at the top, especially when we consider how many are now saying, "let's wait for the facts." The notion that a successful gay black man thought it appropriate to make himself seem like a victim is also up there.
As One America News Network's Liz Wheeler points out, we should also be disgusted that Smollett chose this victim status over being a strong leader and role model for less privileged black and gay people who could have looked up to him for his strength instead of now being scornful of his weakness.
What does that say about America when the left tries so hard to build the narrative that everything is wrong, they're unwilling to recognize the real problems that are plaguing America. Why? Because they're the biggest part of the problem.
Leftist media pushes back on Green New Deal criticism
It's been an up-and-down couple of weeks for proponents of the Green New Deal. Before details were released, it was already being heralded as the greatest thing since President Obama's election. Then, the details came out and even many on the left were taken aback by the ambitious and incoherent provisions of the deal as detailed in a FAQ section on Representative Alexandria Ocasio-Cortez's government web page.
But that was just a draft. They took it down. At least that was the story.
Unfortunately for proponents, they were caught a little flat-footed as questions started pouring in about, well, all of it. Even if we dismiss the less-draconian concepts such as eliminating air travel or the less-sane ideas like taking care of those who are unwilling to work, the left is still stuck with a proposal that the most frugal estimates put at costing around $7 trillion while other's consider the decade-long cost to be in the HUNDREDS of trillions of dollars.
This is, of course, ludicrous. There's not enough money in the entire world to pay for the proposal if its cost is somewhere between the lowest and highest estimates, but that hasn't stopped leftist media from regrouping. Now that the dust has settled a little bit, they're doing everything they can to recommit to this concept. It's not that they suddenly believe in this fairy tale. It's that they don't want this to be the issue Republicans attack in the 2020 elections.
One article in particular that I read from CNN (yes, sometimes I need to see what the other side is thinking) really struck me for its honesty about the situation. Though I stopped reading it in paragraph two when it referred to "non-partisan" PolitiFact, I went back to it just now to digest the awfulness fully (see the sacrifices I make for our readers!).
I tried to read this article. I really did. But @DeanObeidallah lost me in paragraph two when he referred to the "non-partisan" Politifact. https://t.co/bjRAXbN2b0

— JD Rucker (@JDRucker) February 19, 2019
To be clear, much of what this article says is correct. It asserts the GOP will take the tenets of the Green New Deal and use it to scare voters into thinking it's even worse than Obamacare. From 2010 through 2016, Republicans attacked Obamacare incessantly and it worked, giving them the House in 2010, the Senate in 2014, and the White House in 2016. Unfortunately, they stopped there and didn't actually go after Obamacare with the same fervor they held in their campaign rhetoric and now the Democrats have turned the issue on its head.
But here's the thing. Obamacare may have been bad, but the Green New Deal truly is worse. It's not even close. Even if we take at face value the notion that the Green New Deal is simply an ambitious framework around which real legislation can be forged, we have to look at the core issues entailed in order to see the true damage it can do. This is a socialist document. It's a call for the same levels of insanity that drive the Medicare-for-All movement. Within its frivolous attempts to change perceptions of air travel, cows, and job creation is a deep-rooted desire to convert Americans to needing more government.
NOQ Report needs your support.
The Green New Deal represents the far-left's desire to make more American dependent on government. At the same time, it aims to increase the levels of dependency for those who are already in need of assistance. It wants Democrats to latch their wagons on the notion that if we become a militantly environmentalist nation, that will serve the dual purpose of giving us fulfillment while saving the planet.
I believe most leftist journalists understand this, but they see in the ridiculous framework a path through which Republicans can be defeated wholesale in 2020 as long as the left can control the narrative surrounding the Green New Deal. They fear another Obamacare counterinsurgency that would wipe out the anti-Trump gains they made in 2018, so they've adopted a stance that the Green New Deal isn't as bad as Fox News says it is. Meanwhile, they're doing everything they can to say, "look over here and not at the Green New Deal."
Don't misread leftist media's resurging push to defend the Green New Deal as actually believing it's a good idea. Their big concern is if they don't nip it in the bud now, it'll harm Democrats in 2020. So they say "it's good, don't worry," and move on to another subject.

— JD Rucker (@JDRucker) February 19, 2019
The politics behind what the Green New Deal represents is more in play than the tenets of the proposal itself, at least in the eyes of leftist media. It's not that they want to promote the concept. They simply don't want the concept to derail their party in the next election.