TNA's new Managing Editor Steve Berman: In his own words
Some people are politics junkies. Others are addicted to news. I am more of a "why" kind of guy.
I grew up in a fairly non-political family. My parents were blue-collar, and I started out in a blended family. My dad was a widower with three boys, my mom was a divorcee with two girls, and together they had my brother and me. I was the baby—born in Lynn, Massachusetts in 1964, when the Vietnam War was ramping up and the space race was white hot.
I don't believe my mother ever voted for anyone but a Democrat her whole life. She'd vote a straight blue ticket, and she always voted. She divorced my dad when I was just four, and married my step-dad, Danny, when I was eleven. We moved to seacoast New Hampshire after that, where I did most of my growing up.
Although my mother, father and stepfather were all blue-collar workers, they believed in hard work and education. My dad was a tool and die maker at General Electric for 40 years. That position no longer exists—it's been replaced by desktop CAD and numerical control machines. He used to do trigonometry in his head. My step-dad was a welder at the same GE plant, also for four decades—he ran the welding school in the marine steam turbine division.
All five of my mother's children attended college. Of my six siblings, four graduated college, including myself. My oldest brother Roy had a degree in chemical engineering from Northeastern—he passed away last year. My brother Barry had a great career as an electrician, and eventually an inspector for the MBTA in Boston; he retired recently.
My two sisters both went to the University of Massachusetts, and my brother Jay and I graduated from the University of New Hampshire.
My mother and father were both full-blooded Jews, and ensured we had a Jewish education. My stepfather was Italian, but converted to Judaism at 50 years old to marry my mother (including the, err, anatomical bit). We were generally non-observant Jews, but I had seven years of Hebrew, which I can still read and understand.
The first presidential election I voted in was 1984. I voted for Reagan. My mom voted for Mondale, whom I couldn't stand.
By the time I left college, I was fairly non-political (but left-leaning), very technical, and confident that I could do whatever I put my mind to. I remember Bill Clinton giving a speech literally in the field behind my condo in 1992. When the whole Gennifer Flowers thing erupted, I remember thinking "well, he's dead." I voted for Perot that year.
Then I moved to Central Georgia, where I observed the great lamentation and gnashing of teeth at Clinton's election. I couldn't understand why they so despised the man—after all he was a southerner like Jimmy Carter, right?
As I began to learn about politics and people, I realized that the "why" of ideas mattered far more than the "who" or the "team." I began to realize that political contests are many times just popularity contests. I realized that the people we end up with in elected office, at the local, state, and federal level, are deeply flawed, and usually not the most competent person to do the job.
I learned that the biggest embedded self-interest group in America is the government itself, made up of a million people drawing paychecks funded by our taxes.
And I learned that the news we see, both online and on the boob tube, is generally presented to us in a way to influence our thinking, not to educate us to make our own decisions.
In 1995, I started a small company to sell Internet service in Warner Robins, Georgia. Less than a year later, I left my job at Robins Air Force Base to run that company full time. We started it with $52,000 in scraped-together capital, and sold it five years later for $2.5 million.
Then I spent about 15 years in various positions at a software company, incubating a payment services company, and helping to sell both to a multinational public corporation. By then, I'd had it with corporate life.
My experience with helping political campaigns, taught me it's a dirty business filled with lots of charlatans and featherbedders, and you had to be careful to choose honest, competent people. Just like the news, just like business, just like government, it's best to know "why" than just to blindly root for a team.
One day at my corporate job, the executive I reported to made an offhand remark that I could have another career as a writer after he read a motivational piece I wrote for my employees. So in 2014, I began pursuing that. I probably should have started in 1992.
What can I say? I'm a late bloomer.
I wrote a diary at RedState, and published on my own blog. I began writing for the local newspaper (I still do). I wrote for a year at Bizpac Review. Then I was offered the opportunity to be a featured contributor for Erick Erickson's new website, The Resurgent. I was there the day the site debuted.
I've been cited by the New York Times, had pieces picked up by Fox News and RealClearPolitics, and published in The Stream.
Instead of simply cheerleading or spinning the news, I think it's vital to know why things happen. I think it's important to read news and trends from smaller outlets, by sometimes unknown writers.
I believe we learn more about the human condition by reading Flannery O'Connor on raising peafowl, or Adam Serwer on Robert E. Lee (Serwer is a senior political editor at The Atlantic) than the daily fare served up by the New York Times or Washington Post.
Why people believe what they believe is far more important than what some celebrity or senator thinks about the latest Trump tweets.
Of course, it's important to keep up with news and events. Failing to do so is like putting one's head in a gas oven that won't heat up looking for the pilot light, while breathing in the gas.
But going deeper and to the edges of that coverage, and getting to the "whys" is the main reason I took on the responsibility of editing The New Americana. As a news aggregator, my goal is to do more than simply regurgitate the latest news and reactions, but to give that news a context and a vibrant canvass for you, the reader, to form educated and intelligent opinions.
Life is best when we know why we believe what we believe. It's my mission at The New Americana to make it the place you go with your morning coffee and throughout the day for high quality, deep content. I hope you'll enjoy reading it as much as I enjoy preparing it for you.
16 states hit 9th Circuit to sue President Trump, as expected
It was one of the most replayed parts of President Trump's announcement regarding his national emergency declaration last Friday – a sing-song moment as the President predicted the declaration would be made, Democrats would sue, they'd go through the 9th circuit, and their decision will hopefully be overturned by the Supreme Court. So far, he's been absolutely correct as 16 states have filed against the declaration.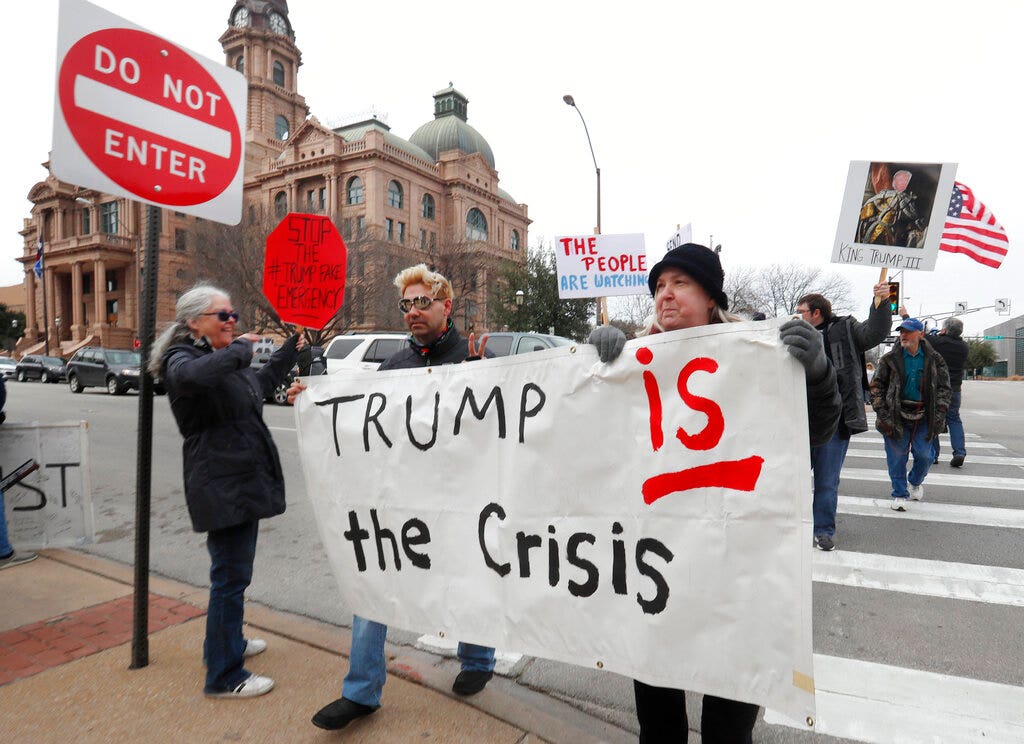 The attorneys general of California, New York, and 14 other states on Monday filed a lawsuit in the Ninth Circuit against the White House's recent national emergency declaration over border security, claiming President Trump has "veered the country toward a constitutional crisis of his own making."
President Trump sarcastically had predicted the lawsuit last week. He's slammed the Ninth Circuit multiple times as "disgraceful" and politically biased.
My Take
This is their right, and while it may annoy those who support building the border wall, it would be a mistake to condemn these states for trying to stop it. This is part of the way our nation is intended to operate. If one or more states feel the need to challenge the authority of Washington DC, they should be able to make their case before the courts. If the courts make decisions based on the Constitution, then the end result will be the accurate and righteous one.
That's how this was all intended.
I'm not suggesting the 9th Circuit is going to treat this fairly, nor am I confident the Supreme Court will make its decision solely on the Constitution, but until things are changed, this is what we've got. Attempts to subvert any component of this system from the President's right to declare the emergency to the states' rights to challenge it to the courts' responsibility to make a ruling about it all would be to denounce the foundation upon which this nation was built.
There was a way this could have been avoided. Had the President and the GOP decided to have the debate over the wall while they had power over the House, Senate, and White House, they would have been in better position to get the wall going by now. Unfortunately, they an improper political calculation to hold off on the wall debate until after the midterm elections, and now it's costing the American citizens. It costs us money to sit here through the shutdown and the legal battle over the national emergency declaration. It's costing us time; the wall should be much further along by now. It may end up costing us the wall altogether if they aren't able to make a strong case before the Supreme Court.
We are in the midst of a crisis at the border, one that has been going on for decades. Let's not exacerbate the crisis by adding a Constitutional crisis on top. This needs to play all the way out.
Liz Wheeler on the most disgusting part of the Jussie Smollett scandal
There are plenty of things about the Jussie Smollett scandal that should disgust us. The instant reaction by celebrities, politicians, and the media is right there at the top, especially when we consider how many are now saying, "let's wait for the facts." The notion that a successful gay black man thought it appropriate to make himself seem like a victim is also up there.
As One America News Network's Liz Wheeler points out, we should also be disgusted that Smollett chose this victim status over being a strong leader and role model for less privileged black and gay people who could have looked up to him for his strength instead of now being scornful of his weakness.
What does that say about America when the left tries so hard to build the narrative that everything is wrong, they're unwilling to recognize the real problems that are plaguing America. Why? Because they're the biggest part of the problem.
Leftist media pushes back on Green New Deal criticism
It's been an up-and-down couple of weeks for proponents of the Green New Deal. Before details were released, it was already being heralded as the greatest thing since President Obama's election. Then, the details came out and even many on the left were taken aback by the ambitious and incoherent provisions of the deal as detailed in a FAQ section on Representative Alexandria Ocasio-Cortez's government web page.
But that was just a draft. They took it down. At least that was the story.
Unfortunately for proponents, they were caught a little flat-footed as questions started pouring in about, well, all of it. Even if we dismiss the less-draconian concepts such as eliminating air travel or the less-sane ideas like taking care of those who are unwilling to work, the left is still stuck with a proposal that the most frugal estimates put at costing around $7 trillion while other's consider the decade-long cost to be in the HUNDREDS of trillions of dollars.
This is, of course, ludicrous. There's not enough money in the entire world to pay for the proposal if its cost is somewhere between the lowest and highest estimates, but that hasn't stopped leftist media from regrouping. Now that the dust has settled a little bit, they're doing everything they can to recommit to this concept. It's not that they suddenly believe in this fairy tale. It's that they don't want this to be the issue Republicans attack in the 2020 elections.
One article in particular that I read from CNN (yes, sometimes I need to see what the other side is thinking) really struck me for its honesty about the situation. Though I stopped reading it in paragraph two when it referred to "non-partisan" PolitiFact, I went back to it just now to digest the awfulness fully (see the sacrifices I make for our readers!).
I tried to read this article. I really did. But @DeanObeidallah lost me in paragraph two when he referred to the "non-partisan" Politifact. https://t.co/bjRAXbN2b0

— JD Rucker (@JDRucker) February 19, 2019
To be clear, much of what this article says is correct. It asserts the GOP will take the tenets of the Green New Deal and use it to scare voters into thinking it's even worse than Obamacare. From 2010 through 2016, Republicans attacked Obamacare incessantly and it worked, giving them the House in 2010, the Senate in 2014, and the White House in 2016. Unfortunately, they stopped there and didn't actually go after Obamacare with the same fervor they held in their campaign rhetoric and now the Democrats have turned the issue on its head.
But here's the thing. Obamacare may have been bad, but the Green New Deal truly is worse. It's not even close. Even if we take at face value the notion that the Green New Deal is simply an ambitious framework around which real legislation can be forged, we have to look at the core issues entailed in order to see the true damage it can do. This is a socialist document. It's a call for the same levels of insanity that drive the Medicare-for-All movement. Within its frivolous attempts to change perceptions of air travel, cows, and job creation is a deep-rooted desire to convert Americans to needing more government.
NOQ Report needs your support.
The Green New Deal represents the far-left's desire to make more American dependent on government. At the same time, it aims to increase the levels of dependency for those who are already in need of assistance. It wants Democrats to latch their wagons on the notion that if we become a militantly environmentalist nation, that will serve the dual purpose of giving us fulfillment while saving the planet.
I believe most leftist journalists understand this, but they see in the ridiculous framework a path through which Republicans can be defeated wholesale in 2020 as long as the left can control the narrative surrounding the Green New Deal. They fear another Obamacare counterinsurgency that would wipe out the anti-Trump gains they made in 2018, so they've adopted a stance that the Green New Deal isn't as bad as Fox News says it is. Meanwhile, they're doing everything they can to say, "look over here and not at the Green New Deal."
Don't misread leftist media's resurging push to defend the Green New Deal as actually believing it's a good idea. Their big concern is if they don't nip it in the bud now, it'll harm Democrats in 2020. So they say "it's good, don't worry," and move on to another subject.

— JD Rucker (@JDRucker) February 19, 2019
The politics behind what the Green New Deal represents is more in play than the tenets of the proposal itself, at least in the eyes of leftist media. It's not that they want to promote the concept. They simply don't want the concept to derail their party in the next election.