Obamacare could be fully repealed if political considerations were erased
In 2015, President Obama had a bill placed on his desk that fully repealed Obamacare. There was no replacement. Had he signed it, we'd be well on our way to the completely privatized health care system the nation deserves. He didn't, of course, and the vast majority of GOP politicians pointed fingers and blamed the President for the failures that were developing in the legislation that was supposed to be his legacy.
In 2017, President Trump has not and likely will not see the same bill. In fact, he won't see anything even close to it. Why? Because now that the GOP has complete control, they can't bluff anymore. They are in a position to somehow not admit that they never wanted to fully repeal Obamacare in the first place. The result so far is the AHCA from the House and some variation the Senate can muster.
Whatever finally reaches President Trump's desk will not be a repeal. It won't even be a "repeal and replace" as they've been calling it since taking power. It will be a "tweak and rebrand" effort that leaves the damaging core of Obamacare fully intact, redirects how the mandates are delivered, redistributes penalties for citizens who do not comply, and throws in some easy-to-consume "conservative meat" like defunding Planned Parenthood to try to keep as many right-wing critics as possible at bay.
In the end, we will take one humongous government-run health care system and replace it with another humongous government-run health care system.
To those who believe that it's not technically "government-run" because some autonomy is afforded to health insurance companies, health care providers, and even states, let's be clear: if a program lays out guidelines for providers and consumers as both ACA and AHCA do, then it's a government-run program.
Why would the GOP break their promise?
There are times when a party and the politicians representing them will do their best to "sell" an idea to the American people. They will go on news shows, perhaps speak at town halls, and even invest in television commercials to present their case to Americans in an effort to get them to help pressure the opposition into support. We've seen this since the birth of our nation. In fact, the reason for the Federalist Papers was to convince people that ratifying the United States Constitution was in the best interests of the nation and its citizens.
In recent years, we've seen it with welfare reform, Gang of 8, and even with Obamacare itself. In all of these cases, the group supporting pieces of legislation made their pitch to Americans because they believed they could convince enough people their ideas represented the right course for the nation. More importantly, they wanted to use the victory as a launching pad to expand their political standing and ensure future victories. This technique of selling an idea and then riding the wave of victory once it's sold is only effective if you believe in what you're selling.
It's quite conspicuous that the GOP has not taken this approach with the AHCA. On the contrary, they want as little attention paid to the machinations of the bill as possible. It's not that they don't believe it's a better solution than Obamacare. They simply don't want more people pointing out that it's not very different. They'd like to get it passed and signed quickly so they can then start focusing on midterm elections.
This is an important point. Their fear of losing in the midterms is the second biggest reason they're unwilling to simply repeal Obamacare with either no replacement at all or one that pushes for privatization over time. They know there will be repercussions if they repeal Obamacare; if one person dies as a result of losing health care, Republican strategists believe the Democrats will have a chance of taking the House and the Senate in 2018.
It's not necessarily true, of course. Both parties still embrace the old concept that Americans are too simple-minded to be shown the truth. They think that we're only interested in what affects us directly and any attempt by the government to act responsibly will result in major losses. They can't accept that Americans have more access to information than ever before. They play the news cycle and pull the heart strings. If they were correct, there's no way Ted Cruz should have won Iowa after declaring that he wanted to end ethanol subsidies. There's no way Bernie Sanders should have won Oklahoma after being on the wrong side of many liberal issues near and dear to Sooners.
People may be misinformed by mainstream media and fake news outlets, but we're not stupid. If they lay out the facts and put together a compelling case, the GOP could repeal Obamacare. All they'd have to do is inform the people about why things will be much better in the not-too-long-term. Unfortunately, they've calculated that the benefits of repealing Obamacare would not be realized before the 2018 election and they're unwilling to take the risk.
Instead, they're hoping to insert Trumpcare and hope for the best. It's a disgusting strategy for two reasons. First, it's a lie. Presenting it as a repeal and replace is false as I mentioned above. Second, it won't work. They will be blamed for health care failures regardless of whether it comes from the AHCA or from a full repeal. Taking this "safe" approach is still a losing effort.
The other reason
As I previously mentioned, the second biggest reason they don't want to repeal Obamacare is fear of losing in the midterms. The biggest reason is because they like what government-run health care gives them. It's not across the board; there are a handful of Senators and a small group of Congressman who truly want government out of the system. However, they are a tiny minority compared to the bulk of GOP lawmakers who see ACA and AHCA as a boon for big government and big budgets.
The more money that's in the federal government's pot, the easier it is to redistribute it based upon political considerations. More money muddles our economic system. As strange as it may sound, many in the federal government thrive in chaos. The more there is to draw the attention of the people, the easier it is for them to operate corruptly in other areas. This may seem like some conspiracy theory, but it's not. This is really how the government operates in DC.
A better way
A blog post is not the right venue to lay out a comprehensive and detailed plan, but it's a great place to give a 30,000-foot view of how things should be. Put simply, we need to privatize health care once again.
There are those who will point to challenges that existed before Obamacare. These challenges will return if Obamacare is repealed, but they won't return in the same form. Things have changed. Now that we've experienced rising premiums that yield higher deductibles while delivering worse results, we have empirical data behind which we can rebuild the privatized market.
The sticking point for many Americans who might fear a full repeal is care for those with pre-existing conditions. As Michael Nolan noted on DailyWire:
One argument against privatized health care (and for Universal Health Care) is that insurance companies will continue to discriminate against those with pre-existing conditions. What the argument fails to take into account is that 90 percent of health care policies cover pre-existing conditions, as shown by health care expert Avik Roy. The free market has created a system by which those with employer-based coverage don't need screening because the insurance is purchased in bulk by the employer. For those with employment-based coverage (currently roughly 50 percent of those with insurance), pre-existing condition exclusions can only be triggered if the client has had health insurance for less than 12 months. This encourages and rewards those who buy long-term medical coverage (which promotes good life choices and planning) as opposed to those that only purchase insurance when they get ill.
The other big advantage of having seen Obamacare is that we now have a better idea of what needs to be changed in order to make privatized health care work from economic, accessibility, and innovation perspectives. Daniel Horowitz came up with a cheat sheet at Conservative Review that gives us a great starting point to attack this beast. One of my favorites is his take on competition across state lines:
If insurance is enough of an interstate commerce issue to regulate people into oblivion at a federal level, then the federal government should be able to invoke the Commerce Clause to tear down the barriers to purchasing insurance across state lines. Indeed the Supreme Court has said as much [United States v. South-Eastern Underwriters Association, 1944]. This will foster massive competition, make insurance portable, and together with individualizing insurance through equal tax treatment and expanded HSAs, will save many individuals who get sick later in life after moving to different states from the problem of pre-existing conditions.

Not only will this reform create a more competitive national market, but it will induce states with a costly regulatory burden to get with the program and relax their regulations to compete with the more pro-consumer states. It will also create momentum for states to ease regulations on tele-medicine from out-of-state providers.
If we systematically repeal Obamacare, we can have privatized health care once again. A replacement plan that tries to predict what will happen is foolish. Instead, we should repeal, then monitor and analyze the market. Over time, we'll find the holes that need to be plugged. States, charities, and other organizations can fill most of these holes. Whatever is left, if anything, can fall to the federal government. This way, DC becomes the final safety net instead of being the first line of defense. That's the way it should be in health care and a plethora of other areas.
Veronique de Rugy: Green New Deal would be hundreds of TRILLIONS of dollars in federal commitment
If there's a word that's not necessarily negative one could use to describe the Green New Deal, it would be "ambitious." The deal has so much wrapped into it that it's hard to tell which components are designed to save the environment and which ones are intended to destroy the economy.
Estimates put costs for the "green side" of the resolution at somewhere between $12-$20 trillion. Then, there's the Medicare-for-All component that is estimated at $32 trillion over a decade.
And that's just the start.
This isn't just a "green" deal. It's a hodgepodge of policy proposals that include massively growing the welfare state, inserting government even more into the job markets, and a universal basic income that they refuse to actually call a universal basic income. The much-maligned FAQ that was posted and quickly removed from the website of sponsor Alexandria Ocasio-Cortez (D-NY) mentioned paying people who were unable or even "unwilling" to work.
"Even in the best case scenario where you substitute a UBI for all the other forms of welfare, it's insane," said Veronique de Rugy, Senior Research Fellow at the Mercatus Center at George Mason University, on ReasonTV.
But here's the problem. The Green New Deal doesn't substitute a universal basic income for other welfare programs. In the Green New Deal, the programs recommended are supposed to be additions, not substitutions.
"It's a really hard system to support even in its ideal form," de Rugy continued. "Then there's this Green New Deal version which doesn't even seem to entertain this notion of actually substituting for all the rest, so it's on top of what we have now."
This site is 100% crowdfunded by readers like YOU. Please consider donating and keeping the right side of news going strong.
The real question we need to ask is whether or not the Democratic Party is actually going to support this. In its current form, the Green New Deal is a fantasy, and perhaps that's what the more-sane Democrats are shooting for by supporting it. By giving it their attention now, they can work their way down to more reasonable proposals for everything from environmental protection to job creation programs to different versions of socialism.
In other words, they may be using the hyper-leftism of the Green New Deal as a gateway to get to the palatable leftism of what's quickly becoming mainstream socialism.
The Green New Deal shouldn't scare conservatives because it can't happen. What should concern us is the end result negotiated down from this starting point. Given the GOP's negotiating track record lately, we don't know what we're going to get when the Green New Deal is trimmed down to reality.
Even Drudge can't deny the insane spending by Washington DC today
What did GOP control of the House, Senate, and White House do to spending and the national debt? Did Republicans demonstrate the fiscal responsibility that has been one of their alleged traits for decades? Did they match the spending under Presidents Bush and Obama, maintaining the status quo? No, and no. They looked at the spending and debt accumulation of the past and said, "Hold my beer."
It's not just the Republicans' fault, but asking Democrats to stop them when they're on a spending spree is like asking a bartender to stop serving alcohol. It just doesn't feel right to them and the results of bipartisanship have been quite apparent, as my friend Daniel Horowitz noted on Conservative Review:
It feels like it was yesterday when I was watching the news as a kid with my parents in 1995, listening to Newt Gingrich, during the infamous shutdown fight, warn about the dire consequences of crossing the $5 trillion debt milestone. It feels like it was yesterday when I was writing press releases for candidates in "the year of the Tea Party" on how Obama and the Pelosi Congress took the debt to $14 trillion in such a short period of time. Now, over eight years into varying degrees of GOP control of Congress and the White House, we have crossed the $22 trillion mark, expanding the debt more rapidly than at any time in our history. Whereas the debt exploded by $5 trillion during Bush's eight-year tenure, a shocking figure at the time, it has now increased $8 trillion just since Republicans controlled the House in 2011 and by $4 trillion over the past four years, since they controlled at least two of the three political organs of government.
It has become so bad that even Matt Drudge, whose conservative news aggregator Drudge Report has been consistently defending President Trump since well before the 2016 election, is starting to ask questions.
Washington DC has had a spending problem for a century. Republicans run on solving this problem during election time, but they're acting like Democrats between elections. It's time to let them know we're watching and we're not happy about it.
Trump administration is optimistic about failing economic policies
In an article I wrote last week following Trump's campaign rally disguised as a State of the Union Address, I documented how his claim that his trade war and tax cuts had produced "the hottest economy in the world" were merely the rhetorical ramblings of a failed "Republican" running for re-election.
Trump's trade war has created an economic hell that will take years to recover from, and his tax cuts have failed to provide tax relief for the middle class. In addition, when you throw Trump's big-government spending into the mix, the federal deficit now exceeds $22 trillion.
The stock market fell late in 2018 and all gains made in the year were wiped out, a crash the administration blamed on Democrats and Fed Chairman Jerome Powell.
While the slide on Wall Street was dismissed as a market correction, recently released economic data from the Commerce Department shows that the overall economy ended the year much worse than the White House would have you believe.
U.S. retail sales recorded their biggest drop in more than nine years in December of 2018 as receipts fell 1.2 percent across the board. This is the largest decline in retail sales since Sept. 2009 when the economy was in a recession.
Trump brags about low unemployment numbers, but according to a Department of Labor report released yesterday, unemployment claims increased by 4,000 to a seasonally adjusted 239,000 for the week ending Feb. 9th.
While it's tempting for some to dismiss yesterday's report as an anomaly, let's take a look at the data from another angle.
The four-week moving average of claims — considered a better measure of labor market trends because it irons out week-to-week volatility — was 231,750, an increase of 6,750 from the previous week's revised average. This is the highest level for this average since January 27, 2018 when it was 234,000. The previous week's average was revised up by 250 from 224,750 to 225,000.
Of course, the administration famous for identifying unfavorable news as "fake" went right to work trying to spin these economic failures into policy victories.
Saying that he was still "optimistic" about the economy, White House Economic Advisor Larry Kudlow called the retail sales number a "glitch," and he invited the feds to "step aside" while praising the president for "ending the war on business." He then parroted SOTU talking points about how the overall economy was "very strong" despite these recent reports.
There are those who label me a pessimist because I refuse to whitewash the political graffiti of optimism Trump and the GOP spray paint on their crumbling wall of lies and broken promises, but in the words of C. Joybell C.: "Some people are optimists. Some people are pessimists. I'm just a realist who believes that some things are worth fighting for."
Originally posted on StridentConservative.com.
---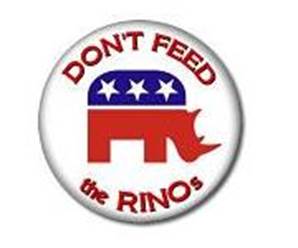 David Leach is the owner of The Strident Conservative. His daily radio commentary is distributed by the Salem Radio Network and is heard on stations across America.
Follow the Strident Conservative on Twitter and Facebook.
Subscribe to receive podcasts of radio commentaries: iTunes | Stitcher | Tune In | RSS