Why is the media silent on the ongoing migrant exodus from Venezuela?
Being a danger to the Democrats, the 'migrant caravan' disappeared from the headlines, meanwhile they still ignore the mass exodus from 21st century socialism
Having once been merely biased towards the Left, the national media has become blatantly partisan to the extreme. The 'Migrant Caravan' story has been particularly egregious in this regard. From the outset, they propagandised effort until it became clear it was a threat to Democratic midterm narratives. They've also ignored the ongoing humanitarian disaster and mass exodus from the '21st century socialism' of Venezuela, Nicaragua and Cuba while they feign compassion for the poor and downtrodden.
Of course, the illegal invader columns of the 'Migrant Caravan' are a stark reminder of what would happen were we to hand power to the Democrats. It's been reported that up to 150 Million people from around the globe would like to migrate to the states. An invasion of that magnitude would be 'fundamental transformation', turning the country into another version of the a 3rd world nation. Even worse, the media of the nation's Socialist-Left has ignored the exodus from the ideology they champion.
Chastity Mansfield detailed 3 facts about the migrant caravan that everyone (even Democrats) should know. It should be clear that criminals are part of the Caravan. That it's composed mainly of young men and that the offer by Mexico to have them settle in that country has been a bust.
The other mass exoduses the Leftist media doesn't want to talk about.
Meanwhile, there has been another 'migration' the media hasn't noticed, that would be the mass exodus from the socialist 'Utopia' of Venezuela. For example, there is this report from May 2017 on the Brazilian Border Towns Bracing for Massive Wave of Venezuelan Refugees.
Or this article from Sep 18, 2018: Cuba, not the US, is to Blame for the Mass Exodus from Nicaragua and Venezuela.
Then there is this story from Oct 1, 2018 Venezuela Has Lost 13% of its Population in the Mass Exodus from Socialism.
Venezuela's humanitarian crisis is causing refugee flows that may exceed those of the Syrian Civil War.
Venezuela has lost more than 13% of its population in the wake of the mass wave of migration caused by the so-called "socialism of the 21st century", which has had dramatic effect on the other countries of the region due to the serious humanitarian crisis.
Official figures from the International Organization of Migration (IOM) indicate that between 2015 and 2017, Venezuelan emigration more than doubled, increasing from 700,000 people to 1.5 million.
The media seems to take pride in being compassionate, and yet they don't seem to care about those fleeing from the ideology they advocate. In the case of these refugees from socialism, they receive little outside help. This is contrasted by the behind the scenes assistance that has to be present in the case of the 'Migrant Caravan'. They also aren't making a beeline for the U.S. Border for all of the promised freebies.
Venezuelans Set Out to Cross the Continent on Foot.
OAS: Regional Crisis of Venezuelan Mass Migration Demands Unified Response.
According to United Nations estimates, close to 2.3 million Venezuelans have left their country because of the political, social and economic crisis, and of those, almost a million have settled in Colombia.
This is clearly an ongoing humanitarian problem and yet the media doesn't care, why? Could it be that this would be a profound repudiation of those of the nation's Socialist-Left who are trying to shove their societal slavery down our throats?
The Takeaway.
It's rather interesting that the Left played up the narrative of the 'Migrant Caravan' for a time for it's propaganda effects. Until they realized its damaging effects on Democratic electoral chances. Meanwhile they ignored an ongoing humanitarian disaster and similar Migrant exodus.
In the first instance, it was to somehow embarrass those on the Right for having this take place. In the second, they have to pretend it's not really happening because it is a perfect reminder why the Left should never be within reach of the levers of power. Their system of government doesn't work no matter how many times it's never been tried, something to be reminded of on Election Day.
As Venezuela implodes, Trump administration recognizes Juan Guaidó as President
The destruction of Venezuela by socialism and corruption is practically complete, but hope is on the horizon. A new President has been recognized by the United States, making Nicolas Maduro's presidency nearly finished.
.@realdonaldtrump has officially recognized @jguaido as the legitimate constitutional President of #Venezuela.

— Marco Rubio (@marcorubio) January 23, 2019
Juan Guaidó has been serving as the President of the National Assembly of Venezuela since earlier this month and assumed the role of interim President earlier today. The United States joins Brazil, Canada, Chile, Colombia, and Puerto Rico in recognizing his claim as legitimate.
People have filled the streets of Caracas in an amazing display of solidarity against Maduro, who held an "inauguration" on January 11 despite clear indicators the May 2018 elections were rigged. Now, the streets of Caracas are full.
@SenRickScott Protest against Dictator Maduro in Caracas at this moment. pic.twitter.com/I4wXgZmN5L

— Víctor (@victorinox79) January 23, 2019
VIDEO: Huge anti-government demonstration in #Caracas #Venezuela today – @emiduartepic.twitter.com/jhRCfaTvn5

— Conflict News (@Conflicts) January 23, 2019
The beautiful@people of #Caracas protesting the socialist menace in #Venezuela

Go you good things. Follow Brazil. Throw off the enslavement of the left

See this @AOC? This is the nightmare you prescribe#VenezuelaGritaLibertad credit please @sol651

— Katie Hopkins (@KTHopkins) January 23, 2019
President Trump confirmed the move following multiple news outlets quoting White House officials.
The citizens of Venezuela have suffered for too long at the hands of the illegitimate Maduro regime. Today, I have officially recognized the President of the Venezuelan National Assembly, Juan Guaido, as the Interim President of Venezuela. https://t.co/WItWPiG9jK

— Donald J. Trump (@realDonaldTrump) January 23, 2019
Ironically, Guaidó's rallying cry happens to be "Sí, se puede!", Spanish for "Yes we can."
My Take
This is the only viable move given the circumstances. As I posted on Facebook:
It may not be possible for Guaidó to turn around the failing nation without a lot of outside assistance, but one thing is certain: Maduro had zero chance of making anything better for his starving people.
Democrats will use "Mexico is going to pay for it" more than they used "Read my lips, no new taxes"
America needs a border wall. This is evident to anyone who is honest and has an ounce of common sense. We need to pay for it as well. But that's not what we were promised. During the 2016 presidential campaign, then-candidate Trump repeatedly said he was going to build the wall "and Mexico's going to pay for it."
To be fair, only idiots believed him. It was one of those campaign promises that most conservatives assumed meant restructured trade deals or foreign aid changes that would siphon money from Mexico back into the United States, but that's not how it'll be positioned by Democrats in next year's Presidential election. They're going to make as many Americans believe that it was a literal promise, one the President hammered continuously. They will say it was a blatantly broken promise and Americans shouldn't trust any of his campaign promises going forward.
The President will counter with statistics and talking points showing how America is getting money from Mexico in other ways. They may not have written a check for the wall, but they're paying for it in other ways. That will be the storyline. Will it stick?
To answer that question, we'll need to see if the Democrats are able to make their narrative prominent without turning it into a joke. If they don't hammer it enough, it won't be effective. If they hammer it too much, it'll be viewed as a repetitive talking point, in which case the President will be able to reverse it on them by demonstrating it's the only argument they have against his reelection.
In 1992, candidate Bill Clinton was able to drive home the message that President George H.W. Bush lied to Americans when he famously said, "Read my lips, no new taxes." These words, which played extremely well during the 1988 campaign, came back to haunt him. Most historians attribute H. Ross Perot's candidacy as the reason the elder Bush wasn't reelected, but the adamant pronouncement followed by an inability to fulfill it didn't help Bush's cause.
For the President to overcome this 2020 election talking point, he must get wall construction started and he must demonstrate that jobs and businesses are coming back to America from Mexico. For America's sake, as well as for the 2020 election, BUILD THE WALL.
Is Israel on the brink of war?
Israel and Iran continue to trade threats and missile attacks over Syria as the latest round targeted Iranian Quds forces near Damascus. The IDF, which has confirmed attacks recently, went so far as to announce the attacks on Twitter.
We have started striking Iranian Quds targets in Syrian territory. We warn the Syrian Armed Forces against attempting to harm Israeli forces or territory.

— Israel Defense Forces (@IDF) January 20, 2019
This attack was in response to a missile launched from Syria by Iranian Quds Forces into the Golan Heights. The missile was intercepted by the Iron Dome, which was captured on camera by skiers on Mt. Hermon.
This is what's been happening:
On Sunday, Iranian Quds Forces operating in Syria launched a surface-to-surface rocket from Syria aimed at Israel's Golan Heights. The Iron Dome Aerial Defense System intercepted the rocket. pic.twitter.com/P7yvkpR6An

— Israel Defense Forces (@IDF) January 21, 2019
The overnight attacks on Syria resulted in many missiles and guided bombs being shot down, but enough made it through to damage Quds training grounds, weapons depots, and kill at least 11 people. There are no reports of how many of Iran's elite forces were killed, though British-based Syrian Observatory for Human Rights said only two of the dead were Syrians.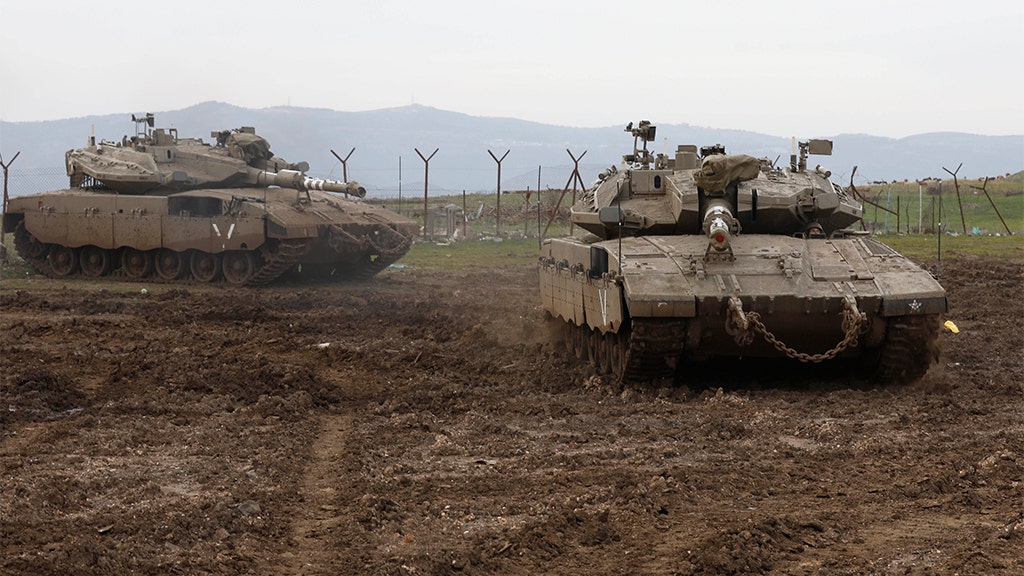 Israeli Prime Minister Benjamin Netanyahu recently confirmed that Israel had struck hundreds of targets in Syria linked to Iran and the Lebanese Hezbollah militant group, including a weapons facility two weeks ago.
Iran and Hezbollah are allied with the Syrian government in the civil war.
Iran has begun its loudest saber-rattling in some time as they send clear threats of war and the destruction of Israel through state television.
"The young people in the air force are fully ready and impatient to confront the Zionist regime and eliminate it from the Earth," IRIAF Brigadier General Aziz Nasirzadeh said following the strike.
The commander of the Iranian Air Force warned on Monday that Iran was prepared for a decisive war with Israel, "which will bring an end to the IDF's attacks on Syria." "Our armed forces are prepared for a war that will bring the crushing destruction of Israel," he said, according to media reports.
"We are ready for the day when we will see the end of Israel."
My Take
Americans are often unaware of the importance of Syria to Iran. For years, it's been assumed the only reason Iran hasn't attacked Israel, especially when they were at the height of their power during the latter years of President Obama's administration, is they have no clear path to reach Israel. Iraq, Syria, and Jordan are between Iran and the tiny Jewish state, making it nearly impossible for them to have any real reach into the heart of Israel.
This is why they are so intent on having an embedded military presence in Syria. It's why Israel is doing everything in its power to prevent them from getting a serious foothold there.
Iran's military is strong and somewhat sophisticated, but it's still no match for Israel. However, Iran could take advantage of Israel's small size if they can get enough missiles and launchers into Syria. Doing so would allow them to use Syrians as cover, a strategy currently in use by anti-Israeli forces in the Gaza Strip and Lebanon.
As long as Iran continues to pursue entrenchment in Syria, war is on the near horizon. Israeli strikes may be a catalyst for war, but they're necessary if they have any hopes of preventing Iran from taking over their Syrian neighbors wholesale.