Jordan to play hardball over lease of 1000 acres to Israel
Jordan's King Abdullah has indicated he will not renew a lease that has held for a quarter century with Israel that allowed Israeli farmers to cultivate around 1000 acres of land. The lease of these two areas was part of the 1994 peace treaty between the two Middle Eastern nations.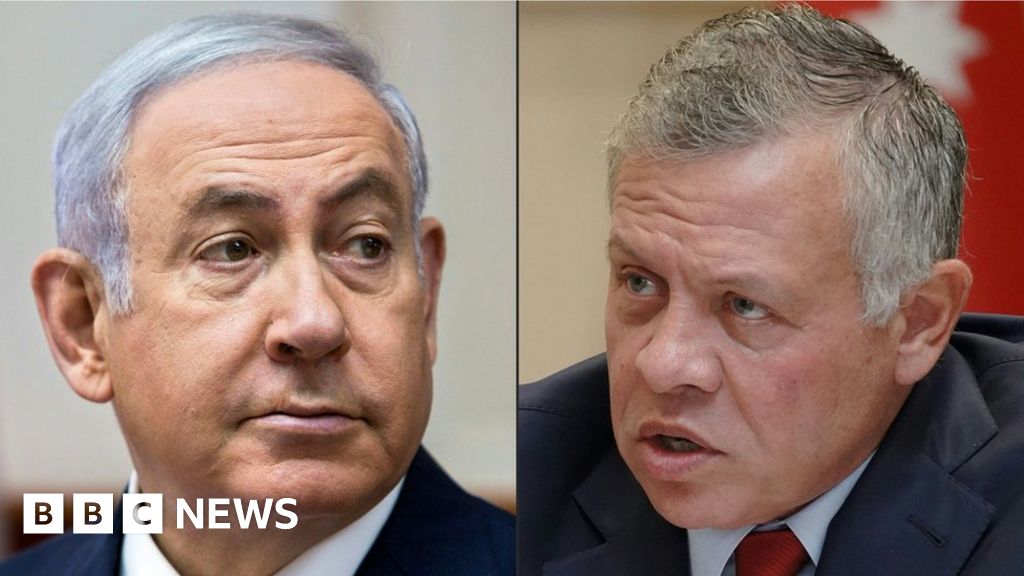 Earlier King Abdullah of Jordan issued a statement saying it wanted to end the lease, which has seen the two areas, covering a total of about 405 hectares (1,000 acres), cultivated by Israeli farmers.
The areas had always been a "top priority" for Jordan and the decision was based on "our keenness to take whatever is necessary for Jordan and Jordanians", the statement said.
Not renewing the lease in this long-standing deal would not jeopardize peace directly, but it could be the first warning shot of a shift in policy from the Jordanians. They cite lack of progress in the Israeli-Palestinian peace agreement as a deciding factor, but it really comes down to pressure from inside the government as well as citizens on social media that likely prompted the unexpected move by King Abdullah.
My Take
We have seen and will continue to see a shift away from support of anything that has to do with Israel. Between the United Nations and the Muslim world, the walls will be pressed to close around Israel in an effort to pressure them towards a two-state solution.
We will know for sure where King Adbullah stands in the next year as the lease is negotiated before officially ending. If no agreement is reached, then we can assume Jordan is heading towards a more adversarial stance with their neighbors to the west.
DDoS and Twitter attack in same day. Someone's not happy with us.
I should have known when the the Twitter account for the site was suddenly permanently banned that something was fishy. Unfortunately, Twitter is funny that way, so I didn't put 2 and 2 together until the site itself went down.
When you operate a site that tells the truth, there's bound to be someone offended. That's the nature of the game, especially for a news site that focuses on conservative media, that holds a Judeo-Christian worldview, and that isn't afraid to say things that may not be popular with, well, most people.
Our web provider was great. They recognized the attacks and took steps to stop them, but the attackers are clever. When they couldn't brute-force hack into the admin, they went the DDoS route. I'm not going to get into the technical details because they're over my head, but from what I can tell from the logs and in talking to our host, it wasn't a casual attack. They've been trying to hack the back end for days and when that proved too challenging,they went straight for the shutdown attempt.
As for Twitter, I'm not even going to bother. The site and one of the authors (that I've seen so far) were banned. I switched the site to link to my personal Twitter account. Been meaning to spend more energy there anyway.
This is reason #17 why we're so badly in need of donations from our readers. We have big plans for the site that include paid editors, writers, graphics, and a tech person (which we obviously need). I need to move the site to a stronger hosting tier, one that can withstand attacks like today. The one we're using isn't cheap, but it's not top-of-the-line.
When you're on the right side of the political aisle, there will be people who try to stop you. We will persevere, but we certainly can use the help.
To paraphrase a famous quote, if you're not making enough people mad, then you're doing it wrong. We will not crumble under the weight of heavy opposition. Fighting the left and their media puppets is a task that's too important to let go.
As Venezuela implodes, Trump administration recognizes Juan Guaidó as President
The destruction of Venezuela by socialism and corruption is practically complete, but hope is on the horizon. A new President has been recognized by the United States, making Nicolas Maduro's presidency nearly finished.
.@realdonaldtrump has officially recognized @jguaido as the legitimate constitutional President of #Venezuela.

— Marco Rubio (@marcorubio) January 23, 2019
Juan Guaidó has been serving as the President of the National Assembly of Venezuela since earlier this month and assumed the role of interim President earlier today. The United States joins Brazil, Canada, Chile, Colombia, and Puerto Rico in recognizing his claim as legitimate.
People have filled the streets of Caracas in an amazing display of solidarity against Maduro, who held an "inauguration" on January 11 despite clear indicators the May 2018 elections were rigged. Now, the streets of Caracas are full.
@SenRickScott Protest against Dictator Maduro in Caracas at this moment. pic.twitter.com/I4wXgZmN5L

— Víctor (@victorinox79) January 23, 2019
VIDEO: Huge anti-government demonstration in #Caracas #Venezuela today – @emiduartepic.twitter.com/jhRCfaTvn5

— Conflict News (@Conflicts) January 23, 2019
The beautiful@people of #Caracas protesting the socialist menace in #Venezuela

Go you good things. Follow Brazil. Throw off the enslavement of the left

See this @AOC? This is the nightmare you prescribe#VenezuelaGritaLibertad credit please @sol651

— Katie Hopkins (@KTHopkins) January 23, 2019
President Trump confirmed the move following multiple news outlets quoting White House officials.
The citizens of Venezuela have suffered for too long at the hands of the illegitimate Maduro regime. Today, I have officially recognized the President of the Venezuelan National Assembly, Juan Guaido, as the Interim President of Venezuela. https://t.co/WItWPiG9jK

— Donald J. Trump (@realDonaldTrump) January 23, 2019
Ironically, Guaidó's rallying cry happens to be "Sí, se puede!", Spanish for "Yes we can."
My Take
This is the only viable move given the circumstances. As I posted on Facebook:
It may not be possible for Guaidó to turn around the failing nation without a lot of outside assistance, but one thing is certain: Maduro had zero chance of making anything better for his starving people.
Four Republicans Senators ask the President to transfer ISIS prisoners in Syria
As the United States military prepares for a full withdrawal from Syria, some are concerned that Islamic State fighters currently being held by Syrian Democratic Forces (SDF) will be released or others be allowed to rejoin ISIS. Four Republican stalwarts in the Senate are calling on President Trump transfer the worst of these prisoners to Guantanamo Bay.
Senators Tom Cotton, John Cornyn, Ted Cruz, and Marco Rubio all signed the letter to the President requesting this action.
Proud to join @SenTomCotton, @JohnCornyn & @marcorubio in sending a letter to @POTUS urging him to send battle-hardened ISIS fighters currently detained in Syria to Guantanamo Bay. –> https://t.co/IA8QV0JlhH pic.twitter.com/VKDAXdYRIP

— Senator Ted Cruz (@SenTedCruz) January 23, 2019
The President announced the move to pull out of Syria on Twitter last month following a phone call with Turkish President Recep Tayyip Erdogan. This prompted the resignation of former Secretary of Defense James Mattis and drew condemnation from people on the left and right who felt the President was abandoning our allies in the war against ISIS.
Turkey has long wanted the United States out of Syria so they could deal with the Kurdish forces that they consider to be terrorists.
My Take
This is a smart move to do before the withdrawal, but this letter was also a not-so-subtle reminder to the President that pulling out of Syria quickly will have repercussions. Both National Security Adviser John Bolton and Secretary of State Mike Pompeo have tempered the President's remarks by saying the United States will pull out just as soon as ISIS is fully defeated.
One thing is certain: if these terrorists and militants are not moved to Guantanamo Bay, many if not all of them will eventually return to the Islamic State to continue their mission against the the rest of the world.