Hate-brokers on the left say conservative concern over massive migrant caravan is "fearmongering"
The hypocrisy is too thick today. Citizens are advised to stay off the roads of leftist media as chances are high you'll ram into spectacular stupidity in your journeys. Yes, this could be said about any given day lately, but the Democrats' responses to concerns over the massive migrant caravan inching towards our southern border are especially rabid.
Around 4,000 migrants from Honduras are walking to the United States. Threats by President Trump and halfhearted attempts by the governments of Honduras and Guatemala have not slowed them down. They approach the southern Mexican border where federal officers await them.
These people, most of whom live in extreme poverty and real danger in their homeland, have a legitimate claim as refugees. They should be seeking asylum… in Mexico. Many in the international community want refugees to seek asylum in the first safe country they enter. In this case, that's Mexico. While it is generally considered to be more dangerous than the United States, it's not nearly as dangerous as Honduras, Guatemala, or El Salvador.
The United States has carried the burden of illegal immigration from Central America for decades. Mexico's next President, Andrés Manuel López Obrador, has claimed indignation towards President Trump's deportation policies, particularly when he separates families. There's a logical solution for the incoming leftist President: encourage Central American refugees to stay in Mexico. That's a whole other discussion for a future article.
Republican candidates are rightly voicing concern over the caravan. Democrats are generally quiet on the issue, fearing a majority of Americans share the concerns their Republican competitors are voicing. That's not stopping leftist media from posting stories like this one on Salon:
Gaetz's argument mirrors that of Daniel John Sobieski from American Thinker, who wrote this week that "it is doubtful that such sums came from the kiddies' college funds. Evidence of Soros funding of an earlier 'spontaneous' migration have been found among the tentacles of support that flow from his Open Society group coffers."
It was also hinted at by conservative talk show host Laura Ingraham. Although Ingraham did not specifically claim that Soros was behind the caravan, she has previously fingered Soros as a sinister financier behind left-wing political activities, and some of her supporters interpreted her Wednesday tweet as a reference to Soros.
The Salon article attempts to ridicule those concerned about the source of this swelling caravan. They do this by begging the question on George Soros and his organizations' involvement with open borders initiatives. Soros has been painted by leftist media as a boogeyman for right-wing conspiracy theorists. They point to every invocation of his name in Tweets by conservatives and they love to remind everyone that extremists like white supremacist groups go after Soros all the time. What they won't address is that Soros really does do many of the things conservatives claim.
They use the bigoted and unhinged claims about Soros made by a hate groups as evidence that ALL accusations against Soros are false. Some of these leftist journalists are so sincere in their condemnation of any accusation against Soros that it's clear some of them really believe he's not involved with doing what he's said many times he's involved in doing.
The go after Tweets like this one. They didn't post the Tweet itself, just the text from the quote. The attached video is pretty telling.
BREAKING: Footage in Honduras giving cash 2 women & children 2 join the caravan & storm the US border @ election time. Soros? US-backed NGOs? Time to investigate the source! pic.twitter.com/5pEByiGkkN

— Rep. Matt Gaetz (@RepMattGaetz) October 17, 2018
As a legal immigrant, I'm very much in favor of reforming and potentially even increasing the number of immigrants we LEGALLY allow into this nation, but that will never be possible as long as we have so many who come here illegally. We need a modern vetting process, a plan that will allow legal immigrants and refugees to become productive members of society, and above all a curtailing of illegal immigration. If these things can be done, then I'm all for bringing in what the President likes to call "their best people."
This caravan concerns me greatly. It should concern every American regardless of party affiliation because it represents a soft invasion. We often think that the word "invasion" can only apply to the military, but it can also mean an unwelcome intrusion into another's domain. That's what this is. They want to escape their situation which is their right. They want to be taken in as refugees which is a responsibility of nations that have signed the Refugee Convention.
Mexico is one of those nations.
Here's the real problem and why most of us on the right are not "fearmongering" in regards to this event. It's a symbol of encroachment that will further open up the floodgates of illegal immigration into this nation. It's one thing for people to cross the border in small groups in the dead of night. That represents a risk to those making the journey. If all that's necessary to breach our borders and claim a piece of our sovereignty is for people in Central America to get enough other people together, then the narrative changes. The risks of trying to come to America are mitigated.
If this caravan is allowed to successfully breach our borders, it will act as a rallying cry for people in Central America to stop fighting for their own country when all they have to do is get a large enough group to head north.
16 states hit 9th Circuit to sue President Trump, as expected
It was one of the most replayed parts of President Trump's announcement regarding his national emergency declaration last Friday – a sing-song moment as the President predicted the declaration would be made, Democrats would sue, they'd go through the 9th circuit, and their decision will hopefully be overturned by the Supreme Court. So far, he's been absolutely correct as 16 states have filed against the declaration.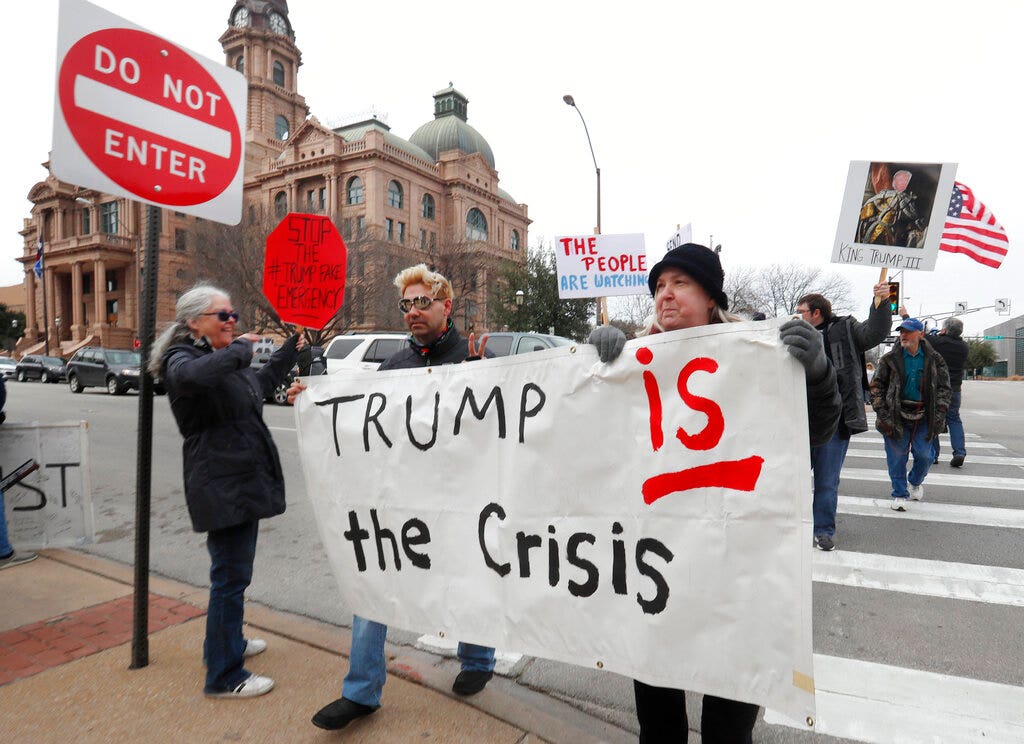 The attorneys general of California, New York, and 14 other states on Monday filed a lawsuit in the Ninth Circuit against the White House's recent national emergency declaration over border security, claiming President Trump has "veered the country toward a constitutional crisis of his own making."
President Trump sarcastically had predicted the lawsuit last week. He's slammed the Ninth Circuit multiple times as "disgraceful" and politically biased.
My Take
This is their right, and while it may annoy those who support building the border wall, it would be a mistake to condemn these states for trying to stop it. This is part of the way our nation is intended to operate. If one or more states feel the need to challenge the authority of Washington DC, they should be able to make their case before the courts. If the courts make decisions based on the Constitution, then the end result will be the accurate and righteous one.
That's how this was all intended.
I'm not suggesting the 9th Circuit is going to treat this fairly, nor am I confident the Supreme Court will make its decision solely on the Constitution, but until things are changed, this is what we've got. Attempts to subvert any component of this system from the President's right to declare the emergency to the states' rights to challenge it to the courts' responsibility to make a ruling about it all would be to denounce the foundation upon which this nation was built.
There was a way this could have been avoided. Had the President and the GOP decided to have the debate over the wall while they had power over the House, Senate, and White House, they would have been in better position to get the wall going by now. Unfortunately, they an improper political calculation to hold off on the wall debate until after the midterm elections, and now it's costing the American citizens. It costs us money to sit here through the shutdown and the legal battle over the national emergency declaration. It's costing us time; the wall should be much further along by now. It may end up costing us the wall altogether if they aren't able to make a strong case before the Supreme Court.
We are in the midst of a crisis at the border, one that has been going on for decades. Let's not exacerbate the crisis by adding a Constitutional crisis on top. This needs to play all the way out.
Dershowitz reacts to the backlash over Trump's national emergency
Lukewarm leftist Alan Dershowitz is against the use of a national emergency to fund the border wall, but he believes it will come down to whether or not the courts decide this is a real emergency or not. Could it be stopped altogether? Dershowitz, a lawyer, doesn't believe that will be the case. Instead, he thinks the courts will hold up some of the expenditures, but it's very possible portions of the wall will be built between now and the 2020 elections.
He also made an important point about Chief Justice John Roberts. Though the Supreme Court is currently considered to be "right-leaning" by most experts, Roberts has been willing to side with the left on more than one occasion since President Trump took office. This is a concern for wall proponents since the other eight Justices are likely split down the middle on maintaining the President's power to go down this path.
My Take
As we've stated in the past, a national emergency is not the best way to build the wall. Some may argue it was necessary to go around Congress since they were clearly unwilling to play ball when it came to wall funding, but would it have been better for the President to stick to his guns and shut the government down for a second time? At this point, nobody can know because that's not the course of action he took.
It's a shame we're having to watch the battle ramp up on the legal end when the need for the wall is so clear. Congress didn't do its job when the Republicans were in control and they're not doing their job with Democrats controlling the House.
Blue Collar Logic: Why did the President sign the border deal?
Many conservatives have been scratching their head since hearing the details of the border deal the President signed last Friday in order to keep the government from another partial shutdown. The provisions in the omnibus have been a consternation that doesn't make any sense on the surface. If we dig deeper, does it start to make more sense?
The short answer is, no. The justification for signing it is that the President doesn't want to wait for another drawn out battle with Congress that likely won't yield money for the wall, so he retreated to signing this bill and pushing for his national emergency declaration to get that particular ball rolling. Unfortunately, that means there are two major consequences Americans now have to face. First, we get the provisions of the bill itself, many of which actually work against the idea of securing the border. There are now even more incentives for illegal immigrants and criminals to come to the border with children in tow so they can get what essentially amounts to amnesty. It doesn't matter if they're here for a better job or if they're coming to join MS-13. If they have kids (even if they're not THEIR kids), they get a pass.
The second consequence is that the wall is going to be stuck in red tape for a long time, perhaps indefinitely. There's no guarantee the wall will ever get built. It's no longer in the hands of duly elected representatives of the people. It's in the hands of bureaucrats and judges who must decide whether or not the President even has the power to declare this national emergency in the first place.
The folks at Blue Collar Logic broke down the justification. They believe the President was forced into a political move that will allow border security to be a primary issue of the 2020 election. Shutting down the government again would have hurt him, so this cave on the border bill and national emergency was the best chance he had at having a winning message for his reelection bid.
Even die-hard fans of the President have to see this as a betrayal on some level. He was elected to make the borders safer and so far, the exact opposite has happened. It's sad that the guy who was going to drain the swamp is drowning in swamp as we speak.