NBC's 'mistake' and the devious methodology of snippet propaganda
Truth is in the eye of the bewildered.
That is the unofficial motto of mainstream media. They'll never admit it, not even to themselves in many cases, but every headline, opening paragraph, and bit of information packed into their reports are designed with slant in mind. It's done on both sides, but the prevalence of leftism in the biggest media outlets creates a tremendous imbalance of bias.
All of this can be boiled down to something I like to call "snippet propaganda." In every individual component, or snippet, of a news report or commentary, there are various attempts to spin the receiver (viewer, reader, or listener) in one direction or another.
Overtly, they tell us what to think about. Subtly, they tell us how to think about it.
Our always-connected, high-speed society is comprised of millions of individuals who rarely spend the time necessary on any one topic to gain true understanding. They see or hear the parts they want to ingest and then draw conclusions from it.
This is magnified by social media. I've had literally thousands of experiences where comments on Facebook, Twitter, Reddit, or the comment sections of my sites themselves react to a single, misunderstood element of what I post. In all of these cases it's clear the comment was made by someone who didn't actually read the article. They were just replying to the sentence or paragraph that was easily accessible.
That can be a huge annoyance to those of us who spend hours a day writing, all the while knowing we're going to be judged on a headline or descriptive paragraph. Debates get started over issues that are covered in the article, but when people are only reading the snippet, they have no idea they're arguing the wrong point altogether.
Mainstream media takes advantage of this. They know the masses will see a headline and description on social media and spread the information about it based on their worldviews with the assumption that the actual news report itself backs it up even if they don't take the time to read it.
Let's look at a story from left-wing ThinkProgress.
Members of the far-right Patriot Prayer group and the white nationalist Proud Boys group clashed with Antifa demonstrators in Portland Saturday evening, resulting in several skirmishes during what has turned out to be a weekend of right-wing violence on both coasts.
The altercations began Saturday afternoon, when the far-right groups organized a "Flash March for Law and Order" under the leadership of Joey Gibson, a political activist and former Republican candidate for Senate in Washington.
Every aspect of this story, from headline to snippet to the body of the story itself, is tilted to the left with the intention of harnessing the rage leftists feel towards far-right organizations. Here's the problem. The vast majority of protesters were Antifa. The vast majority of "skirmishes," as the publication put it, were started by Antifa. Even most mainstream media outlets covered these stories with the fair and indisputable assertion that Antifa was the source.
News outlets post an inflammatory headline with a damning snippet as the description. The people react. In many cases the reality isn't nearly as outrageous as the headline and snippet would suggest, but it's enough to get comments, likes, and shares. Today's news serves us Big Macs because we can grab them quickly, easily, and inexpensively. Yet for some reason, the people then wonder why they're not satisfied with their news meal.
Let's look at a different example, this time from right-wing Breitbart.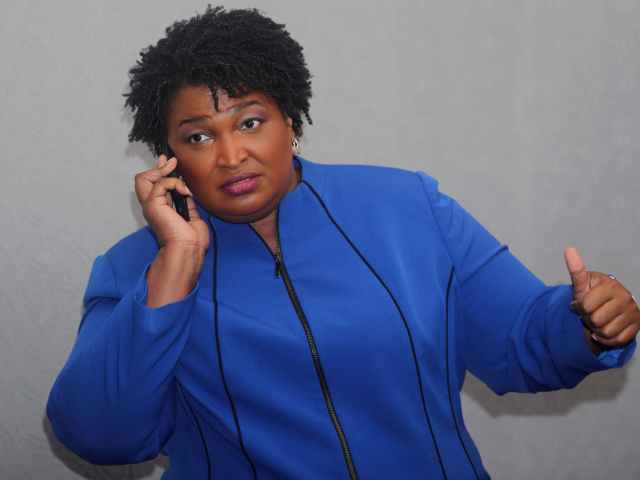 The "blue wave" — allegedly including illegal aliens — refers to the voters that Democratic candidates across the country are hoping will carry them to victory in the 2018 midterm elections.
Abrams' comments are not entirely unfounded though, considering that earlier this week, an internal audit revealed that the California Department of Motor Vehicles had illegally registered roughly 1,500 individuals to vote, included non-citizens.
As much as I oppose illegal immigration and voter fraud, that was not what Abrams was suggesting. Breitbart spun her comments to tap into an anger many on the right feel towards illegal immigration, especially if it's used as a tool by Democrats to get elected. Here's the actual quote by Abrams:
"The thing of it is, the blue wave is African American. It's white, it's Latino, it's Asian-Pacific Islander, it is disabled, it is differently-abled, it is LGBTQ, it is law enforcement, it is veterans," she said. "It is made up of those who've been told that they are not worthy of being here. It is comprised of those who are documented and undocumented."
She isn't referring to illegal immigrants voting. Yes, as Breitbart asserts, the "blue wave" is driven by voters, but in context it's clear that Abrams is discussing the sentiment of the people who are fueling the blue wave. She's not saying that illegal immigrants are going to be voting her into office.
What's good for the goose shouldn't always be considered good for the gander. We unabashedly defend conservatism, federalism, and originalism, but we do so knowing we have the right ideas. There's no need to use propaganda techniques. We have the truth on our side. It behooves right-leaning news outlets to tell stories accurately and honestly.
Now, onto the story that riled up the President.
NBC News has totally and purposely changed the point and meaning of my story about General Robert E Lee and General Ulysses Grant. Was actually a shoutout to warrior Grant and the great state in which he was born. As usual, dishonest reporting. Even mainstream media embarrassed!

— Donald J. Trump (@realDonaldTrump) October 14, 2018
Shortly after backlash from the right against NBC for misrepresenting the President of the United States, they issued a correction.
Thank you to NBC for the correction! https://t.co/L2mX3vREOl

— Donald J. Trump (@realDonaldTrump) October 14, 2018
This final technique of snippet propaganda is arguably the most egregious. It's when media outlets willfully misrepresent their political foes, then issue a "correction." The problem is the original story has already reached the masses. How many of them will see the correction? How many people are walking around today claiming the President of the United States gave kudos to a man who fought to keep slavery.
This was blatant and intentional. It was an act likely committed by a very small number of people at NBC, but it was done with the intention of spreading a lie. Once the lie spread and the backlash began, those with more journalistic integrity issued the correction, but at that point the damage was done. The mainstream media and leftist narrative that the President is a racist was hammered home. The correction only served to justify the damage done without actually mitigating it.
The President and right-leaning media will mitigate the damage by highlighting the correction, but there will still be a large number of people who never hear the truth.
Shame on you, NBC.
This methodology may not be isolated to the left, but their skill in manipulating public sentiment is arguably the biggest reason the progressive movement continues to exist. It's repugnant, which is why conservative media must expand.
Liz Wheeler on the most disgusting part of the Jussie Smollett scandal
There are plenty of things about the Jussie Smollett scandal that should disgust us. The instant reaction by celebrities, politicians, and the media is right there at the top, especially when we consider how many are now saying, "let's wait for the facts." The notion that a successful gay black man thought it appropriate to make himself seem like a victim is also up there.
As One America News Network's Liz Wheeler points out, we should also be disgusted that Smollett chose this victim status over being a strong leader and role model for less privileged black and gay people who could have looked up to him for his strength instead of now being scornful of his weakness.
What does that say about America when the left tries so hard to build the narrative that everything is wrong, they're unwilling to recognize the real problems that are plaguing America. Why? Because they're the biggest part of the problem.
Leftist media pushes back on Green New Deal criticism
It's been an up-and-down couple of weeks for proponents of the Green New Deal. Before details were released, it was already being heralded as the greatest thing since President Obama's election. Then, the details came out and even many on the left were taken aback by the ambitious and incoherent provisions of the deal as detailed in a FAQ section on Representative Alexandria Ocasio-Cortez's government web page.
But that was just a draft. They took it down. At least that was the story.
Unfortunately for proponents, they were caught a little flat-footed as questions started pouring in about, well, all of it. Even if we dismiss the less-draconian concepts such as eliminating air travel or the less-sane ideas like taking care of those who are unwilling to work, the left is still stuck with a proposal that the most frugal estimates put at costing around $7 trillion while other's consider the decade-long cost to be in the HUNDREDS of trillions of dollars.
This is, of course, ludicrous. There's not enough money in the entire world to pay for the proposal if its cost is somewhere between the lowest and highest estimates, but that hasn't stopped leftist media from regrouping. Now that the dust has settled a little bit, they're doing everything they can to recommit to this concept. It's not that they suddenly believe in this fairy tale. It's that they don't want this to be the issue Republicans attack in the 2020 elections.
One article in particular that I read from CNN (yes, sometimes I need to see what the other side is thinking) really struck me for its honesty about the situation. Though I stopped reading it in paragraph two when it referred to "non-partisan" PolitiFact, I went back to it just now to digest the awfulness fully (see the sacrifices I make for our readers!).
I tried to read this article. I really did. But @DeanObeidallah lost me in paragraph two when he referred to the "non-partisan" Politifact. https://t.co/bjRAXbN2b0

— JD Rucker (@JDRucker) February 19, 2019
To be clear, much of what this article says is correct. It asserts the GOP will take the tenets of the Green New Deal and use it to scare voters into thinking it's even worse than Obamacare. From 2010 through 2016, Republicans attacked Obamacare incessantly and it worked, giving them the House in 2010, the Senate in 2014, and the White House in 2016. Unfortunately, they stopped there and didn't actually go after Obamacare with the same fervor they held in their campaign rhetoric and now the Democrats have turned the issue on its head.
But here's the thing. Obamacare may have been bad, but the Green New Deal truly is worse. It's not even close. Even if we take at face value the notion that the Green New Deal is simply an ambitious framework around which real legislation can be forged, we have to look at the core issues entailed in order to see the true damage it can do. This is a socialist document. It's a call for the same levels of insanity that drive the Medicare-for-All movement. Within its frivolous attempts to change perceptions of air travel, cows, and job creation is a deep-rooted desire to convert Americans to needing more government.
NOQ Report needs your support.
The Green New Deal represents the far-left's desire to make more American dependent on government. At the same time, it aims to increase the levels of dependency for those who are already in need of assistance. It wants Democrats to latch their wagons on the notion that if we become a militantly environmentalist nation, that will serve the dual purpose of giving us fulfillment while saving the planet.
I believe most leftist journalists understand this, but they see in the ridiculous framework a path through which Republicans can be defeated wholesale in 2020 as long as the left can control the narrative surrounding the Green New Deal. They fear another Obamacare counterinsurgency that would wipe out the anti-Trump gains they made in 2018, so they've adopted a stance that the Green New Deal isn't as bad as Fox News says it is. Meanwhile, they're doing everything they can to say, "look over here and not at the Green New Deal."
Don't misread leftist media's resurging push to defend the Green New Deal as actually believing it's a good idea. Their big concern is if they don't nip it in the bud now, it'll harm Democrats in 2020. So they say "it's good, don't worry," and move on to another subject.

— JD Rucker (@JDRucker) February 19, 2019
The politics behind what the Green New Deal represents is more in play than the tenets of the proposal itself, at least in the eyes of leftist media. It's not that they want to promote the concept. They simply don't want the concept to derail their party in the next election.
NOQ Report drops ads, goes 100% crowdfunded
There's nothing pleasant about asking people for money. Over the last six months, we've experimented with various types of revenue streams to see what could help propel this site to more people. In a society dominated by fake news and leftist media, getting a foothold as a limited-government conservative news outlet is challenging.
Unfortunately, there seem to be only three options. The first one is a non-starter – corporate sponsorships. There are very few organizations, PACs, and companies we trust enough to allow to be corporate sponsors, and while we may someday work with the few that we trust, we don't have the luxury of waiting for them. We've had some corporate sponsorship offers, but invariably they want a say in the editorial component. Some want all-positive Republican coverage. Others want more positive Democratic coverage. Our goal has been and always will be to present the news, opinions, and quotes from a pro-American perspective. That means we call it how we see it.
Option two has been a disaster for multiple reasons. Most websites are driven by advertising, which is fine as long as it both pays the bills and doesn't flood the site with spam. We've used Google, Amazon, and a handful of smaller ad networks to try to generate enough revenue, but it's challenging when we have limited control over what's being served. I'd get emails regularly saying we were advertising for Planned Parenthood or Ashley Madison or other websites that didn't match our values at the site. This may be the easiest way for the site to pay its bills, but it's not worth the trade-off.
Option three is the tough one. It's the way that requires me to do what doesn't come naturally – asking for money. We want to be 100% crowdfunded. That means we need you, the readers, to donate whenever possible. It can be single donations to give us a boost. It can be a recurring donation to help us plan for the future. Literally anything and everything helps.
We have tiers of $10, $50, $5000, and everything in between. Of course, there's an option for supporters to name their donation amount, so there really isn't a limit to how much or how little you contribute. Every penny makes a difference.
Here are some of the upcoming expenditures we need covered in order to keep the site moving forward:
$25/article – Paid writers and expenses. Currently, all of our writers are volunteers. We appreciate their efforts and we want to reward them. We also need to hire more freelance writers in order to expand the perspectives. Eventually, we will need to budget around $12,000 per month for full-time staff writers, but just getting started with around 1/5th that amount will be a wonderful down payment.
$3000/mo – Editors. For the last six months, I have put my time and effort into editing the site. I don't mind working for free as it's a labor of love, but it's unsustainable. I'll either need to hire editors so I can work full time again or I'll need to start paying myself. Either way, this is a top priority.
$350/mo – Facebook promotions. It's amazing how much attention we can drive to the site with every little money spent. $10 per day gets the message out to several thousand additional people on Facebook. Add in a little in Facebook reserve to push harder on some of the more important stories and we can start boosting exposure dramatically.
$625/mo – Graphics. Whether for videos or articles, the need for help from a graphic design perspective is ongoing.
$2000/mo – Advertising. Like-minded conservatives, classical liberals, and limited-government federalists need to know about NOQ Report. By advertising on other sites, we not only get to reach more people, but we also get to support sites that can also use financial help.
$200/mo – Stock photos. Using the royalty-free sites limits what we can use as artwork and photos for our articles.
$525/mo – Stronger server. There have been a few occasions where the site has gone down because we have a good but not great server. To have a server that should be able to handle the load of daily activity plus the occasional story going viral is a bare minimum around $525 per month. Thankfully, this also includes service, so it alleviates the need for an IT person as well.
This started out as a labor of love, but over the last year we've been accepted into Google News and have strong followings sharing the content on social media. It's time for this site to branch out and start making more of an impact on American society, presenting conservative, Christian ideas that this world needs now more than every.
We appreciate all who have helped. It is our hope that our mission of spreading proper conservative and Christian messages to the masses is one our readers share. Please consider donating today.