U.S. Ambassador to the United Nations Nikki Haley is leaving the administration. In a joint press conference, Haley joined President Trump in the Oval Office to make the announcement and answer questions. She will be staying on until the end of the year.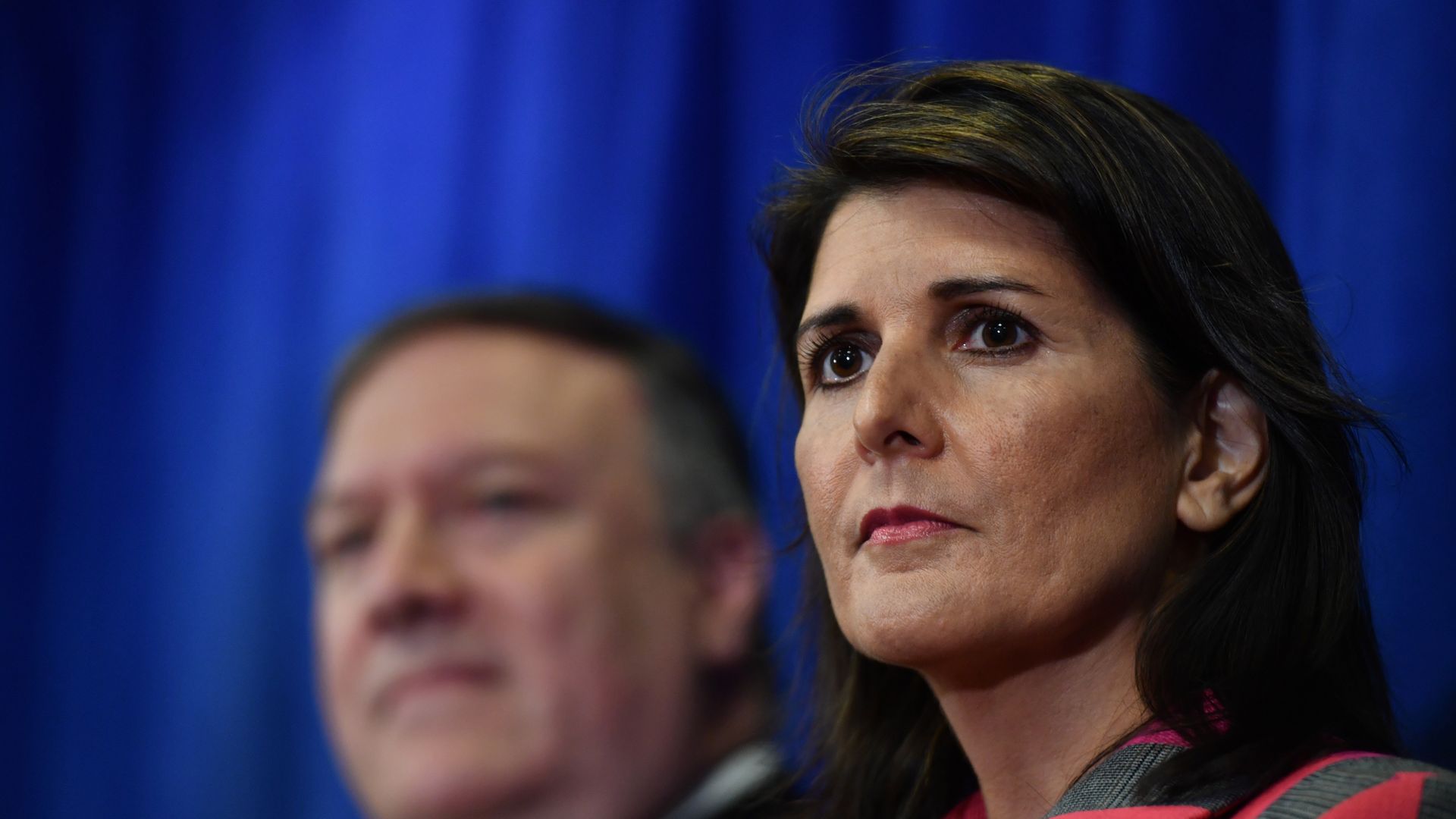 President Trump has accepted Nikki Haley's resignation as UN Ambassador, the two said Tuesday morning in a public Oval Office meeting. She will exit at the end of the year, Trump said.
What we're hearing: Haley discussed her resignation with Trump last week when she visited him at the White House, two sources said. Her news shocked a number of senior foreign policy officials in the Trump administration.
A successor is expected to be named in the next two or three weeks, perhaps sooner. At this critical time with many world events taking place, it will need to be soon. Someone will have to hit the ground running.
My Take
There will be plenty of speculation of why one of the most successful and liked senior members of the administration is leaving so abruptly. Personally, I'm quite saddened by the news as Haley was arguably my favorite.
She has the uncanny ability to quickly shift between being extremely charming and tough as nails depending on what was called for in any given situation. In her role as U.N. Ambassador, she was forced to deal with misogyny and cultural differences that are trying for anyone.
Whatever the reasoning is for this move, we may know soon or we may never know. It doesn't matter. She's leaving. We'll see who's next. Thank you, Nikki, for doing an outstanding job.
This is breaking. We will update this as more information comes available.
Nikki Haley has been a strong voice for America's ideals and interests in an inherently hostile and often crazed forum. We are all grateful for her service. She has a very bright future

— Rich Lowry (@RichLowry) October 9, 2018
Prediction: Senator Lindsey Graham is going to Attorney General and Nikki Haley will replace his Senate seat in South Carolina

— Katie Pavlich (@KatiePavlich) October 9, 2018
Me upon receiving news that Nikki Haley would be stepping down this morning pic.twitter.com/QQm9FtpaIM

— Ben Shapiro (@benshapiro) October 9, 2018
I am sad to learn that Ambassador Nikki Haley is resigning. Facing an assembly of dictatorships and their apologists, history will record that she stood up for truth, fairness and human rights, and that she did so with courage, eloquence and grace. I will miss her. pic.twitter.com/fwa6FwNAyk

— Hillel Neuer (@HillelNeuer) October 9, 2018
George Washington University students triggered by their mascot
George Washington University is the home of the Colonials. You know, those people who came to America from Europe and eventually fought against the oppressive government of England in order to win independence for America. These heroes of the American Revolution are now being condemned by the students of George Washington University itself.
While the movement and attached petition haven't reached a tipping point, the idea of changing the mascot to the "Hippo" is gaining momentum. Why? Well, we'll let the students themselves tell you what they think.
This video by Campus Reform takes us into the wacky world of triggered college students who are so much in opposition of the people who made this country possible that they'd rather be named after the "river horse" of sub-Saharan Africa.
Trump to Acosta: 'You have an agenda. You're CNN. You're fake news.'
During President Trump's press conference announcing his declaration of a national emergency, CNN's Jim Acosta asked whether the President was concocting the national emergency in order to build his border wall because he couldn't get it done through Congress. The President responded in standard fashion, attacking Acosta's question itself as biased.
"You have an agenda. You're CNN. You're fake news," the President said to the reporter.
Acosta has been at the center of controversy throughout President Trump's term, tussling with members of the administration and the President himself at times. He lost access to the White House in November, 2018, after an altercation with a White House staffer.
This time, the President answered Acosta's question about whether or not the emergency was manufactured by telling him to ask the Angel moms sitting in the front row if they thought the emergency was manufactured. Acosta did not.
President declares national emergency. Now the craziness begins.
As expected, President Trump signed the omnibus to keep the government from a second shutdown. Then, as expected, he declared a national emergency at the southern border to allow his administration to free up funds for the building of a wall at our southern border.
Now, the expectations shift to how Democrats will attack this move. During his announcement of the national emergency, the President noted he's aware of how the process is going to go: lawsuits, appeals, more lawsuits, more appeals… and eventually it will be decided by the Supreme Court.
Reactions on social media were mixed.
Reactions to national emergency declaration are mixed
My Take
From here, it goes insane. It should be noted the President made what many are considering a mistake when he said he "didn't have to" declare an emergency but wanted the wall built faster. That seems like grounds to attack the declaration itself.