Reminder: Tech Giants are not monopolies
There is a lot of disgust aimed towards tech giants such as Google, Facebook, and Twitter. And why not? These companies are large, incredibly biased, and quite powerful. Their reach is everywhere, striving towards omnipresence. Their influence can sway public opinion, as evident on issues such as Net Neutrality and to reach back for a more benign issue, SOPA 2014. Another concern is the pubic safety of personal information. Data breaches, hacks, and leaks are all significant risks. In China, Google has assisted the government with the surveillance of their people. And while public safety is an issue, the solution of regulating these large companies as monopolies is fraudulent in its premise. The enact anti-trust laws would ignore the simple fact: neither Google, Facebook, or Twitter are monopolies.
Antitrust
But denotation doesn't stop individuals from advocating action. Kurt Schlicter of Townhall wrote a fiery piece advocating for serious regulation.
And what's also scary is their willful manipulation of the algorithms that determine what can and cannot be said and read. If you don't exist on Google, in many ways, you really don't exist at all. Well, that's intolerable. Our free society conducts its business on the Internet, and if one unaccountable, partisan group can decide what topics can and cannot be discussed, we no longer have a free society. We'd have a fascist one, and fascists are bad even if those fascists swill kombucha tea, bike to work at a Mountain View campus, and spew ridiculous mottos like "Don't be evil."
By definition, a monopoly is when a single firm has absolute market share. Yet the federal government has its own definition. And that definition is comprised in the form of antitrust laws. Ryan Cooper of The Week proposed:
It could be that careful anti-trust action could build a market with several search competitors, and thereby create some competition. But certainly all search platforms should be forced to follow something like a railroad's common carriage rules, where websites are not allowed to be ranked according to how much they might profit the platform itself, and get fair access to search traffic.
This action would break Google apart into several companies and only enrich Google shareholders. The Google splinters would crush the actual competitors of Google rendering making this polygopoly a more clear monopoly for the shareholders than it was already before. Historically speaking, the Rockefellers gained an immense amount of wealth after Standard Oil broke apart. Again it must be said about how Coopers supposition is a flagrant misuse of antitrust law.
Suicidal?
Microsoft's battle in the 1990s is a crowning misuse of antitrust law. Microsoft was found to be a monopoly because they put their own software, internet explorer, on their own operating system, Windows. What Microsoft did was clear business instinct. Yet the feds and several states wanted to split them up. Their plan ultimately failed but the precedent remains. In 1999, Milton Friedman referred to companies seeking to break up Microsoft as suicidal, seeking action that would one day be used against them.
"Under the circumstances, given that we do have antitrust laws, is it really in the self-interest of Silicon Valley to set the government on Microsoft? Your industry, the computer industry, moves so much more rapidly than the legal process, that by the time this suit is over, who knows what the shape of the industry will be. Never mind the fact that the human energy and the money that will be spent in hiring my fellow economists, as well as in other ways, would be much more productively employed in improving your products. It's a waste! But beyond that, you will rue the day when you called in the government. From now on the computer industry, which has been very fortunate in that it has been relatively free of government intrusion, will experience a continuous increase in government regulation. Antitrust very quickly becomes regulation. Here again is a case that seems to me to illustrate the suicidal impulse of the business community."
The USFL is another clear example where using antitrust was literally business suicide. The United States Football League launched in 1983 as a spring alternative to the NFL. Yet in their poor management, they moved to fall where the NFL had all of the TV contracts and sued the NFL for antitrust. In truth, their very existence disproved the notion that the NFL was a monopoly, also the existence of college football. The USFL invested everything into the antitrust suit and won $3 dollars($1 tripled).
Competition
Google/ Alphabet –
Search Engine, adsales, appstore, Youtube, email, consumer electronics, operating systems, big data, web browser, programs, social network etc.
Verizon (Yahoo, AOL) – failed internet giant, search engine, adsales, email
Apple – fellow tech giant, consumer electronics, app store, operating system
Microsoft – operating systems, direct competitor to Google's word processing platform, web browser(sort of), app store, search engine
DuckDuckGo – private search engine
Opera – web browser, free VPN/ adblock
Brave – web browser with adblock
Netflix – content streaming platform
Hulu – Content streaming platform
TV – not a company but a replacement for Youtube
Yelp – review website
Facebook
Social networks, text app for europeans,
Twitter – microblogging platform
Minds – social network
Snapchat – picture messaging, social network
Craigslist – localized ad sales
Reddit – online community based on interest
Myspace – Technically still a thing, rebranded as a music page
Codias – political social network
Twitter
Microblogging platform
WordPress – webhosting, blogging platform
Gab – Turkish microblogging platform
Steemit – cryptocurrency social network for original content creators
Kialo – social media platform for civil debate
Micgoat – video/blogging platform for debate
Conclusion
As you can see, Google is so large and expansive, they cannot be considered a monopoly, for their is competition every industry they are in. Their most serious competitors are other tech giants, like Microsoft and Apple. Facebook has numerous competitors as does Twitter. Just because their competition lacks prominence, doesn't mean there is a monopoly.
The titans of tech are not monopolies, nor should we want them treated as such. Treating Facebook as a monopoly would create at least three large companies. And these newly divided large companies would eventually merge together and crush the alternative social platforms that currently exist. Rather these platforms would benefit from these companies remaining large and having bad PR. These companies will create innovations and capitalize on their fall should they end up like Yahoo or Kodak.
Veronique de Rugy: Green New Deal would be hundreds of TRILLIONS of dollars in federal commitment
If there's a word that's not necessarily negative one could use to describe the Green New Deal, it would be "ambitious." The deal has so much wrapped into it that it's hard to tell which components are designed to save the environment and which ones are intended to destroy the economy.
Estimates put costs for the "green side" of the resolution at somewhere between $12-$20 trillion. Then, there's the Medicare-for-All component that is estimated at $32 trillion over a decade.
And that's just the start.
This isn't just a "green" deal. It's a hodgepodge of policy proposals that include massively growing the welfare state, inserting government even more into the job markets, and a universal basic income that they refuse to actually call a universal basic income. The much-maligned FAQ that was posted and quickly removed from the website of sponsor Alexandria Ocasio-Cortez (D-NY) mentioned paying people who were unable or even "unwilling" to work.
"Even in the best case scenario where you substitute a UBI for all the other forms of welfare, it's insane," said Veronique de Rugy, Senior Research Fellow at the Mercatus Center at George Mason University, on ReasonTV.
But here's the problem. The Green New Deal doesn't substitute a universal basic income for other welfare programs. In the Green New Deal, the programs recommended are supposed to be additions, not substitutions.
"It's a really hard system to support even in its ideal form," de Rugy continued. "Then there's this Green New Deal version which doesn't even seem to entertain this notion of actually substituting for all the rest, so it's on top of what we have now."
This site is 100% crowdfunded by readers like YOU. Please consider donating and keeping the right side of news going strong.
The real question we need to ask is whether or not the Democratic Party is actually going to support this. In its current form, the Green New Deal is a fantasy, and perhaps that's what the more-sane Democrats are shooting for by supporting it. By giving it their attention now, they can work their way down to more reasonable proposals for everything from environmental protection to job creation programs to different versions of socialism.
In other words, they may be using the hyper-leftism of the Green New Deal as a gateway to get to the palatable leftism of what's quickly becoming mainstream socialism.
The Green New Deal shouldn't scare conservatives because it can't happen. What should concern us is the end result negotiated down from this starting point. Given the GOP's negotiating track record lately, we don't know what we're going to get when the Green New Deal is trimmed down to reality.
Even Drudge can't deny the insane spending by Washington DC today
What did GOP control of the House, Senate, and White House do to spending and the national debt? Did Republicans demonstrate the fiscal responsibility that has been one of their alleged traits for decades? Did they match the spending under Presidents Bush and Obama, maintaining the status quo? No, and no. They looked at the spending and debt accumulation of the past and said, "Hold my beer."
It's not just the Republicans' fault, but asking Democrats to stop them when they're on a spending spree is like asking a bartender to stop serving alcohol. It just doesn't feel right to them and the results of bipartisanship have been quite apparent, as my friend Daniel Horowitz noted on Conservative Review:
It feels like it was yesterday when I was watching the news as a kid with my parents in 1995, listening to Newt Gingrich, during the infamous shutdown fight, warn about the dire consequences of crossing the $5 trillion debt milestone. It feels like it was yesterday when I was writing press releases for candidates in "the year of the Tea Party" on how Obama and the Pelosi Congress took the debt to $14 trillion in such a short period of time. Now, over eight years into varying degrees of GOP control of Congress and the White House, we have crossed the $22 trillion mark, expanding the debt more rapidly than at any time in our history. Whereas the debt exploded by $5 trillion during Bush's eight-year tenure, a shocking figure at the time, it has now increased $8 trillion just since Republicans controlled the House in 2011 and by $4 trillion over the past four years, since they controlled at least two of the three political organs of government.
It has become so bad that even Matt Drudge, whose conservative news aggregator Drudge Report has been consistently defending President Trump since well before the 2016 election, is starting to ask questions.
Washington DC has had a spending problem for a century. Republicans run on solving this problem during election time, but they're acting like Democrats between elections. It's time to let them know we're watching and we're not happy about it.
Trump administration is optimistic about failing economic policies
In an article I wrote last week following Trump's campaign rally disguised as a State of the Union Address, I documented how his claim that his trade war and tax cuts had produced "the hottest economy in the world" were merely the rhetorical ramblings of a failed "Republican" running for re-election.
Trump's trade war has created an economic hell that will take years to recover from, and his tax cuts have failed to provide tax relief for the middle class. In addition, when you throw Trump's big-government spending into the mix, the federal deficit now exceeds $22 trillion.
The stock market fell late in 2018 and all gains made in the year were wiped out, a crash the administration blamed on Democrats and Fed Chairman Jerome Powell.
While the slide on Wall Street was dismissed as a market correction, recently released economic data from the Commerce Department shows that the overall economy ended the year much worse than the White House would have you believe.
U.S. retail sales recorded their biggest drop in more than nine years in December of 2018 as receipts fell 1.2 percent across the board. This is the largest decline in retail sales since Sept. 2009 when the economy was in a recession.
Trump brags about low unemployment numbers, but according to a Department of Labor report released yesterday, unemployment claims increased by 4,000 to a seasonally adjusted 239,000 for the week ending Feb. 9th.
While it's tempting for some to dismiss yesterday's report as an anomaly, let's take a look at the data from another angle.
The four-week moving average of claims — considered a better measure of labor market trends because it irons out week-to-week volatility — was 231,750, an increase of 6,750 from the previous week's revised average. This is the highest level for this average since January 27, 2018 when it was 234,000. The previous week's average was revised up by 250 from 224,750 to 225,000.
Of course, the administration famous for identifying unfavorable news as "fake" went right to work trying to spin these economic failures into policy victories.
Saying that he was still "optimistic" about the economy, White House Economic Advisor Larry Kudlow called the retail sales number a "glitch," and he invited the feds to "step aside" while praising the president for "ending the war on business." He then parroted SOTU talking points about how the overall economy was "very strong" despite these recent reports.
There are those who label me a pessimist because I refuse to whitewash the political graffiti of optimism Trump and the GOP spray paint on their crumbling wall of lies and broken promises, but in the words of C. Joybell C.: "Some people are optimists. Some people are pessimists. I'm just a realist who believes that some things are worth fighting for."
Originally posted on StridentConservative.com.
---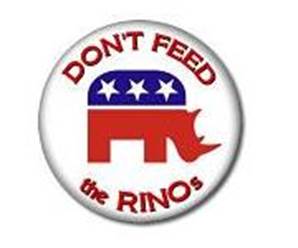 David Leach is the owner of The Strident Conservative. His daily radio commentary is distributed by the Salem Radio Network and is heard on stations across America.
Follow the Strident Conservative on Twitter and Facebook.
Subscribe to receive podcasts of radio commentaries: iTunes | Stitcher | Tune In | RSS