So-called conservatives aren't even trying to hide their betrayal of our values
With the midterm election only a month away, Trump and the GOP have been pulling out all the stops in their effort to save the party from being inundated by the floodwaters of the approaching blue tsunami. Their favorite tool? Distraction.
They've used the

Kavanaugh circus

as a distraction to draw voter attention away from two years of GOP-controlled Washington's ineptitude.
They've worked, metaphorically speaking, on a

meaningless resolution

"condemning" voting by illegals to distract from their failure to eliminate DACA and fix the border.
They've

eliminated a meaningless $16,000

from the over $100 million the government spends to buy aborted baby body parts for research purposes to distract from the recent

#MiniBusBetrayal

spending bill that funds nearly all of Obama's priorities, including Planned Parenthood an Obamacare.
Unfortunately for Republicans, these distractions aren't working as well as they had hoped. For example, by funding Obamacare, Republicans gave government-run healthcare a big boost and effectively removed it as a campaign issue. This has motivated Democrats to add the expansion Medicaid and the creation of a single-payer, government-run health care system to their campaigns for November.
Another reason the Obamacare distraction isn't working is because Republicans support government-run healthcare. Trump has a long history of support for single-payer healthcare, and he promised during his campaign to create a universal healthcare system that will cover everyone at government expense.
Yesterday, I wrote about how Trumpservatives in the House Freedom Caucus are facing trouble in their re-election bid as they try to convince their constituents that they still hold conservative values, despite selling out to the progressive agenda of Trump, McConnell, and Co.
There are other so-called conservatives trying to have it both ways when it comes to Trump's agenda and conservative values, although, they are caring less about hiding it.
In another situation that, coincidentally, involves Obamacare, Rep. Dana Rohrabacher just released an ad where the thirty-year congressman — term limits, anyone? — used his daughter as a stage prop for a pro-Obamacare one-act play supporting guaranteed coverage for pre-existing conditions.
Dana Rohrabacher: "Politicians argue a lot about healthcare, but for me it's personal. When my daughter Annika was 8 years old she was afflicted with leukemia. It was devastating to my family, but we got through it – and today she's doing great. So for her and all our families, we must protect America's healthcare system. That's why I'm taking on both parties, and fighting for those with pre-existing conditions. I'm Dana Rohrabacher and I approved this message."

Annika Rohrabacher: "And so do I."
I thought children were off-limits in the political arena. Oh well, anything for the progressive cause. Right?
Amazingly, Rohrabacher carries an 80% (B) Liberty Score® at Conservative Review, but upon closer examination, we see that he only garners a 67% on gun rights, 71% on education, and 73% on moral issues. Passing grades, but marginally conservative.
Unfortunately, marginally conservative is what passes for true conservatism in the age of Trump. That's why I call them Trumpservatives, and it's why the GOP could lose BIGLY in November.
Originally posted on StridentConservative.com.
---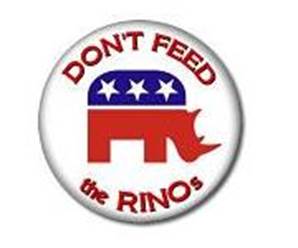 David Leach is the owner of The Strident Conservative. His daily radio commentary is distributed by the Salem Radio Network and is heard on stations across America.
Follow the Strident Conservative on Twitter and Facebook.
Subscribe to receive podcasts of radio commentaries: iTunes | Stitcher | Tune In | RSS
Liz Wheeler on the most disgusting part of the Jussie Smollett scandal
There are plenty of things about the Jussie Smollett scandal that should disgust us. The instant reaction by celebrities, politicians, and the media is right there at the top, especially when we consider how many are now saying, "let's wait for the facts." The notion that a successful gay black man thought it appropriate to make himself seem like a victim is also up there.
As One America News Network's Liz Wheeler points out, we should also be disgusted that Smollett chose this victim status over being a strong leader and role model for less privileged black and gay people who could have looked up to him for his strength instead of now being scornful of his weakness.
What does that say about America when the left tries so hard to build the narrative that everything is wrong, they're unwilling to recognize the real problems that are plaguing America. Why? Because they're the biggest part of the problem.
Leftist media pushes back on Green New Deal criticism
It's been an up-and-down couple of weeks for proponents of the Green New Deal. Before details were released, it was already being heralded as the greatest thing since President Obama's election. Then, the details came out and even many on the left were taken aback by the ambitious and incoherent provisions of the deal as detailed in a FAQ section on Representative Alexandria Ocasio-Cortez's government web page.
But that was just a draft. They took it down. At least that was the story.
Unfortunately for proponents, they were caught a little flat-footed as questions started pouring in about, well, all of it. Even if we dismiss the less-draconian concepts such as eliminating air travel or the less-sane ideas like taking care of those who are unwilling to work, the left is still stuck with a proposal that the most frugal estimates put at costing around $7 trillion while other's consider the decade-long cost to be in the HUNDREDS of trillions of dollars.
This is, of course, ludicrous. There's not enough money in the entire world to pay for the proposal if its cost is somewhere between the lowest and highest estimates, but that hasn't stopped leftist media from regrouping. Now that the dust has settled a little bit, they're doing everything they can to recommit to this concept. It's not that they suddenly believe in this fairy tale. It's that they don't want this to be the issue Republicans attack in the 2020 elections.
One article in particular that I read from CNN (yes, sometimes I need to see what the other side is thinking) really struck me for its honesty about the situation. Though I stopped reading it in paragraph two when it referred to "non-partisan" PolitiFact, I went back to it just now to digest the awfulness fully (see the sacrifices I make for our readers!).
I tried to read this article. I really did. But @DeanObeidallah lost me in paragraph two when he referred to the "non-partisan" Politifact. https://t.co/bjRAXbN2b0

— JD Rucker (@JDRucker) February 19, 2019
To be clear, much of what this article says is correct. It asserts the GOP will take the tenets of the Green New Deal and use it to scare voters into thinking it's even worse than Obamacare. From 2010 through 2016, Republicans attacked Obamacare incessantly and it worked, giving them the House in 2010, the Senate in 2014, and the White House in 2016. Unfortunately, they stopped there and didn't actually go after Obamacare with the same fervor they held in their campaign rhetoric and now the Democrats have turned the issue on its head.
But here's the thing. Obamacare may have been bad, but the Green New Deal truly is worse. It's not even close. Even if we take at face value the notion that the Green New Deal is simply an ambitious framework around which real legislation can be forged, we have to look at the core issues entailed in order to see the true damage it can do. This is a socialist document. It's a call for the same levels of insanity that drive the Medicare-for-All movement. Within its frivolous attempts to change perceptions of air travel, cows, and job creation is a deep-rooted desire to convert Americans to needing more government.
NOQ Report needs your support.
The Green New Deal represents the far-left's desire to make more American dependent on government. At the same time, it aims to increase the levels of dependency for those who are already in need of assistance. It wants Democrats to latch their wagons on the notion that if we become a militantly environmentalist nation, that will serve the dual purpose of giving us fulfillment while saving the planet.
I believe most leftist journalists understand this, but they see in the ridiculous framework a path through which Republicans can be defeated wholesale in 2020 as long as the left can control the narrative surrounding the Green New Deal. They fear another Obamacare counterinsurgency that would wipe out the anti-Trump gains they made in 2018, so they've adopted a stance that the Green New Deal isn't as bad as Fox News says it is. Meanwhile, they're doing everything they can to say, "look over here and not at the Green New Deal."
Don't misread leftist media's resurging push to defend the Green New Deal as actually believing it's a good idea. Their big concern is if they don't nip it in the bud now, it'll harm Democrats in 2020. So they say "it's good, don't worry," and move on to another subject.

— JD Rucker (@JDRucker) February 19, 2019
The politics behind what the Green New Deal represents is more in play than the tenets of the proposal itself, at least in the eyes of leftist media. It's not that they want to promote the concept. They simply don't want the concept to derail their party in the next election.
Louis Farrakhan refers to Ilhan Omar as 'sweetheart,' prompting zero outrage
Nation of Islam leader Louis Farrakhan referred to Representative Ilhan Omar (D-MN) as "Sweetheart" as he addressed her during a speaking engagement on Sunday. He apparently caught his faux pas and immediately justified the remark, but at that point the moniker which many consider to be sexist or misogynistic had already been noted.
Nevertheless, it didn't cause the stir one might expect. As a far-left progressive, Omar is known for being a feminist icon on Capitol Hill even though she hasn't been in office for a full two months yet. As our EIC noted, the lack of a rebuke was because of the source, not because she now feels it's okay to refer to her as "sweetheart."
Imagine if someone other than @LouisFarrakhan called @ilhanmn #Sweetheart.

It would be a Twitter war to end all wars as women across the nation denounce the misogynistic moniker. But since it was Farrakhan, I'm sure she'll let it slide.

— JD Rucker (@JDRucker) February 18, 2019
The statement came as Farrakhan was telling Omar she shouldn't be sorry for the statements she made last week about Israel, AIPAC, and Jewish influence in Washington DC, particularly over Republicans.
Farrakhan tells 'sweetheart' Rep. Omar not to apologize for Israel comments https://t.co/RmEBcRGOv8 #FoxNews

— Eddie Donovan, Ph.D. (@EddieDonovan) February 18, 2019
In a world where consistency was still considered a virtue, followers of Omar would be wondering why she's not expressing outrage over the belittling reference from a powerful man. But the world isn't consistent and Farrakhan always gets a pass.