Steve Bannon admits that RINOs and Trump are on the same team
In an unbelievable moment of transparency and honesty, Donald Trump's problematic former chief strategist and advisor, Steve Bannon, admitted to something that everyone not drinking the orange Kool-Aid has always known — Congress is filled with establishment Republicans who will put Trump's liberal agenda ahead of conservative principles.
In an interview with The Hill, Bannon admitted as much when he encouraged Trump supporters to roll up their sleeves and get to work helping to re-elect RINOs.
I guess that whole "drain the swamp" thingy is going to have to wait.
Using Rep. Pete Sessions (R-TX) as an example — he's been in Washington for 21 years and garners a 50% (F) Liberty Score® from Conservative Review — Bannon explained:
"One of the things we have to convince people of is, it doesn't matter that Pete Sessions is a RINO. He's a vote for Donald Trump, and that's all you have to think about. And not just, you have to vote for him — you're going to have to go out and work a precinct, and ring doorbells, and do a phone bank for him."
There you have it! Trump needs establishment RINOs — notice Bannon didn't say conservatives — to support his agenda because conservatives won't. Although, there are so-called conservatives in Congress who have sold their souls to Trump's non-conservative agenda. I'm looking at you, House Freedom Caucus.
Bannon's indirect admission is that Trump and the GOP are one and the same when it comes to being a RINO and that conservatism no longer represents the Republican party. It was just last week, for example, that I wrote about how the Convention of States Project and Club for Growth were using their organizations to promote Trump and re-elect establishment Republicans.
Beginning with Barry Goldwater in the 1960's and culminating with Ronald Reagan in the 1980's, conservatism had become the benchmark of the Republican party. However, beginning with George H. W. Bush, conservative values were abandoned by the GOP, giving rise to the RINO (Republican In Name Only) to describe the Republican party. Since that time, it has grown in popularity to describe people like Mitch McConnell and John Boehner during the Obama years.
However, in the Age of Trump, RINO has come to describe Republicans in other ways.
For example, RINO stood for Repeal In Name Only when it came to keeping the promise to destroy Obamacare "root and branch," and it stood for Rescind In Name Only when it came to keeping the promise to get rid of Obama's Deferred Action for Childhood Arrivals (DACA) executive order.
Regardless of how it's used, however, RINO will forever represent the Republican establishment — a party devoid of conservative ideals and willing to let liberal Democrats run the show.
You know, when you look at it that way, it's no wonder Bannon is okay with re-electing RINOs. How else will the NY liberal in the White House get anything done?
Originally posted on StridentConservative.com.
---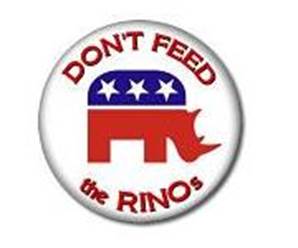 David Leach is the owner of The Strident Conservative. His daily radio commentary is distributed by the Salem Radio Network and is heard on stations across America.
Follow the Strident Conservative on Twitter and Facebook.
Subscribe to receive podcasts of radio commentaries: iTunes | Stitcher | Tune In | RSS
George Washington University students triggered by their mascot
George Washington University is the home of the Colonials. You know, those people who came to America from Europe and eventually fought against the oppressive government of England in order to win independence for America. These heroes of the American Revolution are now being condemned by the students of George Washington University itself.
While the movement and attached petition haven't reached a tipping point, the idea of changing the mascot to the "Hippo" is gaining momentum. Why? Well, we'll let the students themselves tell you what they think.
This video by Campus Reform takes us into the wacky world of triggered college students who are so much in opposition of the people who made this country possible that they'd rather be named after the "river horse" of sub-Saharan Africa.
Trump to Acosta: 'You have an agenda. You're CNN. You're fake news.'
During President Trump's press conference announcing his declaration of a national emergency, CNN's Jim Acosta asked whether the President was concocting the national emergency in order to build his border wall because he couldn't get it done through Congress. The President responded in standard fashion, attacking Acosta's question itself as biased.
"You have an agenda. You're CNN. You're fake news," the President said to the reporter.
Acosta has been at the center of controversy throughout President Trump's term, tussling with members of the administration and the President himself at times. He lost access to the White House in November, 2018, after an altercation with a White House staffer.
This time, the President answered Acosta's question about whether or not the emergency was manufactured by telling him to ask the Angel moms sitting in the front row if they thought the emergency was manufactured. Acosta did not.
President declares national emergency. Now the craziness begins.
As expected, President Trump signed the omnibus to keep the government from a second shutdown. Then, as expected, he declared a national emergency at the southern border to allow his administration to free up funds for the building of a wall at our southern border.
Now, the expectations shift to how Democrats will attack this move. During his announcement of the national emergency, the President noted he's aware of how the process is going to go: lawsuits, appeals, more lawsuits, more appeals… and eventually it will be decided by the Supreme Court.
Reactions on social media were mixed.
Reactions to national emergency declaration are mixed
My Take
From here, it goes insane. It should be noted the President made what many are considering a mistake when he said he "didn't have to" declare an emergency but wanted the wall built faster. That seems like grounds to attack the declaration itself.