Andrew Cuomo's sentiment is what drives the progressive movement
New York Governor Andrew Cuomo did not misspeak when he declared America "was never that great" earlier today. In fact, his press office doubled down on the statement. What was a not-so-subtle jab at President Trump's campaign slogan is quickly becoming the primary message of his reelection campaign.
The spin now is that his press office was attempting to walk back his comment, but that's not the case. They're now taking the faux pas and driving it into the heart of his messaging.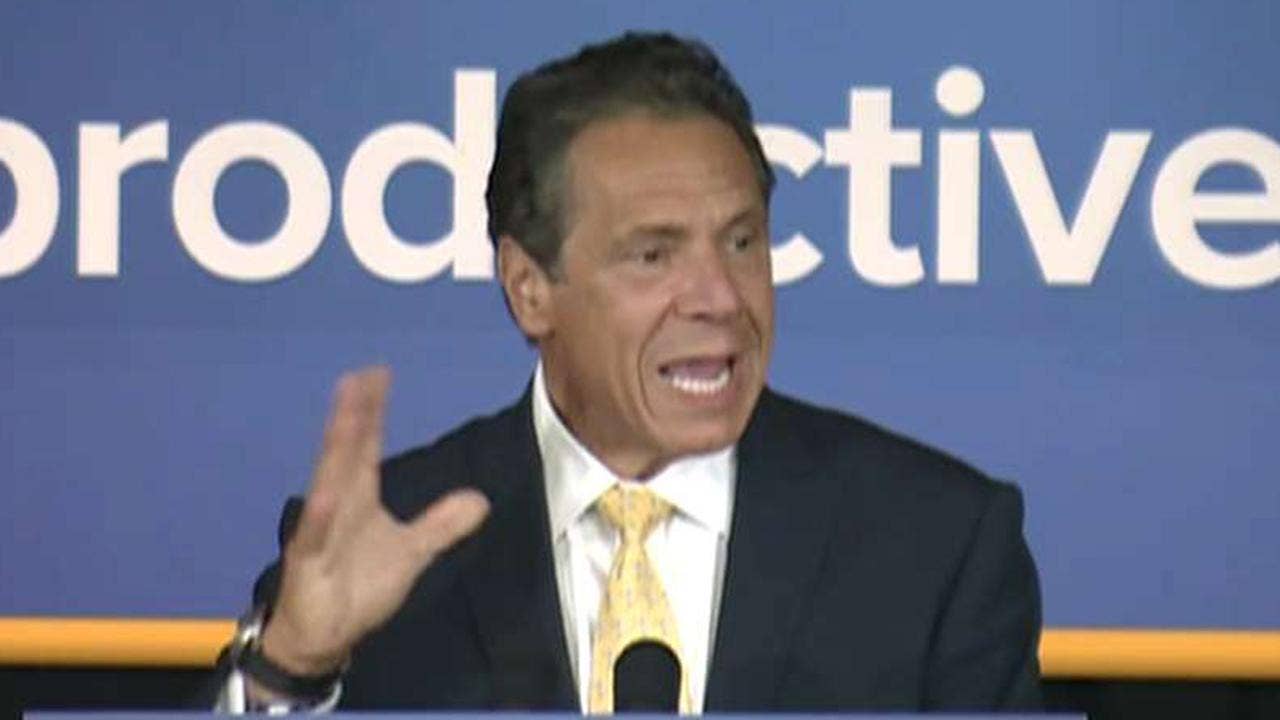 "We have not reached greatness, we will reach greatness when every American is fully engaged, we will reach greatness when discrimination and stereotyping against women, 51 percent of our population, is gone and every woman's full potential is realized and unleashed and every woman is making her full contribution," he said.
Within hours, his spokeswoman tried walking it back. "The Governor believes America is great and that her full greatness will be fully realized when every man, woman, and child has full equality. America has not yet reached its maximum potential," Cuomo's press secretary, Dani Lever, said in a statement. "When the President speaks about making America great again – going back in time – he ignores the pain so many endured and that we suffered from slavery, discrimination, segregation, sexism and marginalized women's contributions. The Governor believes that when everyone is fully included and everyone is contributing to their maximum potential, that is when America will achieve maximum greatness."
Here's the problem with all of this. It's a notion that's deeply embedded in the body of the progressive movement. They look at America's history and see only flaws. There have definitely been bad times in America from slavery to the horrid treatment of native Americans, but in a progressive's mind it was generally all bad. Capitalism, for example, has been to progressives what makes America evil instead of the engine upon which our nation has driven past the rest of the world.
The past that progressives see is one filled with hatred and intolerance. Yet, they do not see their own lack of tolerance for America's past that contributed to our former greatness. They want to eradicate everything that's not new, including Judeo-Christian values. Perhaps especially Judeo-Christian values.
There's a reason right-leaning media outlets are jumping all over the comments while left-leaning ones aren't too concerned about them. To the right, Cuomo's statements were just shy of blasphemous. To the left, his words were a bold statement of their personal truths. They do not think America was great. They believe the only way American can ever be great is if we abandon the very things that made us great in the first place.
We should be a Christian nation. That's not to say we need to abandon religious freedom or embrace a theocratic model, but to disregard the contributions of Judeo-Christian values for our nation since its founding is idiotic. Unfortunately, those values are seen only as roadblocks to the progressive agenda. This more than anything else is why they often openly denounce these values. They just don't fit the progressive narrative.
Cuomo's words won't be fully walked back because he and so many other progressives hold his words as truth. Spinning it the way they are is only being done to suspend disbelief from moderates. For the progressive base, these words are part of their doctrine.
Justin Fairfax let off the hook by Virginia Democrats, but not accusers
Democrats in Virginia's House have ended calls for Lt. Governor Justin Fairfax to resign following two accusations of sexual assault. But his accusers continue to speak out, saying they want to testify against Fairfax in an effort to both remove him from office and possibly bring him to justice.
I continue to be disappointed in the Democrats' response to the Justin Fairfax abuse allegations. https://t.co/6qYcUVooCz

— R.L. Stollar (@RLStollar) February 21, 2019
The excuse Democrats are making for ending their calls for impeachment or for Fairfax to step down are because they want a criminal investigation to proceed unimpaired. This is a solid argument, but one that doesn't echo the sentiment from the around the country or in Virginia itself.
We believe that the law enforcement investigation should proceed unencumbered and outside of the political arena.

— VA House Democrats (@VAHouseDems) February 19, 2019
Calls were relatively universal just a week ago following the second sexual assault accusation against Fairfax. The sad part is the calls for Governor Ralph Northam to step down over a photo on his yearbook page depicting one person in blackface and another person in a Ku Klux Klan outfit were also very heavy before the first Fairfax accusation. It's as if Democrats were all gung ho about making an example out of Northam until they learned his successor had problems of his own.
I'm old enough to remember when Virginia Democrats were calling for Justin Fairfax and Ralph Northam to step down. https://t.co/woqUY8txJr

— JD Rucker (@JDRucker) February 21, 2019
If there is to be consistency within the #MeToo movement, the Democratic Party, and American politics in general, then there needs to be an understanding of what is considered sufficiently acceptable evidence in the court of public opinion to demand a resignation. This is impossible, of course, as each situation is different. Would Al Franken have been forced to leave the Senate if there weren't pictures of him groping a sleeping reporter? Probably not. Is the presence of two credible accusations the tipping point, since following the first accusation the responses were muted? Perhaps.
If that's the case, though, does that mean if someone commits a single sexual assault, that they're still morally qualified to lead? Of course not.
These are the conundrums that face a society bent on finding the moral high ground but unable to come together on how that moral high ground actually manifests. Should Fairfax step down? That question may be asked for another three years if he doesn't.
Beto O'Rourke is throwing crazy ideas against the wall and some seem to be sticking
Ever since the 2018 midterm elections, I've considered Beto O'Rourke to be one of the biggest threats to President Trump in the 2020 election. The obvious counter to this notion is that he lost his race for Senate to Ted Cruz, but here's the thing. He got close, much closer than anyone would have thought possible a year before, and he was able to raise more money than any Senate candidate in our nation's history.
For a hyper-leftist Democrat to come within a few percentage points of victory in deep red Texas tells us this is someone who knows how to campaign, raise funds, and draw a crowd.
Lately, he's been acting like a lost puppy trying to get back some of the attention he lost when others announced their candidacy. Before Senators Elizabeth Warren, Kirsten Gillibrand, Kamala Harris, Cory Booker, and Amy Klobuchar announced their candidacies, O'Rourke was being played up as the guy who could challenge Senator Bernie Sanders and former Vice President Joe Biden if they entered the race. Now that Sanders has, O'Rourke finds himself on the outside looking in.
I still consider O'Rourke to be one of the four candidates who should concern President Trump the most, but there's a caveat I must add. If he continues to throw out ideas that make no sense, such as taking down the 700 miles of wall currently built along the southern border or offering amnesty to pretty much everyone already here illegally, he may fade quickly.
Ok Beto who pays for them allhttps://t.co/dhiZHmdnFa

— TheMiddleMan (@qlink12000) February 19, 2019
Then again, it may propel him to the top of the list.
It's important for conservatives to never underestimate the leftward lurch that's happening across America today. The combination of scholastic indoctrination, media propaganda, and a strange spirit of deception spreading across the nation have resulted in a growing American populace that is open to the untenable ideas of socialism, open borders, and expanded government control over our lives. This is why instead of counting O'Rourke as being down for the count, we should probably watch the responses and start taking him more seriously.
There seems to a trend emerging. The crazier they get, the more they're loved.
Every insane idea I hear coming from hyper-leftists would have derailed them a decade ago. Today, it seems the wackier they are, the more the progressive base loves them. This should worry us more than it currently does.

— JD Rucker (@JDRucker) February 20, 2019
A decade ago, it would have been unfathomable for even half of the Democrats to embrace taking down portions of the border wall that are already built. It's one thing to not want to spend money on more wall, but to spend money on taking down current walls is pure stupidity. And yet, there's no rebuke from the left. No Democrats are saying, "stop this lunacy." No Democrats are out there calling for common sense to prevail.
Instead, they're saying, "Yes, that might work."
Do not get caught up in the notion that socialism, open borders, and oppressive government could never happen in America. Three or four years ago, I might have thought that. Today, it seems more than possible. It must be stopped.
Conservatives railed against the NY-Amazon deal before Alexandria Ocasio-Cortez thwarted it
When New York Governor Andrew Cuomo wrote an op-ed in November defending the decision to offer Amazon $2.8 billion in incentives to build their second headquarters in Long Island City, there was an interesting condemnation you don't often see.
"The extreme conservatives and the socialists both now vehemently oppose incentives for Amazon," Cuomo wrote.
Of course, "extreme conservatives" and "socialists" are on the opposite ends of the political spectrum, so what was it about the deal that made it so unappealing on both sides of the fence? It comes down to the incentives that were being offered and the inherent "quick fix" mentality of politicians near the center of the ideological spectrum.
Where conservatives and socialists split on this issue is in how the money should have been used, but both extreme sides agree that using it as an incentive for a company like Amazon is simply lazy governance. Fiscal conservatives understand that in a city like New York City, there's less of a need for big companies to come in and a much bigger need to plant small businesses throughout. Crowded cities that already have multi-billion dollar corporations get much less benefit from another multi-billion dollar corporation setting up shop than they would from a similar infusion of small businesses. From a fiscally conservative perspective, it's better to use incentives to bring 250 companies that employ 100 people each than one company that employs 25,000.
Smaller cities without infrastructure or housing issues are the opposite. It makes sense to try to get an Amazon to become a central hub to attract other businesses. These smaller cities do not have to suffer through the same problems a city like NYC has to contend with when there's such a massive infusion into an already-crowded housing market and an already-crumbling infrastructure.
100% crowdfunded journalism. Please support us.
Alexandria Ocasio-Cortez skips a few steps when she says the money for Amazon could be used to fix other problems already facing New Yorkers, but technically speaking she's correct. If New York utilized incentives to bring in smaller companies that would generate more tax dollars in the long run, her programs could be initiated as a result if properly earmarked. That's not to say I agree with all of the programs she's referring to and the money "saved" from the collapsing Amazon deal couldn't be used directly for them, but combined with conservative fiscal principles and a focus on small businesses, her ideas are doable.
Conservatives balked when the deal was announced. Now, suddenly, many of the same conservatives are laughing at Ocasio-Cortez for being the catalyst that made the deal go away. This is disingenuous. We can debate with her the semantics of how the incentives should be used, but let's not switch sides and call the deal a winner when we were universally calling it a loser three months ago.
As always, conservatives should stay consistent and not do as the leftists do by picking a side against a politician for the sake of that politician. Conservatives were complaining about the Amazon deal well before AOC became the face of the opposition.