Ivanka Trump and faux conservatives advance Hillary's paid family leave plan
Allow me to take you on a little trip down memory lane to 2016 and Donald Trump's presidential campaign.
Do you remember concerns about Trump's long history as a NY liberal and his track record of supporting Hillary Clinton and other liberal politicians and their policies?
Do you remember how Trump's daughter and presidential advisor Ivanka — who also has a history of supporting liberal Democrats — was unable to vote for daddy in the NY primary because she wasn't a registered Republican?
Do you also remember Ivanka's speech at the Republican National Convention, a speech that sounded like she was at the Democrat convention about to introduce Hillary?
In hindsight, it's easy to see why there was so much concern about the Trump family's liberal past, and how their liberalism would destroy conservative ideals; concerns that have unfortunately come to pass thanks to a new proposal created by Ivanka Trump with the help of so-called conservatives — paid family leave.
In May last year, Trump and his daughter promoted a list of new big-government entitlements that Hillary Clinton ran on during her campaign, including the expansion of Child Tax Credits and paid family Leave.
In November, Ivanka teamed up with "conservatives" Marco Rubio and Mike Lee to get parts of Hillary's childcare and tax agenda added to the GOP's Democrat-friendly tax reform bill, including Child Tax Credits. With her new-found favor within the ranks of Republicans, formerly known as "conservative," Ivanka joined with Rubio once again in February this year to create a paid family leave plan financed by the already-bankrupt Social Security system — a plan Marco introduced last week.
Under Rubio's shell-game family leave scheme, families will be paid to take weeks off work after the birth or adoption of a child in exchange for future Social Security benefits. This progressive idea is bad on so many levels.
NOTHING government does ends up costing what they claim. One look at the

history of the income tax

proves this.
Social Security and Medicare are already bankrupt with over $114 trillion (currently) in unfunded liabilities,

and growing

.
The infamous "road to hell" blacktop of good intentions. Family leave

used to be unpaid

before it became an entitlement.
Possible Democrat presidential nominee Kirsten Gillibrand, a liberal from NY — are you seeing a pattern here — has proposed an alternative to Rubio's plan that will raise taxes to pay for it, an indirect acknowledgement that there's no way to federalize paid leave without taking more money from the taxpayers.
How long will it be before Ivanka's and Marco's plan requires raising FICA taxes on employers and employees to survive? Unfortunately, the answer to that question most likely won't be known until after the damage is done and they're long gone from Washington.
Trump always intended to use his presidency as a platform to advance Ivanka's socialist feminism agenda and he once joked about making Ivanka his VP, but she doesn't need that title to advance Hillary's agenda. She's doing plenty of damage behind the scenes thanks to the support of faux conservatives like Rubio.
Originally posted on The Strident Conservative.
---
David Leach is the owner of The Strident Conservative. His daily radio commentary is distributed by the Salem Radio Network and is heard on stations across America.
Follow the Strident Conservative on Twitter and Facebook. Subscribe to receive podcasts of radio commentaries: iTunes | Stitcher | Tune In | RSS
Veronique de Rugy: Green New Deal would be hundreds of TRILLIONS of dollars in federal commitment
If there's a word that's not necessarily negative one could use to describe the Green New Deal, it would be "ambitious." The deal has so much wrapped into it that it's hard to tell which components are designed to save the environment and which ones are intended to destroy the economy.
Estimates put costs for the "green side" of the resolution at somewhere between $12-$20 trillion. Then, there's the Medicare-for-All component that is estimated at $32 trillion over a decade.
And that's just the start.
This isn't just a "green" deal. It's a hodgepodge of policy proposals that include massively growing the welfare state, inserting government even more into the job markets, and a universal basic income that they refuse to actually call a universal basic income. The much-maligned FAQ that was posted and quickly removed from the website of sponsor Alexandria Ocasio-Cortez (D-NY) mentioned paying people who were unable or even "unwilling" to work.
"Even in the best case scenario where you substitute a UBI for all the other forms of welfare, it's insane," said Veronique de Rugy, Senior Research Fellow at the Mercatus Center at George Mason University, on ReasonTV.
But here's the problem. The Green New Deal doesn't substitute a universal basic income for other welfare programs. In the Green New Deal, the programs recommended are supposed to be additions, not substitutions.
"It's a really hard system to support even in its ideal form," de Rugy continued. "Then there's this Green New Deal version which doesn't even seem to entertain this notion of actually substituting for all the rest, so it's on top of what we have now."
This site is 100% crowdfunded by readers like YOU. Please consider donating and keeping the right side of news going strong.
The real question we need to ask is whether or not the Democratic Party is actually going to support this. In its current form, the Green New Deal is a fantasy, and perhaps that's what the more-sane Democrats are shooting for by supporting it. By giving it their attention now, they can work their way down to more reasonable proposals for everything from environmental protection to job creation programs to different versions of socialism.
In other words, they may be using the hyper-leftism of the Green New Deal as a gateway to get to the palatable leftism of what's quickly becoming mainstream socialism.
The Green New Deal shouldn't scare conservatives because it can't happen. What should concern us is the end result negotiated down from this starting point. Given the GOP's negotiating track record lately, we don't know what we're going to get when the Green New Deal is trimmed down to reality.
Trump administration is optimistic about failing economic policies
In an article I wrote last week following Trump's campaign rally disguised as a State of the Union Address, I documented how his claim that his trade war and tax cuts had produced "the hottest economy in the world" were merely the rhetorical ramblings of a failed "Republican" running for re-election.
Trump's trade war has created an economic hell that will take years to recover from, and his tax cuts have failed to provide tax relief for the middle class. In addition, when you throw Trump's big-government spending into the mix, the federal deficit now exceeds $22 trillion.
The stock market fell late in 2018 and all gains made in the year were wiped out, a crash the administration blamed on Democrats and Fed Chairman Jerome Powell.
While the slide on Wall Street was dismissed as a market correction, recently released economic data from the Commerce Department shows that the overall economy ended the year much worse than the White House would have you believe.
U.S. retail sales recorded their biggest drop in more than nine years in December of 2018 as receipts fell 1.2 percent across the board. This is the largest decline in retail sales since Sept. 2009 when the economy was in a recession.
Trump brags about low unemployment numbers, but according to a Department of Labor report released yesterday, unemployment claims increased by 4,000 to a seasonally adjusted 239,000 for the week ending Feb. 9th.
While it's tempting for some to dismiss yesterday's report as an anomaly, let's take a look at the data from another angle.
The four-week moving average of claims — considered a better measure of labor market trends because it irons out week-to-week volatility — was 231,750, an increase of 6,750 from the previous week's revised average. This is the highest level for this average since January 27, 2018 when it was 234,000. The previous week's average was revised up by 250 from 224,750 to 225,000.
Of course, the administration famous for identifying unfavorable news as "fake" went right to work trying to spin these economic failures into policy victories.
Saying that he was still "optimistic" about the economy, White House Economic Advisor Larry Kudlow called the retail sales number a "glitch," and he invited the feds to "step aside" while praising the president for "ending the war on business." He then parroted SOTU talking points about how the overall economy was "very strong" despite these recent reports.
There are those who label me a pessimist because I refuse to whitewash the political graffiti of optimism Trump and the GOP spray paint on their crumbling wall of lies and broken promises, but in the words of C. Joybell C.: "Some people are optimists. Some people are pessimists. I'm just a realist who believes that some things are worth fighting for."
Originally posted on StridentConservative.com.
---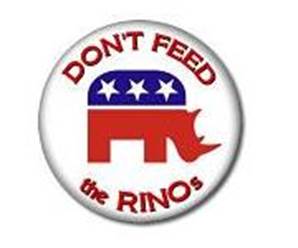 David Leach is the owner of The Strident Conservative. His daily radio commentary is distributed by the Salem Radio Network and is heard on stations across America.
Follow the Strident Conservative on Twitter and Facebook.
Subscribe to receive podcasts of radio commentaries: iTunes | Stitcher | Tune In | RSS
Freedom-lovers, keep an eye on AG William Barr
Today, William Barr is likely to be confirmed to be the next Attorney General. While he's a qualified leader to take the reins over the Justice Department and a strong patriot, there are concerns that we must remember as he joins the Trump administration.
First and foremost, Barr's record on the 4th Amendment is abysmal.
The right of the people to be secure in their persons, houses, papers, and effects, against unreasonable searches and seizures, shall not be violated, and no Warrants shall issue, but upon probable cause, supported by Oath or affirmation, and particularly describing the place to be searched, and the persons or things to be seized.
One would hope the top law enforcer in the nation would be an ardent defender of the 4th Amendment, but Barr has demonstrated not only a willingness to circumvent it at times but has also expressed annoyance that it prevents law enforcement from doing its job, particularly as it pertains to stopping terrorism. He's also a fan of the Patriot Act, though if anything it didn't go far enough.
Sadly, only a tiny handful of Republicans in DC seem to be concerned.
"While the Patriot Act was a major step forward and remedied FISA's most severe problems, I believe FISA remains too restrictive….It still requires that the govt establish 'probable cause' that an individual is either a 'foreign power' or an 'agent of a foreign power.'"
—W. Barr https://t.co/7rQHPDnsTY

— Justin Amash (@justinamash) February 12, 2019
"Many Republicans have strayed from a constitutional duty to support a limited view of federal power. The Bill of Rights recognizes the natural rights, and some positive rights, that all Americans hold dear." https://t.co/BMqq2IdPYP

— Senator Rand Paul (@RandPaul) February 13, 2019
The tribalism that has infected the country and plagued groups on both sides of the political aisle has struck once again. There would be plenty of objections from conservatives if Barr had been nominated by President Obama or another Democrat, but since he's a Trump nominee it appears he's going to fly through with no GOP Senators objecting other than Rand Paul.
It's a shame that the President decided to go with Barr. It's likely he did so based on Barr's objections to Robert Mueller's probe into Russian hacking of the election, but otherwise Barr's record is one that doesn't seem very conducive to freedom. We'll be keeping a close eye on him.