Frathouse Conservatism Sucks
I'm going to do a lot of offending in this column so viewer discretion advised if you are a snowflake on the left or right. The problem in the Conservative movement that needs addressing is the number of young Conservatives rising to prominence who lack any real depth or articulate principles. I dub thee "Frathouse Conservatism" because the problem largely stems from campus organizations. I am 22, so this isn't some Gen Xer ranting about Millenials and Gen Z. In fact, I do not boast about how much better I am. Rather I point out the cause of the problem and point to the solution.
Rejection of Worldview
Western civilization is founded on the intersection of Athens and Jerusalem. The founding father's took ideas of John Locke. Read this excerpt from the Second Treastie Chapter 2:
that self-love will make men partial to themselves and their friends;
and, on the other side, ill-nature, passion, and revenge will carry them
too far in punishing others, and hence nothing but confusion and disorder
will follow, and that therefore God hath certainly appointed government
to restrain the partiality and violence of men. I easily grant that
civil government is the proper remedy for the inconveniences of the
state of Nature, which must certainly be great where men may be judges
in their own case, since it is easy to be imagined that he who was so
unjust as to do his brother an injury will scarce be so just as to condemn
himself for it. But I shall desire those who make this objection to remember
that absolute monarchs are but men; and if government is to be 
the remedy of those evils which necessarily follow from men being judges
in their own cases, and the state of Nature is therefore not to be endured,
I desire to know what kind of government that is, and how much better
it is than the state of Nature, where one man commanding a multitude
has the liberty to be judge in his own case, and may do to all his subjects
whatever he pleases without the least question or control of those who
execute his pleasure? and in whatsoever he doth, whether led by reason,
mistake, or passion, must be submitted to? which men in the state of
Nature are not bound to do one to another. And if he that judges, judges
amiss in his own or any other case, he is answerable for it to the rest of
mankind.
The Conservative worldview is largely pieced together by John Locke. Mankind in fallen. Government can't correct mankind's fallen nature, because government is made up of fallen men. Fallen men, if given arbitrary uncheckable authority, will commit injustices. Therefore it is most ideal that government be limited in its purpose. It's purpose is to protect inalienable rights and to navigate violations of said rights.
Conservative worldview hinges on accepting the premise that mankind is fallen. One need not be religious to accept this premise. Many Conservatives unknowingly accept fallen nature to be true while others fully embrace this premise. The Frathouse Conservative supplements this premise if not outright rejects the notion altogether. Instead of mankind being intrinsically flawed, the state is intrinsically flawed. This substituted premise often results in the same conclusions as far as policy goes, but rejecting a fundamental pillar of the Conservative worldview is the root of Frathouse Conservatism's inferiority.
Rejection of Mission
Frathouse Conservatism confides Conservatism to simply small governance. This directly stems from the rejection of the fallen nature. Conservatism, in accepting mankind's state, necessitates the pursuit of living to a higher standard. All of the founding fathers believed in living high moral standards, despite their diverse religious beliefs. The founding fathers wanted no part in debauchery. Frathouse Conservatism may instead celebrate immoral behavior under the guise of limited government. More distinctly, Frathouse Conservatism is ready to lampoon deviant moral behavior.
Frathouse Conservatism is not as purposeless as it may seem. The movement does contain a mission, however vein it may be. The best way to phrase it is in their own words "owning the libs!" In accomplishing this, there are no boundaries or lines not to be crossed. The use of personal attacks is often substituted for substantive argument. A classic example of this is Tomi Lahren who believes that social issues are a waste of time. Her column on social issues showed a very misinformed understanding of the last three presidential elections and a concern for only illegal immigration. Illegal immigration is an issue where conservatism favors one side. There are many worldviews that could come to the same conclusion that America needs to curb illegal immigration. Some people are concerned about security, others cost. There's also a principled belief in rule of law. And of course nativism exists. Not all of these are necessarily conservative. But the mission of Conservatism isn't to win elections as Lahren suggests it should be. The perpetuity of Republicans in office has shown to be a detriment to Conservatism. Rather Conservatism seeks to better society, largely through small governance. Jesse Kelly understands the mission in how he responded. Ben Shapiro's response was also worth noting
Every single problem in this society would be improved if family life improved. Problems begin at home. Society is not dollars and cents. It's faith, parents, and values. https://t.co/5iCKmb2CTs

— Jesse Kelly® (@JesseKellyDC) July 8, 2018
Nope. We win by protecting human life, or our victories aren't victories. https://t.co/RKzoYIyz9Q

— Ben Shapiro (@benshapiro) July 8, 2018
One Trick Ponies
If were ranking top issues for the Conservative cause, opposing abortion is one of them. But not everyone on the side of life is a Conservative. In my experience arguing abortion with the pro-abortion, there arguments shift from logical fallacies to denial of moral personhood for all of the unborn.
Logical fallacy. Also, many women are pro life. Try again.

— Raymond Fava (@RaymondFava) July 10, 2018
So your argument is to deny the moral personhood of the unborn?

— Raymond Fava (@RaymondFava) July 10, 2018
These types of arguments do not have substantial logical backing, especially when placed in perspective with cultural practices and norms. The pro-abortion side is simply not the logical side of the debate. One doesn't have to be a Conservative to come to this conclusion. Many people can articulate well thoughtout pro-life arguments. This doesn't make them a great Conservative. A great Conservative can articulate Conservative positions on various issues with intellectual consistency. The Frathouse Conservative cannot.
Abortion is not the only trick these ponies may know. It's similar to libertarians who are libertarian because of marijuana. There's also immigration (back to Tomi Lahren) and race (Candace Owens). And then there are the snowflakes whose mission is to trigger the snowflakes. And upon being challenged, they hit that block button on twitter. And of course there's the everyday Trump bandwagoners like CJ Pearson who wants to line his own Paypal account.
CJ Pearson supported Bernie Sanders because he was a populist candidate who was gaining some fame but he obviously is a bandwagon fan. He would be a Hillary supporter if she would have won

— landopedia (@lan_do_pedia) June 16, 2018
Tactics of the Left
Candace Owens is a classic example of a Frathouse Conservative. She is very capable of explaining why she walked away from the Left. There is nothing wrong with that. What I have issue with is two things:
Her reliance and profiting from Identity Politics
Smear on those who think differently
We get it, you're black. Ted Cruz is hispanic. You don't see him using his race to pander to "his" group. Conservatives should not be seeking attention for their race, rather, they should be seeking attention for their ideas and merits. Candace Owens has little of either. She can explain her life story. That's fine, but she's wrong to assume black people can't freely be Democrats. Further more, her tactics are of the Left.
Lmao, you girl @RealCandaceO blocked @rolandsmartin after he challenged her to a debate multiple times & you refer to blacks as on the plantation which is the equivalent of the ad-hominems you are whining about. Candance Owens is a hypocrite herself for blocking people.

— Apex J (@Super_Bro78) July 14, 2018
The Left has successfully employed identity based labels to attack those they disagree with. Owens employs the same. Conservatives should stay away from these tactics.
Solution
Frathouse Conservatism aims to own the libs. The libs do a good job at owning themselves and eating their own. The Frathouse Conservative places too much uniqueness in themselves. Demographically speaking, the coming generations of voters are likely to be more Conservative because Republicans are having more kids. The baby gap has been written about for over a decade now. After all, the Left supports abortion, gay marriage, and free birth control. These three things are not conducive to bearing children. Mathematically speaking, it is likelier for a child now to be raised in a Republican household. This doesn't mean, they will grow up Conservative. However this does mean a young Conservative, like myself, is nothing special or surprising. Sorry to disappoint.
The solution begins by first realizing that a young Conservative is nothing unique, therefore not seeking attention for it. Don't go to colleges that suppress free speech(yes this is something you can research), and don't treat college like a summer camp. Work during school, and if you're not working during school, you better be more articulate than Amanda Kemp and half the writers at Lone Conservative. You have the time.
With that said, everyone wants to be Ben Shapiro, but no one wants to put in the same work that Ben Shapiro put in. Shapiro is a hardcore writer and reader. The Frathouse conservatives on Twitter are typically neither. And through reading and writing, education and practice, the Frathouse Conservative can graduate to being an actual Conservative.
16 states hit 9th Circuit to sue President Trump, as expected
It was one of the most replayed parts of President Trump's announcement regarding his national emergency declaration last Friday – a sing-song moment as the President predicted the declaration would be made, Democrats would sue, they'd go through the 9th circuit, and their decision will hopefully be overturned by the Supreme Court. So far, he's been absolutely correct as 16 states have filed against the declaration.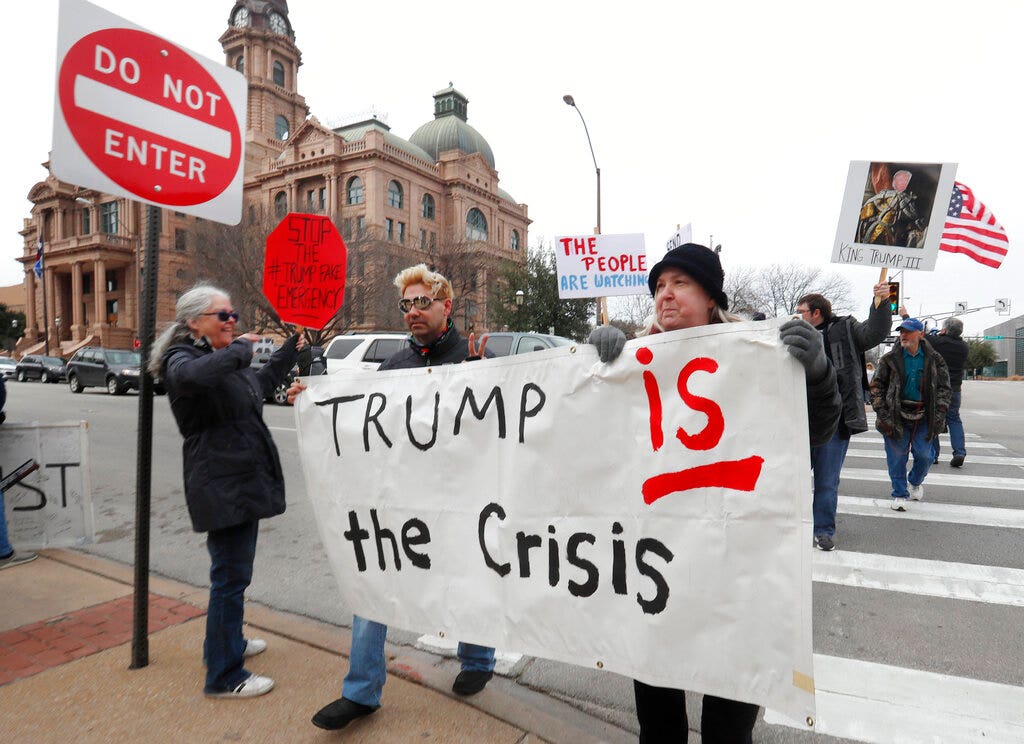 The attorneys general of California, New York, and 14 other states on Monday filed a lawsuit in the Ninth Circuit against the White House's recent national emergency declaration over border security, claiming President Trump has "veered the country toward a constitutional crisis of his own making."
President Trump sarcastically had predicted the lawsuit last week. He's slammed the Ninth Circuit multiple times as "disgraceful" and politically biased.
My Take
This is their right, and while it may annoy those who support building the border wall, it would be a mistake to condemn these states for trying to stop it. This is part of the way our nation is intended to operate. If one or more states feel the need to challenge the authority of Washington DC, they should be able to make their case before the courts. If the courts make decisions based on the Constitution, then the end result will be the accurate and righteous one.
That's how this was all intended.
I'm not suggesting the 9th Circuit is going to treat this fairly, nor am I confident the Supreme Court will make its decision solely on the Constitution, but until things are changed, this is what we've got. Attempts to subvert any component of this system from the President's right to declare the emergency to the states' rights to challenge it to the courts' responsibility to make a ruling about it all would be to denounce the foundation upon which this nation was built.
There was a way this could have been avoided. Had the President and the GOP decided to have the debate over the wall while they had power over the House, Senate, and White House, they would have been in better position to get the wall going by now. Unfortunately, they an improper political calculation to hold off on the wall debate until after the midterm elections, and now it's costing the American citizens. It costs us money to sit here through the shutdown and the legal battle over the national emergency declaration. It's costing us time; the wall should be much further along by now. It may end up costing us the wall altogether if they aren't able to make a strong case before the Supreme Court.
We are in the midst of a crisis at the border, one that has been going on for decades. Let's not exacerbate the crisis by adding a Constitutional crisis on top. This needs to play all the way out.
Liz Wheeler on the most disgusting part of the Jussie Smollett scandal
There are plenty of things about the Jussie Smollett scandal that should disgust us. The instant reaction by celebrities, politicians, and the media is right there at the top, especially when we consider how many are now saying, "let's wait for the facts." The notion that a successful gay black man thought it appropriate to make himself seem like a victim is also up there.
As One America News Network's Liz Wheeler points out, we should also be disgusted that Smollett chose this victim status over being a strong leader and role model for less privileged black and gay people who could have looked up to him for his strength instead of now being scornful of his weakness.
What does that say about America when the left tries so hard to build the narrative that everything is wrong, they're unwilling to recognize the real problems that are plaguing America. Why? Because they're the biggest part of the problem.
Leftist media pushes back on Green New Deal criticism
It's been an up-and-down couple of weeks for proponents of the Green New Deal. Before details were released, it was already being heralded as the greatest thing since President Obama's election. Then, the details came out and even many on the left were taken aback by the ambitious and incoherent provisions of the deal as detailed in a FAQ section on Representative Alexandria Ocasio-Cortez's government web page.
But that was just a draft. They took it down. At least that was the story.
Unfortunately for proponents, they were caught a little flat-footed as questions started pouring in about, well, all of it. Even if we dismiss the less-draconian concepts such as eliminating air travel or the less-sane ideas like taking care of those who are unwilling to work, the left is still stuck with a proposal that the most frugal estimates put at costing around $7 trillion while other's consider the decade-long cost to be in the HUNDREDS of trillions of dollars.
This is, of course, ludicrous. There's not enough money in the entire world to pay for the proposal if its cost is somewhere between the lowest and highest estimates, but that hasn't stopped leftist media from regrouping. Now that the dust has settled a little bit, they're doing everything they can to recommit to this concept. It's not that they suddenly believe in this fairy tale. It's that they don't want this to be the issue Republicans attack in the 2020 elections.
One article in particular that I read from CNN (yes, sometimes I need to see what the other side is thinking) really struck me for its honesty about the situation. Though I stopped reading it in paragraph two when it referred to "non-partisan" PolitiFact, I went back to it just now to digest the awfulness fully (see the sacrifices I make for our readers!).
I tried to read this article. I really did. But @DeanObeidallah lost me in paragraph two when he referred to the "non-partisan" Politifact. https://t.co/bjRAXbN2b0

— JD Rucker (@JDRucker) February 19, 2019
To be clear, much of what this article says is correct. It asserts the GOP will take the tenets of the Green New Deal and use it to scare voters into thinking it's even worse than Obamacare. From 2010 through 2016, Republicans attacked Obamacare incessantly and it worked, giving them the House in 2010, the Senate in 2014, and the White House in 2016. Unfortunately, they stopped there and didn't actually go after Obamacare with the same fervor they held in their campaign rhetoric and now the Democrats have turned the issue on its head.
But here's the thing. Obamacare may have been bad, but the Green New Deal truly is worse. It's not even close. Even if we take at face value the notion that the Green New Deal is simply an ambitious framework around which real legislation can be forged, we have to look at the core issues entailed in order to see the true damage it can do. This is a socialist document. It's a call for the same levels of insanity that drive the Medicare-for-All movement. Within its frivolous attempts to change perceptions of air travel, cows, and job creation is a deep-rooted desire to convert Americans to needing more government.
NOQ Report needs your support.
The Green New Deal represents the far-left's desire to make more American dependent on government. At the same time, it aims to increase the levels of dependency for those who are already in need of assistance. It wants Democrats to latch their wagons on the notion that if we become a militantly environmentalist nation, that will serve the dual purpose of giving us fulfillment while saving the planet.
I believe most leftist journalists understand this, but they see in the ridiculous framework a path through which Republicans can be defeated wholesale in 2020 as long as the left can control the narrative surrounding the Green New Deal. They fear another Obamacare counterinsurgency that would wipe out the anti-Trump gains they made in 2018, so they've adopted a stance that the Green New Deal isn't as bad as Fox News says it is. Meanwhile, they're doing everything they can to say, "look over here and not at the Green New Deal."
Don't misread leftist media's resurging push to defend the Green New Deal as actually believing it's a good idea. Their big concern is if they don't nip it in the bud now, it'll harm Democrats in 2020. So they say "it's good, don't worry," and move on to another subject.

— JD Rucker (@JDRucker) February 19, 2019
The politics behind what the Green New Deal represents is more in play than the tenets of the proposal itself, at least in the eyes of leftist media. It's not that they want to promote the concept. They simply don't want the concept to derail their party in the next election.