Trump's proposal to defund Planned Parenthood under Title X is fake news
Last week, Donald Trump, the self-absorbed occupant of the White House who routinely rails against news outlets that print unfavorable news stories and refers to them as "Fake News," engaged in a bit of his own version of fake news with his announcement that he would be defunding Planned Parenthood.
Calling it the "Protect Life Rule," Trump proposed withholding $50-$60 million received by Planned Parenthood each year under the government's Title X Family Planning program, which is used to provide family planning services to low-income individuals.
If the proposal is accepted—an unknown outcome since Trump provided no details on what it would look like—it will model a regulation first implemented by Ronald Reagan and modified over the years.
Promises made, promises kept. Planned Parenthood is a an abortion conglomerate—wrapped up as a "women's healthcare" enterprise. Thank you, @realDonaldTrump! https://t.co/NNLxfxxuo3

— Laura Ingraham (@IngrahamAngle) May 18, 2018
Despite claims by Ingraham—one of the many members of the so-called conservative media on the Trump Train—this is a fake news story because it doesn't defund Planned Parenthood, a fact confirmed by a White House official on the day of the announcement.
"This proposal does not necessarily defund Planned Parenthood, as long as they're willing to disentangle taxpayer funds from abortion as a method of family planning, which is required by the Title X law."
Under the proposal, as long as Planned Parenthood uses taxpayer money to pay for what "candidate Trump once called the "good work" they do and not for the "relatively small part of the business" known as abortion, the largest provider of baby-killing services in America will continue receiving every penny of Title X funds they want.
Even if successful, Trump's proposal is nothing more that a restatement of existing law. It's been illegal for Planned Parenthood to use taxpayer money to pay for abortions ever since the Hyde Amendment was passed in 1976, even though Planned Parenthood still receives federal funds that have now reached over half-a-billion dollars a year.
How is this possible? It's because money is fungible.
By providing Planned Parenthood with taxpayer money, other funds are freed up to bankroll the murder of over 321,000 unborn babies a year. To put it another way, Planned Parenthood is able to make nearly all of its non-government revenue from killing babies because taxpayers are paying for everything else.
Of course, with 2018 being an election year and the GOP in serious danger of being wiped out by a Blue Tsunami come November, Trump's fake news announcement fits right in with the rest of the GOP's election-year game plan where recycled campaign promises are used to cover a track record of ineptitude and cowardice.
Much like the House "show votes" earlier this year regarding term limits and late-term abortions, this proposal by the man evangelicals are calling "the most pro-life president in history" is simply the latest effort by Trump and the GOP to get conservatives to the polls to vote Republican in November while doing absolutely nothing to defund Planned Parenthood.
Originally posted on The Strident Conservative.
---
David Leach is the owner of The Strident Conservative. His daily radio commentary is distributed by the Salem Radio Network and is heard on stations across America.
Follow the Strident Conservative on Twitter and Facebook.  Subscribe to receive podcasts of radio commentaries: iTunes | Stitcher | Tune In | RSS
Dear proponents of limited government: It's time to start speaking up now
For nearly a year, I've given the Republican Party a pass for the most part. I left the party in 2016 and after pursuing a third party for over a year, life pulled me back from the fray. When things calmed down (thank you, Lord!), I made a conscious decision to be lighter in my condemnation of the GOP as a whole for two very important reason.
First, there were signs of life in the party. They were faint, but it seemed at times to be possible for the party to do some good things like eliminating bureaucracy, cutting taxes, promoting a business-friendly atmosphere, and making proper foreign policy moves. They were far from good, let alone ideal, but I thought if we could keep pressing them towards smart moves on the border, gun owners' rights, Obamacare, Planned Parenthood, and other areas in which they've failed so far, perhaps their decent work on taxes and regulations could be translated into other areas.
Second, the Democrats started to terrify me. Seriously, I've been contemplating moving the family to a remote area of Montana and going off the grid before the Democrats got their hands on enough power to do the damage they've been promising to do for the last year or so. I wasn't one who thought Bill Clinton was a radical or Barack Obama was the antichrist. I always thought Clinton was a run-of-the-mill Democrat who could do some damage but not much, while Obama was an ambitious progressive who was nevertheless too smart to think he could make socialism a thing. Since the 2016 election, we've seen the Democratic Party go from progressives with bad ideas to far-left radicals who think the only way to go is to destroy America in a glorious explosion of their new Communist Manifesto, also known as the Green New Deal.
This site is 100% crowdfunded by readers like YOU. Please consider donating and keeping the right side of news going strong.
Now that the GOP has demonstrated a toxic mixture of incompetence and false adherence to limiting government with their latest omnibus debacle, it's time to return to my old stance of refusing to accept the binary choice. When choosing between bad and worse, it's only a valid choice if the less-terrible option won't kill you as well. The binary choice between hanging and drowning isn't really a binary choice, and neither is the choice between the Republican Party and the Democratic Party.
There are three things that must be done going forward.
Conservatives, Federalists, and Classical Liberals must find a way to united against the two party system. Whether that's the formation of a new party (which I failed to do once already), a grassroots effort similar to the Tea Party (which worked for a short time before finding irrelevance), or some other method of unification against the putrid system that has engulfed nearly all of Washington DC, we have to find an outlet.
NOQ Report will become a hub for bringing these thoughts together. This is something that I've found success with when I ran The New Americana. Now, it's time to collect the voices of reason once again.
Prayer. Lots of prayer.
I've reached out to some of my conservative and federalist friends. Over the next few weeks, we'll see what can be done to make DC listen. In the meantime, be discerning and prepare to abandon the tribal mindset that has plagued this nation for too long.
Veronique de Rugy: Green New Deal would be hundreds of TRILLIONS of dollars in federal commitment
If there's a word that's not necessarily negative one could use to describe the Green New Deal, it would be "ambitious." The deal has so much wrapped into it that it's hard to tell which components are designed to save the environment and which ones are intended to destroy the economy.
Estimates put costs for the "green side" of the resolution at somewhere between $12-$20 trillion. Then, there's the Medicare-for-All component that is estimated at $32 trillion over a decade.
And that's just the start.
This isn't just a "green" deal. It's a hodgepodge of policy proposals that include massively growing the welfare state, inserting government even more into the job markets, and a universal basic income that they refuse to actually call a universal basic income. The much-maligned FAQ that was posted and quickly removed from the website of sponsor Alexandria Ocasio-Cortez (D-NY) mentioned paying people who were unable or even "unwilling" to work.
"Even in the best case scenario where you substitute a UBI for all the other forms of welfare, it's insane," said Veronique de Rugy, Senior Research Fellow at the Mercatus Center at George Mason University, on ReasonTV.
But here's the problem. The Green New Deal doesn't substitute a universal basic income for other welfare programs. In the Green New Deal, the programs recommended are supposed to be additions, not substitutions.
"It's a really hard system to support even in its ideal form," de Rugy continued. "Then there's this Green New Deal version which doesn't even seem to entertain this notion of actually substituting for all the rest, so it's on top of what we have now."
This site is 100% crowdfunded by readers like YOU. Please consider donating and keeping the right side of news going strong.
The real question we need to ask is whether or not the Democratic Party is actually going to support this. In its current form, the Green New Deal is a fantasy, and perhaps that's what the more-sane Democrats are shooting for by supporting it. By giving it their attention now, they can work their way down to more reasonable proposals for everything from environmental protection to job creation programs to different versions of socialism.
In other words, they may be using the hyper-leftism of the Green New Deal as a gateway to get to the palatable leftism of what's quickly becoming mainstream socialism.
The Green New Deal shouldn't scare conservatives because it can't happen. What should concern us is the end result negotiated down from this starting point. Given the GOP's negotiating track record lately, we don't know what we're going to get when the Green New Deal is trimmed down to reality.
Trump administration is optimistic about failing economic policies
In an article I wrote last week following Trump's campaign rally disguised as a State of the Union Address, I documented how his claim that his trade war and tax cuts had produced "the hottest economy in the world" were merely the rhetorical ramblings of a failed "Republican" running for re-election.
Trump's trade war has created an economic hell that will take years to recover from, and his tax cuts have failed to provide tax relief for the middle class. In addition, when you throw Trump's big-government spending into the mix, the federal deficit now exceeds $22 trillion.
The stock market fell late in 2018 and all gains made in the year were wiped out, a crash the administration blamed on Democrats and Fed Chairman Jerome Powell.
While the slide on Wall Street was dismissed as a market correction, recently released economic data from the Commerce Department shows that the overall economy ended the year much worse than the White House would have you believe.
U.S. retail sales recorded their biggest drop in more than nine years in December of 2018 as receipts fell 1.2 percent across the board. This is the largest decline in retail sales since Sept. 2009 when the economy was in a recession.
Trump brags about low unemployment numbers, but according to a Department of Labor report released yesterday, unemployment claims increased by 4,000 to a seasonally adjusted 239,000 for the week ending Feb. 9th.
While it's tempting for some to dismiss yesterday's report as an anomaly, let's take a look at the data from another angle.
The four-week moving average of claims — considered a better measure of labor market trends because it irons out week-to-week volatility — was 231,750, an increase of 6,750 from the previous week's revised average. This is the highest level for this average since January 27, 2018 when it was 234,000. The previous week's average was revised up by 250 from 224,750 to 225,000.
Of course, the administration famous for identifying unfavorable news as "fake" went right to work trying to spin these economic failures into policy victories.
Saying that he was still "optimistic" about the economy, White House Economic Advisor Larry Kudlow called the retail sales number a "glitch," and he invited the feds to "step aside" while praising the president for "ending the war on business." He then parroted SOTU talking points about how the overall economy was "very strong" despite these recent reports.
There are those who label me a pessimist because I refuse to whitewash the political graffiti of optimism Trump and the GOP spray paint on their crumbling wall of lies and broken promises, but in the words of C. Joybell C.: "Some people are optimists. Some people are pessimists. I'm just a realist who believes that some things are worth fighting for."
Originally posted on StridentConservative.com.
---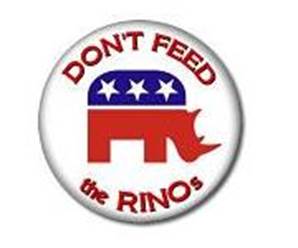 David Leach is the owner of The Strident Conservative. His daily radio commentary is distributed by the Salem Radio Network and is heard on stations across America.
Follow the Strident Conservative on Twitter and Facebook.
Subscribe to receive podcasts of radio commentaries: iTunes | Stitcher | Tune In | RSS