Political warfare: Here's why Trump should NOT fire Mueller, Rosenstein
Whether you like it or not, Americans are in the midst of a civil war, a war between incompatible, opposing ideologies; each side vying for political power to wield over the entire country.
Unfortunately, when it comes to political war, Constitution-loving Americans have one tragic commonality: tactical naiveté.
This should come as no surprise. After all, we are comprised of those who appreciate law and order, of those who play by the rules, revere fair and just referees, and prize good sportsmanship. To a fault, we aim to play fair, projecting our own values upon the millions of our fellow countrymen.
Wake up!
It's time to get real…
A PARASITIC ARMY:
The highly-motivated and heavily-funded Regressives – those who have secured political power on the left and who now pull the Democratic Party's strings – are exceedingly organized, are remarkably skilled in the art of anticipatory synchronization of mass action, are adept at behavioral manipulation tactics, and are equipped with a fleet of public relations power players.
Like leaches, the Regressives have strategically acquired positions of power within their host animal – the American bureaucratic, governmental machine – and act only in their own ideological and political interests, even if that means the death of their weakened, unsuspecting host.
The Regressives play to win, fight dirty, and are not bound by scruples or honor codes. Their singular goal is to win at all costs.
Every action by these subversive schemers is carefully choreographed and implemented in service of their unholy cause. Case in point: the Mueller team's recent raids of President Trump's personal lawyer's office, home, and hotel room.
THE DEVIL'S FIDDLE:
Like many on our side of America's political civil war, I am alarmed by Special Counsel Mueller's ever-expanding, "Russia probe," especially the FBI raid upon the President's personal lawyer.
Understandably, I've observed the chorus of calls for President Trump to fire Special Counsel Robert Mueller, as well as the DOJ's Rosenstein. An ever-growing number of people on our side has begun to put pressure on the President to take actions toward these ends.
 This is a mistake: the Regressives are playing us like a violin.
For months and months, our political opponents have been engaged in organized, subversive, provocative efforts in hopes of goading the President into firing Robert Mueller and/or Rosenstein. If President Trump were to in fact proceed in doing so, it would be a dream come true for the devious Democrats.
MoveOn.org has even been promoting a "Mueller Firing Pledge," in cunningly strategic and proactive, yet sleazy anticipation.
Make no mistake. The raids on the President's longtime, personal lawyer was a strategic move, judiciously designed to evoke a reactionary decision from the President.
Political war is war.
Deploying a Malevolent Militia:
Months ago, Democratic operatives established organizations, websites, and campaigns for precisely this occasion… should President Trump proceed in firing Robert Mueller. Thanks to their awe-worthy, disciplined efforts at recruitment, the Regressives have successfully enlisted an estimable 200,000 "troops." All are on notice and battle-ready, prepared mass assembly within a matter of moments.
Their battle plan is simple and has been proven effective: utilize large numbers and pure showmanship to transform America's streets into a stomping ground for the dissemination of propaganda.
Their slogan: "Nobody is above the law."
Their battle: the "March for Truth."
Back in December of 2017, after the President made an off the cuff remark about Robert Mueller, Newsweek published an article entitled, "If Trump Fires Mueller, More Than 170,000 Plan to Protest." The Regressive enlistees were eagerly awaiting their call to arms, anxiously hoping that our President would fire Mueller: finally, this single act would validate their increasingly unhinged ideations of an America entrapped by a justice-obstructing, dictatorial villain.
The Newsweek article spoke of the well-organized, heroic plans and grandeur plans of the Regressives should Trump fire Robert Muller:
The plan to respond to a potential Mueller firing builds off previous protests since Trump took office, such as the Women's March and the demonstrations at airports after the proposed travel ban. But the recent attacks on Mueller—including tweets by Trump as well as efforts by Republicans to investigate the FBI's supposed anti-Trump bias—have added urgency to the "Nobody Is Above the Law" effort.
… dozens of protests are planned to address what organizers at groups including MoveOn, March For Truth and Indivisible call "a constitutional crisis for our country."
Ever since the Cohen raids, the frivolous fleet of public relations orks has been eagerly spreading the word…
To. Be. Clear.

If Rosenstein is fired, https://t.co/AtXznAaBsH protests will be activated.

Over 800 cities. Over 300,000 people have signed up.

Do your job @GOP and #ProtectMueller #ProtectRosenstein

And we will do our job, and VOTE YOU OUT! pic.twitter.com/fjR5nCuNHc

— Jamie Carter ❄ Vote Blue (@JCTheResistance) April 10, 2018
It has never been more urgent or necessary to call your Senators and demand they cosponsor the Special Counsel
Integrity Act to #ProtectMueller. Call today: 202-224-3121 pic.twitter.com/LtQFOekRVZ

— Stand Up Republic (@StandUpRepublic) April 10, 2018
Warning Order, get prepared to take it to the streets. #ProtectMueller https://t.co/ShuYmxyFIF

— 1st Sergeant (First Shirt) (@Top_Sergeant) April 10, 2018
🚨🚨 If Trump fires Rosenstein or Mueller 🚨🚨

Grab a to go bag, a friend, and head to your nearest protest location.

HIT THE STREETS!!!

#TrumpIsNotAboveTheLaw #ProtectRosenstein #ProtectMueller #TheResistance #Indivisible pic.twitter.com/VPh8oQYJHN

— Indivisible Network (@IndivisibleNet) April 10, 2018
Thus, at this very moment, hordes of anti-Social inJustice Warriors, tweaking for their next crisis-induced dopamine fix, impatiently yearn for the psychological high that ideological validation brings.
Awaken! This is war.
Our opponents don't play nice, and they don't play by our rules. There is no fair play. Every move is plotted with delicate, sinister, unscrupulous care. We live in a dog eat dog world. The winner takes all.
The monsters lie in wait for their feast… just as a perched spider patiently anticipates an unsuspecting fly to become entrapped in her sticky, silk web.
President Trump must resist the Regressives' carefully laid trap.
We must not feed the beasts.
16 states hit 9th Circuit to sue President Trump, as expected
It was one of the most replayed parts of President Trump's announcement regarding his national emergency declaration last Friday – a sing-song moment as the President predicted the declaration would be made, Democrats would sue, they'd go through the 9th circuit, and their decision will hopefully be overturned by the Supreme Court. So far, he's been absolutely correct as 16 states have filed against the declaration.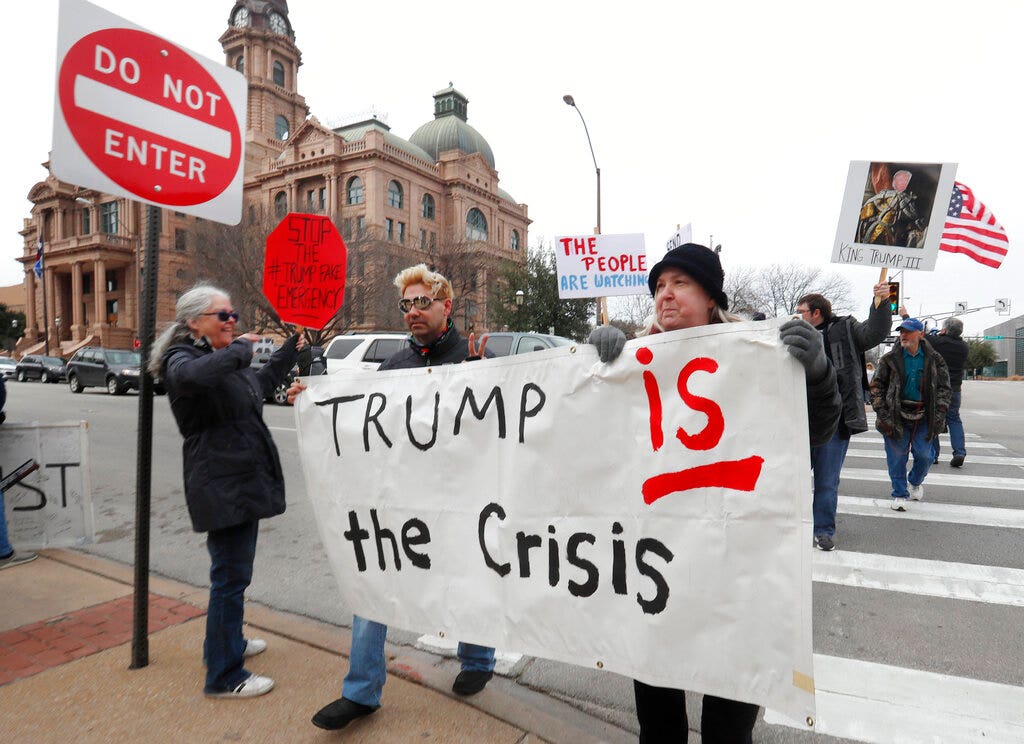 The attorneys general of California, New York, and 14 other states on Monday filed a lawsuit in the Ninth Circuit against the White House's recent national emergency declaration over border security, claiming President Trump has "veered the country toward a constitutional crisis of his own making."
President Trump sarcastically had predicted the lawsuit last week. He's slammed the Ninth Circuit multiple times as "disgraceful" and politically biased.
My Take
This is their right, and while it may annoy those who support building the border wall, it would be a mistake to condemn these states for trying to stop it. This is part of the way our nation is intended to operate. If one or more states feel the need to challenge the authority of Washington DC, they should be able to make their case before the courts. If the courts make decisions based on the Constitution, then the end result will be the accurate and righteous one.
That's how this was all intended.
I'm not suggesting the 9th Circuit is going to treat this fairly, nor am I confident the Supreme Court will make its decision solely on the Constitution, but until things are changed, this is what we've got. Attempts to subvert any component of this system from the President's right to declare the emergency to the states' rights to challenge it to the courts' responsibility to make a ruling about it all would be to denounce the foundation upon which this nation was built.
There was a way this could have been avoided. Had the President and the GOP decided to have the debate over the wall while they had power over the House, Senate, and White House, they would have been in better position to get the wall going by now. Unfortunately, they an improper political calculation to hold off on the wall debate until after the midterm elections, and now it's costing the American citizens. It costs us money to sit here through the shutdown and the legal battle over the national emergency declaration. It's costing us time; the wall should be much further along by now. It may end up costing us the wall altogether if they aren't able to make a strong case before the Supreme Court.
We are in the midst of a crisis at the border, one that has been going on for decades. Let's not exacerbate the crisis by adding a Constitutional crisis on top. This needs to play all the way out.
Leftist media pushes back on Green New Deal criticism
It's been an up-and-down couple of weeks for proponents of the Green New Deal. Before details were released, it was already being heralded as the greatest thing since President Obama's election. Then, the details came out and even many on the left were taken aback by the ambitious and incoherent provisions of the deal as detailed in a FAQ section on Representative Alexandria Ocasio-Cortez's government web page.
But that was just a draft. They took it down. At least that was the story.
Unfortunately for proponents, they were caught a little flat-footed as questions started pouring in about, well, all of it. Even if we dismiss the less-draconian concepts such as eliminating air travel or the less-sane ideas like taking care of those who are unwilling to work, the left is still stuck with a proposal that the most frugal estimates put at costing around $7 trillion while other's consider the decade-long cost to be in the HUNDREDS of trillions of dollars.
This is, of course, ludicrous. There's not enough money in the entire world to pay for the proposal if its cost is somewhere between the lowest and highest estimates, but that hasn't stopped leftist media from regrouping. Now that the dust has settled a little bit, they're doing everything they can to recommit to this concept. It's not that they suddenly believe in this fairy tale. It's that they don't want this to be the issue Republicans attack in the 2020 elections.
One article in particular that I read from CNN (yes, sometimes I need to see what the other side is thinking) really struck me for its honesty about the situation. Though I stopped reading it in paragraph two when it referred to "non-partisan" PolitiFact, I went back to it just now to digest the awfulness fully (see the sacrifices I make for our readers!).
I tried to read this article. I really did. But @DeanObeidallah lost me in paragraph two when he referred to the "non-partisan" Politifact. https://t.co/bjRAXbN2b0

— JD Rucker (@JDRucker) February 19, 2019
To be clear, much of what this article says is correct. It asserts the GOP will take the tenets of the Green New Deal and use it to scare voters into thinking it's even worse than Obamacare. From 2010 through 2016, Republicans attacked Obamacare incessantly and it worked, giving them the House in 2010, the Senate in 2014, and the White House in 2016. Unfortunately, they stopped there and didn't actually go after Obamacare with the same fervor they held in their campaign rhetoric and now the Democrats have turned the issue on its head.
But here's the thing. Obamacare may have been bad, but the Green New Deal truly is worse. It's not even close. Even if we take at face value the notion that the Green New Deal is simply an ambitious framework around which real legislation can be forged, we have to look at the core issues entailed in order to see the true damage it can do. This is a socialist document. It's a call for the same levels of insanity that drive the Medicare-for-All movement. Within its frivolous attempts to change perceptions of air travel, cows, and job creation is a deep-rooted desire to convert Americans to needing more government.
NOQ Report needs your support.
The Green New Deal represents the far-left's desire to make more American dependent on government. At the same time, it aims to increase the levels of dependency for those who are already in need of assistance. It wants Democrats to latch their wagons on the notion that if we become a militantly environmentalist nation, that will serve the dual purpose of giving us fulfillment while saving the planet.
I believe most leftist journalists understand this, but they see in the ridiculous framework a path through which Republicans can be defeated wholesale in 2020 as long as the left can control the narrative surrounding the Green New Deal. They fear another Obamacare counterinsurgency that would wipe out the anti-Trump gains they made in 2018, so they've adopted a stance that the Green New Deal isn't as bad as Fox News says it is. Meanwhile, they're doing everything they can to say, "look over here and not at the Green New Deal."
Don't misread leftist media's resurging push to defend the Green New Deal as actually believing it's a good idea. Their big concern is if they don't nip it in the bud now, it'll harm Democrats in 2020. So they say "it's good, don't worry," and move on to another subject.

— JD Rucker (@JDRucker) February 19, 2019
The politics behind what the Green New Deal represents is more in play than the tenets of the proposal itself, at least in the eyes of leftist media. It's not that they want to promote the concept. They simply don't want the concept to derail their party in the next election.
Louis Farrakhan refers to Ilhan Omar as 'sweetheart,' prompting zero outrage
Nation of Islam leader Louis Farrakhan referred to Representative Ilhan Omar (D-MN) as "Sweetheart" as he addressed her during a speaking engagement on Sunday. He apparently caught his faux pas and immediately justified the remark, but at that point the moniker which many consider to be sexist or misogynistic had already been noted.
Nevertheless, it didn't cause the stir one might expect. As a far-left progressive, Omar is known for being a feminist icon on Capitol Hill even though she hasn't been in office for a full two months yet. As our EIC noted, the lack of a rebuke was because of the source, not because she now feels it's okay to refer to her as "sweetheart."
Imagine if someone other than @LouisFarrakhan called @ilhanmn #Sweetheart.

It would be a Twitter war to end all wars as women across the nation denounce the misogynistic moniker. But since it was Farrakhan, I'm sure she'll let it slide.

— JD Rucker (@JDRucker) February 18, 2019
The statement came as Farrakhan was telling Omar she shouldn't be sorry for the statements she made last week about Israel, AIPAC, and Jewish influence in Washington DC, particularly over Republicans.
Farrakhan tells 'sweetheart' Rep. Omar not to apologize for Israel comments https://t.co/RmEBcRGOv8 #FoxNews

— Eddie Donovan, Ph.D. (@EddieDonovan) February 18, 2019
In a world where consistency was still considered a virtue, followers of Omar would be wondering why she's not expressing outrage over the belittling reference from a powerful man. But the world isn't consistent and Farrakhan always gets a pass.