Conservative endorsements split in Arizona Special Election
Congressmen Trent Frank's sex scandal has led to quite a feeding frenzy to replace him. This would make Arizona District 8 the ninth Congressional special election for Congress since Trump's inauguration. The solid red district voted Republican by at least a 20 point margin in the last three presidential elections. Democrats stand little chance in this elections. So the competition is which Republican gets the privilege of an easy path to being a Congressman. The replacement will most likely be decided on Tuesday, February 27th. The field of over a dozen candidates can be narrowed down to a few serious contenders. The most serious contenders appear to be Debbie Lesko, Phil Lovas, and Steve Montenegro. All three claim to be conservatives and none of them are obvious establishment players like Martha McSally in Arizona's Senate race. In this wide-open race with no clear front-runner, endorsements and finances may likely decide the winner.
Fulfilling both of these keys to victory is Ted Cruz. His champion: Steve Montenegro. Ted Cruz endorsed the candidate and his Super PAC currently has $83000 invested in this primary. However, that is all of the credibility capital Montenegro can boast. His other endorsements make him seem like a rabble-rousing Trump sycophant. They include Rick Santorum, the disgraced Trent Frank, and Sheriff Joe Arpaio. Steve Montenegro's conservative status doesn't seem questionable until you see his past support for a popular vote. This raises some major questions.
GOP congressional candidate @SteveMontenegro defends Franks' endorsement, explains support for 'popular vote.' https://t.co/DISmdIWZRF #SundaySquareOff #12News #AZ08 pic.twitter.com/FH6tpPp0Zw

— BrahmResnik (@brahmresnik) February 5, 2018
Phil Lovas, on the other hand, doesn't have flashy endorsements but has the nod from Arizona state officials such as Jeff DeWit. Jeff DeWitt was also the national COO/CFO for the Trump campaign. In the live-streamed debate, Phil Lovas boasted his early support for Trump as an outsider. This lends credibility to Lovas, but Trump loyalty isn't a question among any of the major candidates. All three boast that they will support Trump, meaning these Republicans are saying they aren't RINOs which is what most say.
In contrast, Debbie Lesko has no shortage of national and local endorsements in this race. She lists them in her article:
I am honored to have the endorsement of former Gov. Jan Brewer and many local leaders including Goodyear Mayor Georgia Lord, Litchfield Park Mayor Tom Schoaf and Goodyear Vice Mayor Wally Campbell. I've also been endorsed by the Fraternal Order of Police, a national prolife organization, and Congressmen Mark Meadows and Jim Jordan, who are the founding members of the conservative U.S. House Freedom Caucus of which Trent Franks was a member. These people know that I have a proven track record of working for my constituents, fighting for the values that have made our nation great and getting things done.
On top of these endorsements, there is also Andy Biggs from the Freedom Caucus. Debbie Lesko certainly benefits from being a major player in Arizona state politics. She has a record of fiscal conservatism in the state legislature and is pro-life.
This race, like the Missouri Senate race, has a social media darling. A "life coach" by the name of Brenden Dilley is on the ballot. However, this social media candidate upped his rhetoric to win the Trump supporter pissing contest. He livestreamed the debate among the candidates that took place last Saturday. Steve Montenegro skipped the debate. Though it was a poor quality (and immaturely done) live stream, I heard Debbie Lesko appeal to her endorsements as credibility and tell a more down to earth story of her becoming a politician. "We need good politicians," she told the crowd. She even jabbed Arizona's Senators, John McCain, and Jeff Flake.
Perspectives
If by "most conservative" Montenegro means he does what he's told, takes no personal stance, & does no research, then yes, hes conservative. But @DebbieLesko is most logical choice! She isn't afraid of a fight, doesn't back down, and responds to everyone-even when she disagrees.

— Beth Simek (@andzmomaz) February 8, 2018
Still waiting for Montenegro to address his cheating on his wife….

— I'M NOT A F-ING BOT YOU DUMB A$$E$ (@hgjoz) February 6, 2018
Steve Montenegro skipped the debate for a high pitched plate dinner with lobbyists in #Arizona @SteveMontenegro Swamp rat at large.@Hublife scared these people so bad they refused to show up to the debate.#AZ08

— #0Hour1 (@__0HOUR_) February 10, 2018
Hey #AZ08 check this out. The guy who claims he wants to represent me in Congress blocked me on twitter. pic.twitter.com/pe6CuqlDd2

— Eileen Mueller (@muellerew) February 12, 2018
Since @DebbieLesko is so well known & well regarded in LD21 and LD22, it' warms my soul to see that 71% of the early ballots came from there. #ItsOver #AZ08 #AZ8 #SpecialElection pic.twitter.com/MYrAMLjXUR

— Populo Iratus (@cmahar3) February 12, 2018
My Take
It's hard for conservatives to unite in such a feeding frenzy of a race. In truth, some of the unnamed candidates are likely true conservatives worthy of the office. So perhaps ideology shouldn't be the deciding factor here. Perhaps conservatives should unite around the candidate most able to accomplish what they campaign on and least likely to act a fool. I think Debbie Lesko stands the best chance to do both. Phil Lovas seems like he would be loyal to Trump, but that's not a value proposition for a candidate. At this moment, Steve Montenegro's endorsements hinder him, especially Joe Arpaio. I think Cruz chose a shady candidate. This race is interesting because big names have chosen sides against each other. In recruiting reliable conservatives to join the few in Congress, I trust the Freedom Caucus over Ted Cruz. And I believe they aren't doing a bad job endorsing Debbie Lesko.
Emerging from my cave after several months
As some of you may know, I've been essentially disconnected from the online world for several months now. After our son's third stay at the hospital in his first six months of life here, it became clear I needed to focus on him and the rest of my family. Thank the Lord we were sustained during this time. Now it's time to get back on the saddle.
We're expecting another child. I always knew I would have to return to this side of life at some point in the near future, but this latest surprise accelerated it to the point that I made the decision this morning. Now, I'm back.
Thank you to the team here at NOQ Report for keeping everything going in my absence. I owe a lot of kudos to many people and apologies to many more. For now, I'm going to get reacquainted with everything, collect my thoughts, and then let the whirlwind start up again. This is going to be fun.
Liberty Control (aka Gun Control) Dead at 501 [1517 – July 10, 2018]
Today we celebrate the passing away of one of the Left's worst legacies: Liberty Control
Liberty Control (aka Gun Control), the absurd idea that depriving the innocent of a means of self-defense will protect them from criminals and the government died on July 10, 2018, after a protracted illness. The past few months saw it suffer multiple degradations, but the final cause of death was a settlement between the Department of Justice and Second Amendment Foundation in SAF's lawsuit on behalf of Cody Wilson and Defense Distributed over free speech issues related to 3-D files and other information that may be used to manufacture lawful firearms:
Significantly, the government expressly acknowledges that non-automatic firearms up to .50-caliber – including modern semi-auto sporting rifles such as the popular AR-15 and similar firearms – are not inherently military.
"Not only is this a First Amendment victory for free speech, it also is a devastating blow to the gun prohibition lobby," noted SAF founder and Executive Vice President Alan M. Gottlieb. "For years, anti-gunners have contended that modern semi-automatic sport-utility rifles are so-called 'weapons of war,' and with this settlement, the government has acknowledged they are nothing of the sort.
This curse on freedom began with the nonsensical label 'Gun control' but like a mutating virus, it morphed into 'Gun safety' or 'Gun reform' as people began to understand it's true liberticidal nature. The final proper designation for this statist abomination helped seal its fate: Liberty Control.
In recent years, Liberty control had suffered a number of potentially fatal maladies ranging from the Heller and other Pro-Liberty decisions of the Supreme court to the virtual explosion in gun ownership with untold numbers of new adherents joining the ranks. Despite valiant attempts by the Left to resurrect this absolutely horrid idea from a bygone era, most imbued with common sense came to realize that more guns equaled less violence.
Liberty Control is barely survived by its one year older half-brother in statist tyranny Collectivism, born when the book 'Utopia' was published in 1516.  This ancient idea remains in critical condition having been transferred to the Bronx on life support. It is not expected to survive, despite the best efforts of the Socialist-Left. As is usually the case when a free-people can properly assess the liberticidal ideas of the Left.
Libertas [The ancient Roman personification of liberty] Celebrated the death of one of its intractable foes down through the centuries. "There must have been some viral affliction in the water of the early 16th century to have created these two horrible curses upon mankind."
Services will be held on July 27th, 2018, and after August 1 Cody Wilson plans on re-launching Defcad.com with 'a treasure trove of 3D-printed gun files for download.'  In Lieu of flowers, those of the Liberty loving public are encouraged to visit https://ghostgunner.net/ after that date and download the files for future use as well as donate to the organizations that defend this critically important freedom.
Please note that while we are using this 'obituary' form to prove a point, it should be patently evident that the dreams of the Liberty grabbers of banning and confiscating guns are now dead. Even if by some freakish turn of events whereby the defenders of Liberty forget history, agree to the requirement of governmental permission to exercise a commonsense human right, and then have their guns confiscated. The technology will still exist for everyone to produce their own weapons. It should perfectly clear to everyone including the cadres of Liberty Grabbers out there that the genie is out of the bottle, that there is no way they can ever ban guns, knives or even the odd spanner here and there. It should also be evident that such groups should move on to other causes that actually have a chance of coming to fruition. Also, note that it was very proper that this took place during #Gun Pride Month.
LeSean McCoy domestic violence accusation: the "Hold My Beer" of recent NFL player scandals
Players getting into trouble off the field is nothing new for the NFL, but the accusations levied against LeSean McCoy on Instagram tops the accusations made and found true against the likes of Ray Rice, Michael Vick, Adrian Peterson, and countless others. This follows a recent arrest of former Seattle Seahawk, Brandon Browner, being charged with attempted murder.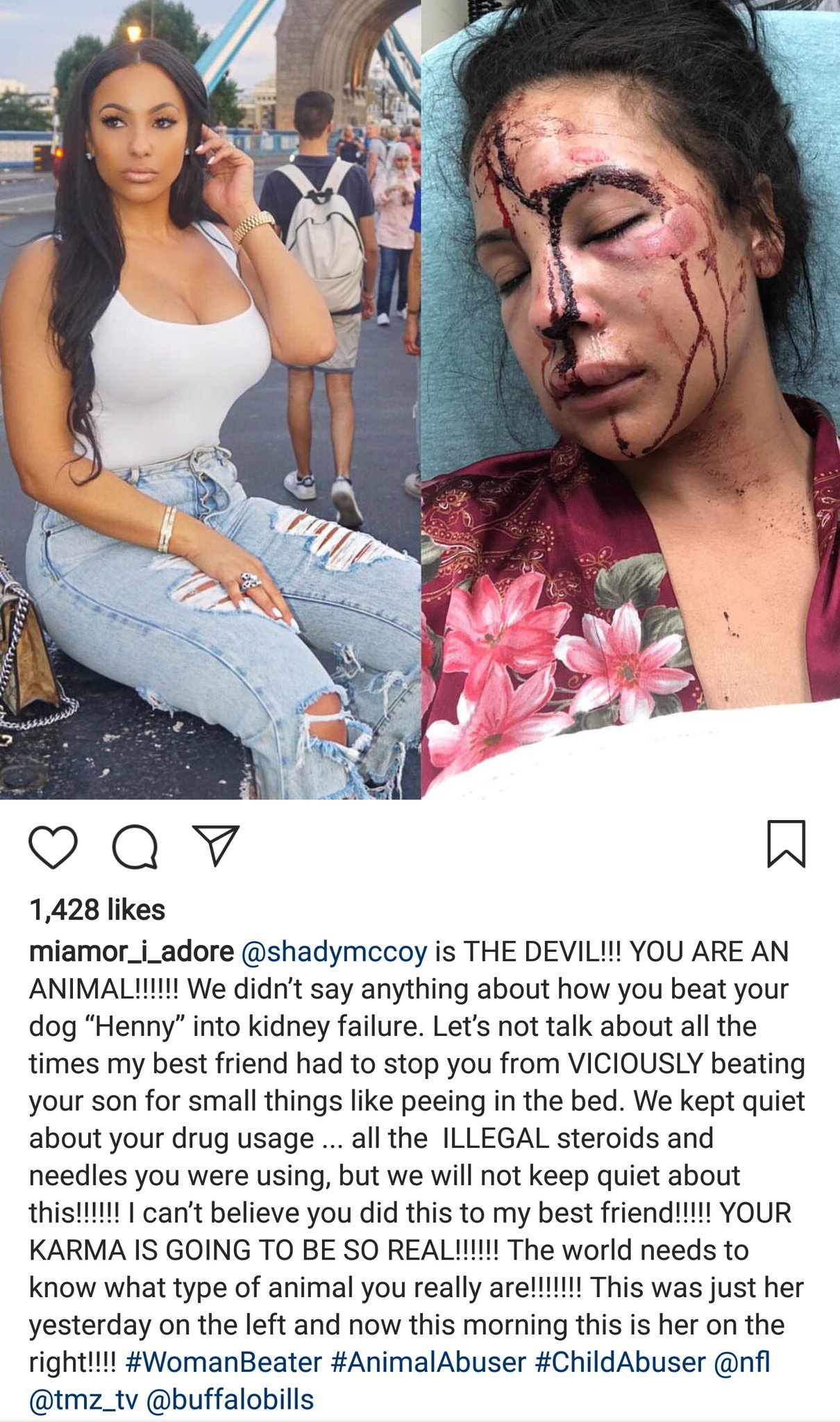 Shady McCoy is publicly accused of illegal drugs, PED, animal abuse, domestic abuse, and child abuse. The seriousness of the accusations alone could endanger his career. Like any person guilty or innocent, McCoy took to denying the accusations, claiming to have had no direct contact with them in months.
LeSean McCoy's defense is he has not had direct contact with the individuals involved in months. So, he's saying he isn't an active role in his child's life. What a dirt bag.

— Raymond Fava (@RaymondFava) July 10, 2018
But the evidence is being gathered. Police say they are investigating a home invasion of the victim's residence. So far, McCoy has not been named a person of interest.
The report from the Milton (Ga.) Police on the home invasion late last night involving a victim whose friend then accused #Bills RB LeSean McCoy of domestic violence. McCoy adamantly denied the accusations. pic.twitter.com/zpw2xbVyGF

— Ian Rapoport (@RapSheet) July 10, 2018
Furthermore TMZ reports that the victim has lawyered up and named LeSean McCoy as the orchestrater of the attack. This changes the narrative from the original IG post, but in no way lessens the severity. As of now, McCoy stands accused of sending people to do this attack.
Delicia Cordon has hired attorney Tanya Mitchell Graham — who issued a statement saying Delicia was sleeping early Tuesday morning when a man entered her Georgia home and pistol whipped her.
Graham says the assailant demanded specific items of jewelry that had been given to her by McCoy — jewelry that McCoy had previously demanded she return to him. She claims the victim also sustained injuries to her wrist when the assailant tried to rip off her bracelet.
Graham claims before the incident, McCoy "would often suggest to Ms. Cordon that she could be robbed because the jewelry was expensive."
Graham — who's joined by associate attorneys Demetrius Price and Kiarra Brown — never straight-up accuses McCoy of criminal activity, but strongly implies it.
For example, Graham claims the assailant entered the house with NO signs of forced entry. She also claims McCoy changed the security system at the house and did not give Cordon access to the new one.
She also claims McCoy has a documented history of having other people do his dirty work for him — and references the time he allegedly ordered other people to evict her from his home in June and remove her furniture from the house.
Graham says despite the fact Cordon and McCoy have had a relationship since 2016, he has NOT called to check in on her since the details of the violent attack went public.
Final Thoughts
LeSean McCoy doesn't have a reputation for being a model citizen. As Smitty of Barstool Sports notes:
Look, LeSean McCoy has always been a shitbag of a human. Not tipping, among many other examples, justifies that fact.

But (allegedly) beating up women, a child, and a pup to the point the poor animal suffers kidney failure ensures anyone a first ballot HOF nomination into hell.

— Smitty (@SmittyBarstool) July 10, 2018
The odds of Shady McCoy being guilty are high. That being said, the NFL doesn't wait for due process. Otherwise Ezekiel Elliott wouldn't have undergone a 6 game suspension. They will have to act as this scandal is prime to escalate and disrupt the storyline of the upcoming season.