The Black community and gun ownership
The Second Amendment to our U.S. Constitution says; "A well regulated Militia, being necessary to the security of a free State, the right of the people to keep and bear Arms, shall not be infringed."
In pure and simple language that should be made loud and clear that law-abiding citizens regardless of pigmentation have the right to defend themselves from those who would do harm to them and to their country.
The right to keep and bear arms has been under assault for a very long time and not just with the current crop of gun-grabbers of today. According to a video hosted by Dana Loesch via NRA TV, she points out that gun control at the founding of our nation was for the purpose of keeping guns out of the hands of blacks and even other minorities. I do strongly believe in the right to own firearms is not limited to just white guys and gals.
Gun control is not about controlling guns or gun control itself. It is about control over people… period.
Julia Craven of the progressive-leaning HuffPost wrote a story in which they interviewed 11 black gun owners. Not all of them are conservative right-wing Republicans. One of the gun-owners highlighted calls herself a "Southern liberal." Our media might still paint these gun-owners as gang bangers or whatever and even the HuffPost might give you that impression of these black gun owners at first. Sadly I think the media promoted the Hip-Hop culture as just another way to demoralize blacks without the impression that they are being demoralized. No different than progressives moving away from slavery to government-sponsored and subsidized enslavement.
If we are for liberty and freedom, we must promote guns rights for all. Liberty and freedom must be promoted for all humans, the only true race.
Reference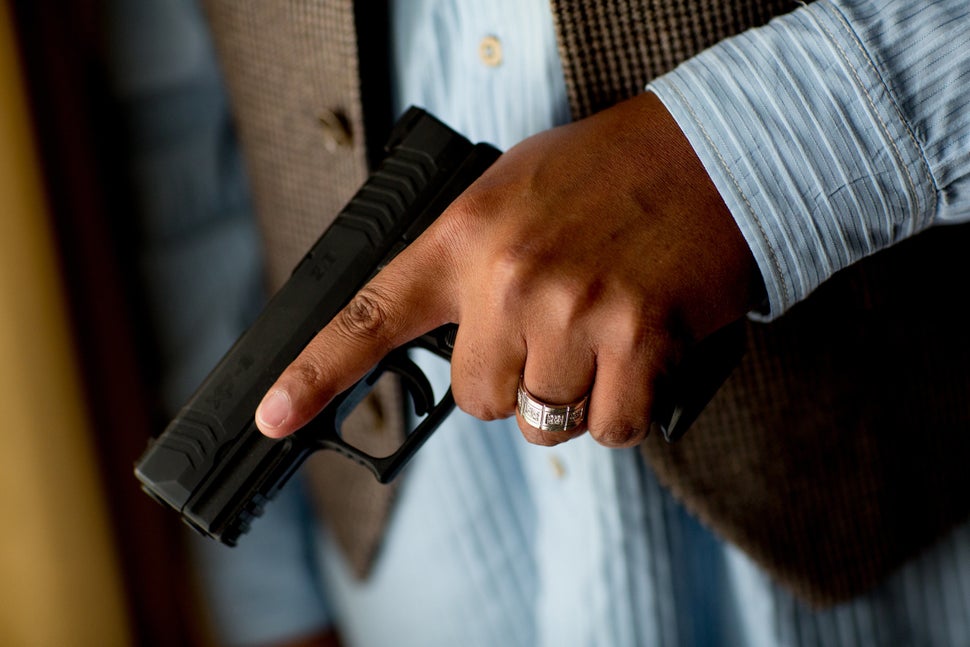 Before the Revolutionary War, colonial Virginia passed a law barring black people from owning firearms — an exercise in gun control as racial control. In 1857, in his notorious Dred Scott decision, Chief Justice Roger Taney summoned the specter of black people freely enjoying the right to "keep and carry arms wherever they went." Surely, he argued, the founders were not "so forgetful or regardless of their own safety" to permit such a thing. When black people armed themselves against white supremacist attacks following the Civil War, Southern state governments passed "black codes" barring them from owning guns. After the Black Panthers open carried to signal to California police officers that they would defend themselves against racial attacks in the late '60s, then-Gov. Ronald Reagan signed a state ban on open carry into law.
I have a dream that one day children in seventh grade will have an American history textbook that is not like my son's. Its heroes will not just be people from the past who upheld the middle-class values of modesty, chastity, sobriety, thrift, and industry. The rebels it celebrates will include not only abolitionists, suffragists, labor unionists, and civil rights leaders who confined their protests to peaceful and respectable writing, speaking, striking, and marching. In my dream, schoolchildren will read about people like C.O. Chinn.
As Jussie Smollett story evolves, let's not give it the Covington Catholic School treatment
When a juicy story hits social media, the instant reaction is to run with it and all the implications. That's the nature of our on-demand, always-on, real-time media world. The only thing faster than hot takes from the first hint of a story are the assumptions made by both sides regardless of the details.
Such is the case with Jussie Smollett, the actor who was allegedly attacked by MAGA-loving bigots. Smollett, a gay man of color, was allegedly targeted on the streets of Chicago, but now reports are coming in that it may have been an elaborate hoax designed to help him save his job on the cast of Empire.
And there it is. @ABC7Chicago: Jussie Smollett reportedly staged Chicago attack after being told he was being written off Empire. https://t.co/hjFln4Gk6q

— Emily Zanotti (@emzanotti) February 15, 2019
But so far, police have only confirmed that Smollett is still being treated as a victim. Yes, there were two persons of interest questioned by police. Yes, Smollett skipped a voluntary interview with police this morning. Yes, the story was strange from the start and this new narrative seems to match much better regardless of which side of the political or cultural aisle you're on.
And yet, nothing has been confirmed.
It's incumbent on us, whether journalists or simply social media users, to wait for the facts before jumping to conclusions. It works in both directions.
Regarding Jussie Smollett, let's PLEASE wait for a report from authorities. Just as the left jumped too quickly on the Covington Catholic School story, so too am I seeing conservatives scream #HOAX without confirmation from law enforcement. If/when he's charged, then we #Pounce.

— JD Rucker (@JDRucker) February 15, 2019
Was it all a hoax? Possibly. Some who are looking at he evidence today and the report released by local Chicago news may come to the conclusion that a hoax was likely. But let's not assume until the truth is revealed by officials.
Democrats push background check bill in the House
As social media buzzes about the one-year anniversary of the Parkland shooting, Democrats hope to put their latest iteration of gun control on the floor and onto the Senate. Called a "bipartisan" attempt to initiate more background checks on firearm purchases and sales, many conservatives on Capitol Hill are speaking out against it.
The House Judiciary Committee advanced the bill yesterday.
House Judiciary Committee Advances Universal Background Check Bill

"Bipartisan Background Checks Act," passed on 2/13 would extend the background check requirement to unlicensed sellers who conduct private transactions online and at gun shows. https://t.co/PXGw20QveN

— 🇺🇸👍🇺🇸 (@TrumpBillGates) February 14, 2019
My Take
Gun control bills, of which this is merely the first to be pushed by the current iteration of Democrats, usually have two things in common. First, they don't address the problem they're allegedly trying to solve; neither the Parkland shooting nor any mass shooting in the 21st century would have been prevented had this bill been in place. Second, they are a stepping stone through which leftists will attempt to initiate more draconian laws that eat away at our 2nd Amendment right to bear arms.
As with the abortion issue, the gun control issue is one in which "common sense" is used to push harsher laws down the line.
It should be strange to cognizant Americans that Democrats continue to push laws that make it easier to kill preborn babies while making it harder for innocent people to defend themselves with firearms. Are you seeing a trend in their mentality?
Freedom-lovers, keep an eye on AG William Barr
Today, William Barr is likely to be confirmed to be the next Attorney General. While he's a qualified leader to take the reins over the Justice Department and a strong patriot, there are concerns that we must remember as he joins the Trump administration.
First and foremost, Barr's record on the 4th Amendment is abysmal.
The right of the people to be secure in their persons, houses, papers, and effects, against unreasonable searches and seizures, shall not be violated, and no Warrants shall issue, but upon probable cause, supported by Oath or affirmation, and particularly describing the place to be searched, and the persons or things to be seized.
One would hope the top law enforcer in the nation would be an ardent defender of the 4th Amendment, but Barr has demonstrated not only a willingness to circumvent it at times but has also expressed annoyance that it prevents law enforcement from doing its job, particularly as it pertains to stopping terrorism. He's also a fan of the Patriot Act, though if anything it didn't go far enough.
Sadly, only a tiny handful of Republicans in DC seem to be concerned.
"While the Patriot Act was a major step forward and remedied FISA's most severe problems, I believe FISA remains too restrictive….It still requires that the govt establish 'probable cause' that an individual is either a 'foreign power' or an 'agent of a foreign power.'"
—W. Barr https://t.co/7rQHPDnsTY

— Justin Amash (@justinamash) February 12, 2019
"Many Republicans have strayed from a constitutional duty to support a limited view of federal power. The Bill of Rights recognizes the natural rights, and some positive rights, that all Americans hold dear." https://t.co/BMqq2IdPYP

— Senator Rand Paul (@RandPaul) February 13, 2019
The tribalism that has infected the country and plagued groups on both sides of the political aisle has struck once again. There would be plenty of objections from conservatives if Barr had been nominated by President Obama or another Democrat, but since he's a Trump nominee it appears he's going to fly through with no GOP Senators objecting other than Rand Paul.
It's a shame that the President decided to go with Barr. It's likely he did so based on Barr's objections to Robert Mueller's probe into Russian hacking of the election, but otherwise Barr's record is one that doesn't seem very conducive to freedom. We'll be keeping a close eye on him.