The Trump Train runs over Steve Bannon
If you've ever played Red Dead Redemption, you probably lassoed people, thrown them on a railroad track, and watched a train run them over. It was an excellent way to deal with a posse of bounty hunters that went after you and lost. That is essentially what has happened to Steve Bannon. The Trump Administration laid into Bannon, not only saying he's lost his mind, but also diminished the accomplishments Bannon claims.
Here's the full statement:
Statement from the President of the United States

Steve Bannon has nothing to do with me or my Presidency. When he was fired, he not only lost his job, he lost his mind. Steve was a staffer who worked for me after I had already won the nomination by defeating seventeen candidates, often described as the most talented field ever assembled in the Republican party.

Now that he is on his own, Steve is learning that winning isn't as easy as I make it look. Steve had very little to do with our historic victory, which was delivered by the forgotten men and women of this country. Yet Steve had everything to do with the loss of a Senate seat in Alabama held for more than thirty years by Republicans. Steve doesn't represent my base—he's only in it for himself.

Steve pretends to be at war with the media, which he calls the opposition party, yet he spent his time at the White House leaking false information to the media to make himself seem far more important than he was. It is the only thing he does well. Steve was rarely in a one-on-one meeting with me and only pretends to have had influence to fool a few people with no access and no clue, whom he helped write phony books.

We have many great Republican members of Congress and candidates who are very supportive of the Make America Great Again agenda. Like me, they love the United States of America and are helping to finally take our country back and build it up, rather than simply seeking to burn it all down.
To many conservatives, this is a welcomed victory. To liberals, this is Russian conspiracy fodder. After all, Steve Bannon did just switch sides on the Russian Farce issue. So Trump can expect that headache for weeks to come. Donald Trump Jr. went even more personal because Bannon's comments were aimed at him as well.
Wow, Just looked at the comments section on Breitbart. Wow. When Bannon has lost Breitbart, he's left with . . . umm, nothing.

— Donald Trump Jr. (@DonaldJTrumpJr) January 3, 2018
It would be amazing if there would have been a nice simple path to keeping this seat with a nice 30 point margin… #thankssteve https://t.co/uB7DXMZjiH

— Donald Trump Jr. (@DonaldJTrumpJr) January 3, 2018
Steve had the honor of working in the White House & serving the country. Unfortunately, he squandered that privilege & turned that opportunity into a nightmare of backstabbing, harassing, leaking, lying & undermining the President. Steve is not a strategist, he is an opportunist

— Donald Trump Jr. (@DonaldJTrumpJr) January 3, 2018
Ben Shapiro has an especially scathing response to Bannon.
Perspectives
None of this is a surprise coming from a leech on the ass of power, a man who rode Michele Bachmann's coattails to Sarah Palin's coattails to Andrew Breitbart's coattails to Donald Trump's and the Mercer family's coattails. It's also not a shock from a fellow whose only contribution to the White House was apparently leaking regularly to reporters for The New York Times. Bannon's an ambitious fellow, and his connection to power has now been reportedly cut off on both the monetary side (the going rumor has it that the Mercers aren't funding his side projects anymore) and the political side (he's not on good terms with the Trump White House, either). That means he has to build a brand of his own. So far, his branding isn't going well — it turns out endorsing a credibly accused child molester and then utilizing your publication to dig up dirt on the accusers doesn't do much for your Q rating. So now Bannon, who always had more balls than brains, is turning on the hand that fed him.
Bannon's utterly full of crap on virtually every level, of course. He always has been. But his comments are going to cause a whole new round of headaches for the Trump administration, since the media have insisted from the outset that Bannon is far more important than he has ever actually been.
Great America Alliance (GAA), the super PAC that has operated as a vehicle for Bannon's endorsement and sports a top Bannon ally as an advisor, issued a statement noting that Bannon and the group "did not always agree on candidates or issues."
"Our top priority is supporting President Trump and advancing an America First agenda," Ed Rollins, the group's chairman, said in the statement. "Whether or not Bannon shares this priority, it won't change our focus one bit."
Great America Alliance's statement could provide some cover for endorsed candidates who don't want to be tied to Bannon right now or seen as opposing Trump.
Rep. Evan Jenkins (R-W.V.), who is facing Bannon-endorsed state Attorney General Patrick Morrisey in the primary, became the first candidate to publicly seize on the feud.
"After Steve Bannon's vicious attacks on President Trump and his family, Patrick Morrisey should immediately disavow Bannon's support," Jenkins said in a statement Wednesday afternoon.
Bannon, through GAA, has also backed other candidates who will likely face similar questions. Arizona state Sen. Kelli Ward said in a statement that she remains committed to the Trump agenda and that Bannon "is only one of many high-profile endorsements."
Reactions
In the last 24 hours, Trump has basically told Kim Jong Un and Steve Bannon to go f*ck themselves.

He's not going to put up with anybody's bullshit and this is why people love him.

— Educating Liberals (@Education4Libs) January 3, 2018
And just like that…

The left supported Steve Bannon. pic.twitter.com/A7OKDkcIZr

— MAGA PILL 🇺🇸 (@MAGAPILL) January 3, 2018
Trump hires only the best people.*

*Offer not valid for Corey Lewandowski, Paul Manafort, Michael Flynn, Omarosa, Tom Price, Seb Gorka, Reince Priebus, Anthony Scaramucci, Sean Spicer, or Steve Bannon.

— Leon Wolf (@LeonHWolf) January 3, 2018
Steve Bannon tried to do to the Trump presidency what he did to Breitbart News. Trump's nuclear button was bigger.

— Dana Loesch (@DLoesch) January 3, 2018
Final Thoughts
These events revealed that a lot of our assumptions about Steve Bannon were incorrect. He's not a mastermind. He wasn't that close to Trump. He's not a Party Boss (although I mentioned that he sucked as one). Steve Bannon is just a brown-nosing sycophant and now he just got explosive diarrhea in his face. People won't want to be around that stink, which is a welcomed victory for conservatives in 2018. People don't want to read stink either, so we shall wait and see what happens to Breitbart.
Liberty Control (aka Gun Control) Dead at 501 [1517 – July 10, 2018]
Today we celebrate the passing away of one of the Left's worst legacies: Liberty Control
Liberty Control (aka Gun Control), the absurd idea that depriving the innocent of a means of self-defense will protect them from criminals and the government died on July 10, 2018, after a protracted illness. The past few months saw it suffer multiple degradations, but the final cause of death was a settlement between the Department of Justice and Second Amendment Foundation in SAF's lawsuit on behalf of Cody Wilson and Defense Distributed over free speech issues related to 3-D files and other information that may be used to manufacture lawful firearms:
Significantly, the government expressly acknowledges that non-automatic firearms up to .50-caliber – including modern semi-auto sporting rifles such as the popular AR-15 and similar firearms – are not inherently military.
"Not only is this a First Amendment victory for free speech, it also is a devastating blow to the gun prohibition lobby," noted SAF founder and Executive Vice President Alan M. Gottlieb. "For years, anti-gunners have contended that modern semi-automatic sport-utility rifles are so-called 'weapons of war,' and with this settlement, the government has acknowledged they are nothing of the sort.
This curse on freedom began with the nonsensical label 'Gun control' but like a mutating virus, it morphed into 'Gun safety' or 'Gun reform' as people began to understand it's true liberticidal nature. The final proper designation for this statist abomination helped seal its fate: Liberty Control.
In recent years, Liberty control had suffered a number of potentially fatal maladies ranging from the Heller and other Pro-Liberty decisions of the Supreme court to the virtual explosion in gun ownership with untold numbers of new adherents joining the ranks. Despite valiant attempts by the Left to resurrect this absolutely horrid idea from a bygone era, most imbued with common sense came to realize that more guns equaled less violence.
Liberty Control is barely survived by its one year older half-brother in statist tyranny Collectivism, born when the book 'Utopia' was published in 1516.  This ancient idea remains in critical condition having been transferred to the Bronx on life support. It is not expected to survive, despite the best efforts of the Socialist-Left. As is usually the case when a free-people can properly assess the liberticidal ideas of the Left.
Libertas [The ancient Roman personification of liberty] Celebrated the death of one of its intractable foes down through the centuries. "There must have been some viral affliction in the water of the early 16th century to have created these two horrible curses upon mankind."
Services will be held on July 27th, 2018, and after August 1 Cody Wilson plans on re-launching Defcad.com with 'a treasure trove of 3D-printed gun files for download.'  In Lieu of flowers, those of the Liberty loving public are encouraged to visit https://ghostgunner.net/ after that date and download the files for future use as well as donate to the organizations that defend this critically important freedom.
Please note that while we are using this 'obituary' form to prove a point, it should be patently evident that the dreams of the Liberty grabbers of banning and confiscating guns are now dead. Even if by some freakish turn of events whereby the defenders of Liberty forget history, agree to the requirement of governmental permission to exercise a commonsense human right, and then have their guns confiscated. The technology will still exist for everyone to produce their own weapons. It should perfectly clear to everyone including the cadres of Liberty Grabbers out there that the genie is out of the bottle, that there is no way they can ever ban guns, knives or even the odd spanner here and there. It should also be evident that such groups should move on to other causes that actually have a chance of coming to fruition. Also, note that it was very proper that this took place during #Gun Pride Month.
LeSean McCoy domestic violence accusation: the "Hold My Beer" of recent NFL player scandals
Players getting into trouble off the field is nothing new for the NFL, but the accusations levied against LeSean McCoy on Instagram tops the accusations made and found true against the likes of Ray Rice, Michael Vick, Adrian Peterson, and countless others. This follows a recent arrest of former Seattle Seahawk, Brandon Browner, being charged with attempted murder.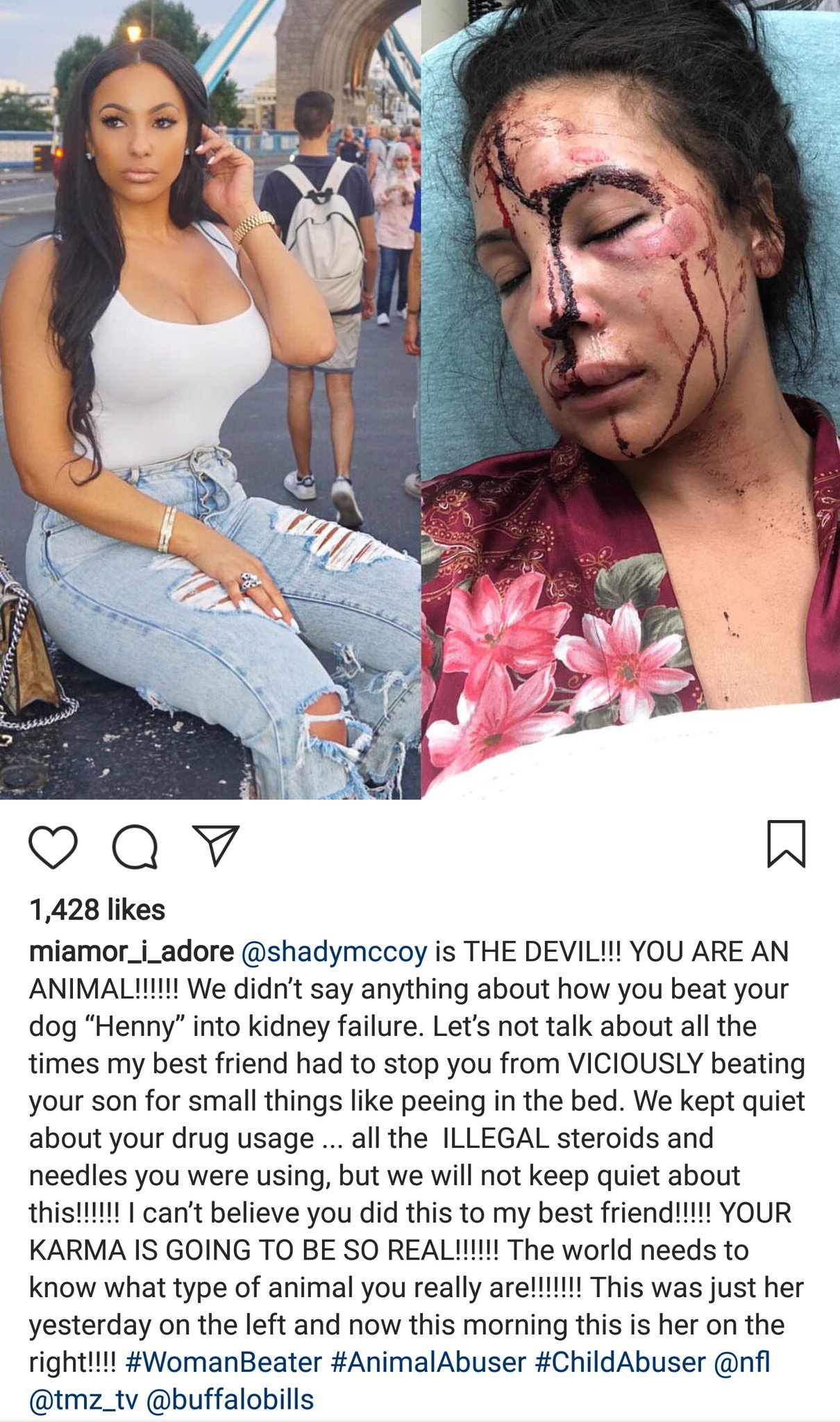 Shady McCoy is publicly accused of illegal drugs, PED, animal abuse, domestic abuse, and child abuse. The seriousness of the accusations alone could endanger his career. Like any person guilty or innocent, McCoy took to denying the accusations, claiming to have had no direct contact with them in months.
LeSean McCoy's defense is he has not had direct contact with the individuals involved in months. So, he's saying he isn't an active role in his child's life. What a dirt bag.

— Raymond Fava (@RaymondFava) July 10, 2018
But the evidence is being gathered. Police say they are investigating a home invasion of the victim's residence. So far, McCoy has not been named a person of interest.
The report from the Milton (Ga.) Police on the home invasion late last night involving a victim whose friend then accused #Bills RB LeSean McCoy of domestic violence. McCoy adamantly denied the accusations. pic.twitter.com/zpw2xbVyGF

— Ian Rapoport (@RapSheet) July 10, 2018
Furthermore TMZ reports that the victim has lawyered up and named LeSean McCoy as the orchestrater of the attack. This changes the narrative from the original IG post, but in no way lessens the severity. As of now, McCoy stands accused of sending people to do this attack.
Delicia Cordon has hired attorney Tanya Mitchell Graham — who issued a statement saying Delicia was sleeping early Tuesday morning when a man entered her Georgia home and pistol whipped her.
Graham says the assailant demanded specific items of jewelry that had been given to her by McCoy — jewelry that McCoy had previously demanded she return to him. She claims the victim also sustained injuries to her wrist when the assailant tried to rip off her bracelet.
Graham claims before the incident, McCoy "would often suggest to Ms. Cordon that she could be robbed because the jewelry was expensive."
Graham — who's joined by associate attorneys Demetrius Price and Kiarra Brown — never straight-up accuses McCoy of criminal activity, but strongly implies it.
For example, Graham claims the assailant entered the house with NO signs of forced entry. She also claims McCoy changed the security system at the house and did not give Cordon access to the new one.
She also claims McCoy has a documented history of having other people do his dirty work for him — and references the time he allegedly ordered other people to evict her from his home in June and remove her furniture from the house.
Graham says despite the fact Cordon and McCoy have had a relationship since 2016, he has NOT called to check in on her since the details of the violent attack went public.
Final Thoughts
LeSean McCoy doesn't have a reputation for being a model citizen. As Smitty of Barstool Sports notes:
Look, LeSean McCoy has always been a shitbag of a human. Not tipping, among many other examples, justifies that fact.

But (allegedly) beating up women, a child, and a pup to the point the poor animal suffers kidney failure ensures anyone a first ballot HOF nomination into hell.

— Smitty (@SmittyBarstool) July 10, 2018
The odds of Shady McCoy being guilty are high. That being said, the NFL doesn't wait for due process. Otherwise Ezekiel Elliott wouldn't have undergone a 6 game suspension. They will have to act as this scandal is prime to escalate and disrupt the storyline of the upcoming season.
PRIDE: Portland renames major street after pederast, cult defender
In 2016, the U.S. Navy named a ship after the late politician, Harvey Milk. In 2009, President Obama posthumously bequeathed Milk with the Presidential Medal of Freedom.
Now, city officials in Portland, Oregon, have voted to rename a 13-block section of one of the city's major streets, Southwest Stark Street, after Harvey Milk, the first open homosexual to serve on the San Francisco, CA, Board of Supervisors. Milk was murdered in 1978, by a fellow democratic Board of Supervisors member.
Harvey Milk was also a serial pederast. As his friend and biographer, Randy Shilts, wrote:
"Harvey always had a penchant for young waifs with substance abuse problems."
Milk was also a defender the now infamous Marxist cult leader Jim Jones. As Daniel J. Flynn wrote at City Journal in 2009, in a piece entitled, "Drinking Harvey Milk's Kool-Aid":
Nine days prior to Milk's death, more than 900 followers of Jim Jones — many of them campaign workers for Milk — perished in the most ghastly set of murder-suicides in modern history. Before the congregants of the Peoples Temple drank Jim Jones's deadly Kool-Aid, Harvey Milk and much of San Francisco's ruling class had already figuratively imbibed. Milk occasionally spoke at Jones's San Francisco-based headquarters, promoted Jones through his newspaper columns, and defended the Peoples Temple from its growing legion of critics. Jones provided conscripted "volunteers" for Milk's campaigns to distribute leaflets by the tens of thousands. Milk returned the favor by abusing his position of public trust on behalf of Jones's criminal endeavors.
"Rev. Jones is widely known in the minority communities here and elsewhere as a man of the highest character, who has undertaken constructive remedies for social problems which have been amazing in their scope and effectiveness," Supervisor Milk wrote President Jimmy Carter seven months before the Jonestown carnage. The purpose of Milk's letter was to aid and abet his powerful supporter's abduction of a six-year-old boy. Milk's missive to the president prophetically continued: "Not only is the life of a child at stake, who currently has loving and protective parents in the Rev. and Mrs. Jones, but our official relations with Guyana could stand to be jeopardized, to the potentially great embarrassment of our State Department." John Stoen, the boy whose actual parents Milk libeled to the president as purveyors of "bold-faced lies" and blackmail attempts, perished at Jonestown. This, the only remarkable episode in Milk's brief tenure on the San Francisco board of supervisors, is swept under the rug by his hagiographers.
Along with Stoen, 275 other children also perished that day in Jonestown.
Portland's Southwest Stark Street is at the center of the largely LGBTQ Burnside Triangle neighborhood.
According to an article at LGBTQNation.com, "this change symbolizes the districts history as well as the legacy of Harvey Milk."
Portland Mayor, Ted Wheeler, prior to the vote, spoke about the importance of this name change, saying that it "sends a signal that we are an open and a welcoming and an inclusive community."
Portland now joins several other cities, including San Diego and Salt Lake City, which have honored Harvey Milk.
My Take:
Those on the right side of the aisle are regularly accused of vilifying the LGBTQ community. Oddly enough, it's the most vociferous activists on the left – specifically, it's those who select, uplift, and honor "heroes" like the sexual predator Harvey Milk – who do the most damage to the image of the LGBTQ community, along with the ideologues who simply go along with it.
What could the right possibly do to harm the image of the LGBT community which the radical activists haven't already inflicted themselves? I can't think of anything. Can you?