Year In Review: TV in 2017
2017 was a dynamic year for TV and 2018 doesn't seem like it will have a unifying TV show for the American populace. We saw shows shaken up by sexual harassment, liberalism, Trumpism, and bad writing. Unfortunately some of 2017's highlights won't return in 2018.
News
Bill O'Reilly lost his show and much of what remained of his credibility. Fox News shook things up by doubling down on Hannity. President Trump started a feud with Morning Joe. It was brief and the best thing that happened to that show. The liberal media perpetuated the Trump Russia collusion myth lacking evidence all along the way.
It was a particularly bad year for CNN. President Trump also continued feuding with CNN. The feud climaxed over the summer when Trump tweeted a meme of CNN in one of his most retweeted tweets of all time. A meme war ensued after CNN bragged about blackmailing the creator of the gif used by Trump. CNN also tweeted their banana-apple video which has also been fodder for the continued memewar. Ben Shapiro responded most appropriately.
Late Night
By young people standards, they aren't that late, especially if you bingewatch on Netflix or the DVR. SNL was cool when you were in middle school and could stay up late enough to watch. But these shows were meant to watch on Youtube. There are too many unfunny parts in these types of comedy shows. This year we saw several tearful monologues from the hosts. It's strange that these host get so much attention on increasingly irrelevant network channels, but nonetheless we saw a lot of Jimmy Kimmel using his kid to promote Obamacare and gun control despite his factual dishonesty. Seriously, millennials will kill this genre too and hopefully soon.
Disney
ESPN has a terrible PR year. Their viewers are down, their content sucks, and their main hostess is an overbearing liberal. But ESPN being a sports-gossip channel is nothing new. They did however, create LaVar Ball, and for that we hate them. But if you're a Disney stockholder worry not! They are creating a fourth Star Wars Trilogy, more Marvel TV shows, and now own 20th Century Fox. But if your someone who enjoyed these thing, you're out of luck.
Sports
We watched the grandest choke in sports history early on as the Atlanta Falcons choked a 25 point lead in the Superbowl. We then watched a predictable NBA Finals and a repeat Stanley Cup champion. But who could forget the excited boxing match between Floyd Mayweather and Conor McGregor. We wanted Notorious to win even though we knew he wouldn't. Nonetheless, it was great entertainment. After that the NFL ratings fell with the NFL doing everything it can to not mitigate the circumstances. But at least the World Series was great.
Game of Thrones
The seventh season of Game of Thrones came uniting fans globally. However it was the poorest written season or second to Season 5. HBO was in a tough position. They've exceeded the books. This is nothing entirely new. However Season Six was largely rushing through books 4 and 5, because season 4 was still largely book 3 and season 5 was mostly deviation: Dorne, Cercei, Jaime, Sansa, Daenerys. Season six rushed through the Ironborn plot in book four as well as the Siege of Mereen in book 5. Now Season Seven had to wrap through events covering book six presumably and book seven. The seventh season was good but disappointing in many ways. The writing relied way too much on nostalgia, kind of like The Force Awakens because HBO didn't have source material. The deviations they created such as Dorne, Sansa(Bolton), the Greyjoy children all manifested into some of the show's worst moments such as the Arya-Sansa plotline, and Theon "manning up". However positive highlights include the Trail of Fire and the Sam's achievements of better men. And who can forget ice dragons.
Streaming Gains
We can definitely foresee streaming overtaking networks eventually. We learned that Netflix and Hulu may make that happen. While Hulu made the Handmaid Tale so that feminists can masturbate as freak out about Trump and Pence, Netflix made any idea they had into a TV show. Everyone is raving about Stranger Things which is now the Netflix's golden boy after the whole Kevin Spacey scandal limited the life of House of Cards. Netflix produced some solid content delving into both cliche and "disputed" territory. Popularity grows for British royalty drama The Crown and colonial Canadian fur-trading drama Frontier. The depths of Netflix are vast and need to be explored, thus we should not grow bored in 2018.
Rick and Morty
Season 3 was well-loved to the pleasure of zero Emmy nominations. "But don't worry, I'm sure the new Will and Grace is better," said no millennial ever. Nonetheless, this was the show that led to the McDonald's Mulan McNugget sauce BS promotion. If you're below the age of thirty, you might not know what it is. Rick and Morty is like Doctor Who, Futurama, and South Park but better than all those things. Season 3 established Rick and Morty's place as the top animated comedy. In 2017, we got "Pickle Rick!", the most iconic line of the year from TV.
(Un)Honorable Mentions
The Walking Dead continued it's slide. South Park attempts to correct its Trump mistake to mixed reviews. Seth McFarland debuted his new show, The Orville, because we needed another sci-fi show with terrible CGI. Speaking of which there was also a new Star Trek show. A bunch of girls watched The Bachelor but at least singing shows are still dead! And anything "unscripted" reality TV.
What the 2018 holds
We likely won't see any more Game of Thrones nor Rick and Morty until 2019, but as far as comedies go, look for the emergence of Legends of Chamberlain Heights, Comedy Central's black animated comedy to become more popular, as well as one of Netflix's shows. American Idol returns, but this time on ABC. Do future generations a favor and not watch. Look for more Simpsons predictions to come true as well as feminism ruining a perfectly good show. SNL is going to strive to be less funny while CNN becomes a bigger joke. The shows about drug trafficking shows like Narcos will get watched now that Hollywood isn't saturating the box office with related plots. Here's an easy prediction, liberalism will try to force transgenderism on mainstream and kids TV shows because representation matters more than quality writing. Although to them, representation is quality, but I digress. Overall, it doesn't look like TV will be as dynamic in 2018, but the Trump factor remains to keep things a little unpredictable.
LeSean McCoy domestic violence accusation: the "Hold My Beer" of recent NFL player scandals
Players getting into trouble off the field is nothing new for the NFL, but the accusations levied against LeSean McCoy on Instagram tops the accusations made and found true against the likes of Ray Rice, Michael Vick, Adrian Peterson, and countless others. This follows a recent arrest of former Seattle Seahawk, Brandon Browner, being charged with attempted murder.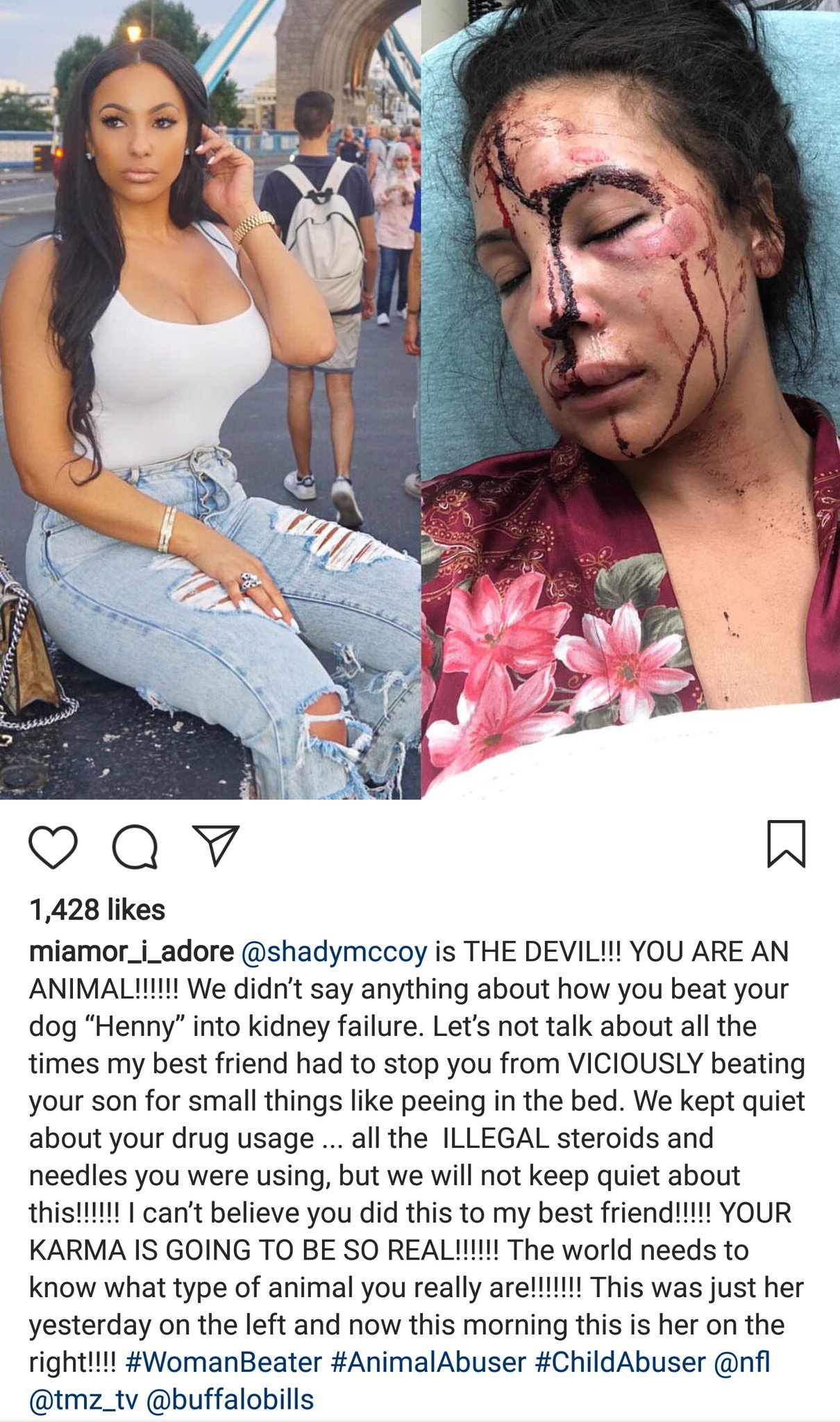 Shady McCoy is publicly accused of illegal drugs, PED, animal abuse, domestic abuse, and child abuse. The seriousness of the accusations alone could endanger his career. Like any person guilty or innocent, McCoy took to denying the accusations, claiming to have had no direct contact with them in months.
LeSean McCoy's defense is he has not had direct contact with the individuals involved in months. So, he's saying he isn't an active role in his child's life. What a dirt bag.

— Raymond Fava (@RaymondFava) July 10, 2018
But the evidence is being gathered. Police say they are investigating a home invasion of the victim's residence. So far, McCoy has not been named a person of interest.
The report from the Milton (Ga.) Police on the home invasion late last night involving a victim whose friend then accused #Bills RB LeSean McCoy of domestic violence. McCoy adamantly denied the accusations. pic.twitter.com/zpw2xbVyGF

— Ian Rapoport (@RapSheet) July 10, 2018
Furthermore TMZ reports that the victim has lawyered up and named LeSean McCoy as the orchestrater of the attack. This changes the narrative from the original IG post, but in no way lessens the severity. As of now, McCoy stands accused of sending people to do this attack.
Delicia Cordon has hired attorney Tanya Mitchell Graham — who issued a statement saying Delicia was sleeping early Tuesday morning when a man entered her Georgia home and pistol whipped her.
Graham says the assailant demanded specific items of jewelry that had been given to her by McCoy — jewelry that McCoy had previously demanded she return to him. She claims the victim also sustained injuries to her wrist when the assailant tried to rip off her bracelet.
Graham claims before the incident, McCoy "would often suggest to Ms. Cordon that she could be robbed because the jewelry was expensive."
Graham — who's joined by associate attorneys Demetrius Price and Kiarra Brown — never straight-up accuses McCoy of criminal activity, but strongly implies it.
For example, Graham claims the assailant entered the house with NO signs of forced entry. She also claims McCoy changed the security system at the house and did not give Cordon access to the new one.
She also claims McCoy has a documented history of having other people do his dirty work for him — and references the time he allegedly ordered other people to evict her from his home in June and remove her furniture from the house.
Graham says despite the fact Cordon and McCoy have had a relationship since 2016, he has NOT called to check in on her since the details of the violent attack went public.
Final Thoughts
LeSean McCoy doesn't have a reputation for being a model citizen. As Smitty of Barstool Sports notes:
Look, LeSean McCoy has always been a shitbag of a human. Not tipping, among many other examples, justifies that fact.

But (allegedly) beating up women, a child, and a pup to the point the poor animal suffers kidney failure ensures anyone a first ballot HOF nomination into hell.

— Smitty (@SmittyBarstool) July 10, 2018
The odds of Shady McCoy being guilty are high. That being said, the NFL doesn't wait for due process. Otherwise Ezekiel Elliott wouldn't have undergone a 6 game suspension. They will have to act as this scandal is prime to escalate and disrupt the storyline of the upcoming season.
NBA players choose collusion over competition
In every other sports league, there is competition among the franchises. The NFL has new teams rising and falling every year. Baseball is a whole new season, come October. The NHL playoffs are perhaps the most exciting competition in all of sports. In college basketball, a 16 beat a 1. Yet in opposition to its fellow sports leagues, the NBA is entirely predictable.
The offseason has brought excitement with the long-anticipated relocation of LeBron James. But him landing in Los Angeles was the guess of most pundits amateur and professional. The Lakers are now a playoff contender barring injury. But even away from the Cavs, LeBron is still no match for Golden State.
Superteams are bad for sports
Having the best players fall on one team is fine and dandy when it is natural and done over time. The New York Yankees are among the top contenders in baseball. Contrary to stereotype, they are talented because they established an excellent farm system. It is completely fair for them to end up being the best (again). If Derek Jeter's strategy works, the Marlins will turn themselves around.
The Warriors are a different story. Yes, they drafted well and traded well. But then they sign Kevin Durant, a top player. Then they sign DaMarcus Cousins, another top player. Cousins. Both of these players shamelessly sold out for the privilege of being on a winning team. Durant joining the Warrior is the equivalent of Ovechkin joining the Penguins. But he didn't because he cares about his legacy and not his rings. Cousins was perhaps just as bad seeing as he took a deal well below his market value even if injured.
Centers making roughly 3x or more than Demarcus Cousins next season:

Joakim Noah: $18 Million
Tristan Thompson: $17 Million
Bismack Biyombo: $17 Million
Timofey Mozgov: $16 Million
Ian Mahinmi: $16 Million
Gorgui Dieng: $15 Million
Robin Lopez: $14 Million

Cousins: $5 Million

— Hoop Central (@TheHoopCentral) July 3, 2018
One cannot blame the Warriors for preserving their dynasty which increased the team value 19% in the last year according to Forbes. It's good for their business, in a league where several teams can't break past $20 million in operating income. But the league will suffer. The NBA has largely benefited from people enjoying the ride, but it's inescapable how anticlimactic the end is. The Warriors win. The 2019 NBA finals is already similarly boring, in that, everyone who isn't a hopeless dreamer already knows the outcome.
The NBA needs to save the competitiveness of its league. A handful of teams now compose the NBA, whilst the others are relegated to being developmental feeding grounds. Top players aren't interested in rivalry with each other. Rather, they prefer to join forces even to the point of destroying the competition the league was known for. An NBA ring is depreciated in its value, at least if you are a Warrior. Yet players aren't against colluding for a piece of jewelry at the expense of their honor. This fundamental cultural flaw won't go away on its own. The NBA should strongly consider curbing this trend either through stricter salary caps or some other creative means.
So far they've been content to let ESPN dictate their trajectory and competitive strategy. It seems worth it to leave the elephant unaddressed so long as there's a raging debate between Team Jordan and the Bronsexuals. Such contentment now has James in the same conference as the Warriors making 2019 a much less exciting finals.
The AAF is the NFL's newest worry
Two months ago, the NFL's long-term demise may have been spelled by the revival of the XFL. The XFL was initially a football league in 2001, but now Vince McMahon wants to revive it. While announcements about the XFL have been dormant since January, a new player is emerging and faster. The Alliance of American Football or the AAF has been formed and will play a 2019 season the week after the Superbowl.
The AAF, in contrast, Vince McMahon and the XFL have given more concise answers to the many questions asked. Make no mistake, the AAF is a substantially more potent threat than the XFL. The AAF not only is going to begin a year earlier but also has TV contracts ready with CBS. The AAF will also stream games and incorporate fantasy football.
The biggest reason the AAF is a threat is management. The AAF is founded by Charlie Ebersol, who has worked for the NFL and sports media. He even made a documentary as to why the 2001 XFL failed. The AAF also has a number of credible football players serving as executives and advisers. Among them are Hines Ward, Troy Polamalu, Jared Allen, and Justin Tuck. The AAF also has the legendary team builder and executive Bill Polian. A B-List idea with A-Team management is a recipe for success in business. This is why the AAF has garnered the backing of venture capitalist firms such Founders Fund featuring the country's top VC, Peter Thiel ad Cherning Group.
The AAF during its announcement stated that it would fill a void where the NFL ends in February. In this void, many sports fans stop watching sports and stop participating in fantasy sports. The AAF also wants to reach the large pool of college football players who don't wind up in the NFL. Other sports have multiple professional leagues in the NFL.
The AAF will have 8 teams, 10 games, and a two-week playoff. In eliminating injuries and maintaining excitement, the AAF is eliminating the kickoff, and will instead start the 25-yard line. For teams seeking an onside kick, will have 4th and 10 on their 35. The extra point is eliminated; teams have to go for 2. Teams will have two replays a game. To speed the game, the play clock will be 30 seconds, matching the increasing pace of the game. The AAF will also change the way players are compensated with win bonuses, stat bonuses, and fan engagement bonuses. On top of these bonuses, the league will also provide scholarships for their future off the field.
For fans, the tickets and concessions will be cheap. This is in sharp contrast to the NFL where tickets prices are rising even for mediocre teams. TV timeouts will also be done away with. Commercials will only take place during natural breaks. In April the cities will be announced. Note: they've already been decided, but they want us talking about it later, something that isn't happening with the XFL.
Reactions
Just looked it up – Super Bowl 53 is being broadcast on CBS. Which means that the AAF will get free promo time during the Super Bowl, and ostensibly during AFC games as well. Yep, the XFL is fucking TOAST.

— Sign Pointing Enthusiast (@BostonNooga) March 20, 2018
The NFL… The CFL… The XFL… and now… The AAF – Alliance of American Football launches in 2019. https://t.co/I3qsye0nTa

— Kevin Jesus (@GlobalJesus) March 20, 2018
Are battle lines being drawn or is there room for both leagues in this town? #AAF #XFL

— XFL Show (@XFLShow) March 21, 2018
There's room for a pro football minor league in this country, whether it's the XFL or AAF. It exists for baseball, basketball, hockey and soccer. The problem is thinking either is going to compete with the NFL. It's not but there's a real opprotunity for a developmental league.

— Arash Markazi (@ArashMarkazi) March 21, 2018
Takeaway
Unlike the XFL, the Alliance of American Football announced its existence with far more questions answered. While the Alliance didn't touch on the National Anthem or criminal records, they also answered far more questions about their gameplay than Vince McMahon's vague announcement. While the NFL has a complement in the Alliance of American Football, this alliance may in years to come be a fierce competitor. In the meantime, rather than being disruptive, Charlie Ebersol and his staff are focusing on being useful. This strategy is far more conducive to long-term success.