Catalonia's landslide 'yes' vote came at a price with nearly 1000 injured
Reports from Catalonia in Spain indicate a landslide victory for the separatists who want the state in the northeast region to declare independence. The vote, which was declared illegal and unconstitutional by the Spanish government, was marred by violence as police in riot gear used extreme measures to block and disband voters. At least 844 citizens were injured along with 33 police officers.
Over 2.2 million of the 5.3 million registered voters in Catalonia braved the attacks from police to cast their votes. The regional government declared a 9-1 margin in favor of independence. Catalan President Carles Puigemont had pledged earlier to follow through with the will of the people and declare independence from Spain if the voters approved.
The response from Spanish officials has been denial. Prime Minister Mariano Rajoy declared that there was no independence vote today in Catalonia.
"Today, we have not had a referendum for self-determination in Catalonia," Rajoy said during a televised address. "Today, all the Spaniards have seen that our state rule of law keeps its strength and reality, and restricts those who wish to subvert the state of law, and acts with all the legal resources, vis a vis all provocations, and does it with efficacy and in a serene way."
Background
As an American, it's difficult to imagine things coming to this point in a western nation. The violence, shared to the world through social media, seems unfathomable in 2017 in a democratic nation such as Spain. What makes the Catalonia-Spain situation peculiar is the distinct difference between the people. The culture, history, and even language in Catalonia is distinct. They've enjoyed varying degrees of autonomy since 1931. Clashes with Spain and changes to law have been on-again, off-again ever since.
The tipping point that brought us to where we are today started with the 2006 Statute of Autonomy of Catalonia. It was quickly ratified by Catalan voters and approved by the Spanish parliament, but was challenged by the center-right Popular Party before the Constitutional Court. Over the next four years, it was debated before they released their decision. Most outsiders viewed the changes they required as minor; 14 of the 223 articles were struck down and another 27 were curtailed. However, the Catalans were not pleased by it. Seeds were immediately planted to yield what we witnessed this weekend.
Opinion
The rule of law of a sovereign nation should be respected by outsiders, particularly when it comes from a democratically elected government. However, the modern age has given us a deeper glimpse at what happens around the world. As such, images and videos from the vote will make it very challenging for Spain to avoid international pressure.
This isn't a situation familiar to Americans. This isn't like Texas wanting to be an independent country. Catalan provides 1/5th of the Spanish government's revenue. On the other hand, the differences between Catalans and Spaniards are far greater than the differences between Texans and other Americans.
Catalans overwhelmingly want out. The Spanish government and economy would have to be torn asunder and rebuilt if Catalonia becomes a fully-independent nation. The stakes are high for both sides. Semi-autonomy has served Catalonia well but their grievances cannot be overlooked.
Check out perspectives from around the internet, then scroll down further for social media reactions, including tons of videos and images. I'll leave my final thoughts at the bottom.
Perspectives
In the press conference, he blamed unrest on the Catalan government and called the referendum "a process that has only served to sow division, to confront citizens and to provoke unwanted situations".
"My government, in the next few days will send the results of today's vote to the Catalan Parliament, where the sovereignty of our people lies, so that it can act in accordance with the law of the referendum," he added.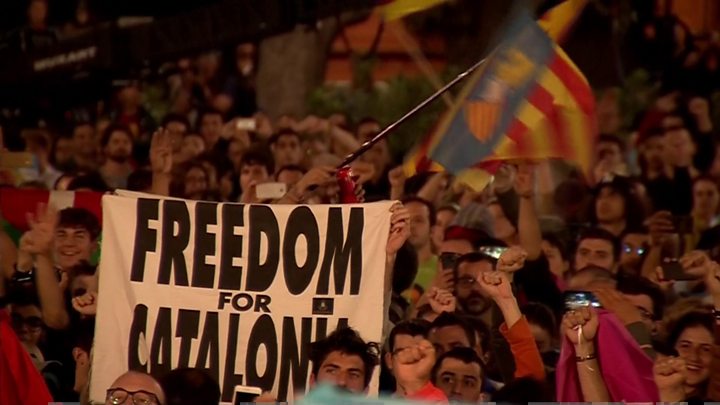 Large crowds of independence supporters gathered in the centre of the regional capital Barcelona on Sunday evening, waving flags and singing the Catalan anthem. Anti-independence protesters have also held rallies in Barcelona and other Spanish cities.
Hundreds of voters were also forcefully removed from polling stations with violent clashes breaking out in Barcelona and near the city of Girona.
Reactions
Catalonia's regional government declares landslide win for "yes" side in independence vote marred by chaos. https://t.co/Ba8EOuzG8L pic.twitter.com/7tCkJeD432

— ABC News (@ABC) October 2, 2017
….. and cue the social media blackout. "sensitive material" #CatalanReferendum @JulianAssange pic.twitter.com/Wk53Oqt278

— Mark (@markantro) October 2, 2017
That old lady is believed to be a dangerous recruiter for the backgamon united terrorist group #catalanreferendum pic.twitter.com/ETCwOXHxi1

— Freddy (@thoughsob) October 2, 2017
⚖️ [THREAD] What next for Catalunya?: Is this the end of the violence? #CatalanReferendum pic.twitter.com/QmIeSyz3Nr

— Butterfly Rebellion (@Butterfly_Reb) October 2, 2017
This is probably one of the most emotional moments in my life. Catalan voters thanking the int. visitors in #Catalonia. #lovedemocracy #1O pic.twitter.com/jCg5KDmVpW

— Helle Kettner (@HelleKettner) October 1, 2017
Catalonia chief opens door to declaration of independence https://t.co/t6ydjJBKcr pic.twitter.com/scmnNGNfHn

— Reuters Top News (@Reuters) October 2, 2017
"Today Catalonia has gained its sovereignty and respect"
— Statement by President @KRLS on the #CatalanReferendum https://t.co/HdGd87CldN pic.twitter.com/TGyu6suTVN

— Catalan Government (@catalangov) October 2, 2017
While people tries to save someone's live, police keeps charging #catalanreferendum pic.twitter.com/1isrlhC4wi

— Freddy (@thoughsob) October 2, 2017
#CatalanReferendum
Historical Day pic.twitter.com/oHmvDTYyPm

— ⚽™ (@culezitic) October 2, 2017
TESTIMONY. Catalan girl with the fingers broken one by one by spanish riot police.#HelpCatalonia#CatalanReferendum#SpainIsPain pic.twitter.com/d6EC1oKQ1l

— Galiza Rebelde (@galizarebelde) October 1, 2017
Catalonia 'wins right to statehood', following contentious referendum marred by violence: https://t.co/y09znvo9cR pic.twitter.com/QzQzWiZQZf

— BBC News (World) (@BBCWorld) October 2, 2017
#CatalanReferendum Massive demos held in Bilbao and Valencia, as people show solidarity with Catalan referendum https://t.co/zZEZ4LKbZW pic.twitter.com/txWN8bcjbQ

— Ruptly (@Ruptly) October 1, 2017
This is absolute madness#CatalanReferendum pic.twitter.com/lqjihTLDEJ

— Historical Pics (@HistoricalPics) October 1, 2017
Final Thoughts
The last thing we need to do at this point is get involved at all. Spain is a sovereign nation. Catalanio may or may not become a sovereign nation. These videos are compelling and often heartbreaking, but this isn't America's concern. American citizens can and probably should voice our opinions, but DC needs to stay out of it. Let Spain and the EU handle it. The U.S. government must avoid this, even on Twitter (looking at you, Mr. President).
Man fined £1,000 for outdated sense of humor
Jonathon Van Maren, a contributor for LifeSiteNews, recently stumbled across an article in the UK's Edinburgh News about a construction worker who was arrested for "pointing and laughing" at a biological male who was dressed as a female (transgender woman).
[Author's Note: It is impolite and unkind to point and laugh at others. This article is not an endorsement of such behavior.]
As Van Maren explained, a construction worker named Graham Spiers was walking with a group of friends. The group pointed and laughed while passing a transgender individual who, suspecting that his appearance had become the subject of ridicule, telephoned the police.
Spiers was arrested five day later.
Sherriff Robert Fife scolded Mr. Spiers's sense of humor and actions:
Sheriff Robert Fife also piled on, informing Spiers that, "Your offensive comments were not funny at the time and are not funny now. Your children should grow up understanding gender differences and would be ashamed at your behavior that comes from a different era has no place in today's society." Fife then told Spiers that in addition to the cash he had to pay to the biological man for laughing at him, he also had to pay an additional fine of another five hundred pounds.
Graham Spiers was ordered to pay a total of £1,000 for his actions "from a different era," 500 of which was paid to the complainant.
Of the actions by police and the court in this instance, Van Maren opined:
It is disgusting enough that law enforcement would arrest and charge someone for this triviality. That alone indicates that freedom in Scotland is truly dead. But the fact that law enforcement then lectured Spiers on being a throwback from a different age (that different era being about a decade ago, for the record) and telling him his children should be ashamed of him? And that Spiers was expected to cower and listen to this tongue-lashing from his betters so he could get re-educated and realize that men could now become women and that laughing at their attempts was forbidden by law? That should absolutely repulse any liberty-loving person and terrify everyone who values freedom.
My Take
Pointing and laughing at others is unquestionably unkind. I am repulsed at the thought of such outward meanness. However, that this behavior so would be considered illegal and result in one's arrest is punitive at best, and is undoubtedly a waste a valuable time and resources. Furthermore, the punishment in this case is brazenly excessive.
This is yet another instance of big government run amok. The Founders knew the dangers of big government. It would be prudent of us to heed the Founders' advice, lest we find ourselves in the position of Mr. Spiers: subjugated beneath the arbitrary boot of "benevolent" governmental authority.
NOQ Report drops ads, goes 100% crowdfunded
There's nothing pleasant about asking people for money. Over the last six months, we've experimented with various types of revenue streams to see what could help propel this site to more people. In a society dominated by fake news and leftist media, getting a foothold as a limited-government conservative news outlet is challenging.
Unfortunately, there seem to be only three options. The first one is a non-starter – corporate sponsorships. There are very few organizations, PACs, and companies we trust enough to allow to be corporate sponsors, and while we may someday work with the few that we trust, we don't have the luxury of waiting for them. We've had some corporate sponsorship offers, but invariably they want a say in the editorial component. Some want all-positive Republican coverage. Others want more positive Democratic coverage. Our goal has been and always will be to present the news, opinions, and quotes from a pro-American perspective. That means we call it how we see it.
Option two has been a disaster for multiple reasons. Most websites are driven by advertising, which is fine as long as it both pays the bills and doesn't flood the site with spam. We've used Google, Amazon, and a handful of smaller ad networks to try to generate enough revenue, but it's challenging when we have limited control over what's being served. I'd get emails regularly saying we were advertising for Planned Parenthood or Ashley Madison or other websites that didn't match our values at the site. This may be the easiest way for the site to pay its bills, but it's not worth the trade-off.
Option three is the tough one. It's the way that requires me to do what doesn't come naturally – asking for money. We want to be 100% crowdfunded. That means we need you, the readers, to donate whenever possible. It can be single donations to give us a boost. It can be a recurring donation to help us plan for the future. Literally anything and everything helps.
We have tiers of $10, $50, $5000, and everything in between. Of course, there's an option for supporters to name their donation amount, so there really isn't a limit to how much or how little you contribute. Every penny makes a difference.
Here are some of the upcoming expenditures we need covered in order to keep the site moving forward:
$25/article – Paid writers and expenses. Currently, all of our writers are volunteers. We appreciate their efforts and we want to reward them. We also need to hire more freelance writers in order to expand the perspectives. Eventually, we will need to budget around $12,000 per month for full-time staff writers, but just getting started with around 1/5th that amount will be a wonderful down payment.
$3000/mo – Editors. For the last six months, I have put my time and effort into editing the site. I don't mind working for free as it's a labor of love, but it's unsustainable. I'll either need to hire editors so I can work full time again or I'll need to start paying myself. Either way, this is a top priority.
$350/mo – Facebook promotions. It's amazing how much attention we can drive to the site with every little money spent. $10 per day gets the message out to several thousand additional people on Facebook. Add in a little in Facebook reserve to push harder on some of the more important stories and we can start boosting exposure dramatically.
$625/mo – Graphics. Whether for videos or articles, the need for help from a graphic design perspective is ongoing.
$2000/mo – Advertising. Like-minded conservatives, classical liberals, and limited-government federalists need to know about NOQ Report. By advertising on other sites, we not only get to reach more people, but we also get to support sites that can also use financial help.
$200/mo – Stock photos. Using the royalty-free sites limits what we can use as artwork and photos for our articles.
$525/mo – Stronger server. There have been a few occasions where the site has gone down because we have a good but not great server. To have a server that should be able to handle the load of daily activity plus the occasional story going viral is a bare minimum around $525 per month. Thankfully, this also includes service, so it alleviates the need for an IT person as well.
This started out as a labor of love, but over the last year we've been accepted into Google News and have strong followings sharing the content on social media. It's time for this site to branch out and start making more of an impact on American society, presenting conservative, Christian ideas that this world needs now more than every.
We appreciate all who have helped. It is our hope that our mission of spreading proper conservative and Christian messages to the masses is one our readers share. Please consider donating today.
Dershowitz reacts to the backlash over Trump's national emergency
Lukewarm leftist Alan Dershowitz is against the use of a national emergency to fund the border wall, but he believes it will come down to whether or not the courts decide this is a real emergency or not. Could it be stopped altogether? Dershowitz, a lawyer, doesn't believe that will be the case. Instead, he thinks the courts will hold up some of the expenditures, but it's very possible portions of the wall will be built between now and the 2020 elections.
He also made an important point about Chief Justice John Roberts. Though the Supreme Court is currently considered to be "right-leaning" by most experts, Roberts has been willing to side with the left on more than one occasion since President Trump took office. This is a concern for wall proponents since the other eight Justices are likely split down the middle on maintaining the President's power to go down this path.
My Take
As we've stated in the past, a national emergency is not the best way to build the wall. Some may argue it was necessary to go around Congress since they were clearly unwilling to play ball when it came to wall funding, but would it have been better for the President to stick to his guns and shut the government down for a second time? At this point, nobody can know because that's not the course of action he took.
It's a shame we're having to watch the battle ramp up on the legal end when the need for the wall is so clear. Congress didn't do its job when the Republicans were in control and they're not doing their job with Democrats controlling the House.