This is way more important than it appears: Kurds to vote on Kexit despite Iraqi opposition
Despite very little attention, a major referendum is scheduled to take place Monday, September 25th, 2017. It's a movement that has been a long time coming. The Kurdish Regional Government is going forward with its controversial referendum for independence. For decades, the Kurdish region of Iraq has pressed for independence and in 2005 were granted considerable regional autonomy in Iraq's constitution. Still the movement lingered.
With the rise of the Islamic State and the embarrassing military shortcomings by the US-trained Iraqi army, the Kurds largely began to rely on their own defense capabilities. In both Iraq and Syria, Kurdish militaries have been instrumental in routing ISIS in both desert and urban warfare. The Iraqi military has relied on several regional militias both Sunni and Shi'ite in its fight against ISIS. The Kurds have capitalized on their strength and the Iraqi government's weakness and seized land that isn't necessarily Kurdish such as the region of Kirkuk, an oil rich city. The KRG has yet to formally annex Kirkuk, but nonetheless Kurdish presence in Kirkuk adds to the tension. The tensions between the KRG and Baghdad have escalated with the Iraqi parliament ruling the vote unconstitutional and nonbinding. The Kurds have withdrawn their support of Iraq's offensive to retake Hawija, one of the last major ISIS strongholds in Iraq.
#BREAKING: Kurdish commander Jabar Yawar tells Rudaw Peshmerga is not taking part in the #Hawija offensive pic.twitter.com/Y4MvOlewNo

— Rudaw English (@RudawEnglish) September 21, 2017
Masoud Barzani, the leader of the KRG, has steadfastly maintained that the referendum will go on whether or not the Iraqi government will allow it.
Perspectives
 The United States has come out strongly against the KRG's proposed referendum. The United States urged the KRG to cancel the referendum and called the vote a distraction from the ongoing fight against Islamic State.  However Israel is a different story. Israel is the first country in the Middle East to voice its support for an independent Kurdistan. Support for an independent Kurdistan is strong among the Israeli public, and Israel and the KRG have strong economic ties. It is believed that since 2015, Israel has imported up to 77% of its oil from the KRG. Turkey has long opposed an independent Kurdistan and considers the Kurdish nationalist party within Turkey, the PKK, a terrorist organization. Turkey officially opposes the vote. In fact, Turkey staged tank drills on its border with Iraqi Kurdistan on Monday as a sign of its opposition. However, Turkey has long had good relations with the KRG, especially when it comes to oil. Saudi Arabia and other Gulf countries are taking a diplomatic position and have offered to mediate between the KRG and the Iraqi government in Baghdad.
Russia supports Iraq's territorial integrity and calls on Baghdad and the government of the autonomous region of Iraqi Kurdistan to begin dialogue on all disputable topics and agree on mutually acceptable principles and forms of coexistence. This would make Russia the primary nation in support of the referendum, when so many including the United States and Iran are in opposition.
The Iraqi parliament earlier voted against the poll being held, branding it "unconstitutional" and, authorizing the Prime Minister to "take all measures" to preserve the country's unity. However, the resolution did not specify what these measures might be. The KRG has already seen its central government funding slashed in protest against its selling of oil directly to Turkey. Kurdish lawmakers walked out of Parliament before the decision was taken. "Kurdish lawmakers walked out of (Tuesday's) session but the decision to reject the referendum was passed by a majority," said Mohammed al-Karbouli, a Sunni Muslim lawmaker. Oil rich Kirkuk voted to participate in the referendum further escalating tensions.
It is rare for the United States and Iran to agree on anything but this week both Washington and Tehran have been scrambling to try to dissuade the president of Iraqi Kurdistan, Masoud Barzani, from holding a referendum on independence. Their vehement opposition to an independence vote partly stems from their concerns about each other. Tehran worries that an independent Iraqi Kurdistan will cleave ever closer to America and the West, while Washington is anxious that the referendum will trigger war between Iraq's Shi'ite militias and the Kurds, a conflict that would likely end up splintering Iraq, which the United States has spent considerable effort trying to bolster, and distract from the U.S. priority of defeating the Islamic State terror group.
The pro-Iranian shi'ite militias are willing to go to war over the disputed city, Kurkik. Whether serious fighting begins the day after next week's referendum — no one doubts a majority of the Kurds will back independence — will depend on the restraint of the governments in Baghdad and Tehran, and that in turn will hinge, analysts say, on whether the Kurds announce an independent state immediately and move to annex disputed territories such as Kirkuk.
Reactions
My prayer is that the Kurdish independence referendum will go peacefully & the U.S. will stand by their decision to chart their own future.

— Franklin Graham (@Franklin_Graham) September 22, 2017
#kexit brings uncertainty! But we have already been living in uncertainty all our lives! #Kurdishreferendum

— Chwas (@Chwas_Ah) September 19, 2017
#kurdishreferandum on the boiling point. "Don't be worried about 25th of September, the sunrise would be the same."

— GGardi (@GardiGoran) September 22, 2017
An epic photo from Erbil, capital of the #Kurdistan Region of Iraq, taken today. #Israel pic.twitter.com/z8heLFKoXK

— Ceng Sagnic (@cngsgnc) September 16, 2017
Final Thoughts
Spoiler Alert: The Kurds are going to vote "Yes" for their independence. The Iraqi government is too weak to stop the vote much less go to war over it. The shame of the matter is that the Trump administration has come out against the vote. America needs to accept the reality that this vote is going to happen, and quite frankly the Trump administration should come out in support for Kurdish independence. The Kurds have been a remarkable ally in the Middle East in the fight against ISIS. So Trump should reward their loyalty, and failure to do so could have consequences when the inevitable independence happens.
They would also be a likely ally of Israel, the nation most prominently supporting their independence. In addition to another tally in the box of Middle Eastern countries that recognize Israel, Kurdistan would also be a strategic ally in the future against Iran. Iran may in fact go to war over this, so the enemy of my enemy saying rings true.
Furthermore, an independent Kurdistan is good for the middle east, in part, because nations are against it. Kurdistan has the potential to be the region's second (to Israel) most stable country. In recent months, the KRG has been fortifying its borders, a sign that it is ready to handle broader responsibilities of self defense from Turkey, Iran, and Iraq. On top of being a more safe place, Kurdistan may be a hub for tolerance and equity. The pro-Israeli sentiment is a great sign that religious minorities will not be persecuted, at least not to the same extent as their neighbors.
America needs to help facilitate this outcome, or else hinder an alliance that Russia will be eager to grasp. And as for Kirkuk, Iraq should forget about getting that land back.
16 states hit 9th Circuit to sue President Trump, as expected
It was one of the most replayed parts of President Trump's announcement regarding his national emergency declaration last Friday – a sing-song moment as the President predicted the declaration would be made, Democrats would sue, they'd go through the 9th circuit, and their decision will hopefully be overturned by the Supreme Court. So far, he's been absolutely correct as 16 states have filed against the declaration.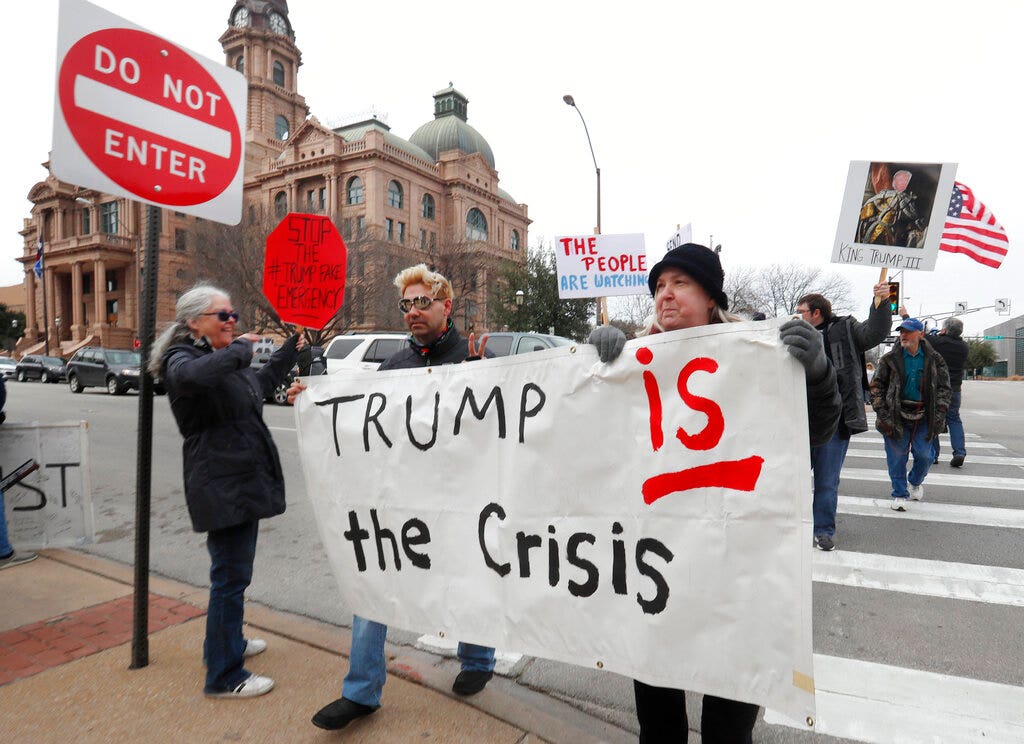 The attorneys general of California, New York, and 14 other states on Monday filed a lawsuit in the Ninth Circuit against the White House's recent national emergency declaration over border security, claiming President Trump has "veered the country toward a constitutional crisis of his own making."
President Trump sarcastically had predicted the lawsuit last week. He's slammed the Ninth Circuit multiple times as "disgraceful" and politically biased.
My Take
This is their right, and while it may annoy those who support building the border wall, it would be a mistake to condemn these states for trying to stop it. This is part of the way our nation is intended to operate. If one or more states feel the need to challenge the authority of Washington DC, they should be able to make their case before the courts. If the courts make decisions based on the Constitution, then the end result will be the accurate and righteous one.
That's how this was all intended.
I'm not suggesting the 9th Circuit is going to treat this fairly, nor am I confident the Supreme Court will make its decision solely on the Constitution, but until things are changed, this is what we've got. Attempts to subvert any component of this system from the President's right to declare the emergency to the states' rights to challenge it to the courts' responsibility to make a ruling about it all would be to denounce the foundation upon which this nation was built.
There was a way this could have been avoided. Had the President and the GOP decided to have the debate over the wall while they had power over the House, Senate, and White House, they would have been in better position to get the wall going by now. Unfortunately, they an improper political calculation to hold off on the wall debate until after the midterm elections, and now it's costing the American citizens. It costs us money to sit here through the shutdown and the legal battle over the national emergency declaration. It's costing us time; the wall should be much further along by now. It may end up costing us the wall altogether if they aren't able to make a strong case before the Supreme Court.
We are in the midst of a crisis at the border, one that has been going on for decades. Let's not exacerbate the crisis by adding a Constitutional crisis on top. This needs to play all the way out.
Man fined £1,000 for outdated sense of humor
Jonathon Van Maren, a contributor for LifeSiteNews, recently stumbled across an article in the UK's Edinburgh News about a construction worker who was arrested for "pointing and laughing" at a biological male who was dressed as a female (transgender woman).
[Author's Note: It is impolite and unkind to point and laugh at others. This article is not an endorsement of such behavior.]
As Van Maren explained, a construction worker named Graham Spiers was walking with a group of friends. The group pointed and laughed while passing a transgender individual who, suspecting that his appearance had become the subject of ridicule, telephoned the police.
Spiers was arrested five day later.
Sherriff Robert Fife scolded Mr. Spiers's sense of humor and actions:
Sheriff Robert Fife also piled on, informing Spiers that, "Your offensive comments were not funny at the time and are not funny now. Your children should grow up understanding gender differences and would be ashamed at your behavior that comes from a different era has no place in today's society." Fife then told Spiers that in addition to the cash he had to pay to the biological man for laughing at him, he also had to pay an additional fine of another five hundred pounds.
Graham Spiers was ordered to pay a total of £1,000 for his actions "from a different era," 500 of which was paid to the complainant.
Of the actions by police and the court in this instance, Van Maren opined:
It is disgusting enough that law enforcement would arrest and charge someone for this triviality. That alone indicates that freedom in Scotland is truly dead. But the fact that law enforcement then lectured Spiers on being a throwback from a different age (that different era being about a decade ago, for the record) and telling him his children should be ashamed of him? And that Spiers was expected to cower and listen to this tongue-lashing from his betters so he could get re-educated and realize that men could now become women and that laughing at their attempts was forbidden by law? That should absolutely repulse any liberty-loving person and terrify everyone who values freedom.
My Take
Pointing and laughing at others is unquestionably unkind. I am repulsed at the thought of such outward meanness. However, that this behavior so would be considered illegal and result in one's arrest is punitive at best, and is undoubtedly a waste a valuable time and resources. Furthermore, the punishment in this case is brazenly excessive.
This is yet another instance of big government run amok. The Founders knew the dangers of big government. It would be prudent of us to heed the Founders' advice, lest we find ourselves in the position of Mr. Spiers: subjugated beneath the arbitrary boot of "benevolent" governmental authority.
NOQ Report drops ads, goes 100% crowdfunded
There's nothing pleasant about asking people for money. Over the last six months, we've experimented with various types of revenue streams to see what could help propel this site to more people. In a society dominated by fake news and leftist media, getting a foothold as a limited-government conservative news outlet is challenging.
Unfortunately, there seem to be only three options. The first one is a non-starter – corporate sponsorships. There are very few organizations, PACs, and companies we trust enough to allow to be corporate sponsors, and while we may someday work with the few that we trust, we don't have the luxury of waiting for them. We've had some corporate sponsorship offers, but invariably they want a say in the editorial component. Some want all-positive Republican coverage. Others want more positive Democratic coverage. Our goal has been and always will be to present the news, opinions, and quotes from a pro-American perspective. That means we call it how we see it.
Option two has been a disaster for multiple reasons. Most websites are driven by advertising, which is fine as long as it both pays the bills and doesn't flood the site with spam. We've used Google, Amazon, and a handful of smaller ad networks to try to generate enough revenue, but it's challenging when we have limited control over what's being served. I'd get emails regularly saying we were advertising for Planned Parenthood or Ashley Madison or other websites that didn't match our values at the site. This may be the easiest way for the site to pay its bills, but it's not worth the trade-off.
Option three is the tough one. It's the way that requires me to do what doesn't come naturally – asking for money. We want to be 100% crowdfunded. That means we need you, the readers, to donate whenever possible. It can be single donations to give us a boost. It can be a recurring donation to help us plan for the future. Literally anything and everything helps.
We have tiers of $10, $50, $5000, and everything in between. Of course, there's an option for supporters to name their donation amount, so there really isn't a limit to how much or how little you contribute. Every penny makes a difference.
Here are some of the upcoming expenditures we need covered in order to keep the site moving forward:
$25/article – Paid writers and expenses. Currently, all of our writers are volunteers. We appreciate their efforts and we want to reward them. We also need to hire more freelance writers in order to expand the perspectives. Eventually, we will need to budget around $12,000 per month for full-time staff writers, but just getting started with around 1/5th that amount will be a wonderful down payment.
$3000/mo – Editors. For the last six months, I have put my time and effort into editing the site. I don't mind working for free as it's a labor of love, but it's unsustainable. I'll either need to hire editors so I can work full time again or I'll need to start paying myself. Either way, this is a top priority.
$350/mo – Facebook promotions. It's amazing how much attention we can drive to the site with every little money spent. $10 per day gets the message out to several thousand additional people on Facebook. Add in a little in Facebook reserve to push harder on some of the more important stories and we can start boosting exposure dramatically.
$625/mo – Graphics. Whether for videos or articles, the need for help from a graphic design perspective is ongoing.
$2000/mo – Advertising. Like-minded conservatives, classical liberals, and limited-government federalists need to know about NOQ Report. By advertising on other sites, we not only get to reach more people, but we also get to support sites that can also use financial help.
$200/mo – Stock photos. Using the royalty-free sites limits what we can use as artwork and photos for our articles.
$525/mo – Stronger server. There have been a few occasions where the site has gone down because we have a good but not great server. To have a server that should be able to handle the load of daily activity plus the occasional story going viral is a bare minimum around $525 per month. Thankfully, this also includes service, so it alleviates the need for an IT person as well.
This started out as a labor of love, but over the last year we've been accepted into Google News and have strong followings sharing the content on social media. It's time for this site to branch out and start making more of an impact on American society, presenting conservative, Christian ideas that this world needs now more than every.
We appreciate all who have helped. It is our hope that our mission of spreading proper conservative and Christian messages to the masses is one our readers share. Please consider donating today.